Amazon News Roundup, Volume 7
Seller chatter
Huge news this week as, apparently, the date for Prime Day has been leaked. According to Real Homes, the big summer selling day this year falls on July 15th.
Obviously, this should be taken with a grain of salt since it's not yet been confirmed by Amazon. However, last year when the Prime Day date was leaked in advance, that date turned out to be true.
Plus, Amazon is already asking sellers to prepare their inventory for Prime Day. Amazon issued this letter to its sellers on June 5th:
Prime Day is coming—get inventory in by June 27

Don't miss out—make sure your products arrive at fulfillment centers by June 27. We want you to have enough inventory for Prime Day!

Check out our 2019 Prime Day guide for promotion strategies, sales techniques, and access to social media templates that you can post right away. Stay tuned for an announcement on the date for Prime Day 2019.
We suspect the reason Amazon issued this letter so early was to ensure not only that sellers are well-stocked, but that the products are disbursed evenly among its fulfillment centers. Why? Now that Amazon is pushing for one-day shipping to compete with Wal-mart, Prime Day is their big day to shine.
But they can only do this with the cooperation of their third-party sellers.
Prime Day by the Numbers
Prime Day is a major sales day for Amazon FBA sellers. In fact, we recently polled sellers and discovered that Prime Day sales are 200% or greater than what they are during normal selling days.
Plus, it appears Prime Day boosts sales for the entire month of July. Sellers reported seeing an estimated 20-25% increase in their sales in the days following Prime Day.
By our estimation, Prime Day is one of the top five selling days of the year. It even tops Black Friday and Cyber Monday in total sales. Only the week before Christmas sees better daily sales overall.
Amazon Prime Day – A Consumer Survey
And how do Amazon customers feel about Amazon Prime Day? We recently surveyed consumers to discover just that. Our survey had 100 respondents living in the United States, all of whom were Amazon Prime Members.
Demographics
Age groups
14 – 17 (1.0%)

18 – 24 (18.0%)

25 – 34 (33.0%)

35 – 44 (24.0%)

45 – 54 (10.0%)

> 54 (14.0%)
Gender
Male (43.0%)

Female (57.0%)
Question #1 – "What type of products do you look for during shopping holidays?"
The most popular category for holiday shoppers is electronics by a large margin. That's followed by clothing, shoes, and jewelry, then toys and games.
| | | | |
| --- | --- | --- | --- |
| Category | Percent (Respondents) | Percent (answers) | Count |
| Kitchen and Dining | 34.00% | 7.34% | 34 |
| Electronics | 83.00% | 17.93% | 83 |
| Sports and Outdoors | 30.00% | 6.48% | 30 |
| Office Supplies | 21.00% | 4.54% | 21 |
| Beauty & Personal Care | 48.00% | 10.37% | 48 |
| Baby | 25.00% | 5.40% | 25 |
| Clothing, Shoes & Jewelry | 58.00% | 12.53% | 58 |
| Home | 37.00% | 7.99% | 37 |
| Toys and Games | 45.00% | 9.72% | 45 |
| Groceries | 21.00% | 4.54% | 21 |
| Tools & Home Improvement | 23.00% | 4.97% | 23 |
| Arts, Crafts & Sewing | 19.00% | 4.10% | 19 |
| Patio, Lawn & Garden | 17.00% | 3.67% | 17 |
| Other | 2.00% | 0.43% | 2 |
| Books | 0 | 0 | 0 |
| Pet Supplies | 0 | 0 | 0 |
Question #2 – "What is the optimal discount (in percentage) you look for when buying a product during a shopping holiday?"
The majority of respondents replied that a discount of 50% off is optimal during a shopping holiday (Prime Day, Black Friday, or Cyber Monday).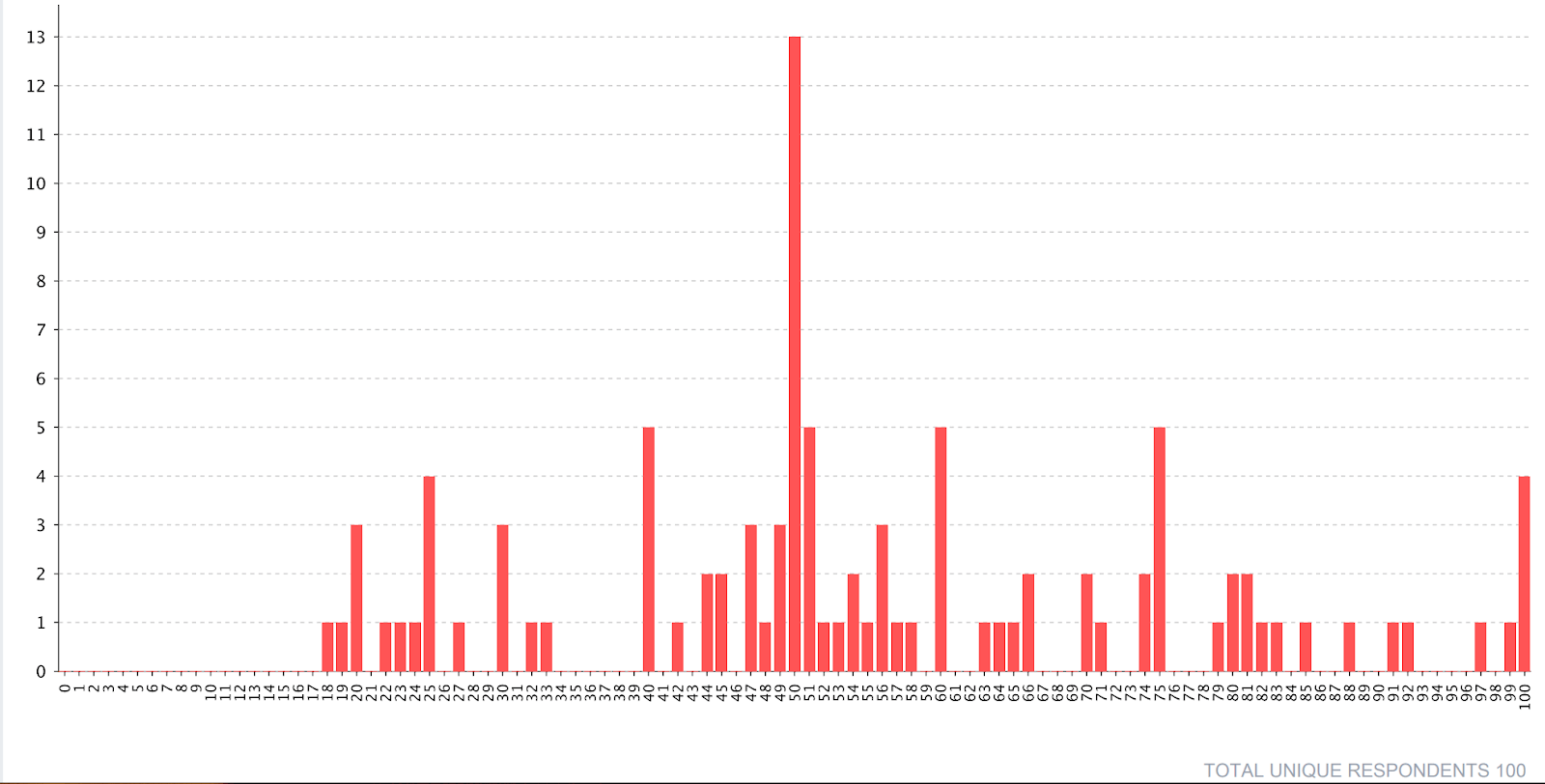 Seller Focused Survey (via Instagram)
In addition to speaking with consumers about their purchasing habits, we surveyed Amazon sellers like you to see what their habits are around Prime Day.
Question #1 – "Did you use lightning deals to support Prime Day in 2018?" (94 respondents)
23 yes – 24.5%
71 no – 75.5%
Question #2 – "How big of a spike in sales did you see?" (64 respondents)
The average was between $500-$1000.
Question #3 – "Did you order extra inventory to keep up with demand?" (99 respondents)
36 yes – 36.4%
63 no – 63.6%
Question #4 – "Did you launch a specific SKU for Prime Day?" (99 respondents)
22 yes – 22.2%
77 no – 77.8%
How to prepare for Amazon Prime Day 2019
With Prime Day quickly approaching, we recommend that you take the following actions now:
Order inventory now. Even if your inventory doesn't arrive in time for Prime Day, you may need it post-Prime Day. Sellers could see a 15-20% increase in sales through the month of July, and it's easy to run out of product.
Optimize your product listings. Make sure your titles, keywords, descriptions, and product images are in good shape prior to Prime Day. Use Jungle Scout's Listing Builder Tool to build effective listings based on relevant keywords.
Double-check and tighten up your PPC campaigns. Visibility is key on shopping holidays. Make sure your best-converting keywords are operating as they should be. Furthermore, up your budget. Prime Day starts early. Without a big enough budget, you may run out of money before noon.
Use your deep discounts as an opportunity. Even if you offer a deep discount on your products, use the day as an opportunity to build you brand and offer excellent customer service. This could improve your seller feedback and product reviews, and increase your overall visibility on Amazon.
Good luck this Prime Day 2019!
It might seem like a month and a half is a long time, but Prime Day 2019 will be here before you know it. As an Amazon seller, you need to be able to forecast two to three months out.
Review the data and follow our tips to ensure a successful July shopping holiday for your Amazon FBA business.
---
Want to get in on the chatter?
If you're a Jungle Scout user, join our members-only Facebook group:
---
Amazon FBA news this week
Need to know for Amazon FBA Sellers
What does it mean when a product is "Amazon's Choice?" – WIRED
Amazon retail chief defends private label business amid scrutiny – Bloomberg
Amazon not liable for shipping defective products – Montgomery County Sentinel
Also of interest:
Amazon wants to be more like eBay, less like Wal-mart – The Motley Fool
Amazon will deliver you packages even if you buy them on eBay or Etsy, and it's suddenly caught the attention of regulators – Business Insider
Amazon follows the same simple rule to get every new project off to the perfect start – INC.
Anything we missed?
Let us know what's important to you by filling out the following (anonymous) form: