I've been an Amazon seller for three years, but these days I'm primarily an Amazon FBA seller. That means Amazon stores, picks, packs, and ships all of my products on my behalf…and I don't have to worry as much about bad seller feedback!
When I started, though, I was a merchant-fulfilled (FBM) seller; I handled all my own orders.
As an FBM seller, I sold mostly used or collectible items. I had to compete not just on price, but on my overall worth as a third-party Amazon seller. For that reason, seller feedback was extremely important and I had to become a master at its removal.
In this handy guide, I'll teach you a little about what Amazon seller feedback is and why it's important.
Then, I'll give you the three basic steps for removing Amazon feedback.
And finally, I'll show you an easy way to avoid bad seller feedback and bad product reviews altogether, using Jungle Scout.
What is Amazon seller feedback?
Amazon seller feedback is a rating that shoppers give to third-party Amazon sellers. It's based on their overall performance during a transaction.
Unlike product reviews, a shopper can give you Amazon seller feedback ONLY if they actually purchased something from you.

Amazon seller feedback includes the following five parts:
Feedback rating. This is a score the shopper awards you. It ranges from one to five stars. Here's what each of those ratings mean:

1 – Awful
2 – Poor
3 – Fair
4 – Good
5 – Excellent

Item arrived by [date]? This is a yes or no question. If it's fulfilled-by-Amazon, then this is on them to fulfill it by that date. But if you're doing your own fulfillment, you need to make sure your items arrive on time.
Item as described by the seller? Again, this is a yes or no question. Of all the things that make Amazon feedback removal difficult, it's this one. Make sure you're describing your products correctly, especially if they're used or collectible items.
Prompt and courteous service (if you contacted the seller)? This is a yes, no, or did not contact answer. Like the item arrival, if the product was shipped FBA, this one is on Amazon since they handle customer service for you.
Comments. Finally, the shopper will leave a comment. Usually, this is the biggest clue as to whether or not Amazon feedback removal is possible.
Why is Amazon seller feedback important?
Amazon seller feedback works as a gauge, letting other shoppers know whether or not you're a third-party seller worth purchasing products from. Of course, as a private label seller, more often than not you're going to be the only seller selling your products. Therefore, you (and Amazon Warehouse Deals) should be the only sellers for your product.
However, if you are a wholesaler, used-items seller, or collectible seller, you might be competing against other sellers.
In cases like these, your seller feedback score is pretty important. Shoppers may not trust a seller if they have a particularly low seller feedback score. Even if you're the cheapest option!
Additionally, your Amazon seller feedback score may affect whether or not you win the coveted Buy Box. And if your Amazon seller feedback gets too low, Amazon may bar you from selling on Amazon.
These are all reasons why keeping a good feedback score is so important, and why you should know how Amazon feedback removal works.
How do you remove feedback on Amazon?
Amazon feedback removal is a basic skill every Amazon seller should have. While Amazon seller feedback may not have as much bearing as, say, product reviews, it can hurt your chances at making a sale if it's too negative.
And if you get too low, Amazon could suspend and/or ban you from selling on Amazon.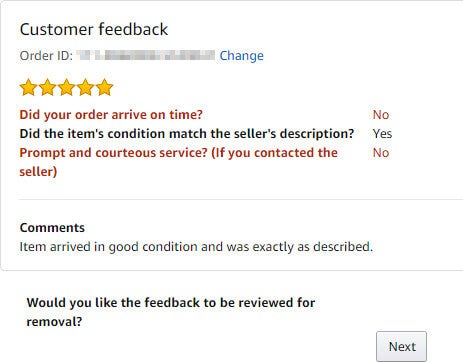 The Amazon feedback removal process is pretty straightforward though. Here are the three basic steps you need to take to have feedback removed:
Amazon Feedback Removal Step 1 – Determine if the feedback is actually removable
Before you contact Amazon seller support to remove your feedback, you need to determine if it's feedback that can be removed. These are Amazon's guidelines for feedback that can be removed or 'strike-through':
Remove:
The feedback includes obscene language.

The feedback includes seller-specific personally-identifiable information.

The entire feedback comment is a product review.
Strike-through:
The entire feedback comment is regarding fulfillment or customer service for an order fulfilled by Amazon.

The entire feedback comment is related to delayed or not received packages, for orders shipped on time by the seller using Buy Shipping.
As you can see, if you're an FBA seller, most issues with selling will either be Amazon FBA's issue or something like a product review in seller feedback.
Amazon Feedback Removal Step 2 – Contact seller support
There are a number of ways to do this, although many can be somewhat circuitous. Here's the method I use:
Login to Amazon Seller Central.
Click the Get Support button just above the footer on the left.
When the popup appears, click Contact Us.
Click the Selling on Amazon option.
When the popup reappears, type in "remove seller feedback."
Review Amazon's guidelines, then click the X to close the popup.
Click Customers and Orders on the left hand menu.
Enter the Order # with the negative feedback in the box and hit enter.
Click Customer Feedback Removal Request and hit Next.
Review the Feedback. If correct, click Next.
Like I said, it can be somewhat difficult to perform, but once it's done, the rest is easy.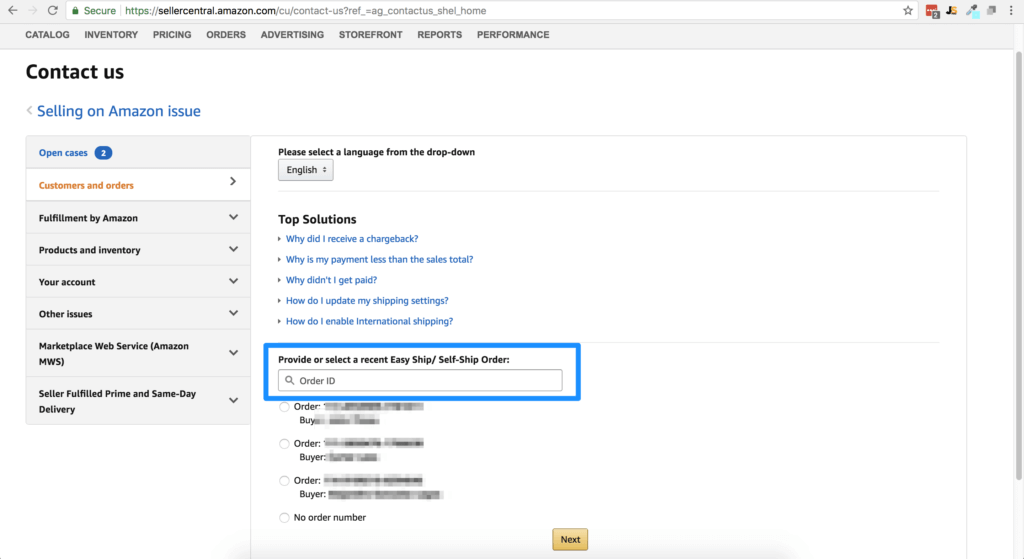 Amazon Feedback Removal Step 3 – Wait for Amazon to review the removal request
More often than not, Amazon instantly removes the feedback or crosses through it, and rarely does it takes longer than a day.
There are times when Amazon will challenge the removal request, but that's uncommon. If it happens to you, don't worry. You can resubmit the request and make your case again.
You might get a different seller support representative the second time around. They may see what the original representative missed, so it won't hurt to reattempt the removal.
How to avoid negative Amazon seller feedback and bad product reviews
Of course, your first line of defense is always going to be good customer service. Obviously, if Amazon's handling your products for you, your customer is going to get good customer service, right?
In theory, that seems true. But in reality, even with a monster company like Amazon, things can go wrong. And you, your feedback, and your reviews definitely don't want to be on the receiving end of something that Amazon did on your behalf.
That's why it pays to be proactive!
The easiest way to make sure your customers have a good experience buying your products on Amazon is by following up yourself, with great customer service emails.
But if you're selling hundreds (or thousands!) of products every month through Amazon, it's going to be next to impossible to send each and every customer an email asking how they're doing.
Fortunately, there's a better way.
How to follow up with your customers the easy way.
Did you know that Jungle Scout allows you to send automated emails to your shoppers?
That's right!
If you're a Jungle Scout user, all you have to do is set up a simple email campaign and Jungle Scout will automatically send it to each and every person who has purchased a product from you.
These automated emails are your first line of defense against negative feedback or (worse!) negative product reviews. And Jungle Scout does the hard work for you!
Amazon Feedback Removal Conclusion
There you have it. Often, shoppers don't understand that your products are shipped and handled by Amazon (if you're FBA), or that there's a difference between Amazon seller feedback and product reviews.
And while Amazon seller feedback may not be as important as reviews when it comes to conversions, sales, and profits, it's still something you want to keep high.
Do you have any questions about Amazon feedback removal? If so, let us know in the comments below!