Back in November, Amazon made some dramatic changes to the promotions system on their platform. Specifically, they adjusted the area where sellers create coupon codes, which raised concerns about Amazon inventory protection
We used to have a choice between 'dollar off' and 'percentage off' coupons when creating a promotion. Now, however, sellers can only create coupons using 'percentage off' discounts. 'Dollar off' is no longer an option.
Why should you care?

With this update, Amazon has left us with no way of restricting the number of units shoppers can purchase with a single coupon code.
They can purchase one or 100 (or all of our inventory!) using that same discount.
This probably isn't a big deal if you're offering 10% off. But, if you're offering a steep discount, you could lose a lot of money if one of your codes goes to the wrong person.
It can also give you inventory management headaches! Certainly not an ideal prospect for sellers.
So we took immediate measures: Jungle Scout now secures your seller inventory for you.
Introducing Inventory Protection.
We've updated our promotion process to work with Amazon's change to its promotion policy.
Our solution is called Inventory Protection.
Using the Jungle Scout platform, you can now limit the maximum units a buyer can purchase at one time, which means shoppers can only buy a preset number of units for each order (we recommend a limit of one during promotions).
The downside to this is that it also restricts shoppers who aren't using coupons.
Consequently, we recommend keeping inventory protection on ONLY during the promotion.
Even better, we'll automatically limit the number of units ordered at the beginning of your promotion for you (a number of your choosing), then well set it back to normal at the end of your promotion!
Ultimately, we streamlined the the set-up process to make it quick and easy for everyone.
Protect your inventory during a promotion, with no extra work on your part!
Let's take a quick look.
This is an overview of what your Launch > Promotion > Edit Promotion > Protect Inventory page should look like: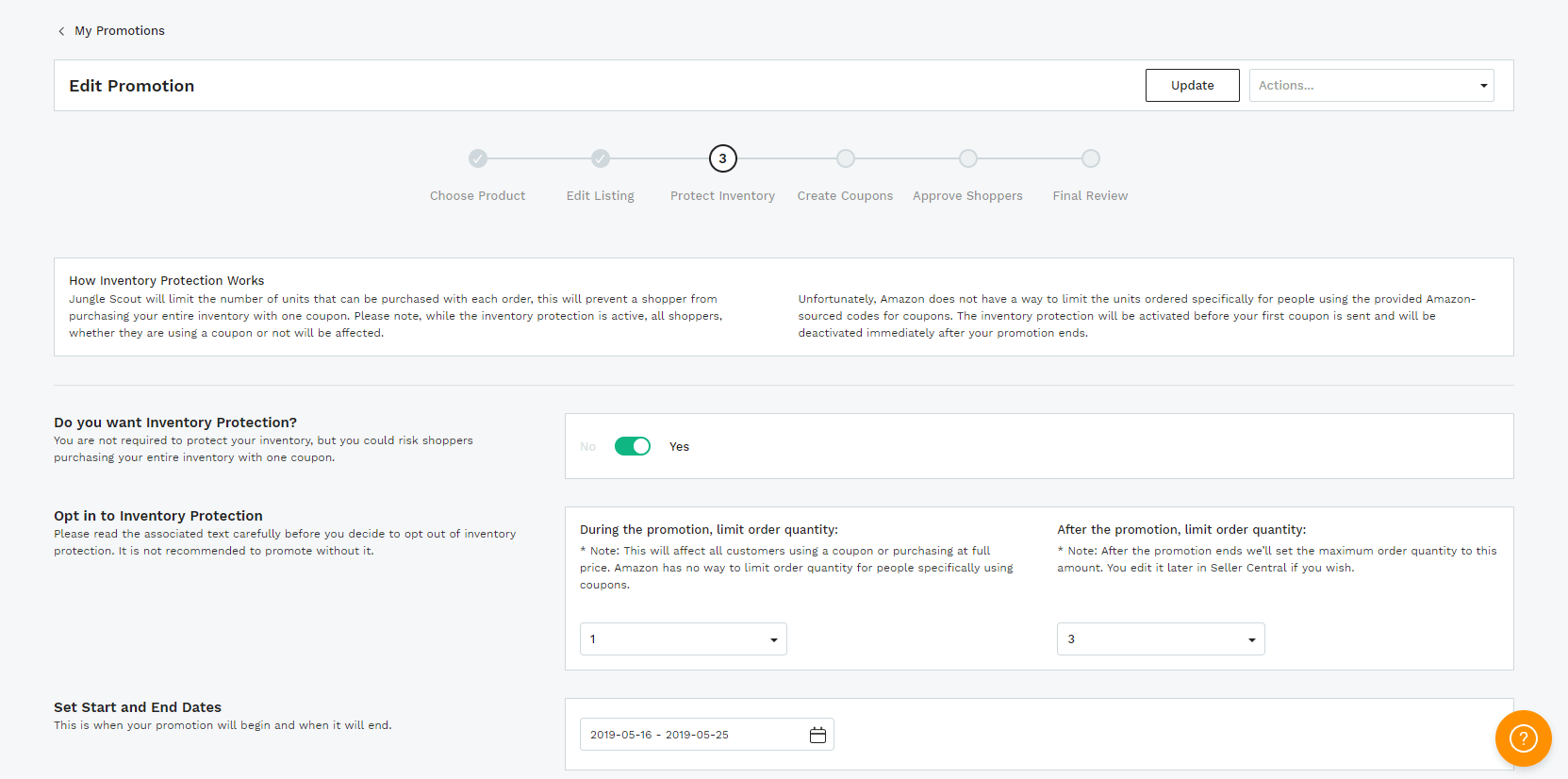 The first thing you'll be asked to do is say yes or no to protecting your inventory:



Next, if you opt for the fortification, you'll have to enter in your maximum order limit during your promotion (again, we recommend one) and after:

Before the final step of activating the feature, set your start and end dates for the promotion:

And finally, go to step six (if you're not making any other changes) and review the summarized information you entered earlier in the process before saving the changes.
Introducing automatic coupon approvals.
Instead of manually approving each deal request, Jungle Scout gives you the ability to automatically approve a certain number of shoppers each day.
This makes setting up promotions easier than ever before, as you don't need to remember to log in and approve deal requests any longer.
It also means faster approvals, leading to a higher coupon delivery-to-purchase rate.
Here's an overview of the setup process.
You should be able to find it in Launch > Promotion > Edit Promotion > Approve Shoppers: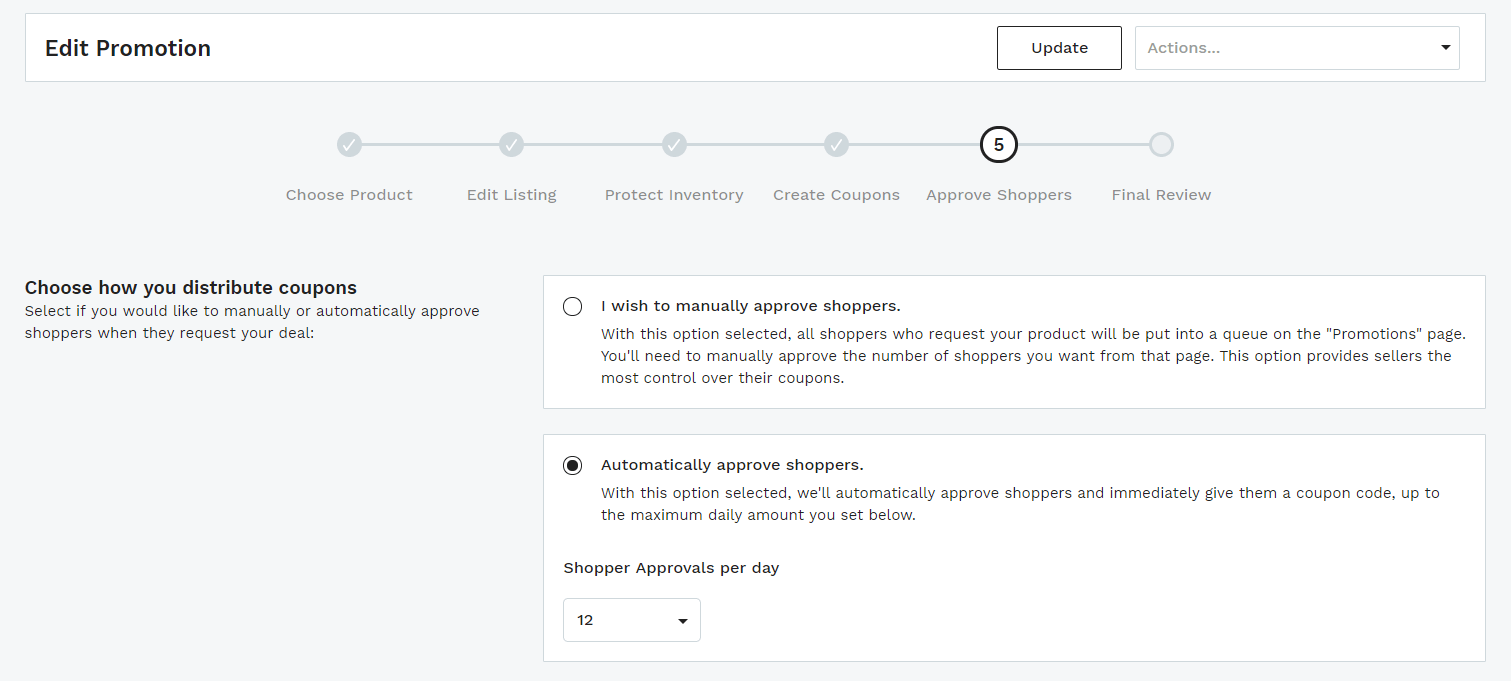 Here, choose between manually approving shoppers or having them approved for you automatically.
Do it yourself, or let us do it. Totally up to you!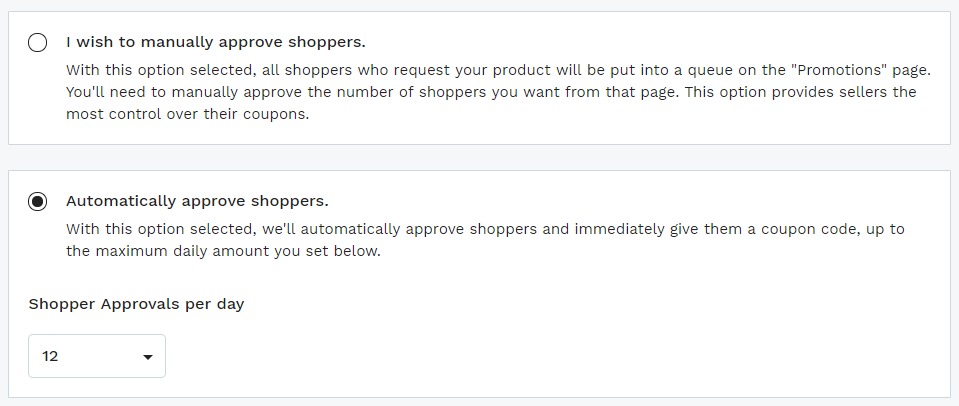 Again, if you're not making any other changes, then go to step six. And lastly, review the summary of info you entered, then save the updates.
Our team has been working extremely hard on this and we know you're going to love it!
If you have any questions or concerns though, please let us know at [email protected]. We're always happy to help!