I'm a frequent traveler, and pride myself on efficiency in getting through security lines. But inevitably there are more people who just zoom past with some fancy security clearance that they've purchased. What the heck? Money talks, I guess.
And that's the same dynamic that we're starting to see with Amazon products: sellers now have more options to purchase ads to get their product in front of relevant customers. Amazon has made big strides in improving the targeting options and reporting, and most recently a big one: Headline Ads are now available in Seller Central!
Perhaps you've seen this recently when you logged in to Seller Central: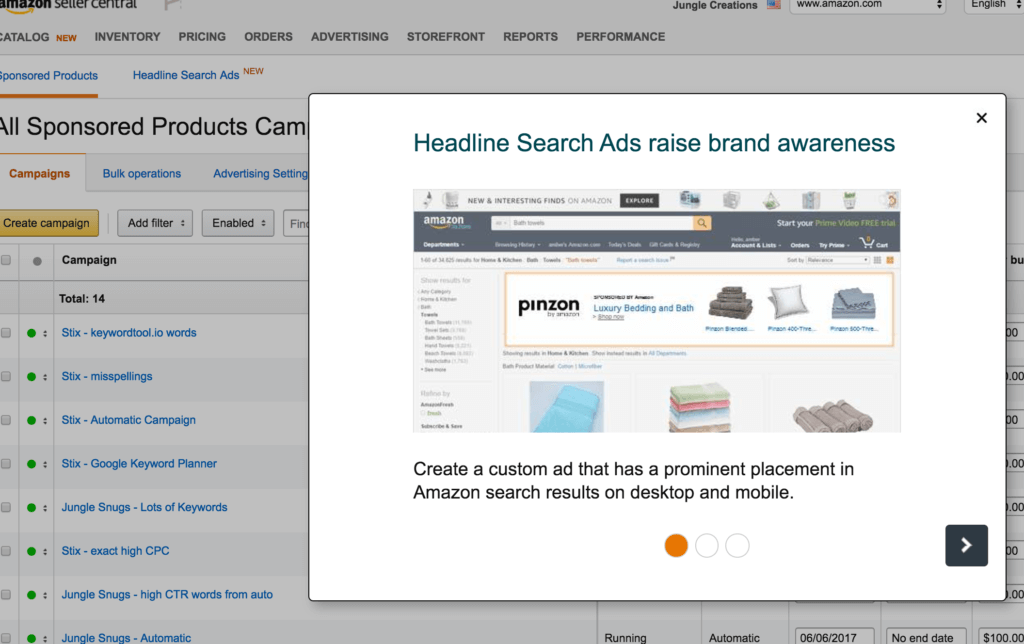 You can access the Campaign Builder here:

Headline Ads previously was reserved for Amazon Vendors (people who sold their products directly to Amazon at wholesale prices) through the Amazon Marketing Services (AMS) platform. Or, people like me who took advantage of a loophole to get access to the AMS platform by kind of becoming an Amazon Vendor.
I recently did a two part series on Amazon Marketing Services, and one dedicated just to Headline Search Ads, which you can see here. I've had great success running Headline Search Ads: they are easy to set up, get great exposure to relevant audiences, and ultimately are profitable campaigns to run. So now that you don't have to go through the hoops of setting up a Vendor Express account, I highly recommend it.
What Exactly Are Headline Search Ads?
Headline Search Ads are pay per click ads, targeted by keyword, with a bit more flexibility in creating customized ads.
Each Headline Search Ad includes your headline copy (which you can write yourself), logo, and three product images. The ads look like this: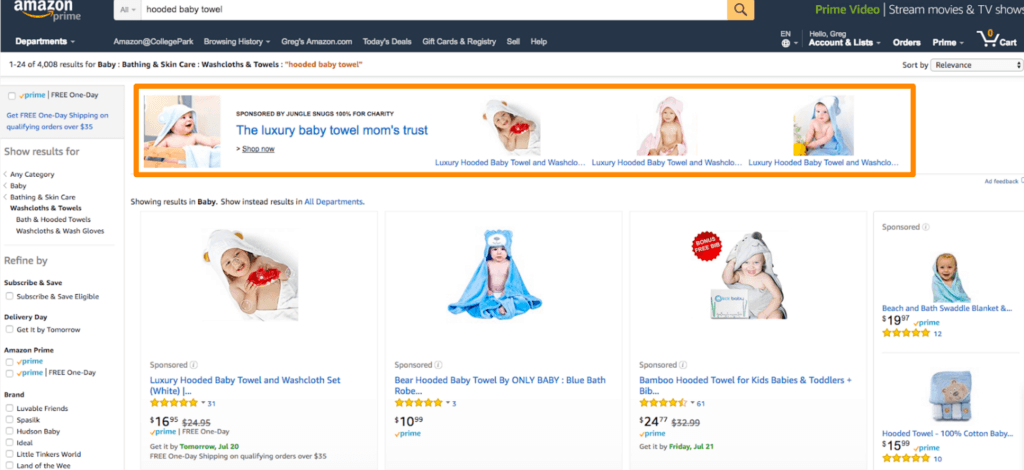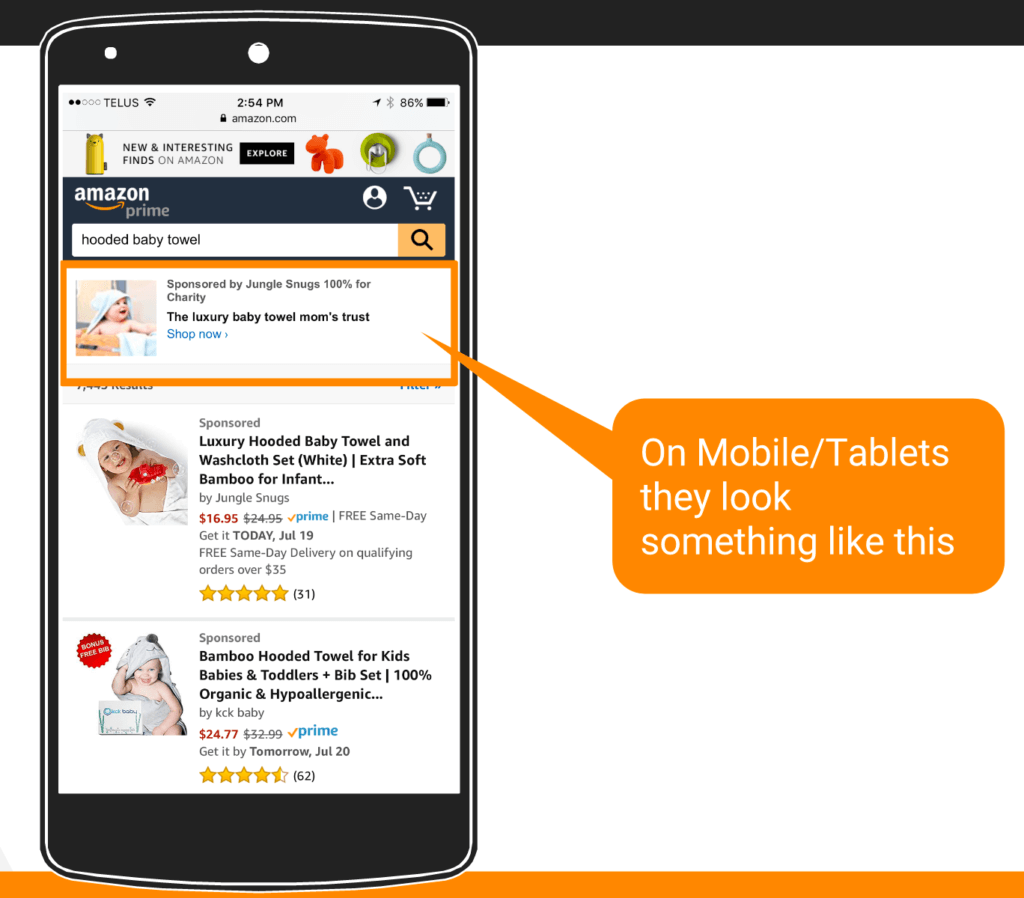 A Few Stipulations
There are a few stipulations in order to run these ads: you need to be a Professional seller, with a registered brand and have at least three products.
And your product needs to be in one of the following categories:
Apparel

Appliances

Arts, Crafts & Sewing

Automotive Parts & Accessories

Baby

Batteries

Beauty

Camera

Cell Phones & Accessories

Clothing & Accessories

Collectible Coins

Computers

Electronics

Entertainment

Collectibles

Fine Art

Furniture

Grocery & Gourmet Food

Handmade

Health & Personal Care

Home & Kitchen

Industrial & Scientific

Luggage

Movies & TV

Music

Musical Instruments

Office Products

Outdoors

Patio, Lawn & Garden

Pet Supplies

Shoes

Software

Sports

Sports Collectibles

Tools & Home Improvement

Toys & Games

Video Games

Watches

Wine

I covered some of the best practices in the webinar that I did, but here are some tips that are important, in finding the best keywords to target, how to write compelling copy, and how to analyze the results. Here is Part 1, and Part 2.
I Want In! Where do I sign up?
You gotta give Amazon credit for how they make things relatively simple for sellers, most of the time 😉 In order to start your Headline Search campaigns, log in to Seller Central's Campaign Manager (under the Advertising tab), and you will see it, like this:
From here, you simply select the three products that you wish to advertise and create the campaigns. At the moment, I only have Jungle Stix in my account here, but for those of you with three or more products, you can simply add them to your campaign.
So what now?
Be The Early Bird….
And start catching those worms. I have seen good success with these Headline Ads, partially because they are not yet as competitive with other sellers bidding against me. However, with any profitable market, that dynamic will change, sellers will recognize the opportunity, and squeeze out those easy profits while possible.
Here are a few of my top tips for optimizing your Headline Search Ads: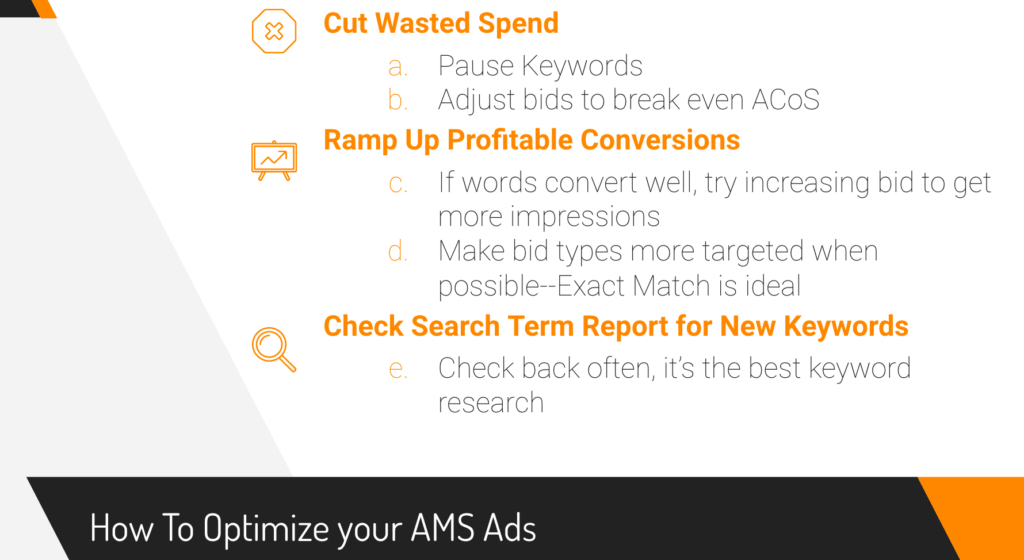 And, in case you missed the link above and are looking for a more in depth tutorial on setting up headline ads, check out the one I did a few weeks ago here.
Use Keyword Scout in the
Web App
to help you find profitable headline phrases.