We have all been there before: rapidly clicking around Amazon, scanning through the Jungle Scout results, trying to interpret Amazon sales data, looking for the ideal product that lies in the crosshairs of high sales potential and low competition.
What was before a challenge of tedious data aggregation has become the challenge of data overload. Well, there's actually no such thing as too much data… But it is understandably confusing for many Jungle Scout users to know how to interpret the data, and which criteria matters. Should you prioritize the ideal number of reviews over the estimated monthly sales, or look for only FBA sellers vs. no more than two FBA sellers in the top 10? And what is the sweet spot between sufficient customer demand and too many sellers already competing for the demand?
I'd like to lay out some of the general guidelines that may help you parse through the Jungle Scout data. Please note: these will not be hard and fast rules applicable for all situations. Everything should be tailored to your own tolerance for competition, marketing investment, and risk, as well as the Category and customer you are targeting. And of course stating the obvious: there are no guarantees for a profitable product, regardless of how much data you collect or how promising the numbers may look. The only way to surely know is if you actually get started and start the process of selling.
You may have heard my podcast with Scott Voelker on The Amazing Seller where I lay out some of the criteria for promising products. In brief, these are summarized as:
Is There Sufficient Demand ?
I like to see a total sum of at least 3000 units sold per month for the main keyword (using Jungle Scout sales estimates). The rationale here is that I ultimately want to sell at least 10 units per day of my product. I believe that I can capture at least 10% of the existing market and get my product in the top 10, which means that if there are at least 3000 units purchased, then I will meet my minimum threshold. Here's an example of where I look to determine this. This example is after I searched for "dry bag":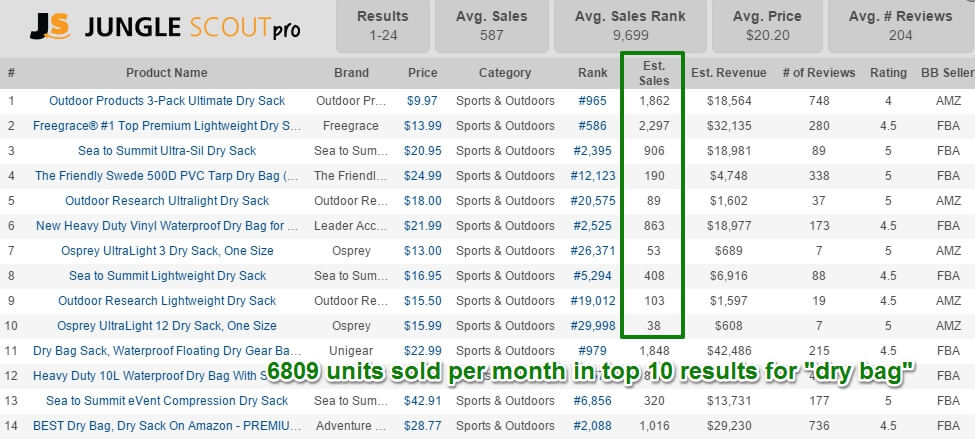 Is There Room at the Top?
Competition is something that is subjective, depending on how much you are willing to invest and the time horizon you are working with. For me, I like to see a product in the top 5 with under 75 to 100 reviews. To me, this is a good indication that I can rank well in a relatively short period of time. You need to be cautious though to track the organic ranking and BSR of a product over a period of time. Let's look at the example below, using the same results as above, for the keyword "dry bag". :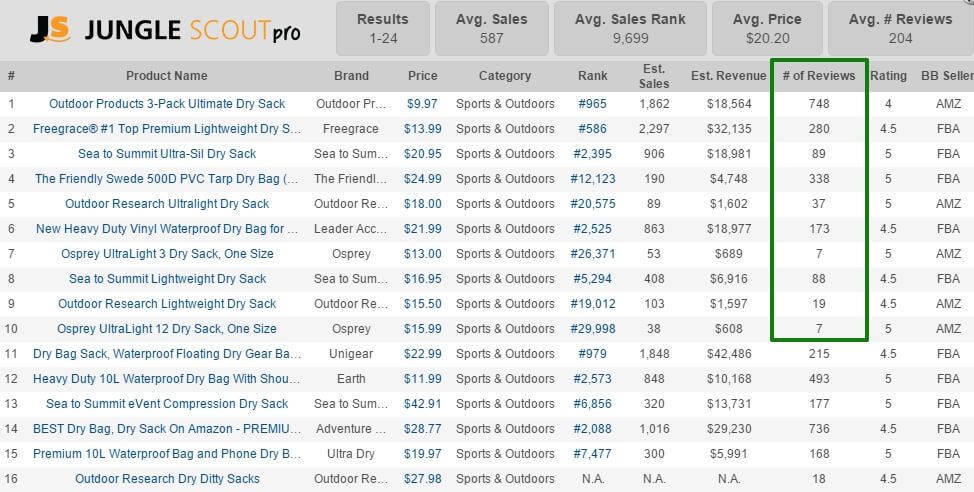 It looks like there is a product ranked 3 for the head term "dry bag" with only 89 reviews, and this is good news….encouraging news that I think I can get there as well. It seems almost out of place with only 89 reviews, so I like to click on the "Rank" and "Price" to see if there are any sudden fluctuations that would indicate a promotion or price manipulation to spike sales.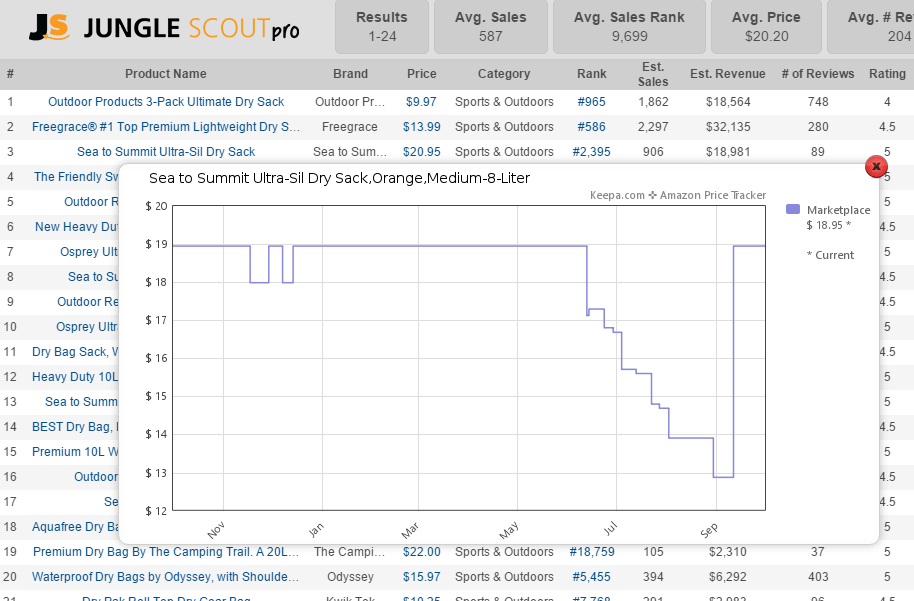 As you can see, from June to September, the product's price dropped continuously, bottoming out at $13 before being brought back to its current price of $19. As Jungle Scout captures the current buy box price, this price drop could either be uniform price reduction, or more likely the seller wanted to spike sales/reviews by possibly just breaking even for these few months. It looks like this is the reason that the product is ranking so well….this worked out well for this seller!
Big Brand Dominance is OK
Though it is not an ideal situation to have a popular dominant brand eating up a big percentage of demand, I don't let any one big brand in the space scare me away from the product if there are other indications that I can succeed. There are two main reasons for this: one is that Amazon is a long-tail keyword game, and there are optimizations I can make to the listing to capture demand where the Big Brand is not. Secondly, product positioning will be to my advantage, so that I can play up all the positive attributes that people love about the Big Brand, but present my product in a slightly different way, whether it is lower price, higher quality (with a warranty or guarantee), or better customer or guidance.
What Does This Look Like With Real Data?
If you are a part of any Amazon FBA Facebook group, you have likely come across a screenshot of Jungle Scout data where someone asks for public opinion of whether to proceed with the product. This is a very helpful exercise, and people generally have good insights to share on these as well. Sidenote: we are building out the feature to allow you to do this (while obscuring the sensitive data that would give away the particular product/niche) directly from the Jungle Scout extension.
I thought it may be helpful if I were to pull some of these screenshots and share some quick thoughts on them (these are the actual screenshots posted to facebook, so I have no idea what the real product is).
One thing to note is we obviously can't tell from these screenshots if the product would have good margins or if it is a good candidate to private label, however, we are able to size up the competition and demand.
Example 1:

This looks like a potentially excellent product. Great sales volume with relatively low competition. I shouldn't have any problem jumping into the top 5 spots with 100 reviews.
Example 2: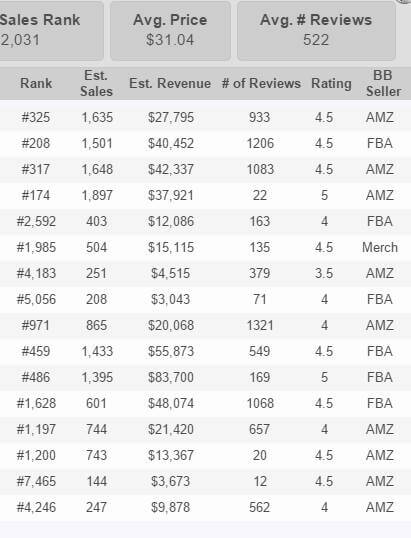 I would shy away from this product/keyword. Why it does look like someone snuck in the top 5 spots with only 22 reviews, I would imagine he is doing a giveaway or is priced well below the competition. There is plenty of demand here, however, the competition is too steep for my liking. It would take a lot of time or money to get my review count up to where I can compete with the guys in the top spots.
Example 3: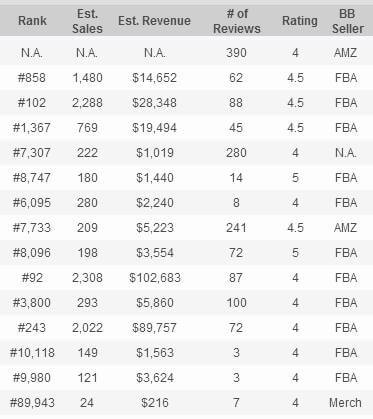 This looks like an excellent potential opportunity. These items are selling like hot cakes and nobody is completely dominating. I shouldn't have any trouble popping up in those top 5 spots. If I had some extra promotional money, I could giveaway 50 or 100 right off the bat (to a review group) to jumpstart my review count. If I was on a tighter budget, I could giveaway 10 or so then work on my review count with a good follow up series to organic buyers.
In Closing…
So these are just a few of the criteria I use when scanning through products. Again, I want to emphasize that there is no right answer, and at some point overanalyzing your product choice is counterproductive to making moves forward and getting something up.
A quick note as well, I will be walking through my product selection process in a live webinar on October 13th, 9p EST/6p PST. It will be a totally free webinar, and a good chance for you to look over my shoulder as I choose a product. In subsequent weeks, I will be going through the whole product launch process, you can read more about it here. If you can't attend, we will be recapping our progress on our blog, and you can always participate in the comments section. So let me know of other important criteria that you look at when evaluating the viability of a private label product.