India is one of the United States' most prolific global trading partners. The country is famous for its textiles industry and supplies fabric to many of the world's top clothing brands, including those sold in the American Amazon marketplace.
How has the trade relationship between the U.S. and India changed over time, what are the top products the United States imports from India, and how could U.S. trade with India change in the future? Let's examine these questions using U.S. import data. 
India's global trade performance over time
India has consistently ranked among the five largest contributors to U.S. imports since at least 2015. In 2020, India accounted for a 3.6% share of U.S. maritime imports, just a tenth of a percent behind Taiwan. India's share of U.S. imports in the first half of 2020 equated to roughly 209,918 shipments.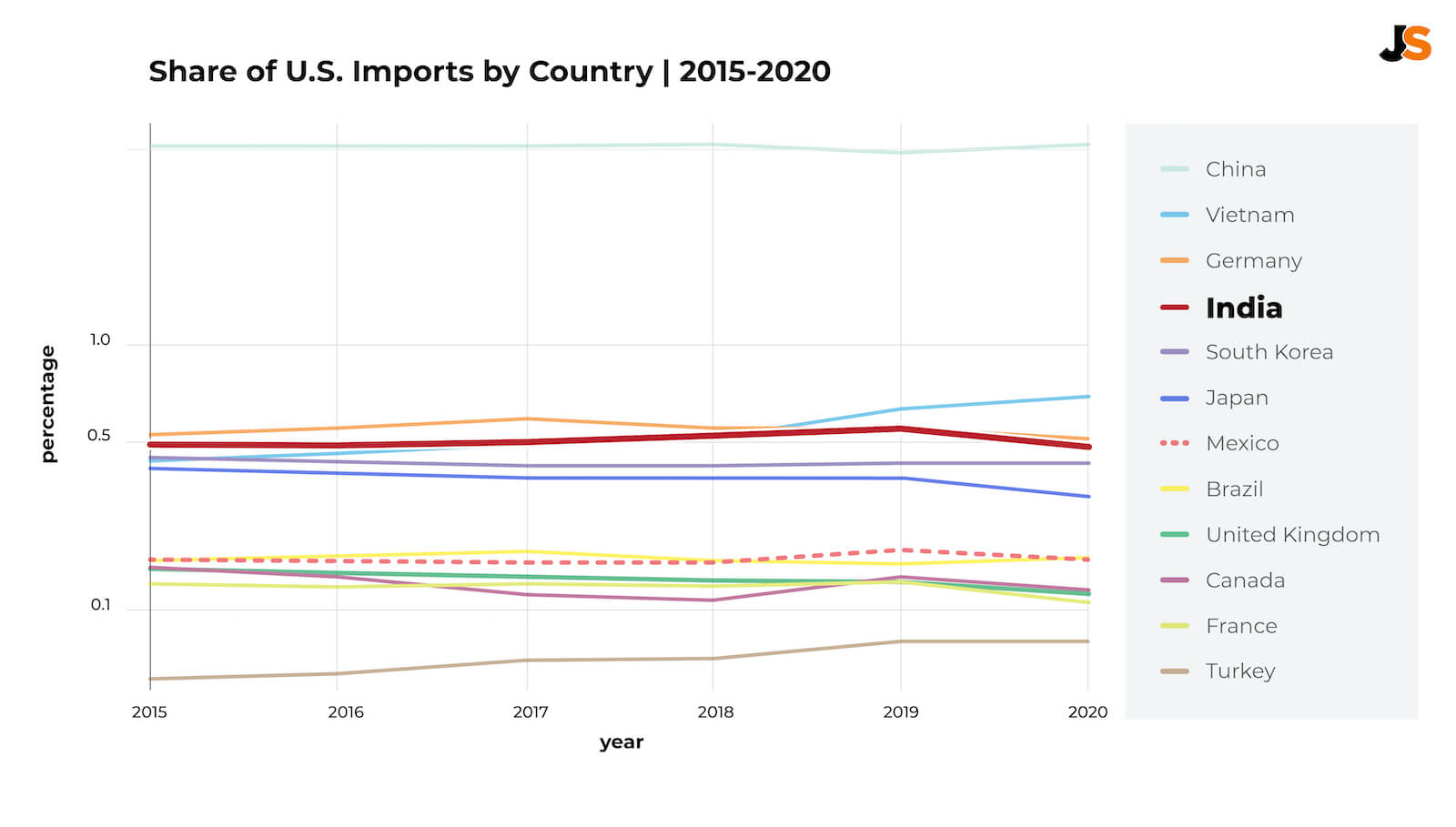 India's share of U.S. imports has decreased slightly in the past five years—by about 2.7%. India isn't the only country in Asia to see their share of U.S. imports drop over time. As U.S.-bound exports from China, Vietnam, and Thailand increase, Hong Kong and Indonesia have also experienced reductions—though more drastic than India's. 
Changes in share of U.S. imports | 2015-2020

What kinds of products does the U.S. import from India?
Though the U.S. imports many different kinds of goods from India, the top product category by a large margin is textiles. 
| | | |
| --- | --- | --- |
| Import Category | Number of shipments from India | Percent of U.S. imports from India |
| Textiles | 44868 | 22.5% |
| Machinery / Electrical | 23274 | 11.7% |
| Chemicals & Allied Industries | 22737 | 11.4% |
| Metals | 20780 | 10.4% |
| Miscellaneous | 17376 | 8.7% |
| Stone / Glass | 11845 | 5.9% |
| Vegetable Products | 11611 | 5.8% |
| Plastics / Rubbers | 11024 | 5.5% |
| Transportation | 9292 | 4.7% |
| Foodstuffs | 8555 | 4.3% |
| Wood & Wood Products | 5588 | 2.8% |
| Mineral Products | 4047 | 2.0% |
| Animal & Animal Products | 3725 | 1.9% |
| Raw Hides, Skins, Leather, & Furs | 2808 | 1.4% |
| Footwear / Headgear | 2071 | 1.0% |
The U.S. sources nearly double the amount of Indian textiles as it does Indian machinery products, the next-largest category imported Indian goods. 
India is also a leading contributor to U.S. imports of footwear, mineral products, and raw hides and furs. Together, these categories constitute less than 5% of India's overall trade portfolio with the U.S.—a testament to the sheer volume of America's imports from India. 
Nearly half (46%) of the products imported by the U.S. from India are textiles, machinery, or chemicals. Using Jungle Scout's Supplier Database, we can find out which popular Amazon products are sourced from Indian manufacturers. Here are some of the top-selling products on Amazon that are made in India, listed by U.S. import category. 
Textiles
Textiles account for 23% of the U.S.'s imports from India. This category includes yarn, thread, and fabric, as well as clothing, carpets, and bed linens. 
Supplier Database lists thousands of textiles suppliers across India, including one in Mumbai that manufactures products for top U.S. brands like Ralph Lauren and Gap. 

Machinery & Electrical 
About 12% of U.S. imports from India are machinery or electrical products. This category covers a range of items including household appliances, smartphones, and audio equipment. 
This supplier in Moradabad creates lamps and other home electronics for popular American brands including Wildwood Lamps, Williams Sonoma, and Serena & Lily. 

Chemicals & Allied Industries 
Chemicals comprise 11% of the products the U.S. sources from India. These include medicine, soap, and other pharmaceutical products.  
Unilever, one of the largest global brands for food, personal care products, and household cleaners, manufactures many of its chemical products in Mumbai.

Predicting the future of U.S. imports from India
India is a prominent trade partner with the U.S., and will likely remain among the top U.S. importers in the future. However, increased imports from other top U.S. trading partners could cause American imports of Indian goods to further decrease. 
For instance, as India experienced its 2.7% decrease in share of imports from 2015 to 2020, Vietnam rapidly grew its share, eventually becoming the U.S.'s second-largest maritime trading partner (after China) by the first half of 2020. 
Top 10 countries by share of U.S. imports | 2015-2020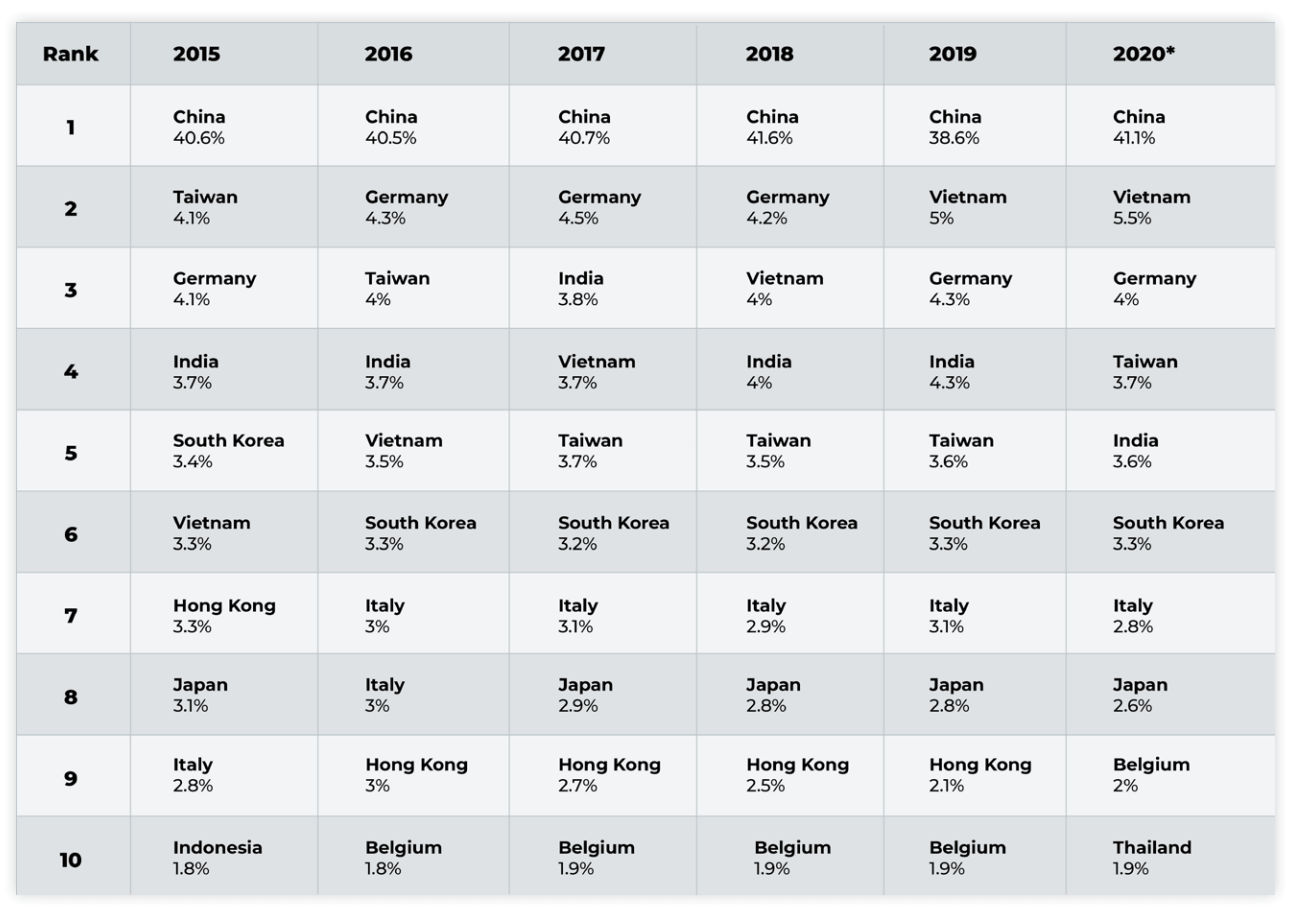 It's also worth considering India's trade performance during the COVID-19 pandemic in 2020, and what its dramatic decline in shipments to the U.S. during that period implies about the future strength of its supply chain.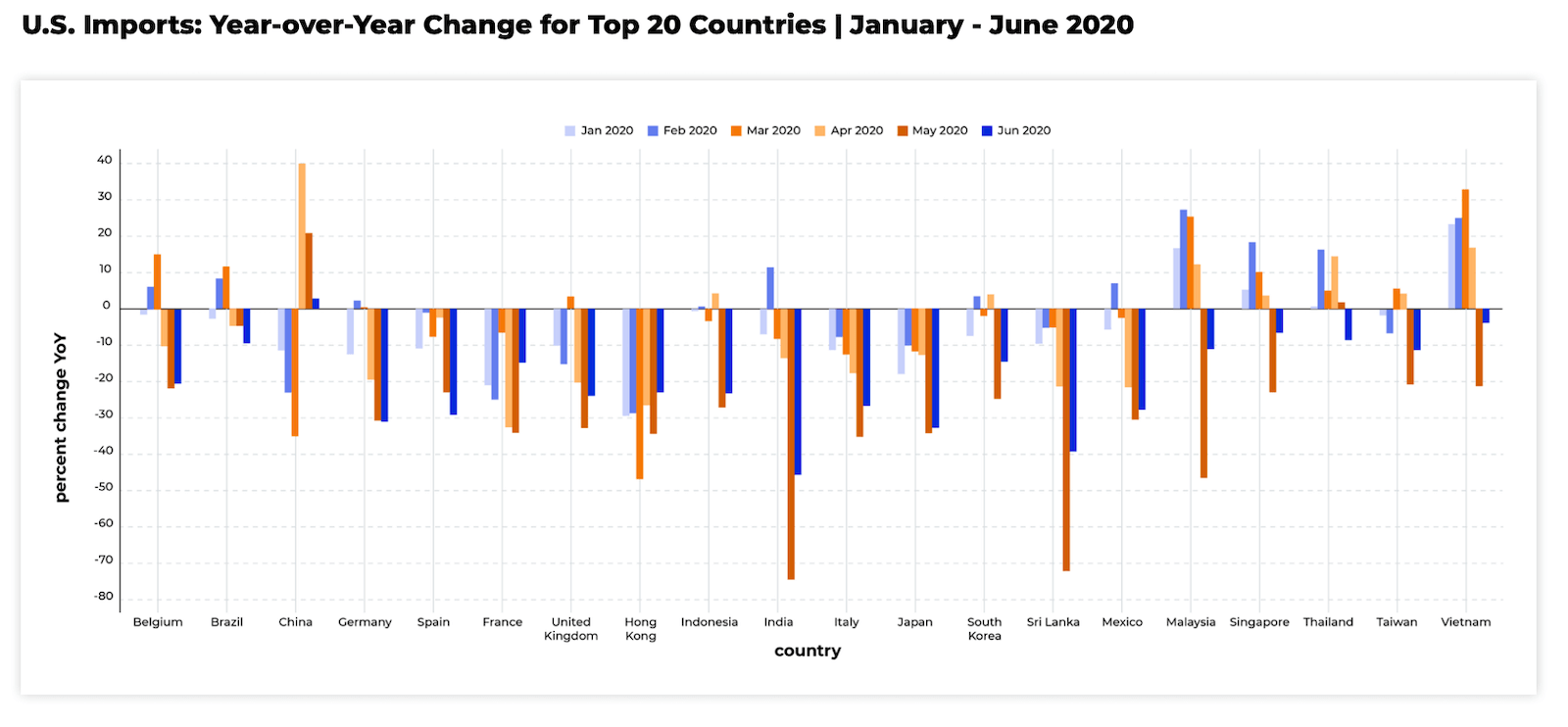 As India's COVID-19 cases and deaths rose in early 2020, its share of U.S. imports dropped by 8.3% year-over-year for the month of March. By May 2020, India's new COVID-19 cases had reached 140,713 people—and the U.S.'s monthly imports from India had shrunk by 75% year-over-year. As mentioned earlier, India experienced one of the most dramatic interruptions in trade to the U.S. during the first half of 2020, whereas other U.S. trading partners endured smaller losses and recovered more quickly. 
For more information on global trade and the U.S.'s trade relationships with India and other countries, see Jungle Scout's full 2020 Global Imports Report.