Recently, the clock in my living room broke. It was one of those oversized farmhouse-style clocks; kind of like something you'd see Joanna Gaines find on Fixer Upper, starting a massive new farmhouse clock trend.
Well, on ours, the hands stopped moving.
My wife turned to me and said, "Well, obviously we need a new one." Sure. No problem. Where'd we get it from? "Pier 1 Imports!" I groan. Already I know that means it's going to be a $200 replacement.
Can't we just get one at Target, I beg. The ones at Target look the same. My wife: "Uh, they are not the same. Two very different companies."
Lightbulb!
What if the two clocks, in fact, weren't that different at all? Is it possible that Target and Pier 1 purchase their products from the same global factories? (And in case you were curious, no, Target and Pier 1 do not manufacture all of their own products in their U.S. headquarters of Minneapolis, Minnesota and Fort Worth, Texas, respectively.)
Where do big brands get their products? (Spoiler: it might be from the same place)
Here at Jungle Scout, we have a tool called Supplier Database. It gives Amazon sellers the ability to find global suppliers to manufacture their products from its massive database of all companies that import goods into the U.S. Using this search feature, I can enter in keywords, vendors, and even companies to find out where items come from.
So, to test my theory of the clocks being similar, I entered Pier 1 into the database's search function and presto: out came a list of all the manufacturers that Pier 1 uses for their imports.
Next, I picked one of the vendors they use to see who else uses them. And what do you know? My premonition was correct. Pier 1 and Target actually share a supplier, C L Gupta Export Ltd in India.
And while some brands own their own factories, larger companies (like Target and Pier 1) could have a few dozen — or even hundreds — of factories they source from.
But Target wasn't the only company I found that shared one or more factories with Pier 1. The graphic below features three of the manufacturers the company uses, as well as other recognizable brands using those same suppliers.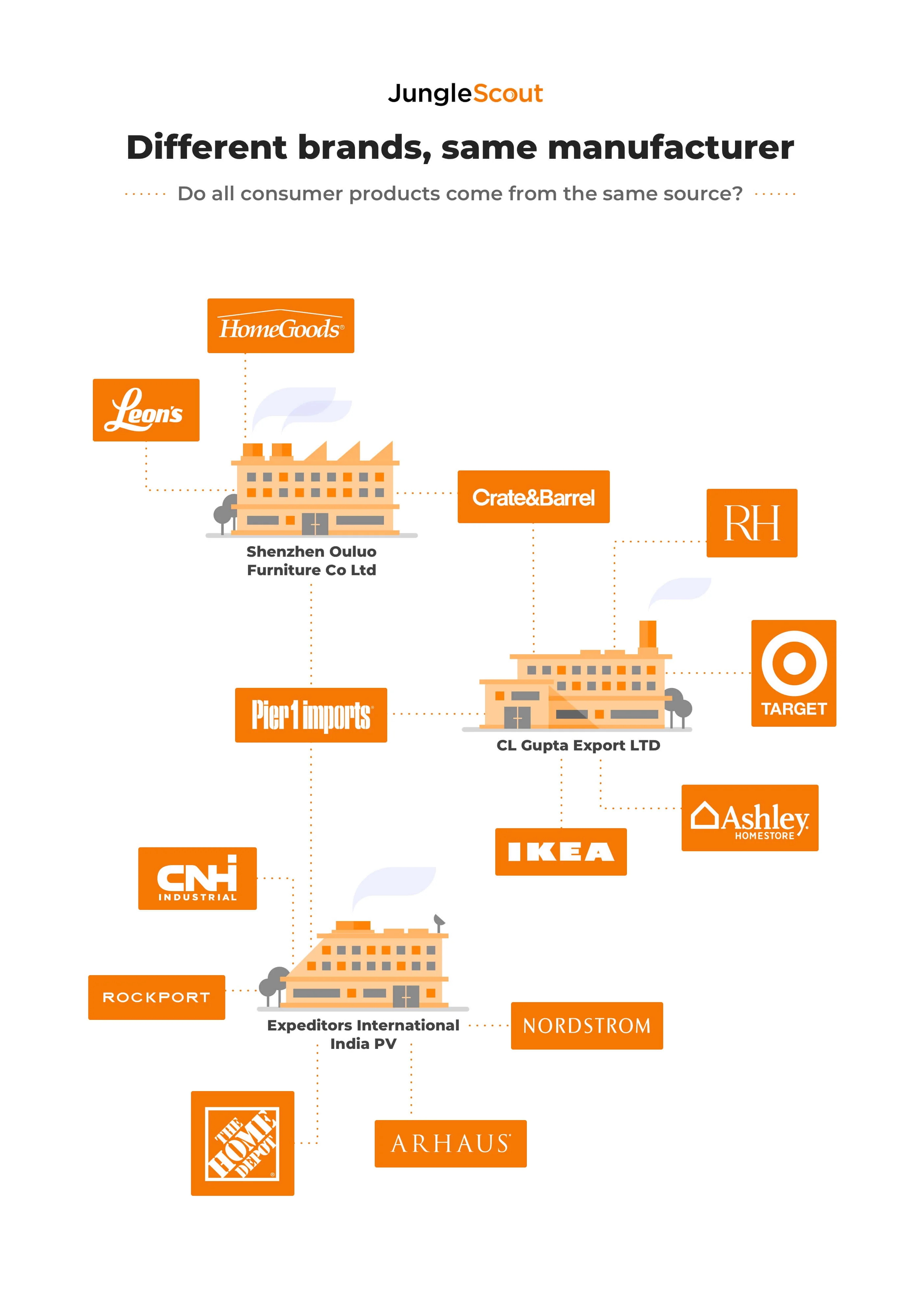 Who else uses Pier 1's suppliers?
The supplier C.L. Gupta Exports, Ltd. (India) supplies not just Pier 1 and Target, but also creates products for Ikea, Ashley Furniture, Restoration Hardware, and Crate & Barrel.
Looking at some of the other suppliers Pier 1 uses, we get a sense of "6 degrees of separation", with Pier 1 in the starring role.
For example, Expeditors International India Pvt. Ltd. (India) — another supplier Pier 1 uses — creates products for Home Depot, Nordstrom, Rockport, and Arhaus. And Pt Casalini Natura (Indonesia) makes products for Pier 1, HomeGoods, Marshalls, TJ Maxx, and The Company Store.
Which major brands share manufacturers?
We also looked at other major global suppliers, and some of the top brands that source products from them across several major product categories.
What did we find out? Countless major brands actually share manufacturers.
And not only do they share them with their competitors, but with significantly higher- or lower-end brands within their industry as well.
Check out the following examples, along with the critical new insights that can help consumers make more informed purchasing decisions:
Product Category: Apparel
Lululemon, Under Armour, Athleta, Land's End, Duluth Trading Co., and Walmart source yoga pants, sports bras, and other exercise clothing from Eclat Textile Co Ltd. in Taiwan.

Patagonia, The North Face, Helly Hansen, Mammut, and Puma source jackets, vests, parkas, and pants from Kwang Viet Garment Co Ltd. in Vietnam.

Saks 5th Avenue, Lord and Taylor, Bass Pro Shop, Sears, Kmart, Primark, and Stage Stores (Stage,

Peebles

, Bealls, Goody's, Gordmans, Palais Royal, and others) source t-shirts, pants, dresses, and more apparel from

Norp Knit Industries in Bangladesh.

Nordstrom, Old Navy, JCPenney, Bonobos, GAP, Ann Taylor, Marshalls, Uniqlo, Saks 5th Avenue, Lord and Taylor, Ralph Lauren, Land's End, Banana Republic, and Joseph A Bank source sweaters, cardigans, dresses, tops, and other knitwear from South Asia Knitting Factory Ltd. in Hong Kong.
What does this mean for consumers?
While some brand groupings align based on product similarity (ie. exercise apparel from one supplier, or formal fashion wear from another), there is still a broad range of average price points for each brand from a single supplier. This could mean a supplier is providing clothing of comparable quality to a pricey clothing line as it is to a major discount store.

Apparel manufacturers generally specialize by material. They may purchase spandex/stretch exercise clothing from one source, cotton clothing from another, and knitwear from a third. However, many major apparel brands sell clothing made from many different materials. Therefore, the clothing lines are often produced in different factories all over the world. This raises quality control and design consistency challenges for many brands.
Product Category: Consumer Electronics
Apple and ASUS source personal computers from

Tech Com Shanghai Computer Co Ltd. in China.

Apple, Polaris , Kingston Technology, and Corsair source computer mice and trackpads from Primax Electronics Ltd. in China.

Bose, AKG/Harman (a Samsung company) source headphones from Gamma Inc. in Taiwan.

Jem Accessories (Jemtronix), Emerge Technologies, and Uno Wireless source bluetooth earbuds, bluetooth speakers, virtual reality (VR) headsets, balance scooters, and bluetooth selfie sticks from Shenzhen Tilv Technology Co Ltd. in China.
What does this mean for consumers?
When it comes to complex technology products like wireless/bluetooth technology, or high-quality audio, manufacturers specialize. This means similar products — though sold by different brands — will often come from one of a few specific suppliers.
Product Category: Beauty
L'Oreal, Tarte, Pixi and Markwins (which owns Physician's Formula, Wet n Wild, and Bonne Belle brands) all source mascara, eyeliner, brow pencils and related products from Shanghai Beukay Cosmetics Co Ltd. in China.

Estee Lauder, Shiseido, Coty Inc. (which owns Covergirl, Clairol, Rimmel, among others), Walgreens, and Boots source lipstick, lip gloss, eyeshadow, and concealer from

Intercos Cosmetics Suzhou Co Ltd. in China.

Benefit, Mary Kay, Revlon, Sephora, E.L.F., and Laura Gellar source cosmetic brushes, eye masks, and compacts from

Beauty Yaurient Cosmetics Accessories Co Ltd.

in China.
What does this mean for consumers?
Designer brands often source their cosmetic products from the same manufacturer as drugstore brands. If you knew your $25 mascara came from the same source as a $2 drugstore mascara, would you think twice before buying?

Spoiler alert: Much of your makeup comes from China, not Paris or Milan as the brands' advertising might suggest.
Product Category: Toys & Baby
Hasbro, Walmart, Gamestop, Amazon, Costco, Universal City Studios, and Tomy International source plastic toys, action figures, transformer toys, plush/stuffed toys, and tricycles from Gft Vietnam Co. Ltd. in Vietnam.

Playmobil, Hasbro, Hallmark, and Crayola source plastic toys, electronic toys, toy cars, toy swords/lightsabers, and creative toys from Forward Winsome Industries Ltd. in Hong Kong.

Walt Disney World Resorts, Hasbro, Target, Build-a-Bear source stuffed/plush toys and apparel from Dream Mekong Co. Ltd. in Vietnam.

SkipHop, Belly Buds, LILLEbaby Booginhead, source baby carriers, activity/play centers, stuffed toys, silicone parts, soothing speakers, and more from Germton Worldwide Co. Ltd. in Hong Kong.
What does this mean for consumers?
Like other product categories, these suppliers specialize in certain materials such as plastic, plush, or electronic.
Other products:
YETI, Camelbak, Hydro Flask, Starbucks, Rubbermaid, and Klean Kanteen source stainless steel water bottles, vacuum flasks, and insulated bottles from Zhejiang Haers Vacuum Containers in China.

Whirlpool, Electrolux, Weber-Stephen Products LLC source grill and stove parts and grates from Jih Shin Enamel Co. Ltd. in Taiwan.

Bosch and Black & Decker/DeWalt source drills from

Zhejiang Burley Tools Co Ltd. in China.

Away and Tumi source aluminum luggage and parts from Allied Winner Hk Ltd. in China.
So why do brands share the same factories?
A supplier/manufacturer may specialize in certain materials and types of production, which could appeal to multiple brands.
Some brands may also scope out their competitors and opt to use their manufacturer to create products of similar quality. Or, they may assume the supplier is trustworthy and affordable based on the fact that their competitors use them.
However, it's also possible that suppliers create higher quality products for certain customers. That, in turn, could allow those manufacturers to offer other clients savings on their own production, for items of slightly lower quality.
That being said, without being directly involved in the manufacturing process for the companies involved in any given transaction, there is no way of knowing for sure the reasoning behind a brand's choice in supplier.
What does this mean for consumers?
As a shopper, knowing that certain products and companies share vendors may either act as a bit of relief ("This product is as good as that expensive one — I made the right choice.") or as a wakeup call ("Do I really need this more expensive product if the quality is essentially the same as the lower-cost brand's?")
After all, brand loyalty is decreasing among consumers, reports a 2019 Nielsen study. So why shouldn't Target's lower-cost clock beat Pier 1's?
Of course, it's not always about price. Different brands offer different shopping experiences, customer service, or other benefits.
Pier 1, for example, prioritizes merchandising their wares for home decoration specifically, working with interior designers to create a carefully curated store layout.
Meanwhile, Target is an all-purpose store, offering far more than just housewares. It has a robust online experience and a generous return policy.
What does it mean for Amazon sellers?
What differentiates many products (if they come from the same manufacturer) is the experience the consumer has in purchasing and owning the product. But, because Amazon takes care of much of this process and experience (ie. what often makes a brand a brand), sellers struggle to present this differentiation.
However, there are still plenty of opportunities for sellers to add value to their customers' experience.
Brands can stand out from their competitors by using high-quality packaging, creating eye-catching and informative product listings, and providing responsive and friendly customer service.
Overall, though, the biggest takeaway for Amazon sellers is that they can have their product manufactured by the same supplier as their biggest competitor (or major luxury brand) and use that to their advantage.
Whether it's through pricing or messaging, this information can benefit sellers.
Methodology: How to find the suppliers for big brands
For reporters interested in exploring certain brands or suppliers, please contact [email protected].
Here we'll review how we research global suppliers within Jungle Scout's Supplier Database.
First, log in to Jungle Scout and navigate to Supplier Database.
Then, click onto the search bar and select 'Company' (you can also search via Product, Supplier, and Amazon's product identifier code, the ASIN). Type in the name of the company you're interested in scoping and hit 'Search.'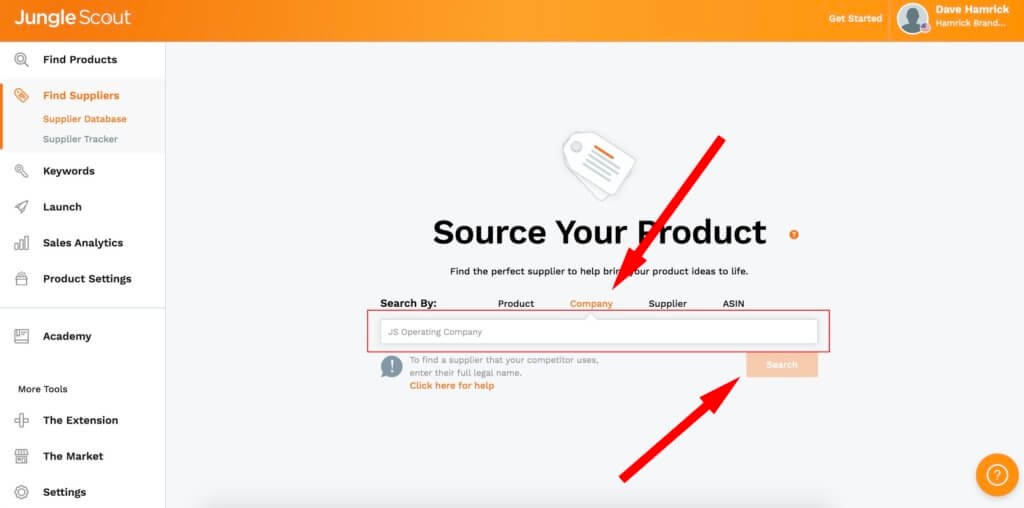 From there, Jungle Scout loads all of the companies matching your search.
For a company like Pier 1 Imports, it's likely that they have more than one business account importing goods into the U.S., so there could be dozens of entries.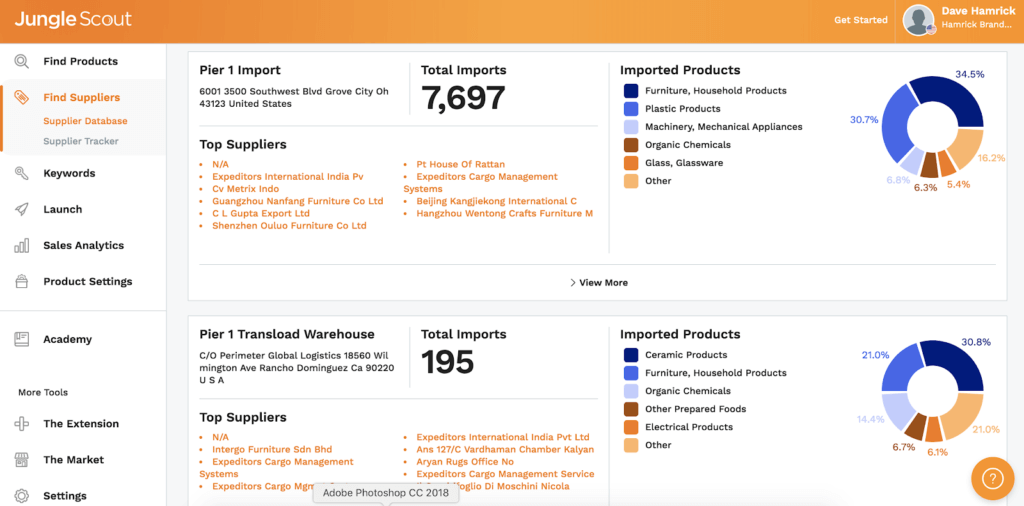 Other ways to find products on Supplier Database
Search by Product
If you aren't interested in scoping a competitor or big band, you can simply type in the name of the product that you wish to source. For example, if I type in "farmhouse clock" into Supplier Database's search bar, it gives me this information:

Search by Supplier
Perhaps you discovered a supplier while doing an Alibaba search. Or maybe you heard about a great manufacturer at a trade show. With Jungle Scout's Supplier Database, finding their information is easy since you can search for a specific supplier by name.
I put in the name of one of the suppliers I use for my books. Here is what I discovered about them: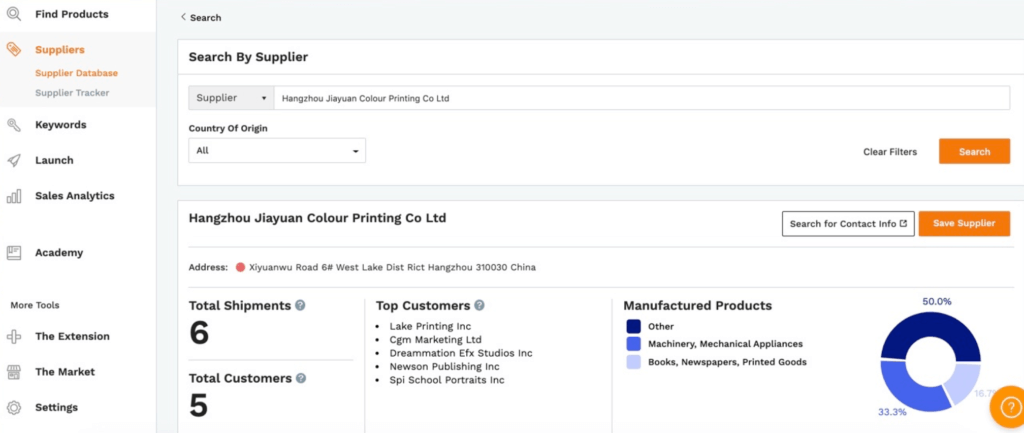 Search by ASIN
Another option is to search by ASIN. If you know the product's Amazon Standard Identification Number (ASIN), you can enter that as well.
For example, I went to Amazon and did a search for "farmhouse clock". It led me to a seller offering a product similar to what I was looking for. Taking that item's ASIN, I put it into the Search Bar in the Supplier Database and got back this information: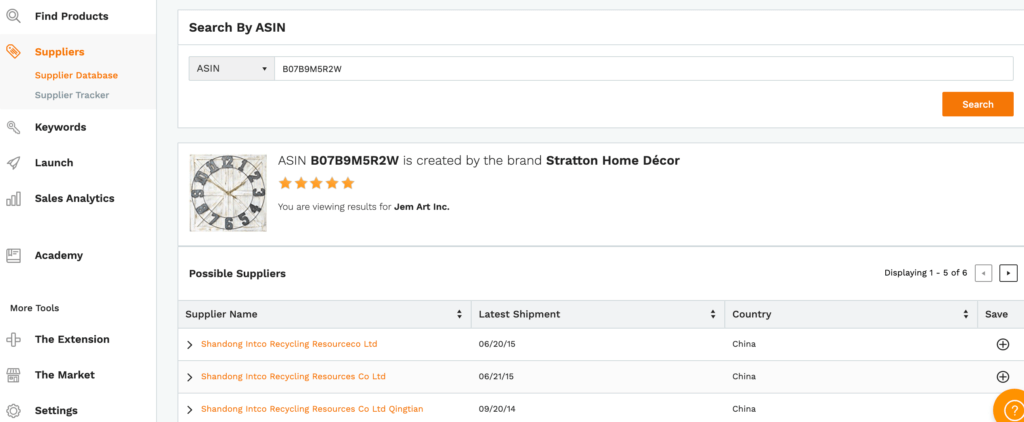 Learn more about how you can use Jungle Scout's Supplier Database to discover nuggets of information like this for yourself,:
For questions about this data, please contact us at [email protected]