With the ever-increasing competition on Amazon—see search results littered with Sponsored Product ads—it can be difficult to stand out. Fortunately, eye-catching video ads are here to change that.
What's more likely to grab a customer's attention—a video, an image, or a chunk of text? Probably the video, right? Brand-registered Amazon sellers can put this principle in action with Sponsored Brands Video ads.
These compelling product videos take up a big portion of real estate within the search results and automatically play when a potential customer scrolls by.

Let's go over what Sponsored Brand Video Ads are and how they work, tips on creating a compelling video, and how to set up your video ad.
What are Amazon Sponsored Brands Video Ads?
A Sponsored Brands Video ad is a type of Sponsored Brand ad and is only available to sellers enrolled in the Brand Registry program. Video ads were introduced in early 2020—and this relative newness makes it a great way to stand out from the competition. After all, many of your competitors may not yet be brand registered.
Sponsored Brands Video ads usually appear halfway down the first page of Amazon search results. Unlike typical Sponsored Product ads, which resemble organic search results, video ads take up a large portion of the page—customers can't miss them.
These two-part ads display a brand's video beside a product thumbnail that includes the product's main image, title, reviews, price, and shipping information.
The example below shows the first page of Amazon search results for "waffle maker." The page begins with a Sponsored Brand ad, followed by two Sponsored Product ads, three organic search results, and finally, the Sponsored Brands Video ad.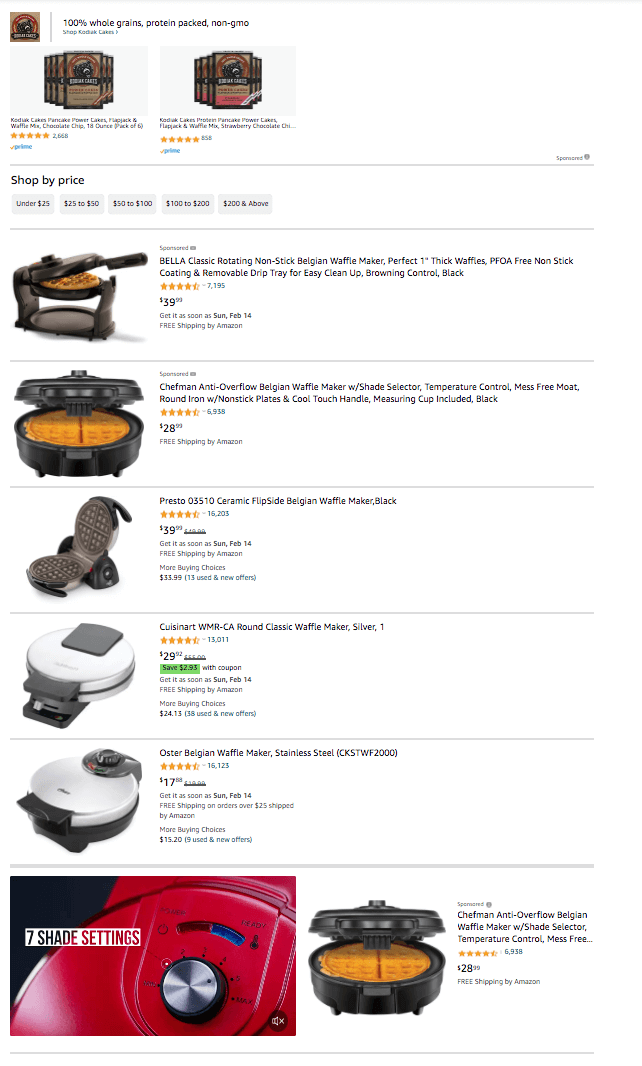 Since they auto-play, video ads are immediately helpful: without even clicking through to your listing, the customer gets a quick, educational presentation of your product.
How do Sponsored Brands Video Ads work?
Similar to Sponsored Product Ads and Sponsored Display ads, video ads are a form of PPC advertising on Amazon, under the umbrella of Sponsored Brands.
In a nutshell, running PPC ads on Amazon involves bidding on specific keywords in order for your product to show up prominently within Amazon search results, thereby gaining impressions and clicks from potential customers. Of course, as with any other ad campaign, you will be competing against other Amazon sellers in your niche.
Amazon recommends that your videos be short and to the point—no longer than 30 seconds. Of course, you want them to be informative to the customer. A well-done video ad tells the potential customer everything they need to know about the product within the first few seconds.
Before creating your video ad, please be sure to review Amazon's guidelines on Sponsored Brand videos. If you're not a skilled videographer, you should hire a professional to shoot and edit your product videos—especially someone who is familiar with Amazon.
The Jungle Scout Market is the best place to find talented videographers to create an informative and creative product video for your brand.
Best Practices for Product Videos
Create an educational and demonstrative video about your product
This video needs to focus 100% on your product and nothing else. Don't try to add unnecessary fluff and content that doesn't have anything to do with your product or brand.
Show customers exactly what your product is, how it works, and any useful benefits within the first few seconds. This will keep the viewer engaged and increases the likelihood that they'll click through to your product listing.
Keep your videos short
Amazon recommends keeping your video length between 15 to 30 seconds to quickly relay your message. Highlight the key selling points of the product to keep your potential customers engaged. Any longer, and the viewer may lose interest and move on throughout the search results.
Optimize video for no sound
Your video will automatically play on mute, so you should optimize your video with on-screen text that can be easily read—don't rely on sound to communicate your message. Similar to how you should add descriptive infographics to your product images, do the same for your product video.
Add informative and easy-to-read text or captions to point out various product features, benefits, uses, sizes, and specs. Give your customers as much information as possible that will help them make a purchase.
Skip the fancy intro
Don't start your videos with a fade-in effect or an intricate introduction—save that for your listing video. Remember, you need to keep the videos very short so you don't cause the customer to lose interest.
Consider creating a looping video
Your video ad will automatically loop once your video ends, so consider creating a seamless loop to keep customers hooked. That way, it'll seem as if the video never ended and gives you a chance of the customer rewatching the ad.
Video Specs and content guidelines
Video specs
16:9 aspect ratio

1280 x 720px, 1920 x 1080px or 3840 x 2160px

23.976, 24, 25, 29.97, 29.98, or 30 fps

1 Mbps or higher bit rate

H.264 or H.265 codec

6-45 sec long

500 MB or smaller

MP4 or MOV file

Main or baseline profile

Progressive scan type

1 video stream only
Audio specs
44.1 kHz or higher sample rate

PCM, AAC or MP3 codec

96 kbps or higher bit rate

Stereo or mono format

Not more than 1 audio stream
According to Amazon's Video guidelines, your videos must not contain the following:
Blurry or low-quality images

Creative elements that interfere with Amazon's

Video Safe Zone

templates

Customer reviews, even if they're Amazon reviews

Savings promotions or discounts

Distracting images such as flashing, spinning, blinking, pulsating objects or text

Distracting sounds or sudden changes in volume

Illegible text

Blank or black frames at the start or end of your video

Bars on the sides of your video—your video cannot have a letterbox or pillarbox format

Poor audio quality, including unclear or inaudible sounds

Poor video quality and low resolution

High-pressure sales tactics intended to elicit a customer's click or purchase
Top rejection reasons
According to Amazon's terms of use, these are the top reasons why your video ad would be rejected.
Black or empty frames at the start or end of videos.

Abrupt edits that can result in an incomplete video and a poor customer experience

Your video features Amazon trademarks, logos, products or references to Amazon products or services

Including customer reviews in your videos (including star ratings)
How to set up a Sponsored Brands Video Ad
After your video ad is created according to Amazon's guidelines, it is then time to set up the ad.
In Seller Central, go to the "Advertising" tab, then click "Campaign Manager," and then "Create Campaign."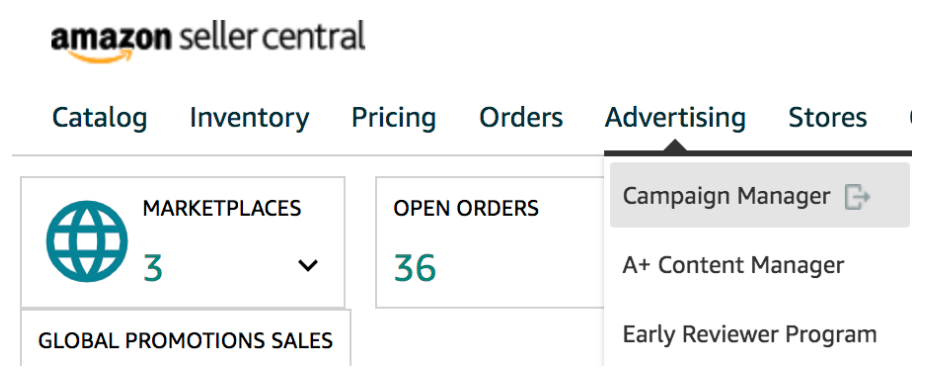 Next, click on "Sponsored Brands" under "Choose your campaign type."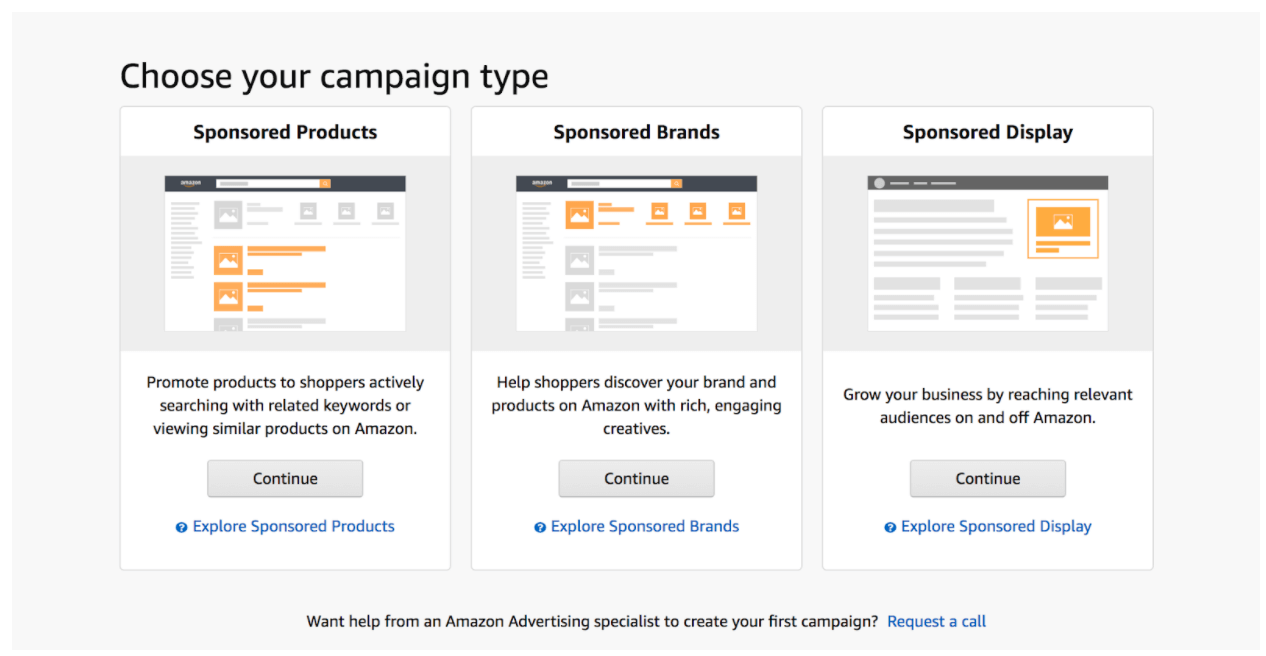 Under "Settings," enter your campaign name, the date range, a daily budget, and the brand you're going to advertise.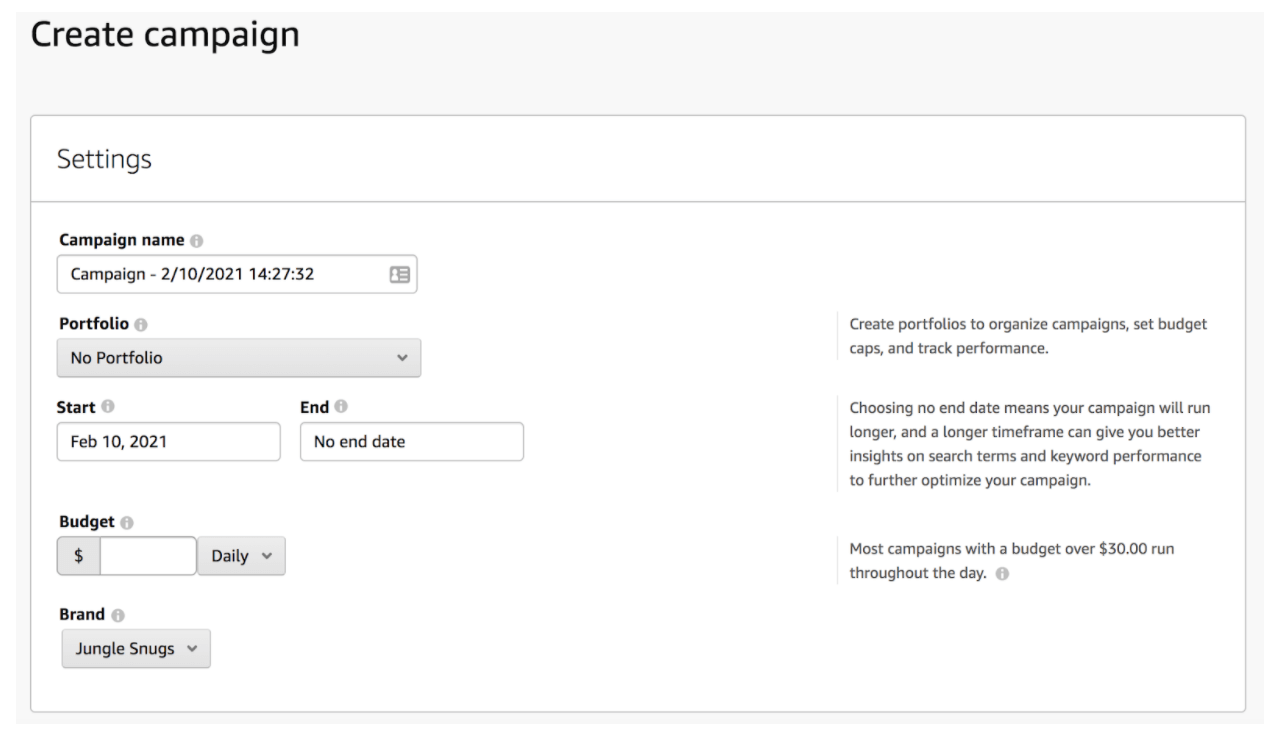 Next, you will choose Video as your ad format.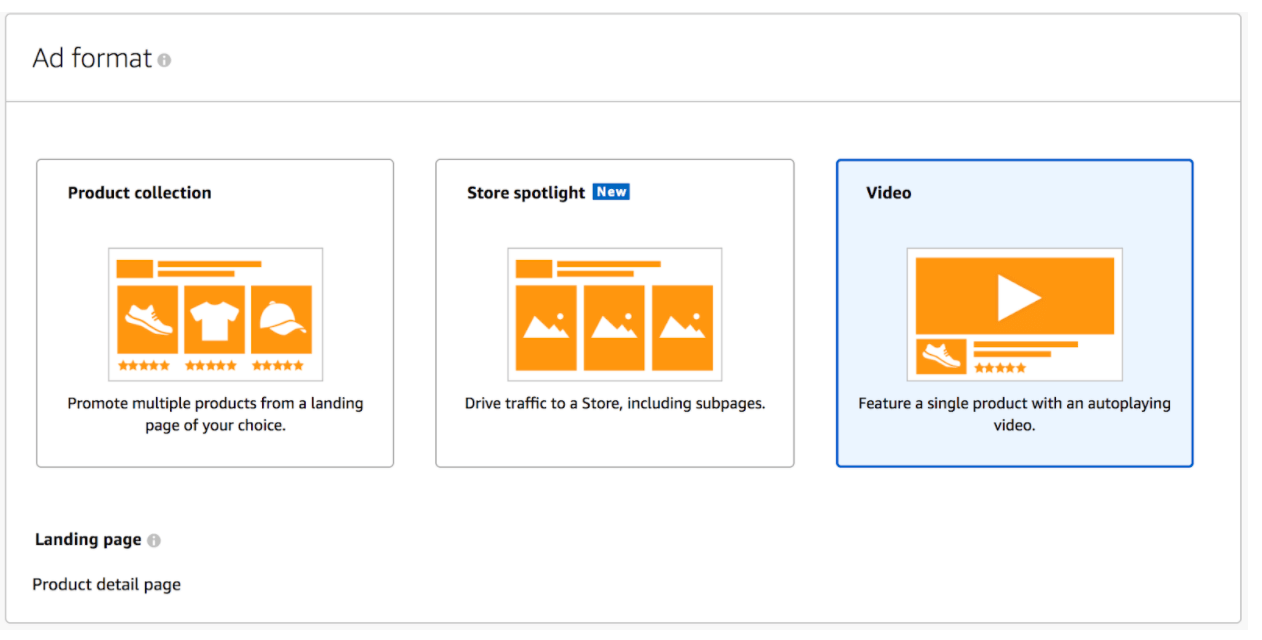 Choose the product you want to advertise.

Upload your video. Amazon will also show you a preview of where your video will show up on desktop and mobile.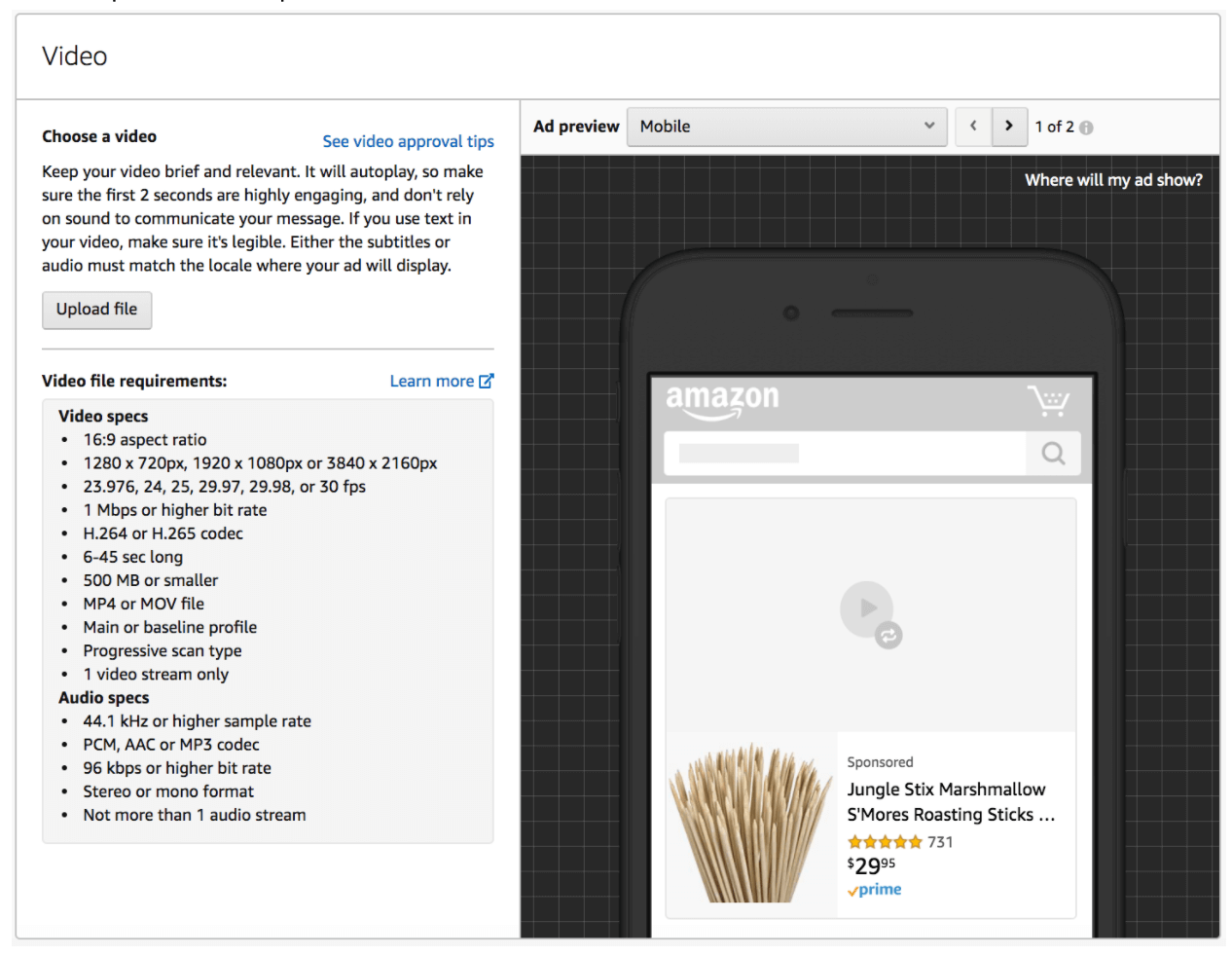 Lastly, you will enter the keywords you want to target.

After choosing the keywords you want to target with your video ad, hit "Submit for review." Amazon will review your ad within 72 hours. That's it! Soon, your video will be running and gaining impressions in the search results.
Are Sponsored Brands Video Ads worth it?
Similar to any other ad type on Amazon, you'll need to test it out for yourself! The fact that it is only available for brand registered sellers and the large ad space you're given is reason enough to run a video ad. You'll stand out from your competition, and we believe an investment in distinguishing your brand is well worth the cost.
Have any more questions about Amazon Sponsored Brands Video ads? Let us know in the comments!