Do you ever feel like finding the perfect product to private label is like panning for gold? Laborious, tedious, and lots of fruitless attempts with no real guidance? We know that in many cases, the hardest part is the first step, so congratulations on getting that far. We have also experienced the challenges of finding good product ideas, so let's work through this together, sourcing product ideas online to find the perfect product!
We'll go through a couple different product sourcing ideas and by the end come up with 20 or so potential products to dig through.
To start with, let's establish the basic criteria for what type of product would be good. There is lots of information (both free and paid) floating around the interwebs for how to source products. Many follow the same logical guidelines, which are outlined by Jungle Scout's own Greg Mercer and The Amazing Seller, Scott Voelker, here. The criteria is:
Priced between $19 – $45
Lightweight & Small (Fits in Shoebox)
Sells 10 per day or more
Sourced at 1/3 of selling price
Ships by Air
Under 100 reviews
So let's get out our notepad and start jotting things down. Remember, this is the "ideation" phase, there will always be time to trim the list down later to items that really pique an interest.
A good first place to start is observing the environment around you: problems you encounter, items use on a recurring basis with little regard for price, yada yada. Too much thinking to do there. An easier passive engagement option is of course Amazon Best Sellers. You can also find some product gems at Amazon UK, Amazon Germany, or Amazon Japan, all large and growing Amazon markets. However, clicking through a website in a foreign language is about as fun as taking the wrong train in an unfamiliar foreign city, so let's get out of here. Oh, and take a quick scroll through eBay as well for other ideas, but there are some other things to show you….
If you've spent some time in the private label community, you've probably heard about the Canton Fair. A mammoth of an exhibition twice a year, it is tiring to even read about (over 50 thousand exhibitors, more than a million square feet of spac?!?). So in the true fashion of the digital entrepreneur, let's sit at our desk and shop virtually. Quicker, cheaper, and no haggling. Once we get our product idea and business is booming, we'll attend in person.
The site is categorized nicely, all in English. So click through on the various categories that suit your interest, or some other trending items. After just a few minutes of clicking, here are some solid contributions to the brainstorming list (remember, we're going for quantity over quality at this point!):
gel insoles (for sneakers)
french press coffee maker
cosmetics container
solar-powered cell phone charger
candle holder
plastic pizza scissors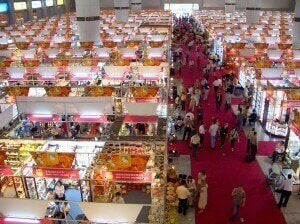 Online Specialty Retailers
Remember the doomsday warnings that brick and mortar stores will be a thing of the past in the next decade? Doesn't really seem to be the case, and in fact they have adapted to embrace ecommerce as an additional revenue channel. So let's use that to our advantage to find products that niche enthusiasts purchase. Whether it's an interest in Home and Kitchen, Hiking, or Arts and Crafts, there are numerous sites to dig through (respectively, Sur La Table, REI, and Michael's for example). Though you can't see data like the Best Seller Rating that correlate to Amazon sales, we can operate under the assumption that these large retailers make data-driven purchasing and inventory decisions, and stock items that sell consistently.
So after browsing a few minutes, I've added these products to our list:
Layer Cake Slicer (wow, that looks like a simple product for $59.95!)
Handheld vegetable spiralizer
Camping cooking set
Belay gloves for climbing
Loom kits (for knitting and weaving)
wood carving tools
Amazon Review Sites
Selling as a private label retailer on Amazon is getting more and more competitive: more sellers, slimmer margins, higher advertising costs, etc. One way that private label sellers use to give their products a boost in the Amazon algorithm (and social proof) is accumulating reviews through review sites. Totally within the terms of service, and a distinct need for both reviewers and sellers. In fact, we may or may not have a solution to this problem soon;-) …..but I digress.
You can browse these sites for other products that FBA sellers have vetted themselves and are presumably at the launch phase. Not only do you have a curated list of products that have recently launched, but you can see their selling price and possibly their cost of goods sold (assuming that they do not want to take a loss and are selling the products at cost in exchange for a review).
Here's a quick list of products that pique my interest:
survivalist flashlight
travel neck pillow
compression socks
mandoline for slicing vegetables
argan oil for hair and face
There's plenty more there, but let's move on to our next wellspring of ideas.
Niche Hobbies and DIY'ers:
The long term mentality to creating a successful business should be to use Amazon to validate the product and build a customer base before selling via other channels. Creating a brand and a relevant suite of products is therefore a necessity, so why not build the brand around an existing community of enthusiasts. There are pockets of like-minded fans in every nook of the internet, but a few concentrated areas that may help you in finding product ideas:
Pinterest is now a de facto option for discovery. Users type in a general query, and receive a diverse yet relevant group of answers. There is a strong DIY aspect to Pinterest (it maintains its own robust category you can check out here: Pinterest DIY & Crafts). Reddit is probably the web's largest network of enthusiast communities. The breadth and depth of the groups, defined as subreddits, is staggering. The groups have value in propelling product launches and gathering customer feedback, but we'll address that in a future post. For now, we'll just browse a few threads, one particularly relevant one is Shut Up And Take My Money where users post items of value, novelty, necessity, etc. Here are some ideas scooped up in a the first few minutes:
grooming mitt for anxious pets
bamboo pillow case set
giant flask
bowties for men
If you are stumped and don't even know what type of niches exist these days, Stuart Walker has put together a formidable list here: 2,531+ Niche Markets. Decathalon, embroidery, hiking? There are products galore here if you dig into any of these niches.
Jungle Scout
So we have a small list of initial products. Now the finale: use Jungle Scout! With a simple one-two combination of Amazon browsing and Jungle Scout analysis, we can multiply this set of products to include many other viable options. Here's how.
Begin by searching Amazon with the main keyword, let's try "grooming mitt". If you use Jungle Scout at this point, it helps to get a brief glimpse into the breakdown of seller type: merchants, FBA, Amazon. A majority of FBA sellers, like these grooming mitts, reveal that it's a private label product opportunity.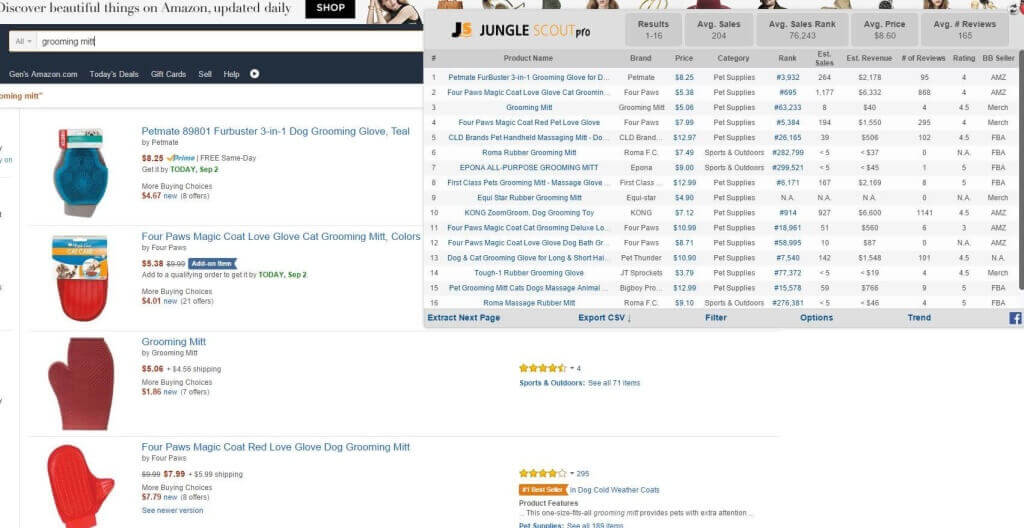 Once you are on a product page, it is also helpful to check the Jungle Scout results, as it will pull the sales estimates and BSR's for other items on the page, like the "Customers Who Bought This Item Also Bought….". This can surface some interesting related products that you can add to the list.
One additional way to do some competitive reconnaissance is to see what other items a successful seller has. Presumably they done their own product research and vetted the product, so why not piggyback off of that. Again, Amazon selling is competitive, and you will have to assume the same will be done when your listing is topping the charts! So click in to any of the products and click on the Seller listing, here: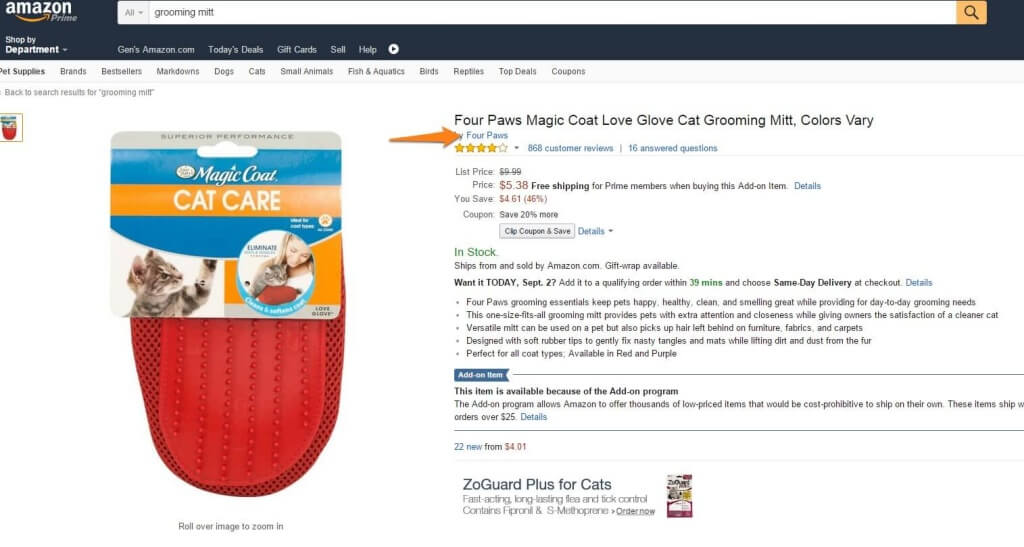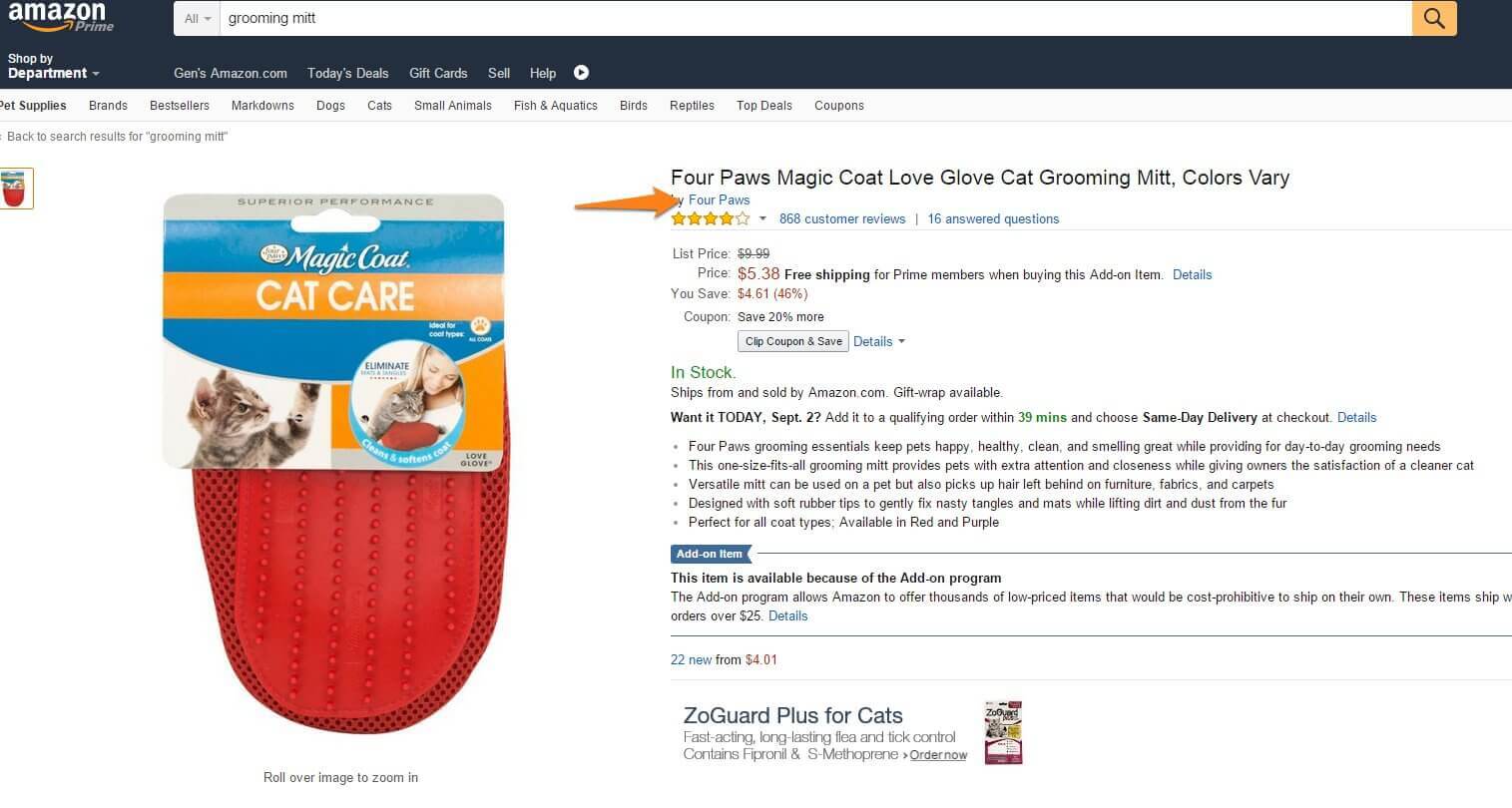 Onwards
And there you have it, a few additional ideas to find profitable private label products. Do you have any other ideas that have worked for you? Please share and discuss them in the comments!
Would you be interested in going through this process together in real time, with full transparency and candor? Let's do it! We've noticed that while there is a great community of sharing information and knowledge, no one wants to share their specific product. There is good reason for that, but we want to operate with a bit more openness, at least in the process of researching, sourcing, and launching a private label product. We will have more details on this to come, but please do let us know more about the challenges you've encountered in your FBA journey and how we can help. Until then, happy scouting!
Want to read more about product research? Then read on!