AUSTIN, Texas, March 29, 2019 — Jungle Scout is changing the Amazon game once again! The product research software tool for third-party Amazon sellers just launched a new feature, dubbed the Supplier Database.
The new Supplier Database feature is a first of its kind among all Amazon seller tools. The database offers three ways to search: by product, by company, and by supplier. This allows sellers to find verified suppliers, match products to factories, as well as locate suppliers currently used by the world's best and biggest brands.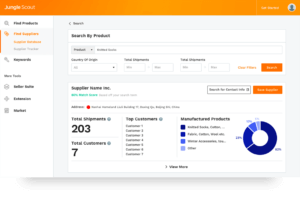 "Finding a reliable supplier is, and has always been, one of the biggest pain points for our sellers.  Most use platforms like Alibaba to find factories, however, the quality of the goods produced from these factories is always a huge unknown. There are countless horror stories of sellers receiving thousands of defective units," said founder and CEO Greg Mercer. "With our tool, you can see the exact products and brands these factories manufacture, cross reference the quality from Amazon reviews and have a real customer-gauged quality score. The early feedback has been nothing short of phenomenal. This will change the way online sellers source products."
Jungle Scout's database only uses verified shipping records to affirm the claims of manufacturers. Sellers will be able to find how many shipments into the United States the supplier has sent, the size of the shipments, and how many companies ship using this supplier. This data will allow sellers to find the suppliers of their competitors, verify marketing claims of suppliers, find suppliers that large, reputable companies use for sourcing, enter supplier negotiations from a stronger position, and more.
Supplier Database functionality will come with all Jungle Scout plans.