Customer service is a vital, double-edged sword for your business. On the one hand, it can help you get a major leg up on your competition if executed well. But, on the other, if poorly executed it can severely damage your business.
Which would you prefer?!
And with the uniform nature of Amazon's website, there is little that can differentiate you from your competitors based on appearance. All product pages look the same. However, once you have successfully earned a sale, you have a perfect opportunity to stand out from your competitors.
Of course, take some time to do your little touchdown dance and enjoy the sale! It's a nice feeling.
But after you celebrate, it's time to get down to business.
While I would venture to guess that less than a quarter of sellers have any follow up sequence in place, it is not enough to send just a cursory 'thanks' email. If you really want to be a Top Seller, aiming to build a high volume in annual revenue, you MUST be unforgettable in your customer service.
And since sending emails is the only way you can express your appreciation for your customers, I'm going to share four tactics to show your gratitude for your customers.
1. Educate your customers.
Teaching your customers about your product (or topics related to your product) is a win-win scenario. Customers feel like they're getting more value than they anticipated, while you ensure they understand and use your product properly. And both increase the likelihood of your customer being a happy customer.
So how can you educate your customers?
Whether you include an ebook, infographic, instruction manual, recipes, or more, there are numerous ways to teach your customers about your product. Here are a few examples of how some Amazon sellers are doing just that:
Like this simple ebook: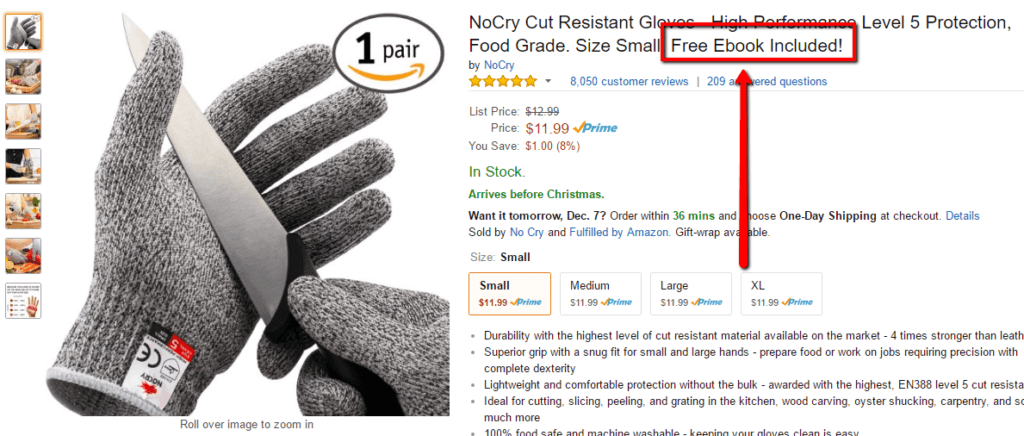 Or this recipe book: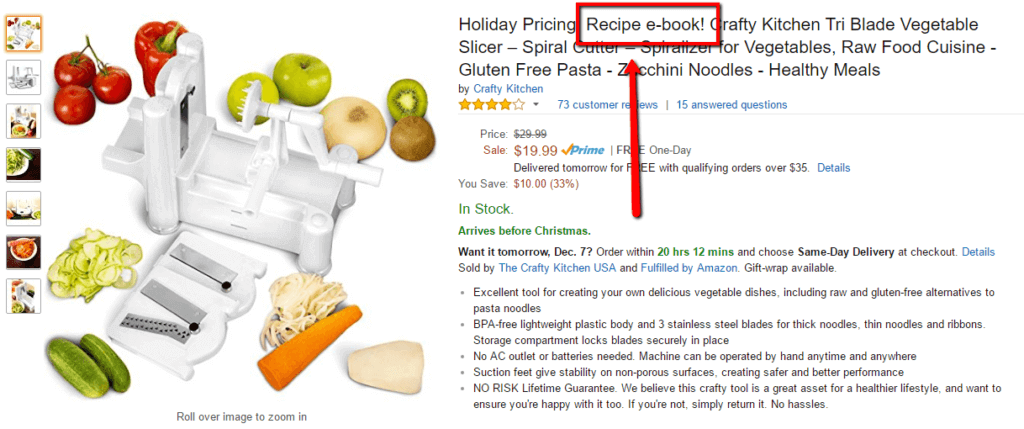 These added-value products also help increase conversion rates at the point-of-sale. And when considering what type of content to put together as an educational resource, I ask myself some of the following questions:
Do my customers need to learn how to use the product properly? For example, if I'm selling yoga straps, I would include an infographic, or a series of photos, on how to do various poses.
Could my customers extract more value, or have a better experience, with some education? For example, if I'm selling a food processor, providing customer with some popular and easy recipes could help them get over any nervousness they might have about using the processor for the first time.
Are there additional materials I can include that will complement their new product? For example, if I'm selling coloring pencils, including simple pictures the customer can print out and color increases the chances they'll use the pencils right away.
2. Offer a surprise upgrade.
Have you ever boarded a plane, dreading the prospect of being squished in the middle seat for seven hours, only to be upgraded to business class? Well, I've not had that experience, but it sounds freakin' awesome!
Now imagine giving that same delightful thrill to your Amazon customers. Sounds intriguing, right?!
Think about what you could do with your product to create a remarkable experience for your customers. For example, one product I sell is bamboo marshmallow sticks. I could, hypothetically, send some accessories for an incredible s'mores experience. I could send marshmallows, a Hershey's chocolate bar, or graham crackers!
Each of those items are relatively inexpensive, but including them would create a nearly priceless memory for a family sharing in the magic of campfire s'mores.
3. Give to a charity.
For our Collaborative Product Launch case study, when we launched Jungle Stix, we donated all of our profits to Doctors Without Borders. Granted, we were running the case study as a learning exercise and not trying to turn a profit.
However, there is a wonderful growing trend called "Cause Marketing" that ties for-profit businesses with social missions. TOMS shoes is perhaps the most famous innovator in this respect, creating the Buy One Give One model, where every shoe purchased also means a pair is donated to a child in need.
But you don't need to donate the entirety of your profits, or give away a free unit of your product to a charity. Even just a small portion of your profits can go a long way in helping other organizations–including yourself.
More specifically, you will be generating good will with your customer base. It's a wonderful dynamic that can pay dividends in positive word-of-mouth and customer loyalty towards your brand.
4. Offer a discount (& get incremental sales).
Perhaps the easiest way to wow your customers is by offering them a discount on subsequent purchases. This strategy will be a pleasant surprise to the recipient, as well as being an incentive to purchase one of your other products.
And if you only have one product, you can include the coupon code in the email. Just ask your customer to forward it to any friends or family who would also appreciate the discount.
Executing this is also incredibly simple and straightforward. With Jungle Scout, you can easily drop in a coupon code in a follow-up email for your customer to use later on.
Your Move!
Like I mentioned earlier, any post-purchase act that creates a "wow" moment for your customer is a good thing for you as a seller. And it astounds me to see how few of my many Amazon purchases don't have any follow up acknowledging gratitude for my buy! I'm not asking for anything crazy either.
While I like to go above and beyond for my customers, I'd be happy to get a simple thank you. It would go a long way towards gaining my loyalty!
So what do you do to stand out as a seller with solid customer support? Please drop your thoughts in the comments section, I would love to hear your thoughts!