Have you ever found yourself browsing Amazon wondering what the pricing history and sales data actually are for the product? With Jungle Scout Pro, you can click on the Price, and see the high-level pricing changes within the extension.
Track product ideas & Amazon review trends with Jungle Scout by using the
Web App
.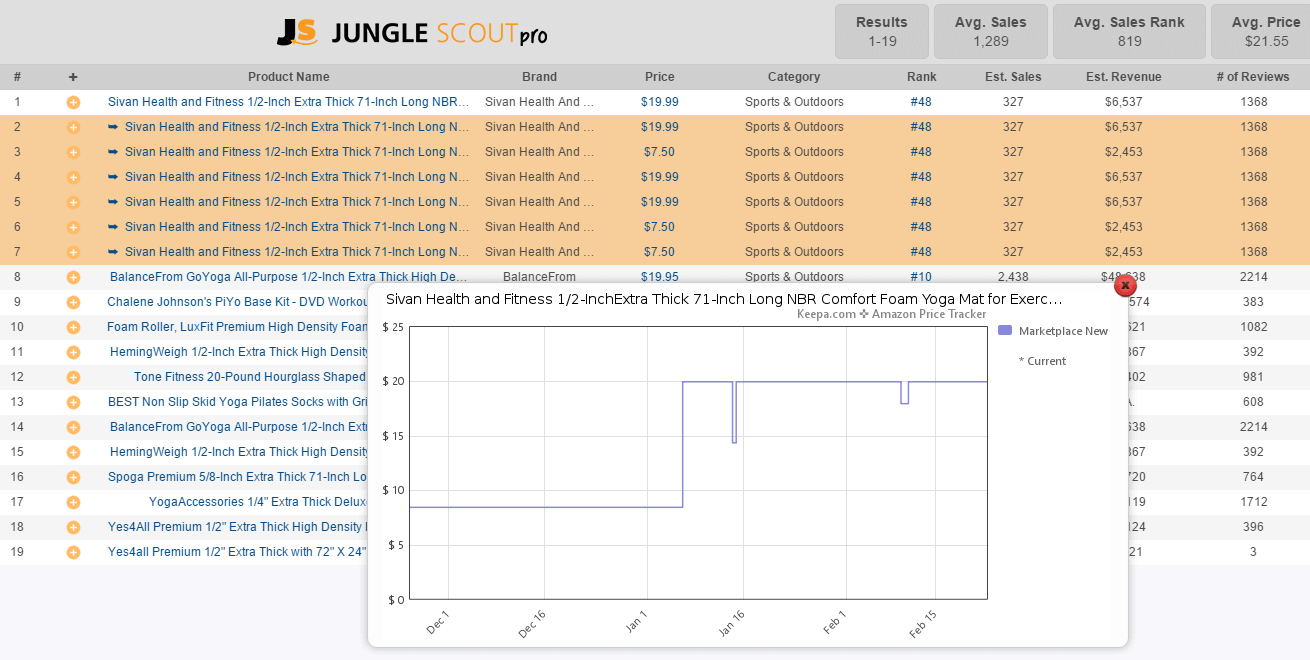 This would help so that you can see the general trends, like the yoga mat example above, where the seller was maybe lowering the price to boost sales and BSR in anticipation of the Jan 1st sales bump for fitness-related products.
However, there are more data points that are important to take into account to get a more holistic view. This data includes the Best Seller Rank, Price, Units Sold, Inventory in stock, and more. We quietly rolled out a very cool feature a few weeks ago: people who own Jungle Scout Pro and a Web App membership can now add products directly to the Product Tracker from Jungle Scout.
You may have seen the orange "+" on the left columns of JS Pro? Yup, just click that and then the product is auto-magically added to your Product Tracker. This is how it looks, in real time: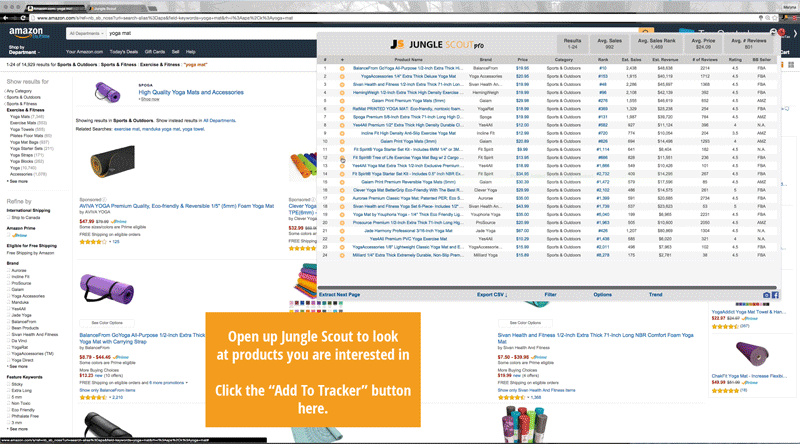 How can you leverage this? Now, while browsing Amazon and cross-referencing data accumulated in the Product Tracker, you get a more robust view of a product's sales history. The extension is great for getting a snapshot in time: what is the current Best Seller Rank, how many reviews, and what are the estimated sales per month? However, as the Jungle Scout estimate for monthly sales is based off the Best Seller Rank, and a product's BSR may fluctuate wildly from day to day, so ideally you want to get a more well-rounded look at the product's history. I like to think of it as viewing the sales data as "lines, not dots", or to put another way, as a movie instead of a snapshot.
However you see it, with the ability to add directly to the Product Tracker from Jungle Scout Pro, sellers can be better informed about the product and niche they are researching. Releasing this feature is exciting to me because it is bridging the gap between two powerful product research tools, so ultimately your Amazon product research is faster, more efficient, and driven by more data. So if we see an increase in productivity AND profits, I consider that a win-win!
Like I mentioned, you do have to have both Jungle Scout Pro and the Web App. If you have either, you can simply log in to your dashboard and complete the puzzle. Level up your Amazon product research today!