This article contains expert-led insights from a previous season of the Million Dollar Case Study.
MDCS is a free, comprehensive video series by Jungle Scout in which veteran Amazon sellers show budding entrepreneurs how to succeed on Amazon—by actually doing it. The series takes viewers step by step through the process of launching a real product on Amazon in real time—from product research to finding a supplier to advertising.
Check out our most current season here for the latest information on selling on Amazon.
In this episode, we cover the importance of branding Amazon products

How to conduct Amazon product trademark research

Do you need a trademark for an Amazon private label product?

Missed an episode? See them all here

.
We're covering all of this today in our seventh episode of the Million Dollar Case Study. Watch the video, keep reading and don't forget to download your FREE MDCS Workbook at the end of this blog post!
Subscribe to the Million Dollar Case Study list here, so you never miss an episode!
Before you get started, if you're not already using Jungle Scout, you will need to get a Jungle Scout subscription to follow along with us and complete your product research.
Welcome Back to the Million Dollar Case Study!
I'm excited because today we're going to be talking about one of my favorite topics – creating a solid brand! This includes ensuring your product has no trademark violations.
For this episode, I interviewed Suzi Hixon, a trademark attorney who was very helpful in explaining the often confusing and complex world of trademarks.
Please note: I'm not an attorney and Jungle Scout isn't licensed to give you official legal advice. Everything that follows is based on our experience as Amazon sellers and consulting with trademark experts.
Branding Amazon Products: Branding
Begin with the end in mind. Amazon is just the launching platform to start and sell your brand – you need to look at the big, long-term picture!
There are two brands names you'll need when you're first setting up your Amazon Seller Central account. The first will be your store name and the second will be creating a brand name for your product. Here's an example: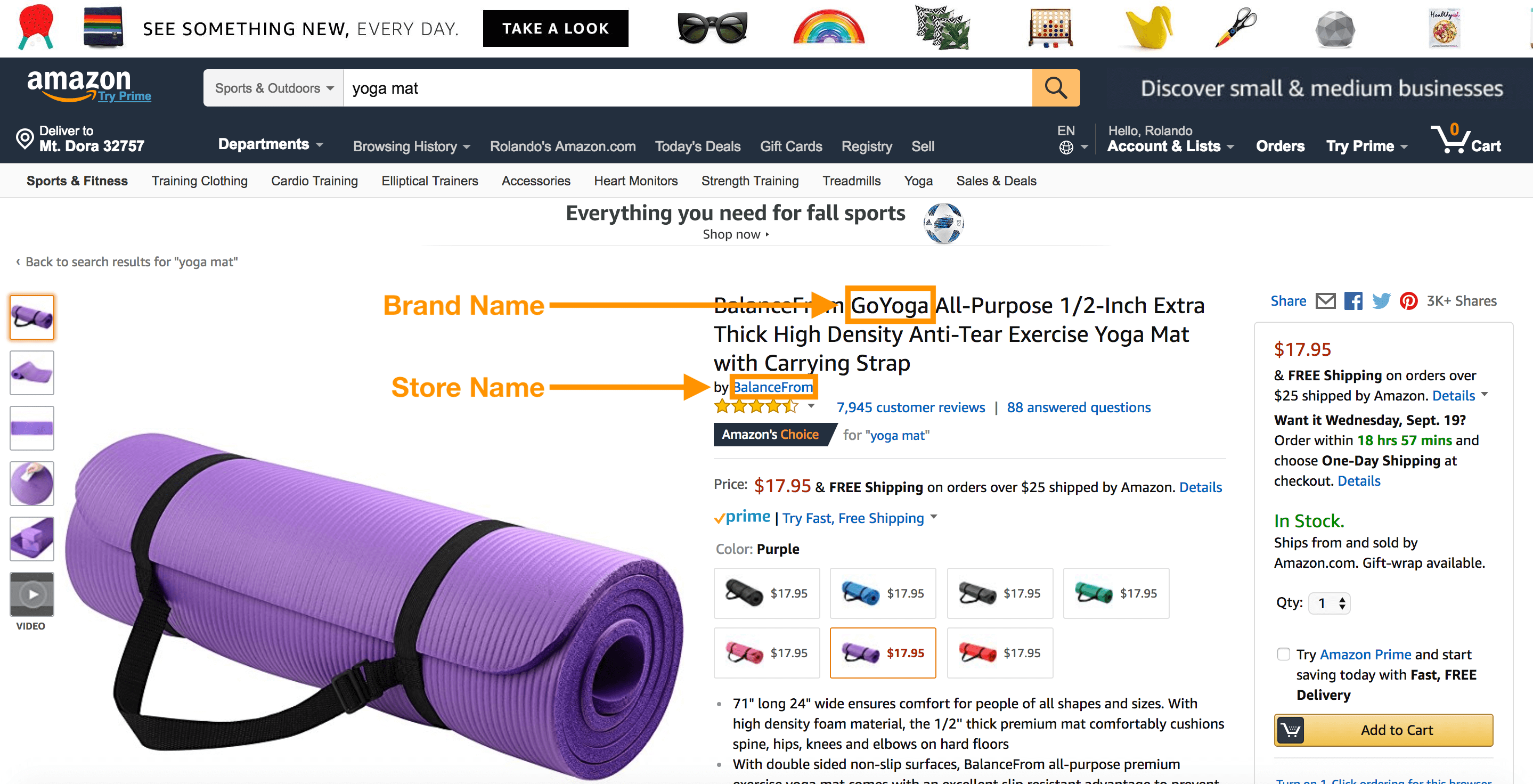 Store Name
Keep this name generic so you can add products in different niches over time.
Product Name
This is the fun part. You'll want to choose a strong and viable name, a name that you can potentially trademark down the road. There are some great benefits to trademarking your brand. We'll cover that this episode, but first – let's get creative!
Here are some helpful resources to get started:
Branding Amazon Products: Trademarks
What is a trademark? A trademark can be a symbol or word that represents a product or company. Typically if an object is Trademarked you will see the (™) or the (®) symbol preceding the mark. However, there is a slight difference between the two symbols, the (™) symbol indicates the assertion that the word, image, or other sign is a trademark; it does not indicate registration. Registered trademarks, on the other hand, use the (®) symbol.
💡PRO TIP: You can begin to use the (™) symbol right away.
As an Amazon seller, is it required for you to file a trademark?
The short answer, no. Registering for a trademark is more of a nice-to-have than a necessity. That said, at a minimum, you will want to conduct some basic trademark research of your own to ensure that you're not infringing on someone else's trademark.
Why are trademarks important for Amazon sellers?
One of the many benefits of acquiring a trademark is that it allows you to put several products into Brand Registry using just ONE registered trademark. In addition to that there are a few extra perks:
Better protection for your brand

The ability to list without a GTIN (discussed later)

Access to powerful marketing features for sellers like enhanced brand content, and videos
What's needed to get Amazon Brand Registered:
Registered Trademark for your brand

Your trademark and brand name on your product packaging

A product website
The good news is that if you are just starting out, this is something you can do later on down the line once the sales are flooding in.
How do you check to see if trademarks exist?
Start your search at www.USPTO.gov. This isn't the most user-friendly site, however, this is where all US trademarks and patents are registered.
Begin by selecting "Search trademark database" as pictured below.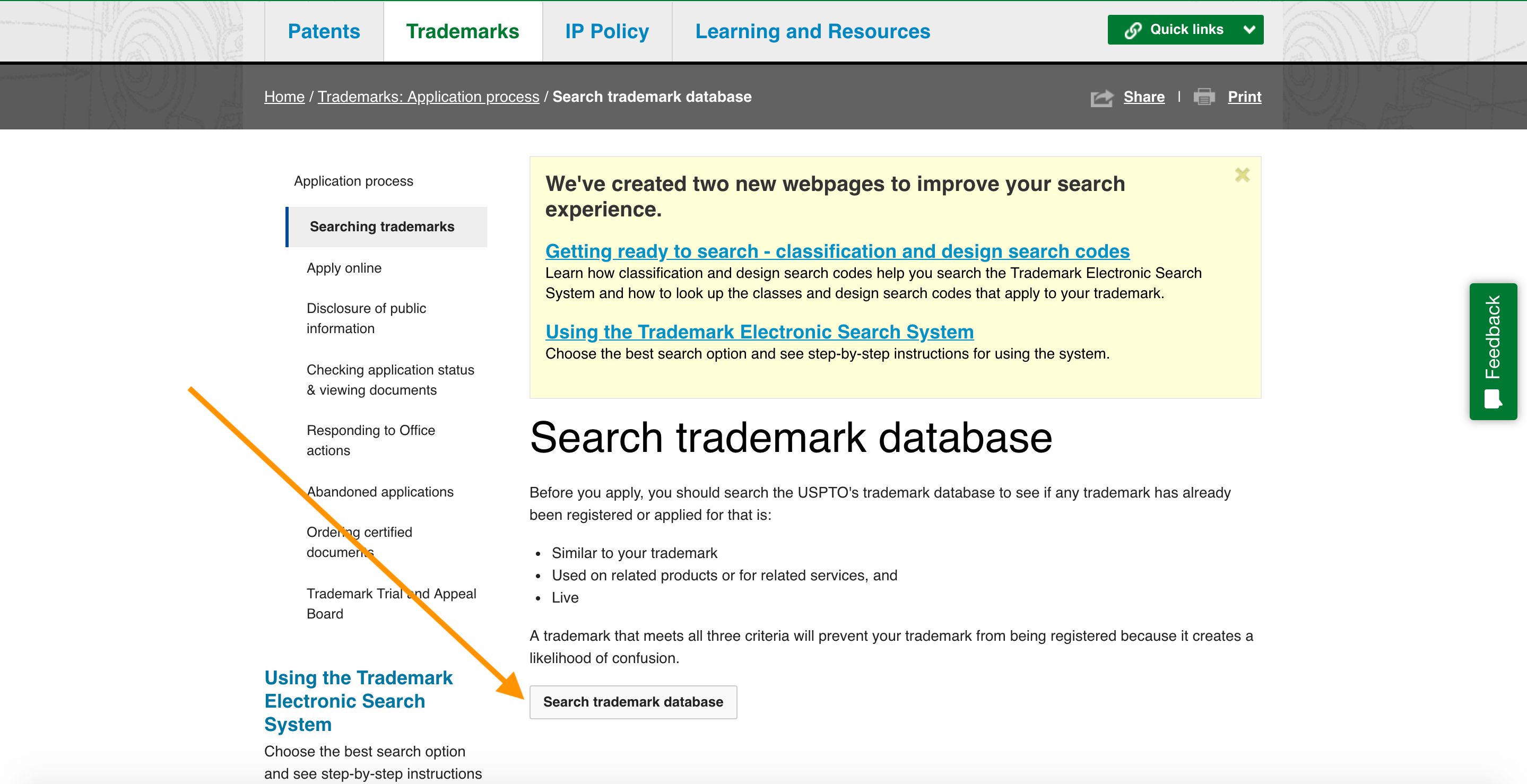 Next, select "Basic Word Mark Search (New User)".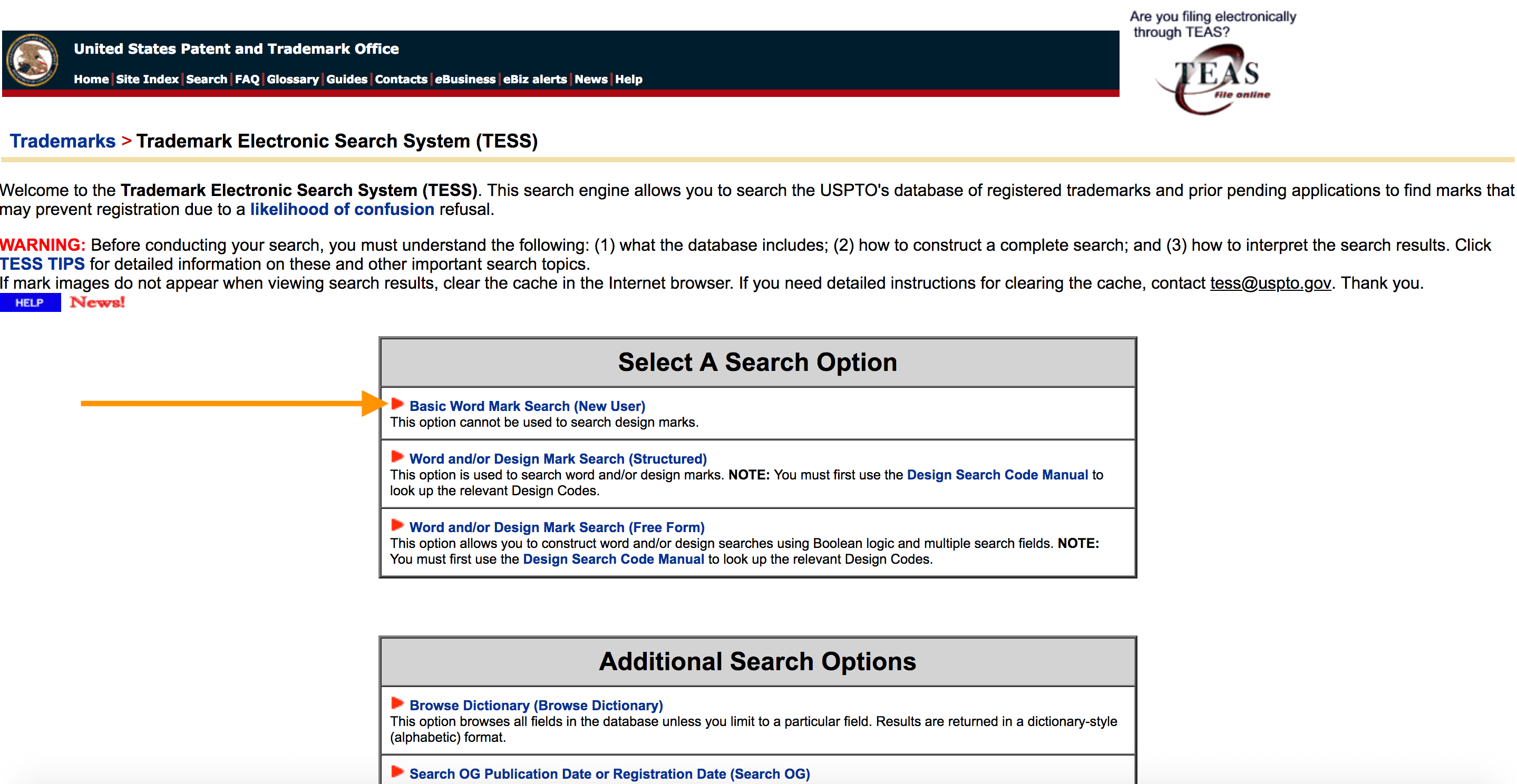 Leave the default settings and enter your brand name in the "Search Term" field. Lastly, select "Submit Query" and bada bing bada boom, any query matches will populate on the next page (fingers crossed, no matches).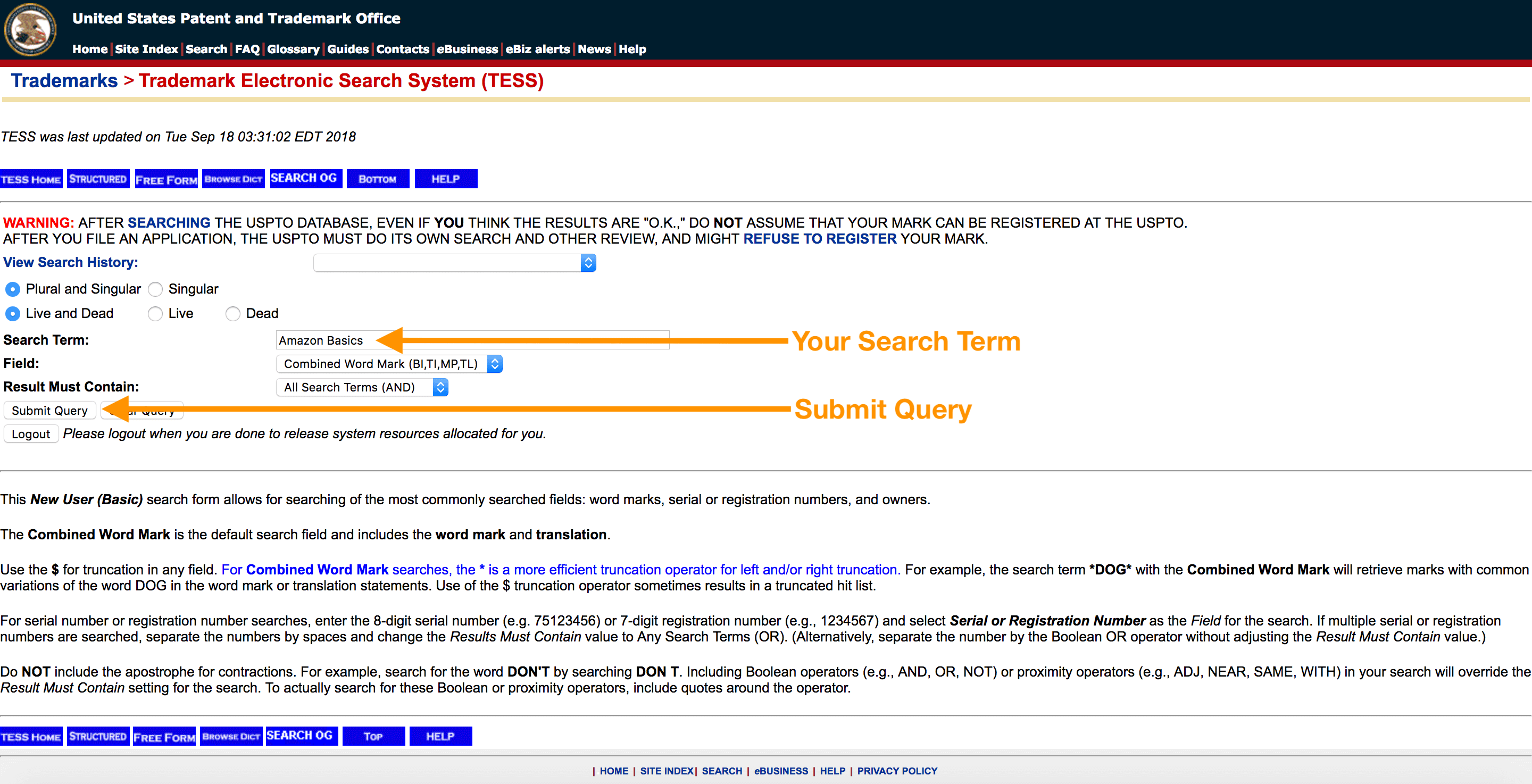 Bonus Steps
Aside from checking for trademarks, I would also recommend that you purchase the .com domain. If it's not available then that's a strong indication that someone has plans for that name and you may just want to stay away. You can use any number of sites to purchase your domain, I've just always used www.godaddy.com.
Lastly, it doesn't hurt to check for social media handle availability by using the following sites:
Branding Amazon Products: Packaging
It's important to ensure you have all of the right information on your packaging so your inventory does not get stopped at customs when you import it, or by Amazon when they receive it in their warehouse.
Unfortunately, there is no good centralized resource for packaging requirements. Probably because they can vary depending on the type of product and country of sale.
Start by looking into the following:
Google "Packaging requirements for [country]"

Ask your supplier if they have standardized packaging

Ask an inspection company like QIMA.com

Look at competing products (especially large brands)

Take note: Dangerous/regulated/complex products have a higher chance for requirements
What's required for packaging?
Amazon does have several packaging requirements in order to store your goods at one of its fulfillment centers. Much of this is for proper inventory tracking and to ensure your products are safe from any possible damage incurred during shipping and handling.
Here's what's required on your packaging:
Country of origin
GTIN (UPC or EAN) – for the rest of the retail world, something called a GTIN is required. This is a Global Trade Identification Number. As an Amazon seller, you need to get a GTIN (UPC or EAN) in order to get an FNSKU for your product.

1st Option: Use GS1 (

GS1

)

2nd Option: Use a Third Party (

SpeedyBarcodes.com

)

3rd Option: Get A GTIN Exemption (rare)

An FNSKU is an Amazon-specific barcode/identifier, that is only used and recognized in Amazon's warehouses
Legal warnings or certifications
Product / Brand Name (for Brand Registry)

Potential other certifications or guidelines

Poly bags need a suffocation warning
You need to print your FNSKU on the outer packaging any fabrics need to have no larger than a 1″ x 1″ opening to protect from dust
And here's what's nice to have:
When creating your branding and logo design you want to give your customer a good first impression so here are a few things to keep in mind:
Keep it simple

Make it visually appealing

Include your contact information

Ask for a review if the customer enjoys the product with a product insert
Should I hire a professional for Amazon packaging or DIY?
When it comes to design work it really boils down to your comfort level. There are several tools out there to help you create your branding and one that I like in particular is Canva. Give them a try if you feel you want to go the DIY route.
If you would like to outsource this work then here is a good list to work from:
Jungle Market – Makes it easy for Amazon business owners and freelancers to connect, collaborate, and get work done fast and affordable.

Graphics & Design

Photography

Copy & Translation

Video & Animation

Digital Marketing

Fiverr – Another place to find freelancers to do design work for you.
Upwork – This would be the next most cost-effective option, there's a variety of freelancers on this marketplace, the more experienced and talented of which you would likely pay more of a premium for.
99designs – More of a high-end option, you submit a brief and lots of designers will complete the work and the one that you like the best gets the payment (starting at around $300).
Well, that's all for this week. In next weeks blog post I will be sharing everything there is to know about shipping your products from the manufacturer to Amazon's warehouse. Keep crushing it!
Now, it's YOUR TURN!
Start selling on Amazon today
Your Amazon success starts with Jungle Scout.
Start doing some research of your own! With every blog post, we'll be challenging you with "Action Items" to make the most of your MDCS journey.
After you've completed your Action Items, post your progress to the Million Dollar Case Study Facebook Group! You don't have to reveal all of your best ideas – just let us know you're working on them! You can also post them to Instagram with the hashtags #mdcschallenge or #freedombuilders.
They build schools in developing countries to help children get access to the education they need for a strong foundation.
We love doing the Million Dollar Case Study. It's a team-wide effort and we value every opportunity it gives us to connect with sellers like you.