This article contains expert-led insights from a previous season of the Million Dollar Case Study.
MDCS is a free, comprehensive video series by Jungle Scout in which veteran Amazon sellers show budding entrepreneurs how to succeed on Amazon—by actually doing it. The series takes viewers step by step through the process of launching a real product on Amazon in real time—from product research to finding a supplier to advertising.
Check out our most current season here for the latest information on selling on Amazon.
We have our product idea (hooded baby towels and/or magnetic tiles), we know the best practices of how to find and contact suppliers on Alibaba, and now the rubber hits the road! It is time to reach out to suppliers and see if we can get our product manufactured to our specifications and at a price point that works.
In today's session, Greg shared some best practices for making outreach on Alibaba more efficient, and tips for how to organize the deluge of responses that will come once we start our outreach.
We first started with a recap of some best practices for identifying the good suppliers, which we learned from Gary Huang in Session #3. Make sure to catch those notes if you missed it, lots of good content that Gary shared about finding the best suppliers possible.
Here's a full replay of the session #5 webinar:
And the slides that Greg covered:
How To Streamline Your Alibaba Communication
Greg shared some helpful tips and tricks to make the outreach to suppliers replicable at scale and easy to organize. Here are some steps to leverage Alibaba's Messaging platform to reach out to all relevant suppliers with just one email blast.
Choose Your "Favorites"
There is some legwork that you have to do in order to identify who would be a good supplier.
These are lessons that Gary shared last week, but they can be briefly summarized as:
The Common Thread Test – ensure that the supplier sells only products that are within a reasonable scope of what they can actually manufacture themselves. For example, if they only produce bamboo textile products, or magnetic toys for kids, it passes the Common Thread Test. Otherwise, there is a chance that the supplier is a trading company, and another middle man may mean higher costs and harder to communicate and customize on the product.
The Country Test – evaluate where a bulk of the products are exported to. There is a general assumption here that suppliers who export to North America and Western Europe have a higher quality standard to meet.
Gold Standard and Length of Time on Alibaba – the "Gold Supplier" badge can be purchased, so it is not a definitive indication that the supplier will be a good one, but it helps as a rule of thumb to go with suppliers who have a longer track record of completing transactions on Alibaba.
Once you search on Alibaba for your main keyword, you want to filter through Suppliers to see who meets your criteria above: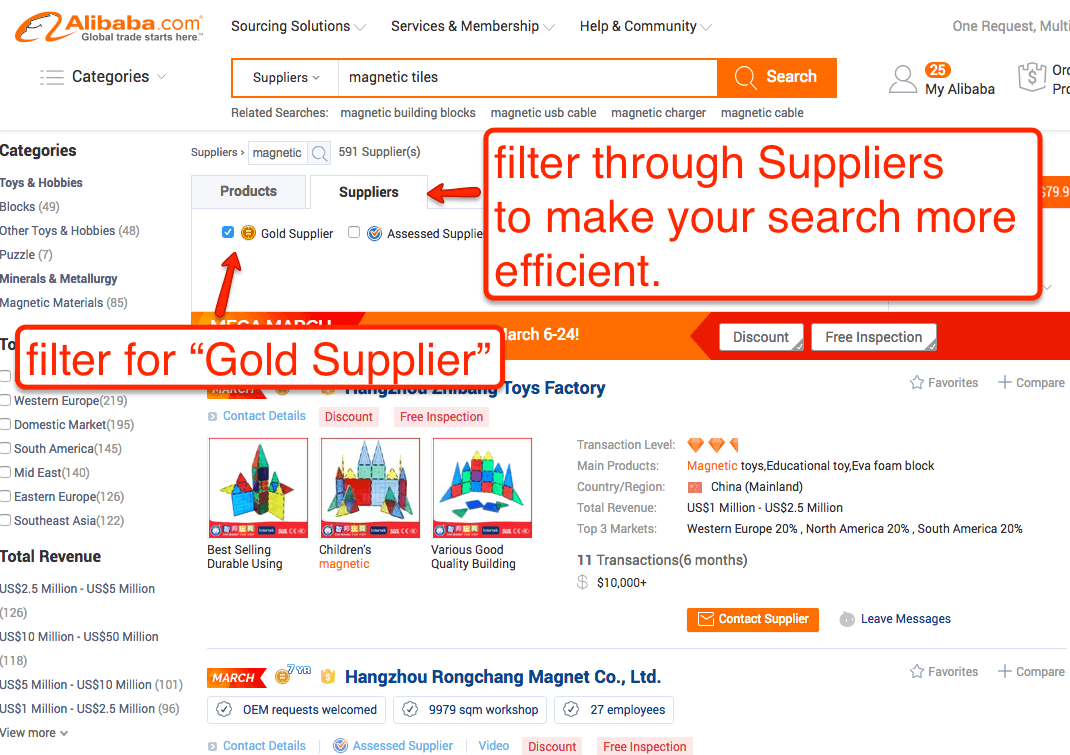 If a supplier seems worthwhile to reach out to, mark them as a "Favorite". This will come into play shortly, when you can contact all of your "Favorite" suppliers in bulk.
Or if you are one the search results page, you can add to Favorites like this: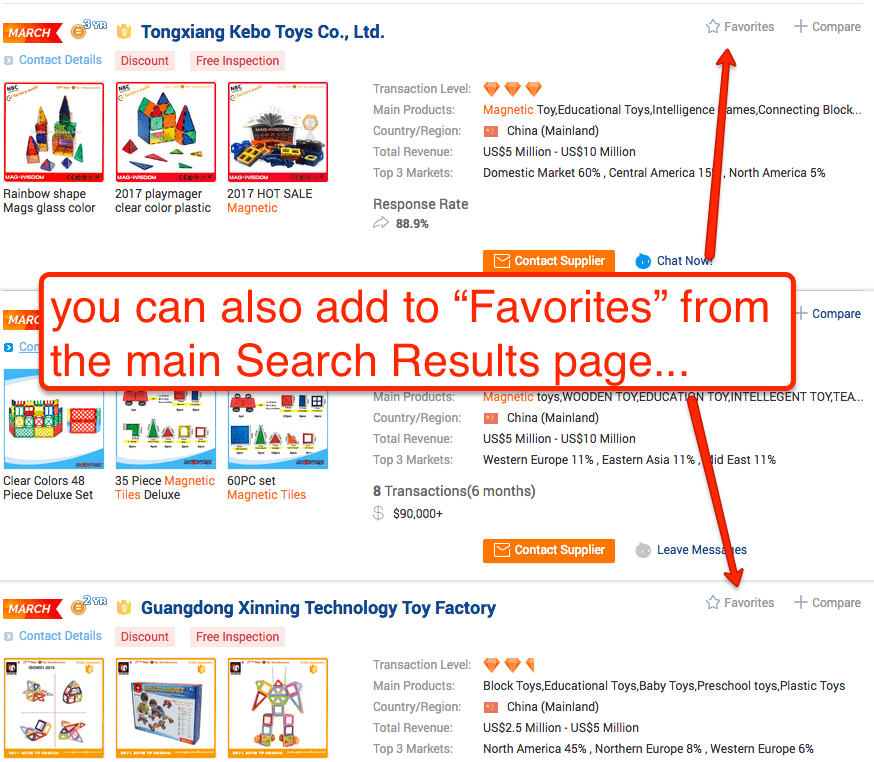 Once you have a group of suppliers marked as your favorites, you can contact them all at once from your Messages portal: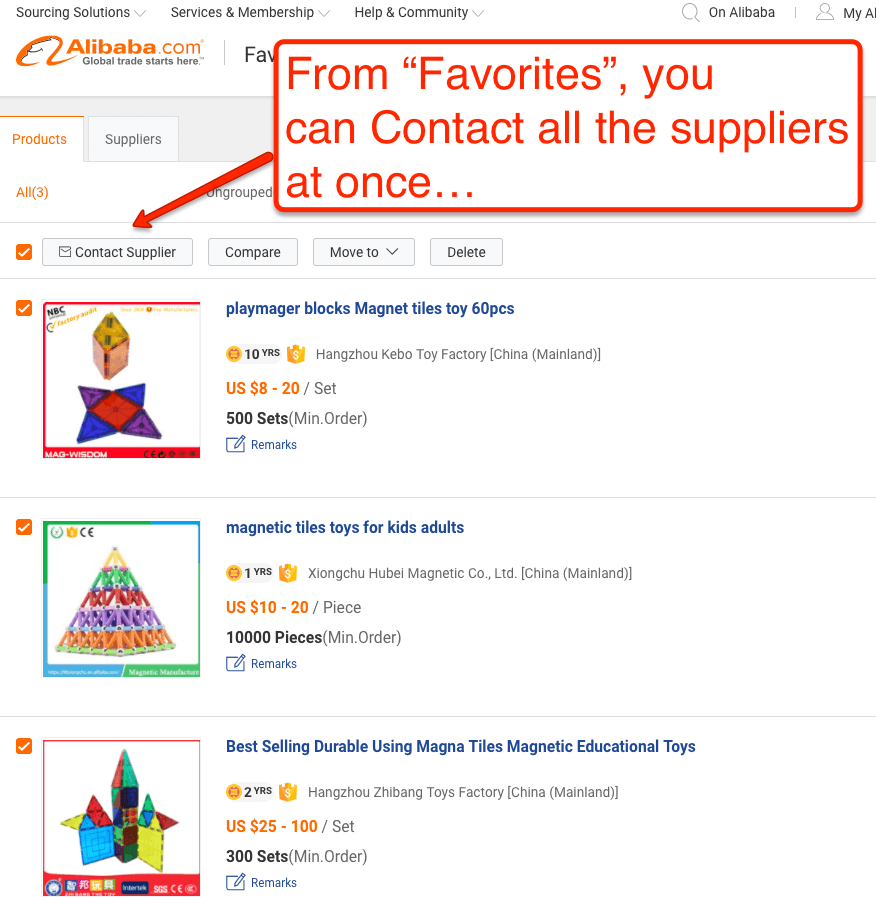 Email Examples
Greg shared the rationale behind his initial email template. It includes a short personal and professional introduction, a pitch on why they should care (because these towels will be best sellers, of course!), and a list of very specific questions.
This is the exact wording of the template that Greg used:
Hi There,

My name is Greg from Jungle Creations. We are looking to purchase baby hooded towels for the US market. See attached photos. Our primary sales channels will be online. We estimate up to 20,000 to 30,000 pcs annual purchase volume after a trial order of 500 sets and samples evaluation.

Specifications:

Size – 34in x 34in (92cm x 92cm)
Hood should have "ears"
Material: 100% Bamboo, organic preferred
Quality: high thread count and very soft
No loose threads
Color: white, no dyes

Do you manufacture these types of bamboo baby towels with hood? If so please provide the following:

1) Photo, Specifications and EXW Quotation

2) Are you a manufacturer or trading company?

3) What is your lead time for samples and trial order?

4) Can we add our logo to this item? If so, where can the logo be added?

5) What is the sample cost with shipping by express to USA?

Appreciate your reply. Thank you.

Greg Mercer
So once you have your own template with the specific questions you want answered, you can paste your email into Alibaba: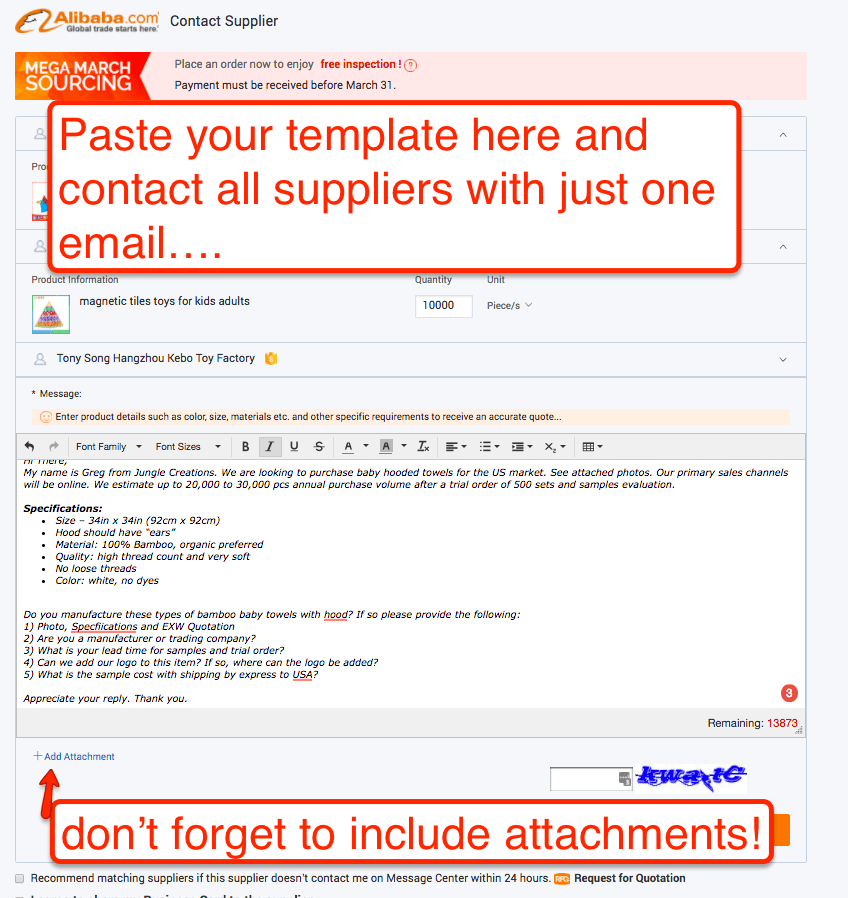 Supplier Email Responses
Of the 21 factories that he reached out to, there were 14 responses, and 3 were worthwhile to follow up with.
The good responses answered all of the questions that he asked. They were timely in their response, and demonstrated solid command of English. There were photos attached, and some initiative on their part to show why they would be a good business partner for us.
This is an example of a good reply:
Thank you for your email, the professional bamboo baby products manufacturer.

For the hooded towel, we are produce with 92%bamboo8%ployester warp knitted terry fabrics in 400gsm as regular, which is very soft and widly used for baby hooded towel ,bathrobe and blanket…

The 2 white hooded towel with white ear and white with brown ears you send to me are our products. we are develop some different amimal design hooded towel also.

commonly we produce the hooded towel size is 75*75cm and 90*90cm as regular.

we can produce as per your design and color base on MOQ 500PCS in one design per color.

also we can produce as per your design such as the brown elephant design.

please refer attached pricelist for you to check.

we are the bamboo baby products manufacturer speacial for bamboo hooded towel,bamboo wash cloth and ohters …

we have sample for white and brown ear now, can arrange shipment immediantly. if you would like to check the elephant design, we have to produce the sample speacially, it will take about 7-10days .

the bulk order production time about 30days after order confirmed.

For the logo, commonly we add the logo on the wash care label. or emboridery logo on the towel, just emboridery cost is higher, it is USD0.17/PCS.

The courier freight cost is USD35 for 1pcs sample.

please feel free contact me for any requirement!
A mediocre response showed decent English skills. There were gaps between the questions asked and their answers left something to be desired.
This is an example of a decent reply, but not as promising as the previous example:
thank you for your inquiry.

we are towel factory ,mainly custom all kind of it with client private label according to customer requirement.

as for your question,

1.we had to white one . if you want to elephant design, maybe you should send me a sample or some clear detail photos.

2.we are towel factory , and we also have permission of export.

3.lead time 40days sample time 7-10days.

4.you can add your logo in anywhere of towel . hooded or others place.

5.sample cost depends on animal type. ship cost $30approx.

about your requirement animal hooded towel, can you tell me more details?

bamboo 92*92cm how weight do you want ? and design detail.

looking forward to your reply
As for the poor responses, these were canned answers that shared irrelevant information. They did not address our questions, and were clearly a template sent to everyone. This type of response shows no promise of a company that would be in a collaborative effort to produce the best baby hooded towels possible, so we just ignored them outright.
Here's what one of those replies looked like:
Hi Sir
We are towel factory established in 1994, and mainly customize towels with client's private lable according to customer requirements. We have ISO 9001 cert and SEDEX audit, has customized towels for 22 years, which can ensure the delivery time well. very gald to cooperate with you large company soon, hope you can know more about our quality and service.
3 Factories Are Sending Samples
Once a factory passed the initial test of answering questions and presenting a good case that they would meet our expectations as a supplier, Greg moved communications over to Skype. We now have three samples being sent to the States for review, which we will share on March 29th. Depending on the type of product and supplier, you can expect that it costs $35-$100 to procure a sample from a factory.
Greg also discussed product customizations, pricing, and other questions in greater detail at this stage. So now we have a range of product costs too. This will help inform what the overall costs would be, and ultimately what an estimate of profit per unit would be.
Here's some back-of-the-envelope math of what prices we are looking at: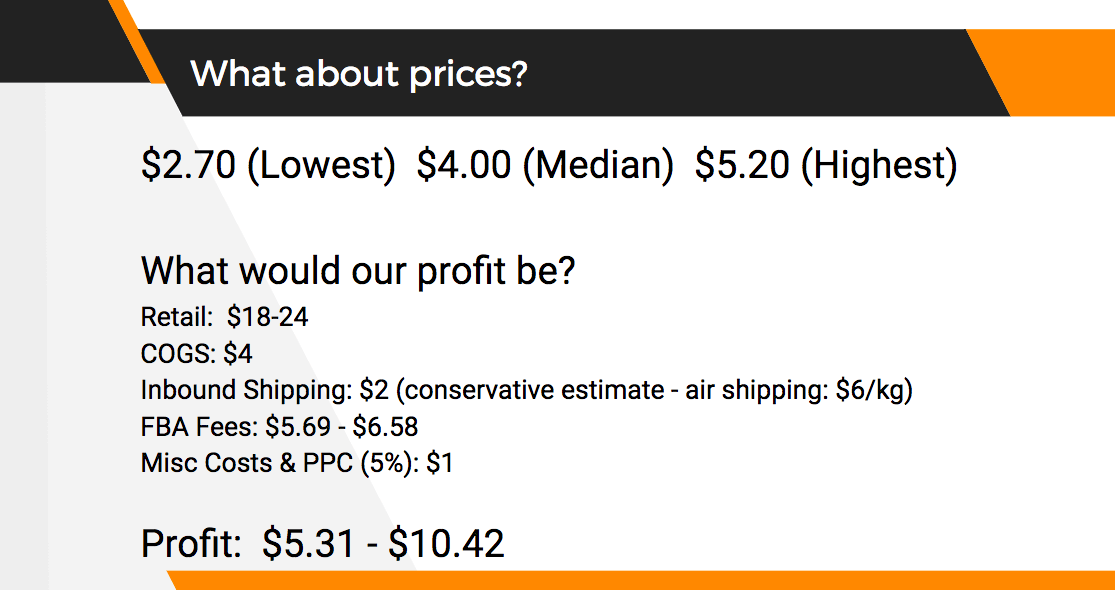 Using these conservative estimates, the range of profits may be between $5-$10 per unit. That would certainly add up nicely as a donation to charity!
Catch the next session to review the samples!
We took a one week hiatus from the Million Dollar Case Study as the samples were en route from China. We reviewed them in full on the 29th March. You won't want to miss the samples being reviewed in session #6 of the case study – find the full recap and replay here!
If you have not registered to join the Million Dollar Case Study yet, join us (it's free) ?