Happy International Women's Day!
With the new Nike commercial leaving us feeling emotional, delusional, and crazy empowered, we wanted to celebrate the achievements of women who embody the entrepreneurial spirit and the drive to succeed, despite all obstacles.
And what better way to tip our hats to the women paving the way than a good listicle?
We rounded up some of our favorite female podcasters, authors, CEOs, etc., who are inspiring our future leaders. Here are our recommendations!
Ten Viral Start-Ups Run by Women
This was tough to narrow down. Simply put, ladies, you are killing it in an era of subscription services and apps! You're simplifying day-to-day tasks, and more.
As for us, we're active users and enthusiasts for the following, wave-making brands:
1. Away Travel – You can't scroll through Instagram these days without noticing a travel blogger rolling an Away suitcase behind them!
And there's a reason for that. Led by founders Stephanie Korey and Jennifer Rubio, Away created a statement travel piece that is both affordable AND practical. You can charge your electronics on the go, and zip through the security line.
After almost five years in operation, these ladies are taking on the industry brand giants and winning.
2. Brandless – CEO Tina Sharkey is on a mission. She plans on making over 250 food, beauty, and household products more accessible and affordable.
Through research, product-vetting, and taste-testing, Brandless makes sure every product meets their incredibly high-quality standards. Not to mention, most products are only $3!
3. Glossier – This viral beauty brand earned a cult-like following by breaking a ton of beauty industry rules. Founder Emily Weiss considers her customers to be her "co-creators". Therefore, she listens closely to their needs.
Glossier also simplifies the complicated world of makeup. She celebrates the natural beauty of women by offering modern essentials in modern packaging. Next up? Taking Glossier global.
4. LOLA – This feminine care start-up was founded in 2014 by Alexandra Friedman and Jordana Kier. They created a subscription service to deliver trusted period and sexual health products right to our doors.
With complete transparency, the company guarantees that no toxins, dyes, or synthetic fibers are used in their products. They're also gynecologist-approved, and keep women's health needs in mind. Not to mention, they give back to women!
Even though feminine care items are among the most requested products at homeless shelters, few donations of that type are made. But, since LOLA's launch, they've donated over 100,000 feminine care products to low-income women and girls in need across the U.S.
5. Lumi – Once upon a time, founder Jesse Genet turned down a deal on Shark Tank! But who could blame her? She knew the value of her idea, which was to help e-commerce companies produce memorable and sustainable packaging through its online platform.
Lumi offers a modern, tech-enabled supply chain for fast-scaling brands (even some on this list!). Ultimately, they help brands tailor their visual impression for their customers.
6. Maven – Founder and CEO Kate Ryder has created a revolutionary platform. It connects working women with doctors, nurse practitioners, nutritionists, and mental health providers on-demand.
With most appointments starting at $18, Maven is super affordable and costs far less than the price of the average copay. Plus, easy access to physicians who specialize in women's health is exactly what the female population needs.
7. Minted – Mariam Naficy, founder of Minted, created an e-commerce space for independent artists to market their design goods. It sources creative content from a global community of indie artists, and then sells the best content.
Offered directly to customers, the work takes the form of art, home décor, and stationery. It's a brilliant way for artists to build their businesses and monetize their art in this digital age of crowdsourcing.
8. Nextdoor – Sara Leary didn't really know her neighbors. So she began looking for a way to foster community, within her community. Nextdoor was her answer.
Basically, it's a private social network for your neighborhood! It's also the best way to stay informed about what's happening in your region. From finding a babysitter, to staying safe during big storms, this platform is the answer.
As they say on their website, "There are so many ways our neighbors can help us, we just need an easier way to connect with them." And Nextdoor looks like it's set to be that 'way'. The app is available in over 90% of U.S. neighborhoods, and is expanding globally every day!
9. Outdoor Voices – I think we can all agree that athleisure wear has become a clothing staple. And thanks to Tyler Haney's Outdoor Voices, we now have another yoga pant option.
Her four-year-old company, with its signature color-blocked leggings, aims to take down Goliaths Lululemon and Athleta. But make no mistake! You're meant to sweat in this technical apparel.
And Outdoor Voices is creating an inclusive community to get people moving, "from dog jogs to dodgeball". We can always get behind something like that!
10. Ritual – CEO Katerina Schneider founded Ritual, based on her belief that better health begins with better ingredients. Her solution? To challenge scientists to develop the perfect daily vitamin for women.
Ritual is 100% transparent regarding the sourcing of its ingredients, and their daily vitamin is medical board-approved.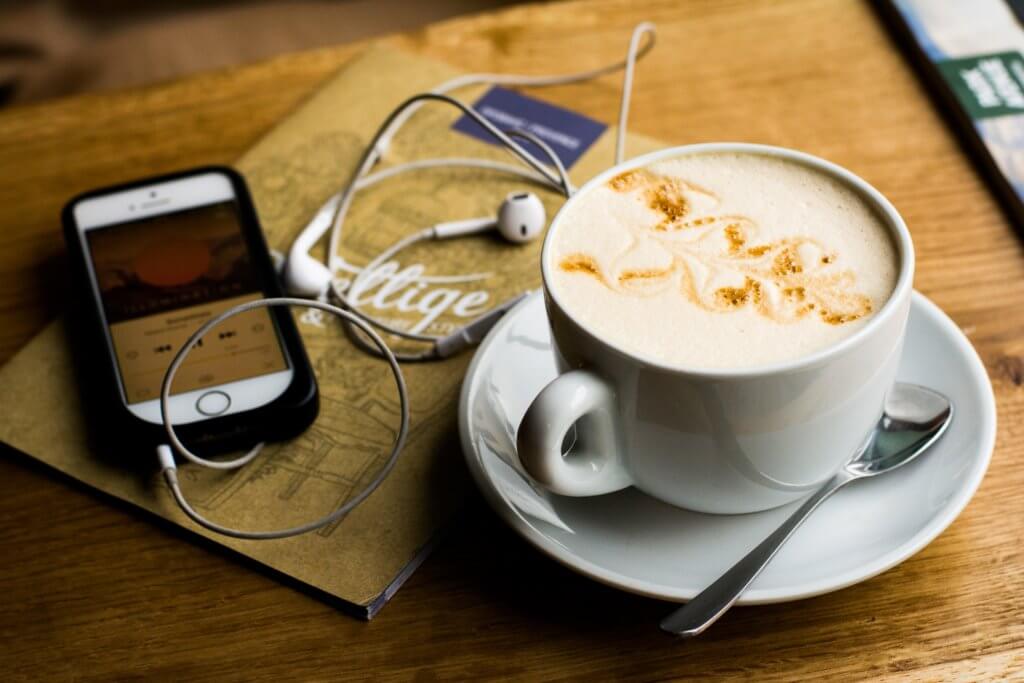 Five Female-Narrated Podcasts For Your Consideration
Sometimes hearing real-life, hard-truth talk from women is the kick in the pants we need to stand up and take action. Or maybe we just nod silently in solidarity instead.
Either way, here are the women we're listening to:
1. Women Rule – Obviously. That's what today is all about. Host Anna Palmer, of Politico, chats with guests every Wednesday, sharing the experiences of professional women on their paths to success. It's basically a bunch of girl bosses talking about what it takes for women to lead.
2. History Chicks – "Two women. Half the population. Several thousand years of history. About an hour." This is the fun tagline from History Chicks. Don't let the levity fool you though! Aiming to showcase some of the most inspiring and influential female figures throughout history, hosts Beckett Graham and Susan Vollenweider remind us of some amazing women left out of our history books.
3. The Nicole Walters Podcast – Meet Nicole Walters. She's a guest judge for Jungle Scout's 5-Minute Pitch finale. Within 48 hours of launching her podcast, Nicole was #1 in the Business News and Noteworthy category. She had overtaken Dave Ramsey! This one is for the everyday entrepreneur who wants to increase their income but doesn't know where to start. If that's you, join her tribe of loyal followers!
4. Eventual Millionaire – Does Jamie Masters have your attention? Consider her podcast a mastermind in business strategy. Each week she interviews people whose businesses led them to become net-worth millionaires. Listeners get the inside scoop on what they did to succeed!
5. The Weekly List – This weekly podcast is hosted by former Wall Street executive Amy Siskind. She discusses the "not normal" news of the previous week. With her help, facing a constant barrage of sound bites doesn't seem so bad. Her goal is to provide women and girls with a conversational platform, to help them advance and succeed.

Five Must-Read Books to Add to Your Reading List
We've been told to Lean In by Sheryl Sandberg. Kim Scott suggested we use Radical Candor when communicating. For millenia, the collective voice of female authors has inspired and challenged us to be the best versions of ourselves.
These books speak to us, both personally and professionally:
1. Brave, Not Perfect: Fear Less, Fail More, and Live Bolder, by Reshma Saujani. She is the Founder and CEO of Girls Who Code, a national non-profit organization working to close the gender gap in technology.
2. Girl, Stop Apologizing: A Shame-Free Plan for Embracing and Achieving Your Goals, by Rachel Hollis. A bestselling author, TV personality, and in-demand speaker, Rachel is also the founder and CEO of Chic Media. It's the foremost authority on digital content for women. Named one of Inc. Magazine's "Top 30 Entrepreneurs Under 30", she also wrote Girl, Wash Your Face.
3. Dare to Lead: Brave Work. Tough Conversations. Whole Hearts, by Brené Brown. This is the follow-up to Brown's NYT bestseller Daring Greatly. It's for anyone who is ready to choose courage over comfort. Make a difference and lead!
4. Year of Yes by, Shonda Rhimes. You likely know her as the creator of hit shows like Grey's Anatomy and Scandal. But in this memoir, she describes how she said "yes" to things that scared her for an entire year. Challenging her introverted personality opened her eyes.
5. Becoming, by Michelle Obama. There's still time to jump on the bandwagon for the most celebrated book of 2018! And why not hop on board? Michelle is a fierce advocate of women, and every female around the world will find strength and determination in her story, regardless of race. education, or political bent.
Bonus Read! In the Company of Women, by Grace Bonney. You'll be inspired by the advice Grace has gathered from over 100 female artists, activists, chefs, entrepreneurs, etc. She's shining a light on powerful women in business.
Five Female-Led Brands Giving Back to Women
Let's not forget the companies using their profits to empower women all over the world.
I'm a socially-conscious shopper. I'm always looking for new, mission-driven brands funneling consumer dollars into important causes. When a company gives back to the communities using their products, they are honoring the humble beginnings of all business owners!
These particular businesses not only give back to women, they're led by women too. Give yourself a high-five, Girl Bosses, and consider the consumer impact of the following:
1. The Little Market. Lauren Conrad and Hannah Skvarla describe their nonprofit as a social enterprise. It's founded by women to empower women. And with ethically sourced products, using sustainable resources, and made by artisans in need, The Little Market ticks all our philanthropic boxes.
The company collaborates with small artisan groups in marginalized communities all over the world. This means an expansion of distribution, and the ability to reach more customers. Groups benefiting from the collaboration with The Little Market include refugees, people with disabilities, women formerly homeless, survivors of human and sex trafficking, and domestic violence.
2. The Citizenry. Carly Nance and Rachel Bentley combined their wanderlust and business savvy with their desire to make a difference. The Citizenry was the result of that merger.
Partnering with artisans around the world, the company brings authentically-crafted, handmade goods into your home. And every dollar you spend supports fair wages and safe working environments. It's also used to directly invest in artisan entrepreneurs.
3. Sseko Designs. Sseko was started by Liz Forkin Bohannon. She wanted to see young, talented, Ugandan women go to university. She wanted them to reach their full potential. So Sseko's mission is to provide women in East Africa an opportunity to end the cycle of poverty.
Their goal is to create a more equitable society. And towards that end, young women working for Sseko receive life skills training, professional mentors, and valuable work experience to help them continue to grow.
4. Raven + Lily. Kirsten Dickerson and Sophia Lin created their fair trade fashion brand in 2008. Since then they have empowered more than 150,000 female artisans.
They ensure the women receive fair trade wages, have a safe work environment, healthcare, and any other tools they need to thrive. In addition, every purchase helps fund microloans for female entrepreneurs living in partnering communities.
5. Third Love. Five years ago, Heidi Zak and Ra'el Cohen launched a revolution. Their mission? Make all women feel confident, by wearing insanely comfortable bras. They're available in every single possible size, and they actually fit!
Third Love also partners with I Support the Girls. Together, they work with girls and women experiencing homelessness during times of transition. In 2018 alone, Third Love donated $10 million in bras to the organization!
Share Your Recommendations
We know we've barely scratched the surface when it comes to giving a shout out to phenomenal women doing phenomenal things. So please! Go ahead and share your picks/recommendations in the comments!
We'd love to hear them, and I'm sure the 'word of mouth' publicity for your favorites would be greatly appreciated.
Let's champion the women who are making a difference in our lives!