A furniture flipping business can be incredibly profitable, and it's a great way for you to earn some extra cash on the side — or even replace your current income. Restoring and reselling used furniture is also an excellent means to build up capital to start your own Amazon or ecommerce business.
Believe it or not, flipping furniture doesn't require much money upfront to get started. In fact, you can find a lot of used furniture for free — if you know where to look.
People will pay hundreds, or even thousands of dollars for brand new furniture but will give it away for free or for pennies on the dollar just to get it out of their house. When someone's ready to move or buy a new piece for their home, there's an opportunity to be had.
In this guide, we're going to go over:
Why flipping furniture is a great side hustle

What type of furniture you should sell

How to find free or cheap used furniture

How to refinish or clean the furniture

Where to sell your furniture
Why flipping furniture is a great side hustle
Taking someone else's trash and turning it into treasure is what furniture flipping is all about. When it comes to furniture that people no longer want, most owners are simply looking to get rid of it and make room in their homes. They either end up selling it for cheap, giving it away for free, or donating it to a thrift store. Either way, there is money to be made from this opportunity.
The best kinds of side hustles are ones you can start with little to no money. That's why furniture flipping is a favorable venture to try out.
Anyone can start flipping furniture. You don't need a business plan or a website — you just need to be willing to hustle.
Take a trip to your local thrift store, Goodwill, or a garage sale and you'll be surprised to see decent-looking, used furniture for sale, typically at low price points. This furniture can be found for cheap or even for free, and with the right moves, you can resell these items for a much higher price.
For instance, many people offer their used couches for free as long as you pick them up because they don't want to go through the hassle of transporting them. One free couch can earn you anywhere from $100 to $300 or more, depending on the size and state that it's in.
If you repeat that same process a couple of times per month, you can easily add an extra $1,000 to your monthly income!
What type of furniture should you sell?
To decide what type of furniture you should sell, figure out what you can fit in your vehicle. If you have a pickup truck, you can easily transport large furniture such as couches or tables. If you have a small car, stick to smaller items that will easily fit in your car's trunk or back seat. Here are some furniture ideas based on your type of vehicle:
If you have a truck:
Couches

Chaise longues

Tables

Dining room sets

Bedroom sets

Nightstands

Chairs

Recliners

Dressers

Mattresses

Desks
If you have a car
:
Nightstands

End tables

Coffee tables

Small desk

Cabinets

Chairs

Benches

Consoles

Ottomans

Small shelves
To start, I suggest doing some research on your local Facebook Marketplace to see what types of furniture people are selling, the condition they're in, and their price points. This will help give you an idea of how much similar items are selling for.
This is helpful when searching for items to resell. If the average price point of nightstands listed in your area is $40, then you should look for a nightstand priced significantly lower so you have enough room to make a profit.
Tip: You can view sold listings on Facebook Marketplace to see what prices similar items have recently sold for. Under Filters, go to "Availability" then choose "Sold."
When you are first starting out, look for items that have normal "wear and tear." That means light scratches and faded paint — nothing that will take too much to fix. You may even find something that is still in great condition but just needs to be cleaned.
If you don't have any tools or materials, look for pieces that simply need to be washed or lightly sanded and painted. You may already have the supplies you need to do this, or they can be easily purchased at any hardware store.
Also, keep an eye out for pieces that are made with real wood — they will be worth more and will usually sell more quickly than something made with MDF (medium-density fibreboard) or plastic. MDF is a flimsy material that looks like wood but isn't. It is hard to refinish and won't have the same resale value as something made from real wood.
How to find free or cheap used furniture
You can find cheap or even free used furniture in many places. Look in your own home to see if there is a piece of furniture you'd like to get rid of. This is a good place to start because it will help give you experience in listing and selling furniture.
Here are some other places you can find used furniture to resell:
Goodwill

Thrift stores

Garage sales or estate sales

Craigslist (both furniture and free sections)

Side of the road/alleyways

Facebook Marketplace

Nextdoor app

Local town Facebook groups

Flea markets

Consignment shops

OfferUp app
As a starting point, I suggest going to your local Goodwill or thrift store to see what kind of furniture is available for purchase right now. Their inventory changes very frequently at these kinds of stores so check a couple of times a week if possible.
How to find garage sales near you
To locate garage sales in your area, go to garagesalefinder.com and enter your zip code.
How to use Craigslist
Craigslist can also be an effective way to find used furniture for very cheap, and even for free. Under the "For Sale" section, there will be "Free" and "Furniture" sections. You can often find viable pieces that you can resell for a profit.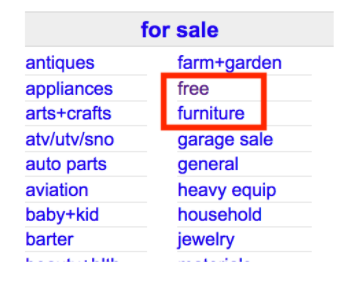 How to refinish the furniture
If you've found a piece of furniture that you want to resell, what should you do with it? If the piece is in good condition, it could just need a good cleaning.
How to clean your furniture
The best way to clean wood furniture is by washing it using mild dish soap, warm water, a sponge, and a brush. This will help remove any dirt, grime, and stickers, and help sanitize the piece so it is ready for its new owner. A wood cleaner will help bring out the wood's natural finish.
If you plan to sell a piece of furniture such as a fabric couch, use a quality upholstery cleaner, a fabric cleaner, and a stain/odor remover. Thoroughly vacuum every inch of the couch to remove dirt, hair, pet dander, and other unwanted particles to freshen up the piece.
Many fabric couches have removable cushion covers and slipcovers. Simply remove them and throw them in the wash.
Use a sanitizing fabric refresher to ensure that the furniture you're preparing is clean, free of odors, and ready to be used.
Listing a newly cleaned piece of furniture will help you secure a sale much easier than if a customer shows up and finds the piece dirty or in need of work. Make the experience a pleasant and positive one for your potential customers, and you'll flip furniture a lot faster.
How to refinish wooden furniture
If the piece you purchased is in need of restoration, how should it be done? Follow these steps:
1. Remove the old finish
If your wooden furniture has old paint or stain, remove that finish. This can be done by using a paint stripper, which can be found online or at any local hardware store. By using a paint stripper, you'll easily remove any old finish, making your job of repainting or staining much easier. Note: make sure to read the directions on the paint stripper you purchase and follow them carefully.
2. Sand to smoothen and remove imperfections
Sand down the piece to smoothen the surface and remove any light scratches, nicks, or bumps. This step will make the piece look much better and allow you to easily paint or stain. I suggest using an electric sander tool for this but if you don't have one, you can use a sanding block and sand by hand.
3. Paint or stain
Paint or stain the piece whatever color or finish you'd like! Get creative here and think of something unique that people would love. If you live near the water, create something with nautical colors or with a distressed look. There are plenty of YouTube tutorials that will teach you how to achieve the look you're going for.
4. Add new hardware
Hardware is something that can really transform your piece. Say you purchased a 20-year-old dresser: adding more modern-looking hardware such as drawer pulls or knobs can upgrade its look and increase its value to the buyer.
5. Add a finishing oil and/or protective topcoat
Once your piece is fully painted or stained, work a finishing oil onto the surface for a shiny and smooth polish. This helps protect the furniture and gives it a professional look that your customers will love. You can also add a layer of protective polyurethane that makes the piece more durable and water-resistant.
Materials you may need:
Electric sander or sanding block

Sandpaper

Paint stripper

Paint and stain cloths

Screwdrivers

Cleaning supplies

Paint/spray paint

Painter's tape

Wood stain

Paintbrushes

Finishing oil

Polyurethane
Where to sell furniture
Here comes the fun part: listing and selling your furniture! There are many ways you can list used furniture to ensure you have as much visibility as possible. The more eyes on your furniture, the more likely you are to sell it.
Here are some free places to list your furniture for sale:
Facebook Marketplace

Local Facebook groups

Craigslist

Nextdoor app

OfferUp app
Other ways to sell your furniture include eBay, selling at a local flea market, or selling to a local consignment shop or vintage furniture store. These types of stores will let you bring your furniture in-store and will pay you once it sells.
Tips for listing furniture for sale
Take as many pictures as possible to show every angle

"Stage" your furniture in your own home versus in a poorly lit workspace or garage

Create a

detailed title and informative description

with related keywords to help your listing show up in search results

Take photos in natural light and a well-lit room to accurately show the colors and finish

For scale, take photos of an unwound measuring tape beside the furniture piece, or place another item beside it

Include the piece's dimensions and other important details in your listing
How much to sell your furniture for
Now that you've found a piece of furniture and cleaned or refinished it, what price should you sell it for? First, you should determine what your total costs are for purchasing and refinishing the piece. You should also factor in the time you spent working on it.
Purchasing the piece at the lowest price possible is the most important factor here. This gives you more room to spend on supplies and allows you to have a bigger profit in the end.
How much money you can make selling furniture
To determine your profitability for a piece of furniture, list down your costs for purchasing and refurbishing. Let's use an example:
You purchase a dresser from Goodwill for $15

You purchase sandpaper, wood stripper, paint, and finishers for $60
Total costs: $75 before you factor in your time
If you've done a really nice job of refinishing your piece of furniture, you can easily mark up your price to 200% of your total costs or more. As mentioned earlier, take a look at what other similar pieces of furniture are selling for or have sold for to guide you.
For a large dresser that cost me $75 to complete, I would list it at at least $200. You can always lower your price if you're not getting any interest.
After a quick search on Facebook Marketplace, I found a listing for a 9-drawer dresser in a unique light blue color, which sold for $350! If your all-in costs were just $75, that's a very healthy $275 profit. If it took you a total of 5 hours to complete the project, that comes out to $55/hour. Not bad at all.
Start making money selling used furniture!
We hope this guide shows you how simple it can be to find used furniture to flip for a profit online. Whether you want a little extra side cash or to fully replace your current income, furniture flipping can be an excellent gateway to achieve your goals.
If you have any more questions about flipping old furniture, let us know in the comments!