You've most likely heard of eBay and know it as a place where you can sell the old, unwanted items that clutter your home, garage, or attic. But over the years, eBay has become much more than the place to sell your undesired junk.
Since eBay was founded in 1995—just a year after Amazon—it has maintained its status as an authority in the ecommerce world.
While eBay began as an auction-based marketplace for used items and collectibles, it has slowly transitioned into a fixed-price marketplace. It's now a great place to sell brand-new products as well.
In fact, 90% of eBay's Gross Merchandise Volume (GMV) comes from fixed-price or "Buy It Now" listings, demonstrating its dramatic shift away from its auction market roots.
The beauty of eBay is the world of options that awaits sellers: you can list items at fixed prices or auction-style, use your own product photography, add your own descriptions, and can sell (practically) anything.
Let's dive into how to sell on Ebay for beginners and ecommerce experts alike!
Do people still use eBay in 2023?
You may be asking yourself, do people still actually buy stuff off of eBay? Yes, they do!
Is selling on eBay worth it?
Anyone can easily set up a seller account and start selling on eBay—which is probably why there are almost 17 million eBay sellers!
It's also easy to become an eBay seller. You can create an account, list a product, and sell it—all in the same day. If you have old stuff lying around your house, selling it on eBay can be an easy way to get rid of it—while making some money.
Your level of success on eBay is up to you; what started as a decluttering initiative may well turn into a consistent side hustle, or could completely replace your current income.
Selling on eBay versus Amazon
If you already sell on Amazon, you'll want to take note of a few key differences between selling on Amazon versus eBay:
Buy Box. Instead of competing for the

Buy Box

on one listing for a popular product, each eBay seller can create their own unique listing

Listing optimization. eBay offers sellers more robust listing optimization than Amazon
Here's how an Amazon listing looks. Note the option to buy new or used in the same listing.

And here are listings for the same product that appear on eBay.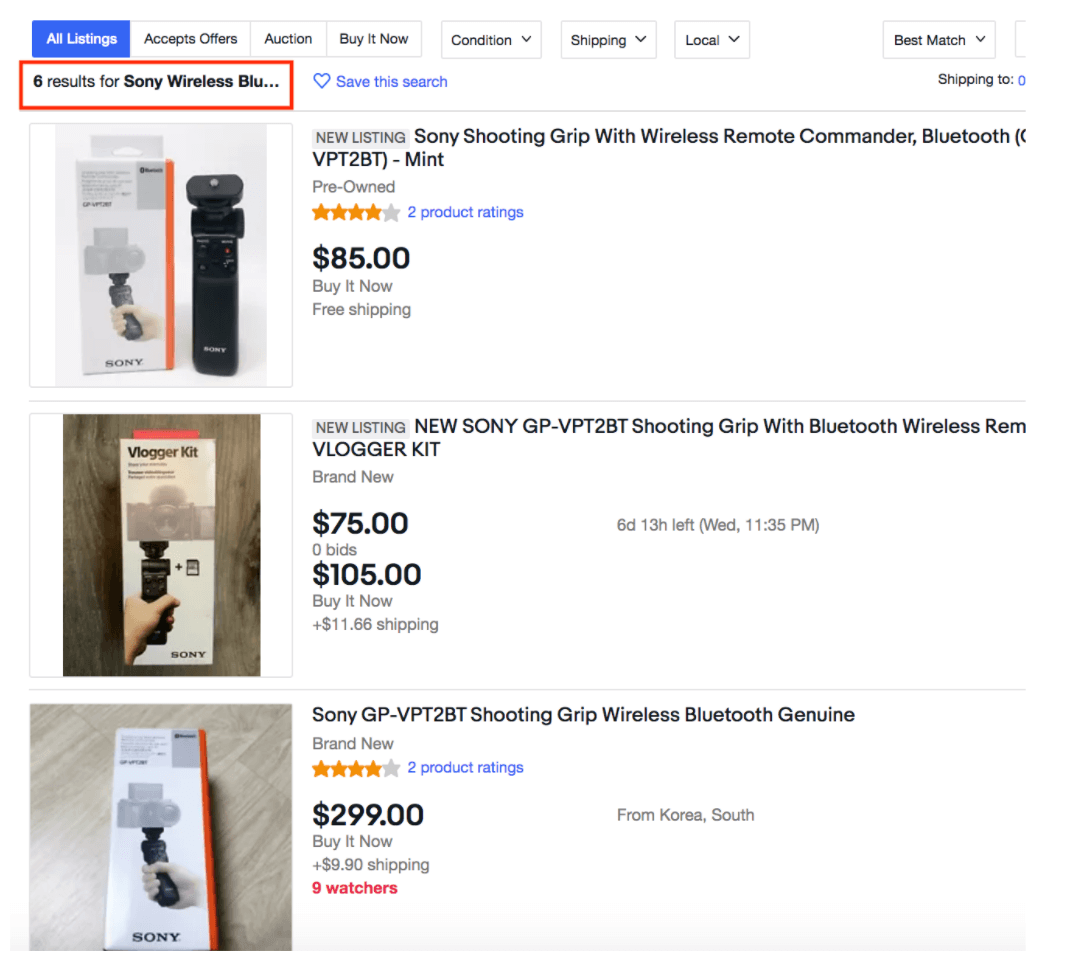 You still have the option to purchase a product in a new or used condition, but you'll have to find the individual listing that suits your preference.
Want to learn more about selling on Amazon? Check out our complete guide.

How to sell on eBay in 2023
Whether you're an established ecommerce entrepreneur or brand-new to the game, let's go over how to sell on eBay so you're set up for success.
Selling on eBay follows a simple formula:
The seller lists the item

The customer makes a purchase

The order is fulfilled
In this first step, we'll go over what this means on a general level.
Step 1: What to sell on eBay
The great thing about selling on eBay for beginners is that you can start small. Look for stuff lying around your house—everyone has old electronics, books, or toys currently collecting dust. Product sourcing requires practically zero up-front investment.
After selling unwanted items from home, eBay entrepreneurs tend to get bitten by the ecommerce bug and are eager to build full-fledged ecommerce businesses. Learning the basics of what to sell on eBay early can help transform a new eBay business into a solid supplemental income stream, or better yet, a primary one.
Are you convinced you need to start an eBay business yet? If not, let's go over eBay's common business models (i.e., what to sell).
Famously, eBay is one of the best places to find weird and unusual items. It has since evolved, and of eBay's 1.5B current active listings, 79% of all products sold are brand-new items.
The best things to sell on eBay:
Used items. I

f you can name it, it's probably currently listed on eBay. Sell your old electronics, video games, shoes, clothing, furniture, toys, books, loose legos, board games, sporting goods—just about anything used.



Collectibles.

Items such as rare coins, watches, and vintage toys are common on eBay.

Cars.

Yes, you can sell cars on eBay!

Vintage and antique items.

A broad category that includes things like records, furniture, plates, memorabilia, toys, clocks, china, silverware, trinkets, obsolete blank media such as VHS or cassette tapes, stuffed animals, etc.

New items.

Many brands—big and small—sell their products on eBay, which has its own crowd of loyal customers despite intense competition from other ecommerce giants like

Amazon

and

Walmart.com

. Amazon sellers may recognize the following

popular business models

for eBay:

Random items.

This is exactly what it sounds like—feel free to get creative here. One thing that comes to mind is

pine cones

. Yes, pine cones—if you can get your hands on some cool-looking pine cones, you'll have customers who want them for crafts or home decor! Other random items include

wine corks

, empty toilet paper rolls,

egg cartons

,

mugs

, old board game pieces, etc.
If you're not sure what to sell yet, don't worry. In Step 3, you'll learn how to evaluate potential products on their profitability, demand, and competition. That way, you can make a data-informed decision on what to sell, and as a result, enjoy higher profits.
READ MORE | The Ultimate Guide to Dropshipping
eBay seller fees
When you're just starting out on eBay, you have access to a free seller account—meaning there are no monthly fees to run your business. As you grow your eBay business, you will have the option to create your own eBay Store, a paid monthly subscription offers traffic- and sales-boosting benefits. Upgrading to an eBay Store from a free seller account isn't required, but it can help you expand your business if that's your goal. You can find more information on eBay Stores in Step 6.
Keep in mind that while it doesn't extract monthly fees from its free users, eBay does charge all of its sellers small fees to list and sell products on its marketplace. We'll go over these fees in depth in Step 3 as well. For now, know that they're a manageable aspect to selling on eBay.
Fulfilling Orders
Once you figure out what to sell, you'll need to consider your fulfillment method—how you'll get orders to your customers.
Fulfillment entails packaging the item, entering package details, purchasing a label, labeling your package, then getting that package to the respective shipping carrier, who will deliver the package to the customer.
Fortunately, eBay makes fulfillment fairly simple. In a later step, we will go over all the details you need to know about successful fulfillment.
Step 2: How to set up a seller account on eBay
Signing up to sell on eBay is a straightforward process. Your business could be up and running within an hour!
Step 1: Go to the Create an Account page and enter your name and email address into the appropriate fields. You'll then create a password for your account.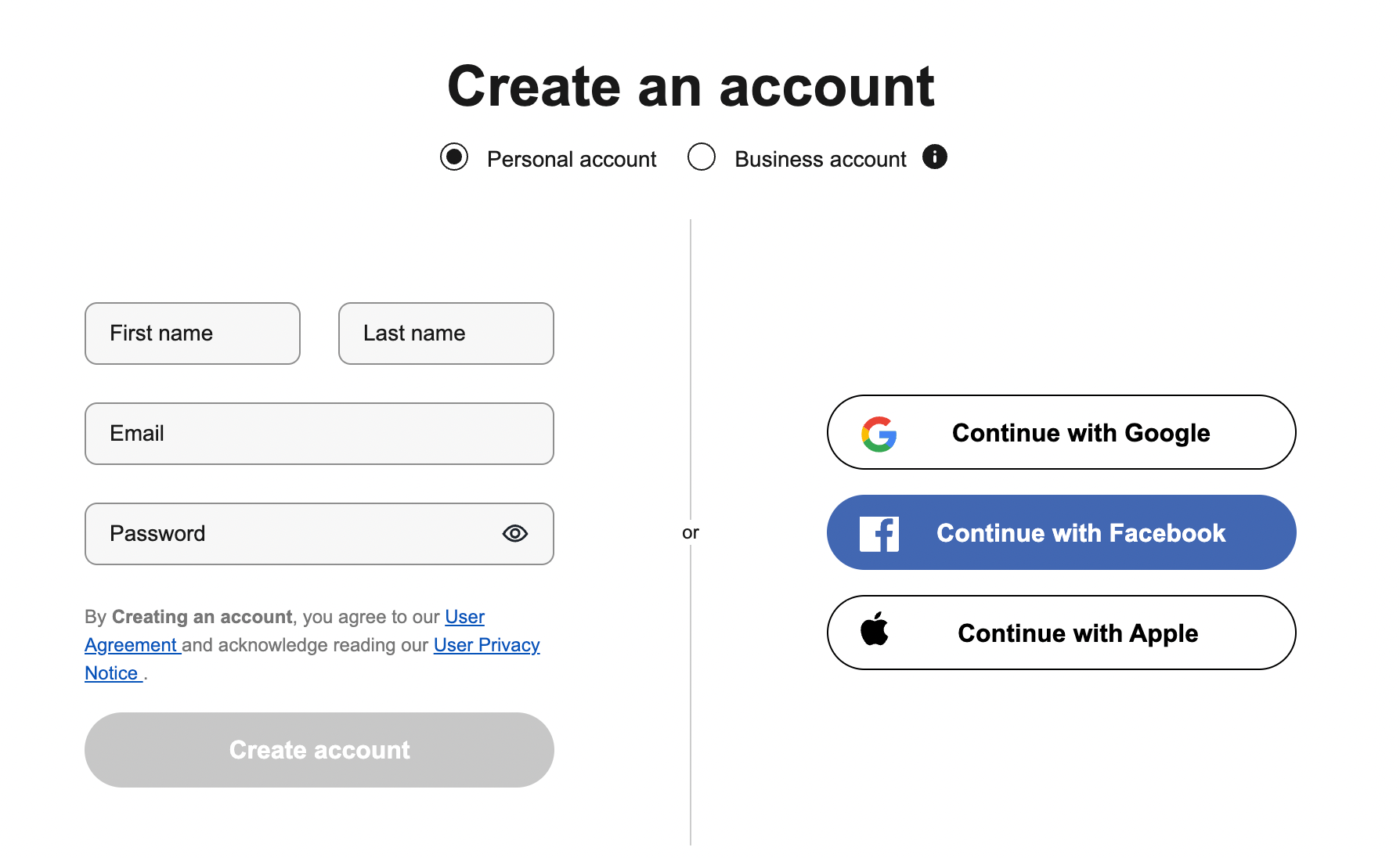 You also have an option to open a business account. If you have a legally registered business and plan to sell a large number of goods on eBay, you can choose the business account.
If you're just getting started or want to sell on eBay as a hobby and a way to sell unwanted household items, choose the personal account.
If you open a business account, you'll have access to more analytical tools, selling tools, and the ability to create a personalized storefront. If you sign up for a personal account now, you can always upgrade to a business account when ready.
For now, we're going to go ahead with the personal account.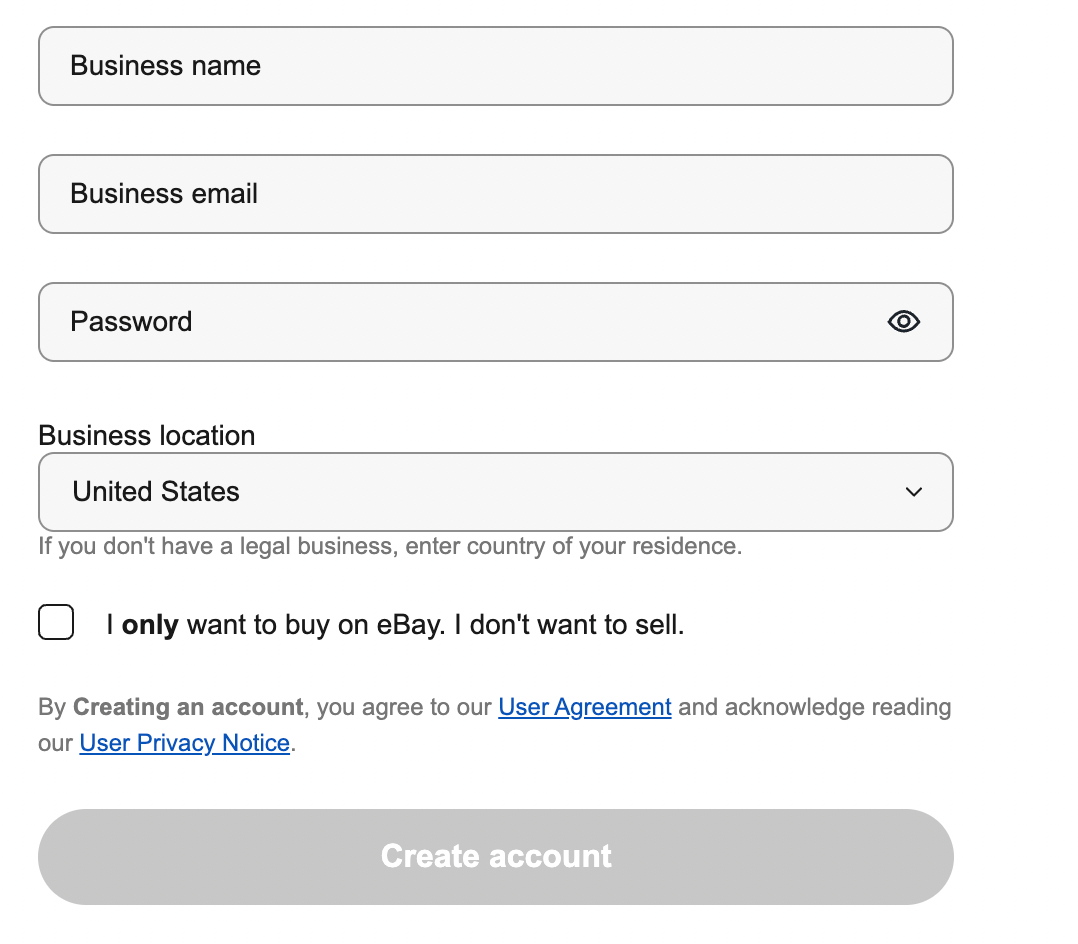 After you click "Create account," you'll land on the eBay homepage—signed in to your new account. eBay will automatically create a username for you, but you can change it in the "My eBay" section under "the eBay vault."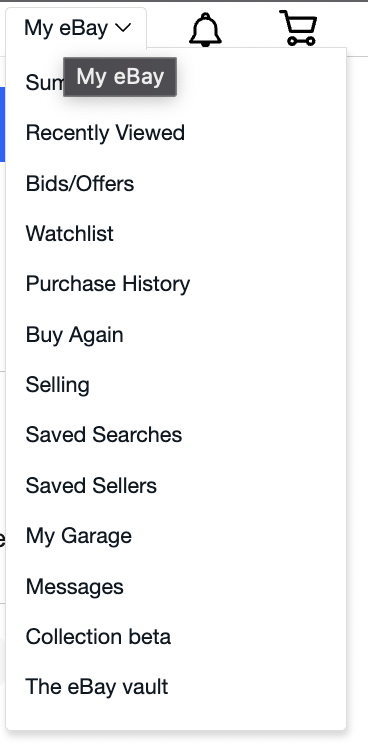 Before you can access your account dashboard, you'll need to enter your contact information.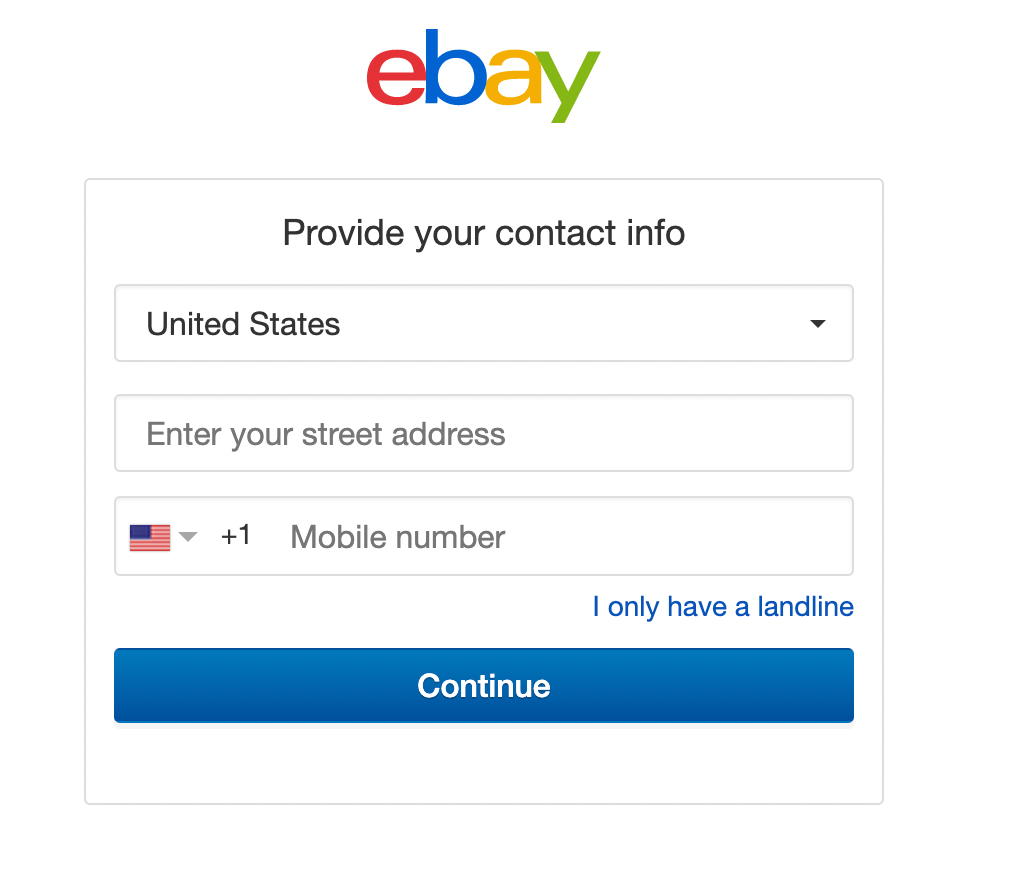 Before you start building listings, add your bank account so you know where the money from your product sales will go.
Step 2: Add payment method
Adding your checking account allows you to receive payment from customer purchases on your preferred payout schedule.
In the top-right corner of the eBay home page, find the "My eBay" dropdown menu, and click on "Selling."
Next, click on "Account."

Under "Payments," you'll see "Payment options." Enter the information for the bank account to which you'd like to receive payments for your eBay sales.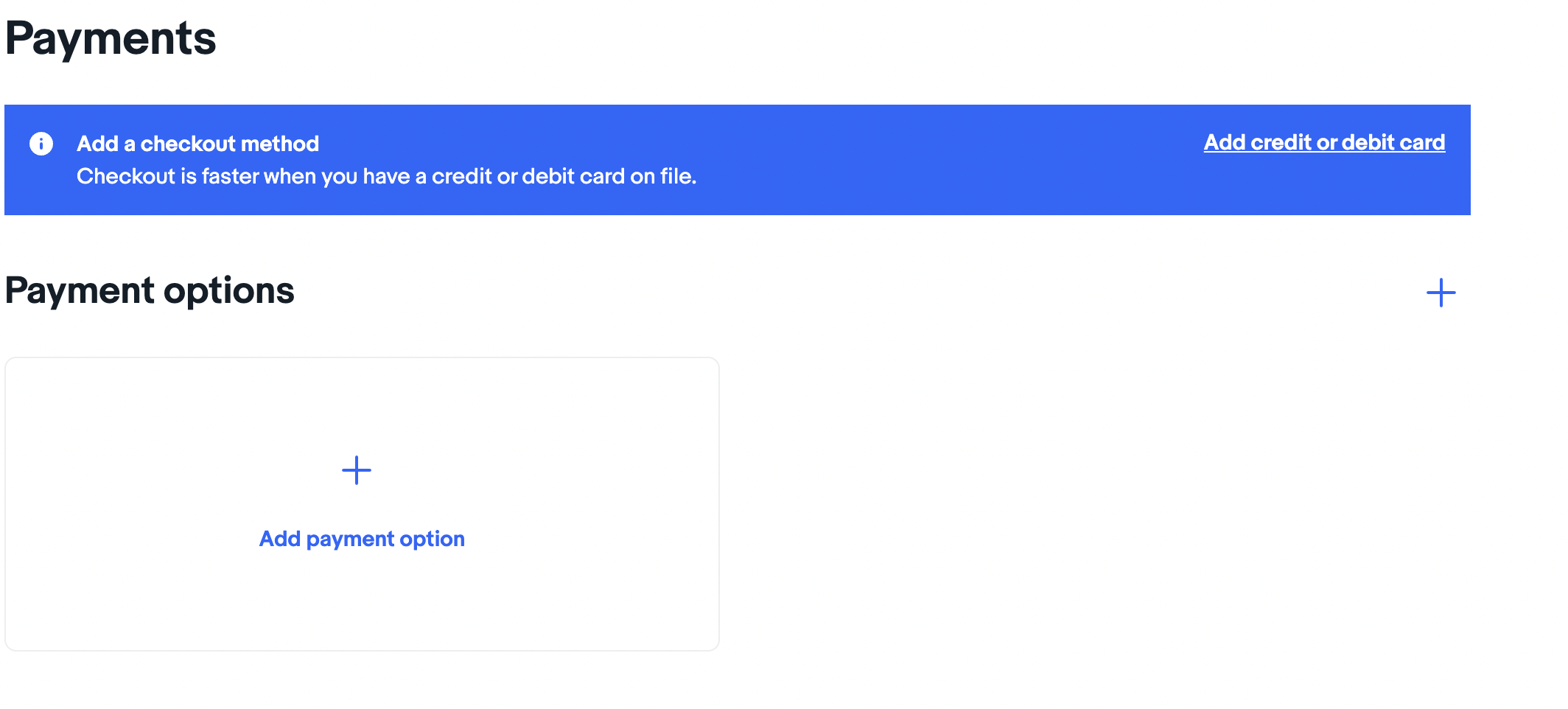 Note: In the past, eBay sellers were paid through PayPal. However, eBay announced that they will no longer offer PayPal as a payment option by the end of 2020. Instead, eBay moved towards their own payment system called Managed Payments, which sends payments directly to sellers' bank accounts.

With Managed Payments, eBay automatically deducts the selling fees from your sales earnings prior to payout.
Step 3: Start selling! You're now ready to list your items for sale on eBay—it's that simple.
To list products, go to the 'My eBay' tab and click on 'Selling.'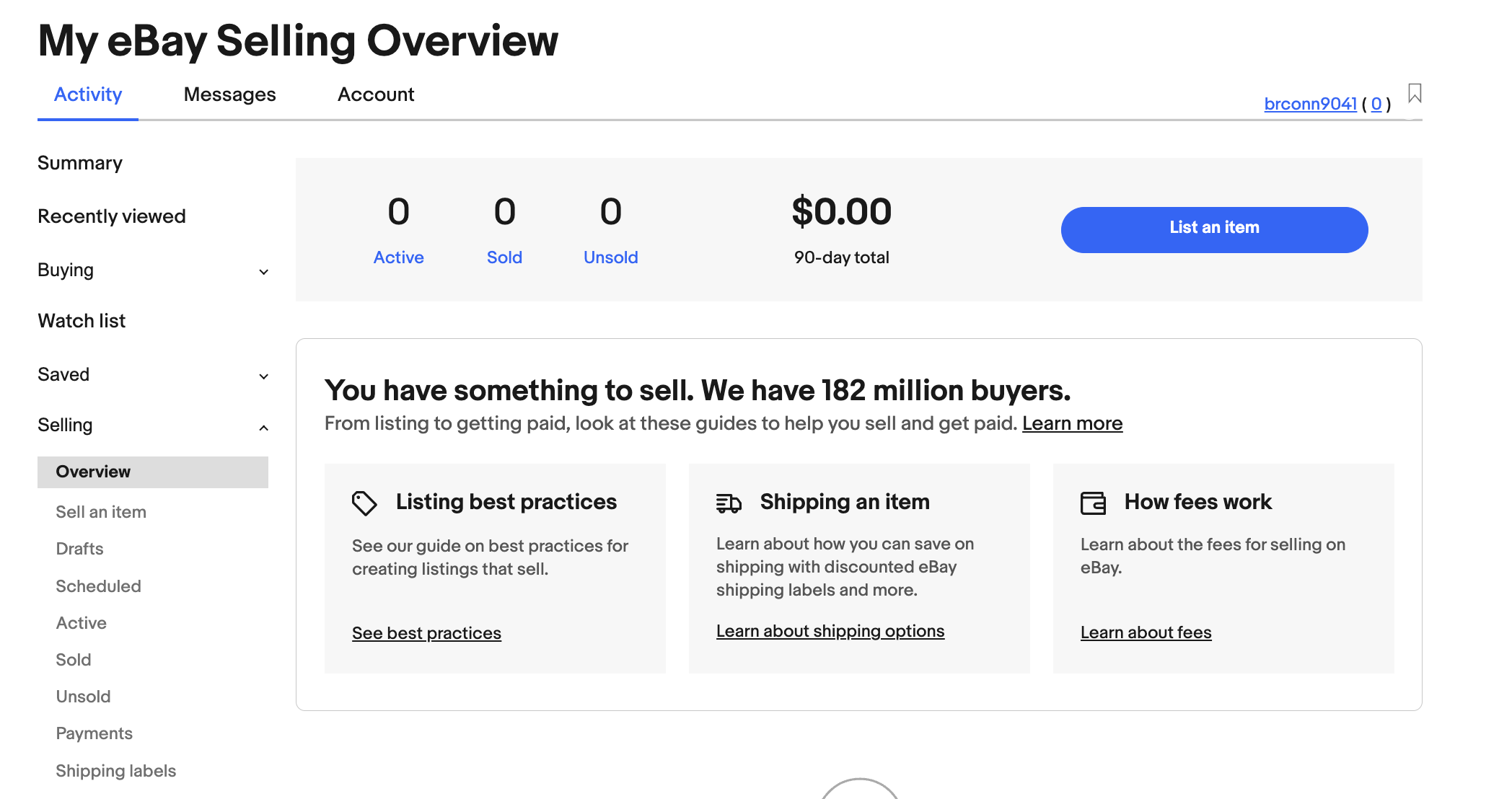 Continue reading to learn more about product research, eBay's selling fees, how to list and ship products, and more!
Step 3: eBay Product Research
You can sell just about anything on eBay. You may already have an idea about what to list, or you may need some inspiration, whether you're scanning your own garage for loose ends or dream of selling a private-label product. In any case, you'll need to do some product research to figure out which products are profitable, and at what price.
You shouldn't pick just any product to sell on eBay. If you really want to be successful, you have to evaluate your product ideas for profitability, demand, and competition before you decide to list them. That way, you can ensure you'll make a return on your investment.
In this step, we'll go over profitable product ideas, how eBay's fees impact profitability, how to determine demand and more product research essentials.
1. Profitability

If you're putting money into sourcing products to sell on eBay, you want to make sure you'll make that money back, and then some. You'll also need to keep eBay's seller fees in mind when running the numbers.
An insertion fee is charged when a seller initially lists an item on eBay, and again if the seller relists the item, duplicates the listing for auction-style bidding, or lists the item in a different product category. Insertion fees are non-refundable even if the item doesn't sell, though eBay offers each seller up to 250 free listings each month (or more for sellers running eBay Stores). If you list more than 250 products, you will be charged $0.35 per listing for most products.
Final value fees are charged after each sale. This fee is calculated as a percentage of the total amount of the sale the buyer pays, including shipping, plus $0.30 per order. Here is a breakdown of final value fees by product category:
The fee for most categories is 13.25%

Books, DVDs & Movies, Music: 14.95%

Coins & Paper Money > Bullion: 13.25%

Clothing, Shoes & Accessories > Women's Bags & Handbags: 15%

Jewelry & Watches (except Watches, Parts & Accessories > Watches): 12.55%

Jewelry & Watches > Watches, Parts & Accessories > Watches: 15%

Art > Art NFTs: 5%

Select Business & Industrial categories: 3% ($20 insertion fee)

Musical Instruments & Gear > Guitars & Basses: 6.35%

Select Clothing, Shoes & Accessories categories: 8%
Note that fee rates for some categories decrease after certain price thresholds.
All in all, you can expect to pay 13.25% in selling fees for most transactions on eBay.
This fee is cheaper than other ecommerce marketplaces, leaving you with a relatively high gross profit.
In addition to fees, you'll need to consider product costs (what you'd pay for an item you found at a thrift store, for instance) as well as shipping costs. When shopping online, 47% of U.S. consumers are willing to spend more for a product to get faster shipping.
There are a few free eBay fee calculators available to help you understand the profitability of your sales. We recommend using Salecalc.com.
2. Demand
The easiest way to determine whether a product will sell is to look at the data eBay gives you.
To suss out products with strong consumer demand, you'll want to know the sell-through rate, or the number of sold listings versus the number of active listings for a product, expressed as a percentage. A high sell-through rate indicates a healthy level of demand for a product—a high proportion of active listings are attracting buyers. You can easily calculate the sell-through ratio with data from eBay search results.
If you want to sell products quickly, look for items with at least a 50% sell-through rate. Below that, you may wait a month or so for your item to sell, as there's not a ton of demand for that product.
eBay will show you active and sold listings for any product over the past 90 days. Let's go over how to use search filters to easily calculate up-to-date sell-through rates for potential products. We'll use Nike's popular Air Max 97 shoe as an example of a potential product we might want to list on eBay.
Searching "Air Max 97" on eBay returns 11,579 results. This means there are 11,579 different active listings for this shoe.
Now take a look at the menu on the left side of the screen, which shows all the filters you can apply within the search results. Scroll down to the "Show Only" section of the filter menu, and check the boxes for "Completed" and "Sold" listings. This will show you a list of all the relevant products that customers have purchased, with the date of each sale as well.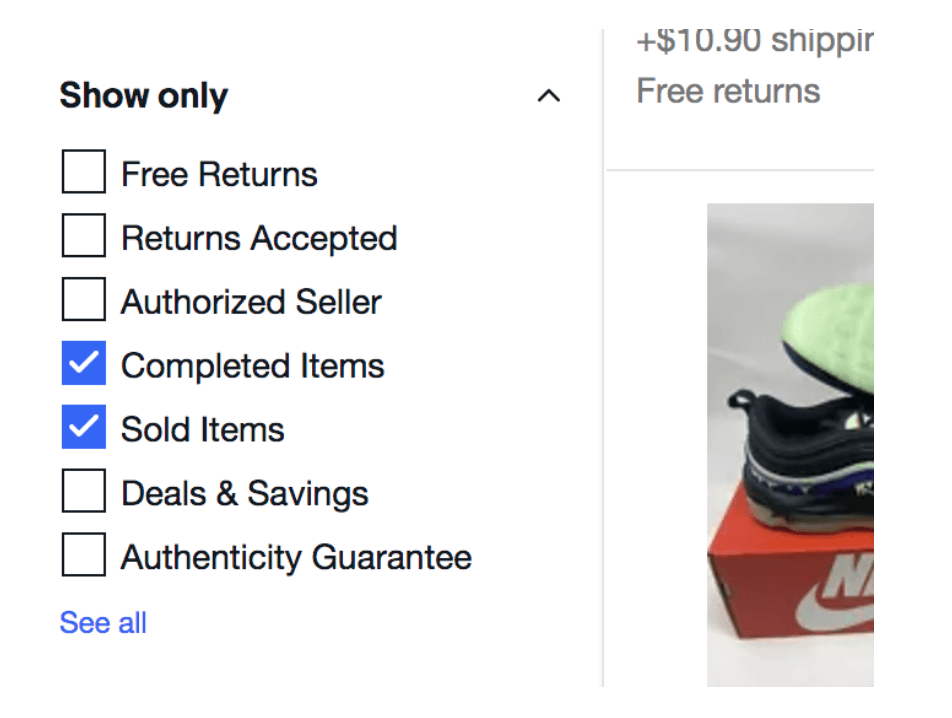 Filtering for Sold and Completed listings returns 6,678 results. This means 6,678 air max 97s have sold in the last 90 days.
Let's crunch the sell-through numbers. If you divide 6,678 (the Sold and Completed listings) by 11,579 (the active listings), you get .57, or a sell-through rate of 57%. This is further proof of high demand for Air Max 97s.
You can also see that this shoe tends to sell many times each day—it's extremely popular with customers.
It's worth noting that this shoe is listed in a variety of colorways, some of which may be more popular than others. If you wanted to get that granular with your research, you could adjust your search terms or filter for color.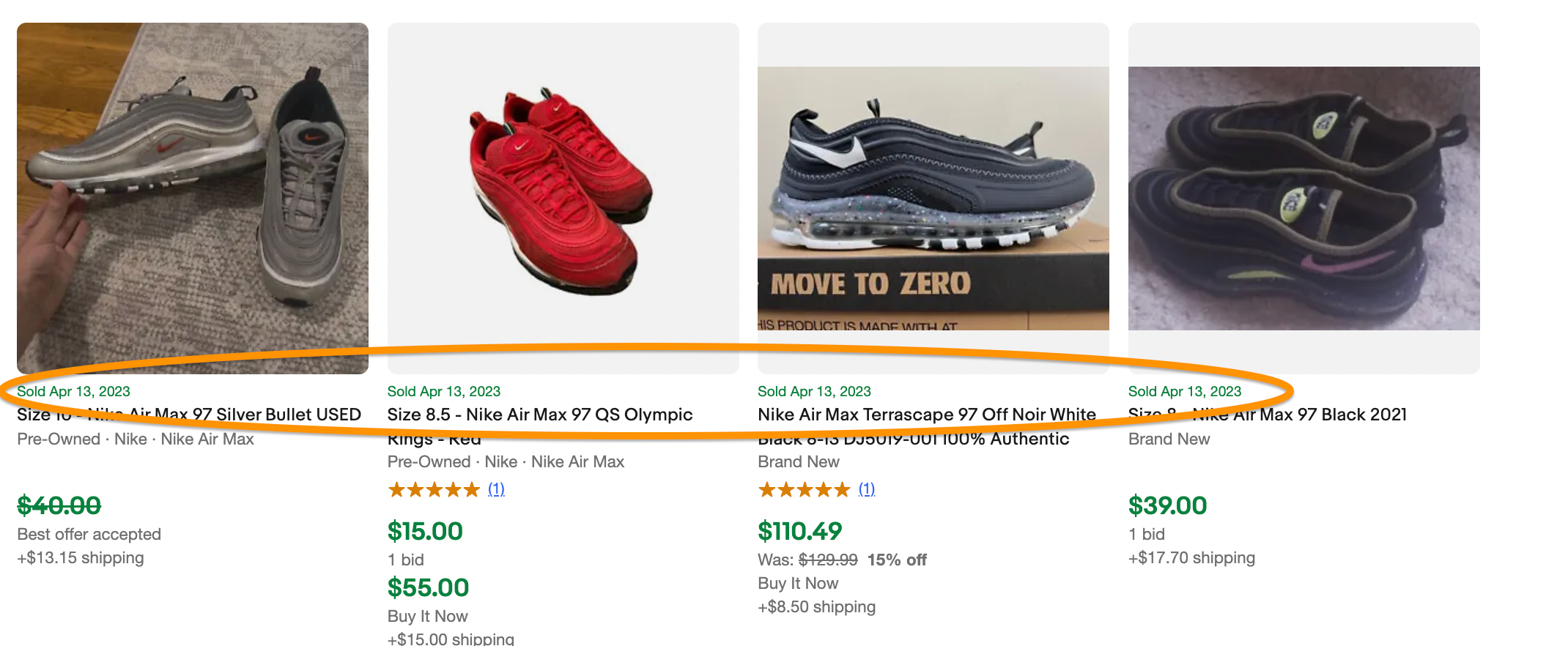 Reselling this shoe is an example of retail arbitrage, which, along with thrifting, is a great way to make money on eBay.
Tip: Use verified product research tools
eBay offers an exclusive tool for market analysis called Terapeak. According to eBay,
"Terapeak uses recent eBay supply, demand, and pricing data to help you determine what to sell, when to sell it, and at what price. Research market trends based on real data from millions of eBay transactions to effectively strategize your sales."
eBay states, "From April 2021, Terapeak Product Research is available for free to all sellers. Terapeak Sourcing Insights is free for eBay Store subscribers from Basic and upper."
You can also use data tools built for other ecommerce marketplaces in your eBay product research. Jungle Scout's all-in-one suite of tools pull essential data for ecommerce entrepreneurs, like daily and monthly sales volumes and historical sales data from the Amazon marketplace, and even highlight emerging product opportunities.
These insights are backed up by powerful data analytics, so you can be sure that your product choice is supported by real-time sales data, not just a hunch about what products might perform well with consumers.
While Jungle Scout's data is specific to Amazon, its insights are directionally accurate for other ecommerce platforms—what sells well on Amazon is likely to sell well on eBay, too.
eBay sellers can browse and filter millions of Amazon products within the Product Database tool to quickly uncover profitable opportunities translatable to eBay.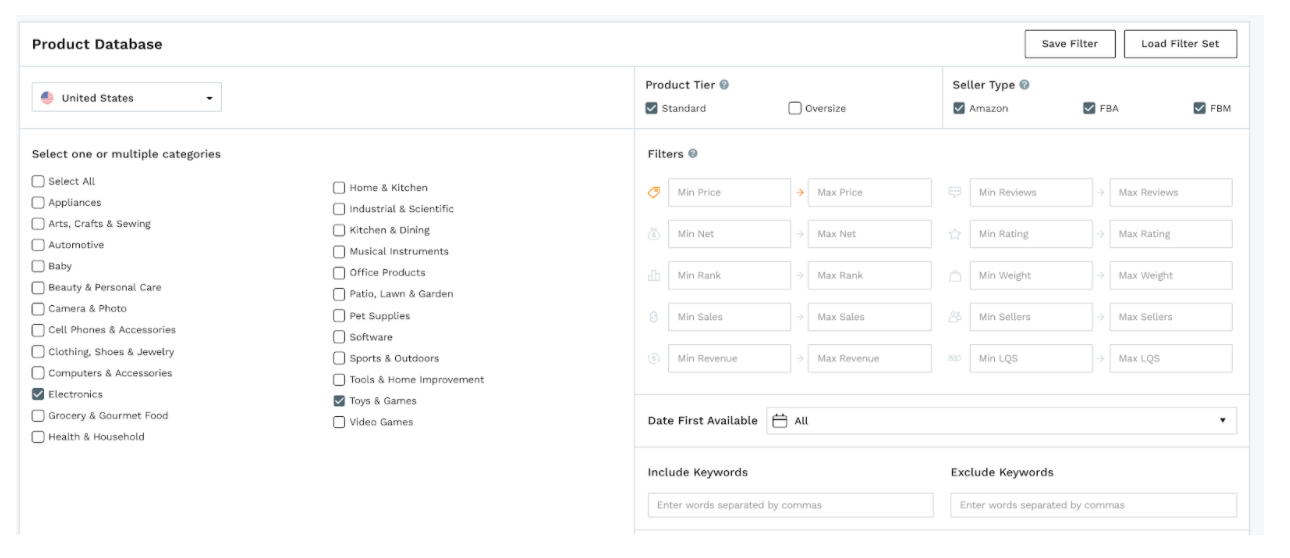 Sellers can choose the specific product category they're interested in, set minimum and maximum prices, monthly sales numbers, product weight, and more.
After setting a few different filters and clicking search, Product Database will fill up with hundreds or thousands of results to sort through.

When scrolling through the results, pay attention to the Monthly Revenue and Monthly Sales numbers. Identify the best-selling products and search for them on eBay. More often than not, these products perform well on both platforms.
3. Competition
Regardless of whether they run their business on eBay or Amazon, sellers will face stiff competition for customers—though they'll compete with other sellers in different ways.
On Amazon, sales of each unit of a product occurs through one main listing, on which multiple (read: thousands of) sellers can participate. To maximize their sales of the product, a seller must compete for control of the Buy Box—the widget that allows customers to make a purchase—even if it's their own listing.
On eBay, product listings are not condensed in this way—each seller creates their own listing for every one of their products, complete with a combination of images, descriptions, and shipping options that's entirely unique from listings created by other sellers. This means that there could be thousands of unique listings on eBay for the same product.
Naturally, then, it can be easy for your eBay listing to get lost in a sea of search results. To make sure more potential customers see your listing, optimize it with competitive keywords and high-quality images. We will go over listing optimization in a later step.
A lot of competition can indicate a product's popularity. But in order to justify listing a product with many competing sellers, you need to make sure it's also selling at a high volume.
To get started, let's take a look at eBay's best-selling types of products.
What are the best-selling products on eBay?
Here are some of the top-performing categories on eBay in no particular order:
Home & Garden: Fireplaces, Stoves, Heating & Air Conditioning Systems.
Health & Beauty: Vitamins, Minerals & Lifestyle Supplements.
Garden & Patio: Garden & Backyard Furniture Sets, Garden Lighting, Awnings & Canopies, Panel Fences & Wind Shields, Barbecue Tools & Accessories.
Automotive: Body, Exterior and Interior Parts & Accessories. Motorcycle and Scooter Parts & Accessories. Lighting & Bulbs. Air & Fuel Delivery. Engines & Engine Parts. Starters, Alternators, ECUs & Wiring. Auto Electrics. Performance & Racing Parts.
Clothing, Shoes & Accessories: Men's & Women's Clothing, Shoes & Accessories. Women's Bags & Handbags.
Collectibles: Modern & Historical Military Equipment & Items. Rocks, Fossils & Minerals. Collectible Knives, Swords & Blades.
Business & Industrial: Industrial Automation & Motion Controls: PLCs & HMIs. Medical, Lab & Dental Supplies, Equipment, Devices & Instruments. Test, Measurement & Inspection Equipment.
Computers / Tablets & Networking: Laptop Replacement Parts. Printer Ink, Toner & Paper. Graphics/Video Cards.
While you may face lots of competition from other sellers when listing products in these categories, you'll reap the benefits of their popularity with eBay customers.
What if you're still stumped on what to sell?
Where to find eBay product ideas if you're stuck
A great place for listing inspiration is eBay's trending deals page, which highlights of-the-moment offers on popular products.
Here are some strategies to keep in mind as you narrow your product search.
Look for new releases of popular items.

Take advantage of product releases and updates. For example, resellers often buy up inventory of just-released gaming consoles to resell on eBay soon after.
Stay on top of new trends.

Consider the fidget spinner. A seemingly random object, its

sales nonetheless exploded

during what was a short but lucrative period of time for online sellers. If you capitalize early on emerging products like the fidget spinner, you stand to make a quick fortune.
Strategize seasonally.

The winter

holiday season

is a

boom time

for ecommerce, and a great opportunity for eBay sellers to list gifts and holiday decor and apparel. January and February is prime time to list Valentine's Day items. Inflatable pools sell particularly well online in June. And so on.
Normal, everyday items are always in demand.

It's great to sell exciting, trendy stuff, but reliable ecommerce best-sellers tend to fly under the radar. Think household staples like socks, paper towels, or shampoo.
Keep an eye out for old or vintage looking items.

If you find something interesting in your attic but you're not sure what it is, look it up on eBay and see if there's a market for it. Remember, one person's trash is another person's treasure.
Try used clothing and shoes.

If you don't mind sifting through used clothing racks at a thrift store, you can potentially find some hidden gems worth good money. Hint: Look for old logos from name brands.
Parents want kids toys and electronics.

Name-brand toys such as Lego and Marvel will sell very well on eBay if parents have trouble finding them in stores.
READ MORE | Looking for more product inspiration? Check out our guide to Amazon's Top Product Categories and cross-reference it with what's selling on eBay.
Step 4: Where to source products to sell on eBay
With so many business models to choose from, sourcing products for eBay may look a little different than sourcing products for Amazon.
Source products from China with Alibaba
Selling your own brand or private label product is a proven route to success on Amazon and presents an equally good opportunity on eBay.
Advantages of the private label model:
You can create your own unique brand and product

High-quality photography and a great description can set you apart from your competition

You can save money by sourcing your products from suppliers outside of the U.S.
READ MORE | How to Source Products on Alibaba
Find products to resell at retail stores
A classic eBay business model: buy and resell items from Walmart, Target, or your local grocery stores. Retail arbitrage can pay off if you're consistent and learn what to look for.
Retail arbitrage product research is easy—you can do it while you're out shopping.
Look for products in the clearance section, toy aisles, and electronics department—these sell well on eBay and have potentially high-profit margins, depending on demand (more on this below).

Use the eBay app on your phone to scan barcodes to see which products have great sell-through ratios.

Use the Salecalc app mentioned in Step 3 to calculate the profitability of potential products. Keep in mind that you can charge customers for shipping to boost your profit margin.
READ MORE | Amazon Retail Arbitrage 2023 Guide
Check local thrift stores
Going to thrift stores is like going on a treasure hunt—if you look hard enough, you will find some hidden treasures priced way below market value. These make for easy flips on eBay.
Look out for the following:
Clothing. Consigned designer-label and vintage clothing.
Toys, video games, or board games. Sure, 90% of what's on the shelf may look beat up, but you never know when you'll land on a mint-condition Guitar Hero piece.
VCRs or DVD players. Most thrift stores have tons of old electronics that people will still pay good money for.
Remotes. You'd be surprised by how people spend on old TV remotes.
Used books. Thrift stores are FILLED with them! While rummaging for rare titles can be time-consuming, you may come across high-value books that a very specific buyer is looking for.
If you are not sure about something, look it up on eBay! It may be worth some money. Over time, you'll develop an eye for profitable thrift store finds.
Shop garage sales/estate sales
Ahh, garage sales. Homeowners are typically pretty desperate to get rid of all the furniture, books, artwork, clothes, and other odds and ends they've accumulated over the years, so don't be afraid to negotiate a little bit. While they can be hit or miss, if you are consistent, you can find something worth big bucks.
Estate sales are similar, except that usually, everything in the house is for sale. You can find odd and unique items at estate sales, as well as fine jewelry.
Hint: To find local garage sales or estate sales in your area, use these websites:
They're both free to use and will show you every sale in your area! Garage sale finder also has an app so you can search when you're out sourcing.
How to use the eBay app
Before going anywhere to look for products to sell, make sure you have the eBay app downloaded to your phone. You can scan or take a picture of an item you'd like to sell, and eBay will show you current listings for it.
Use the Sold and Completed Listing filter method within the app to get an idea of how well that item is selling.
Remember, just because an item is listed at a certain price does not mean it will sell at that price. ALWAYS check sold and completed listings instead of just the active listings.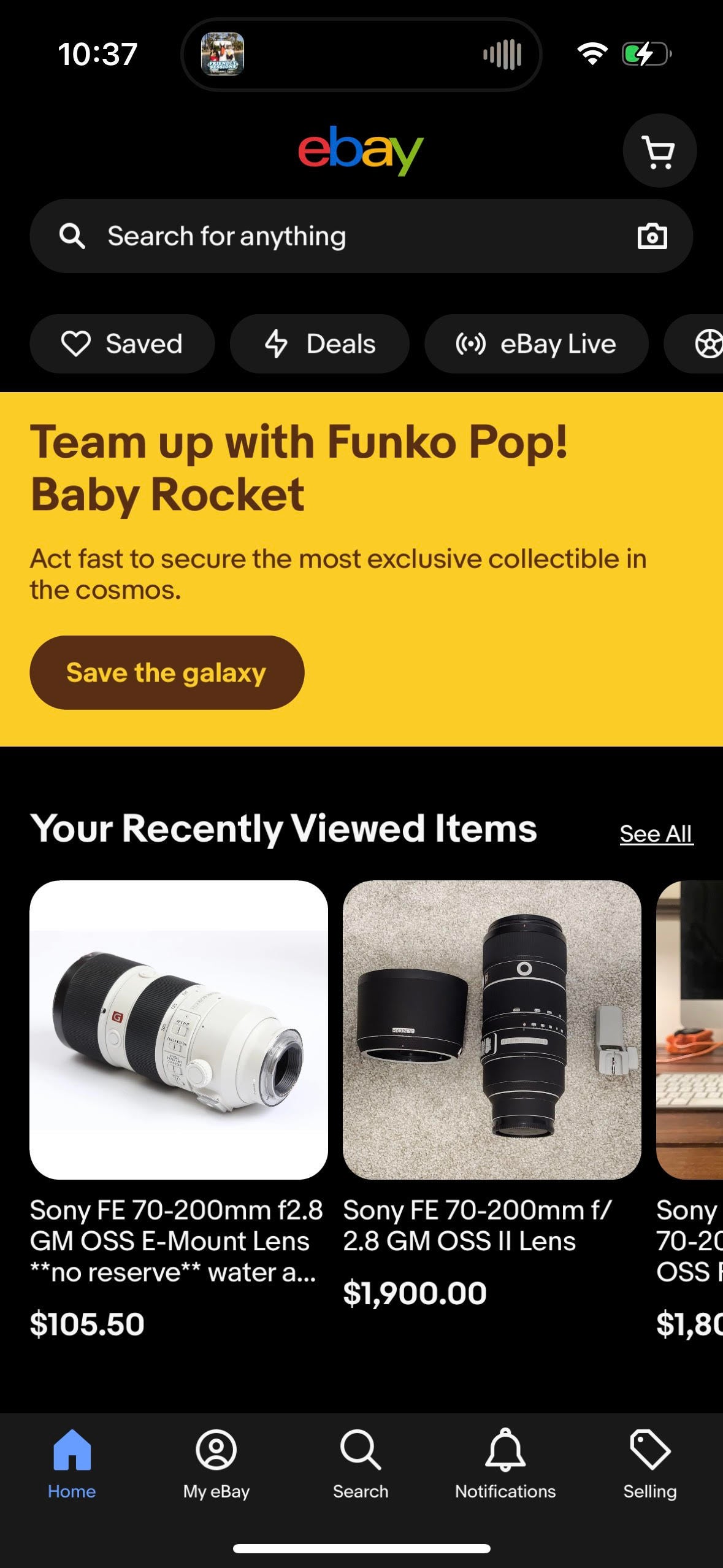 Once you open the app, you will see the search bar at the top. Either type in the product you want to search or click the small camera icon to bring up the barcode scanner.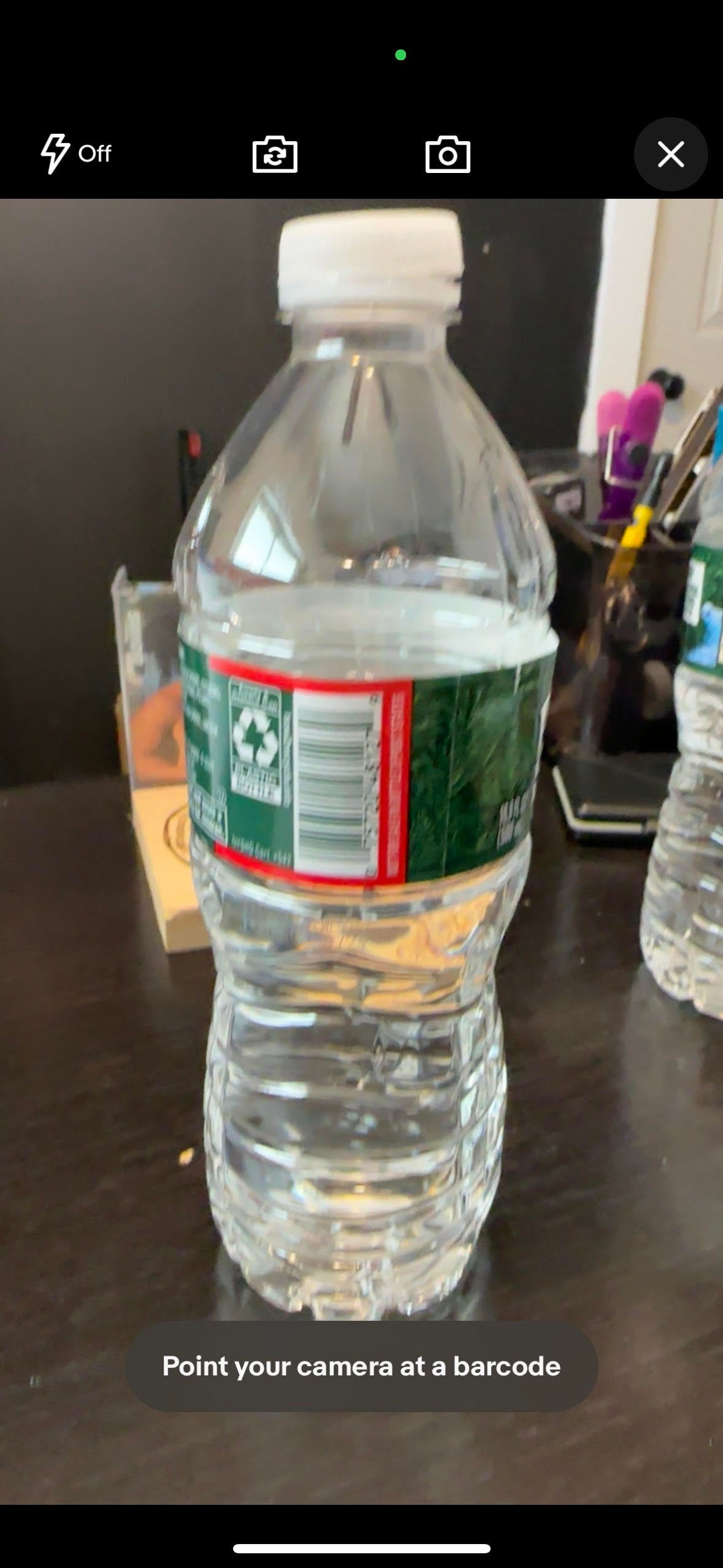 Scan the barcode of the product you want to look up, filter by "Completed Items" and "Sold Items", then view the results.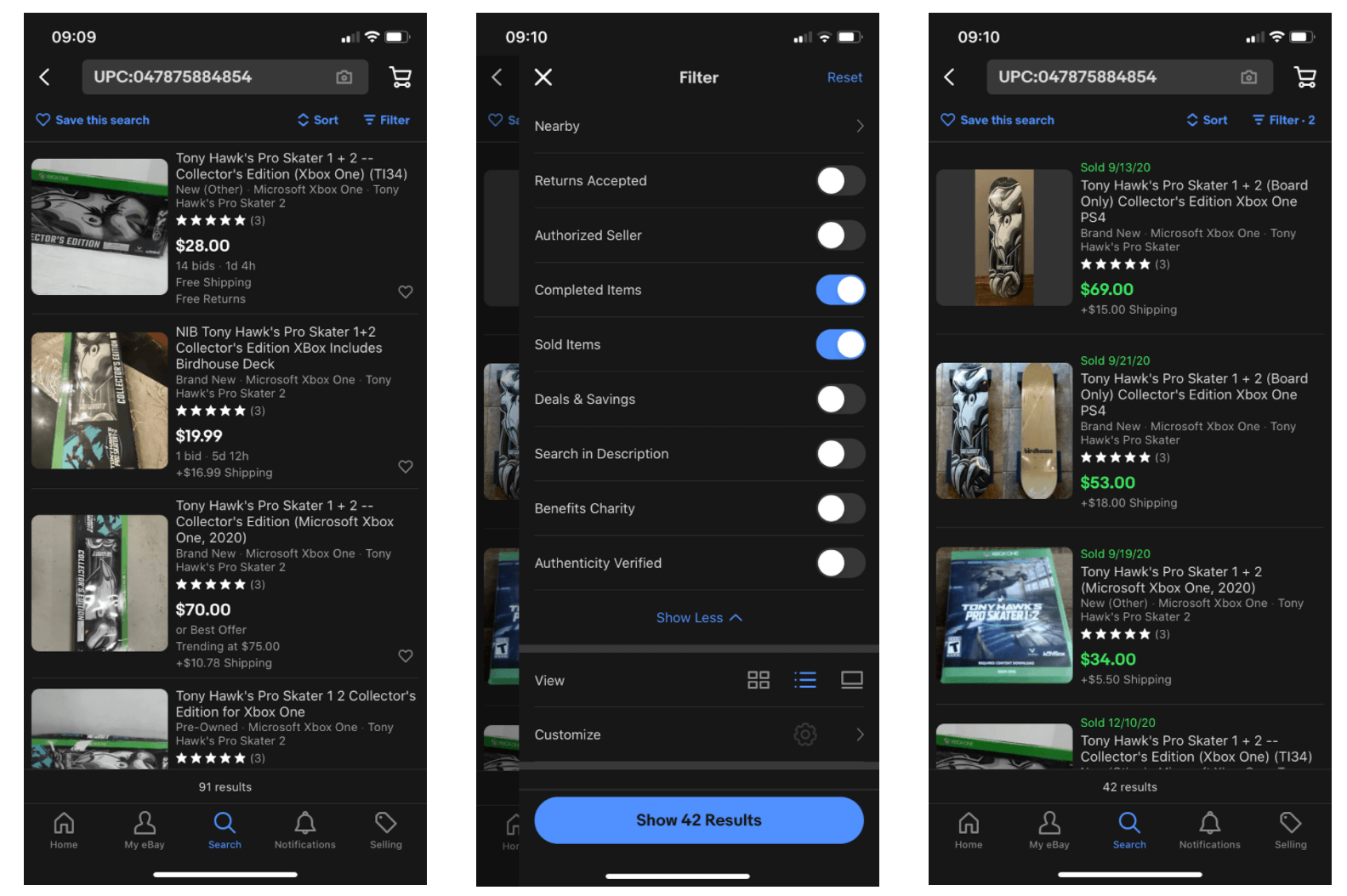 Let's say I found a Collector's Edition Tony Hawk skateboard at a thrift store for $10. Using the eBay app, I can quickly determine that I would make money reselling this item. Just the first few results show that I could sell the board on eBay for five to six times the amount I paid for it at the thrift store.
Let's double-check my estimated profit with SaleCalc. I'll use the price and shipping rate at which the first listing sold in my calculations.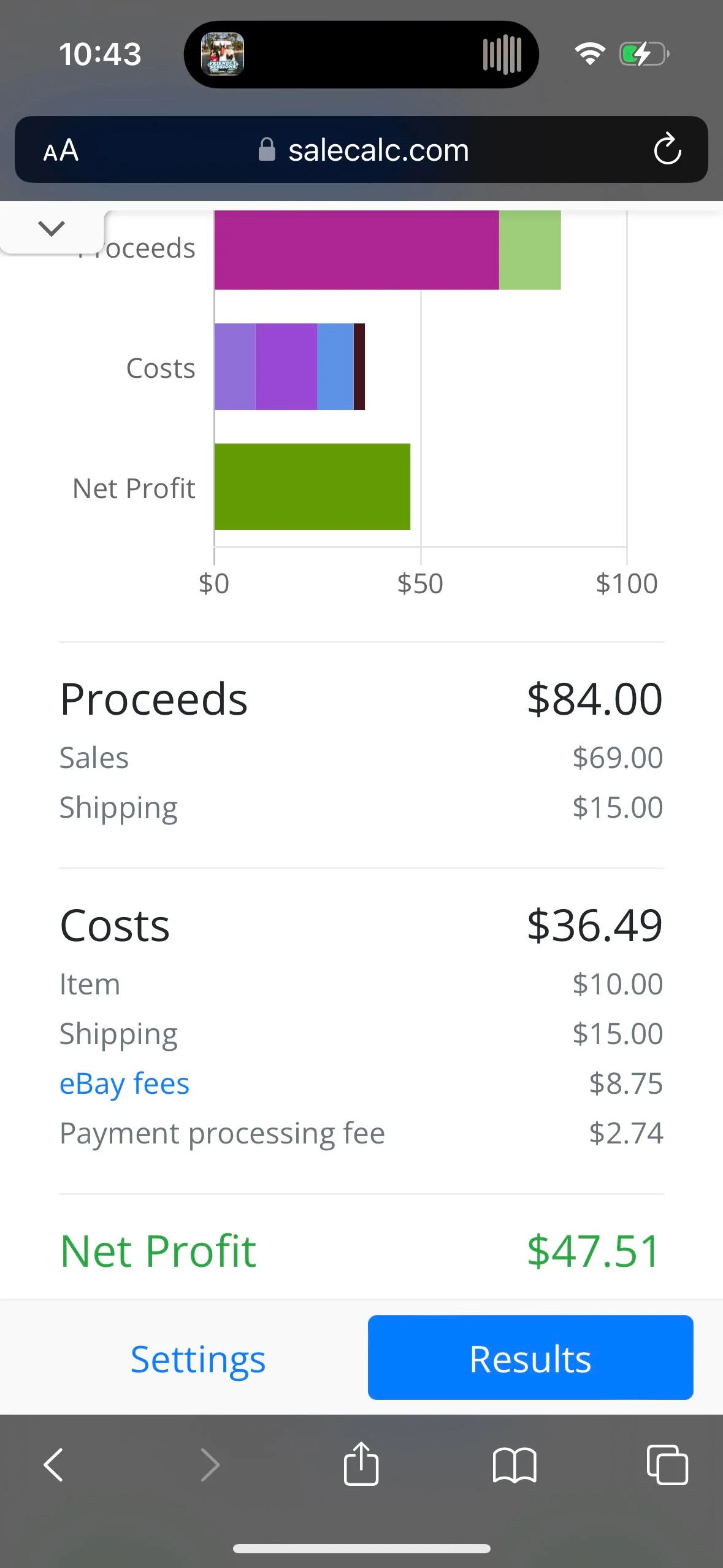 Sale:

Charge the customer $69 + $15 shipping

Costs:

$10 product cost + $15 for you to ship

Profit:

$47.51
Not bad for a $10 find at a thrift store!
Finds like this are more common than you may think. You just need to be out there looking.
Note: Your actual shipping cost may be lower or higher depending on weight, dimensions, and where it is being shipped.
Step 5: How to list and ship your items
You can list a product on eBay in minutes—you can even do it on your phone. This streamlines the process of uploading product photos, too—just select them from your camera roll.
Using the skateboard example again, I'll show you how to list an item through the eBay app.
How to list your items on eBay
In the "Sold Item"-filtered search results, click on the first listing.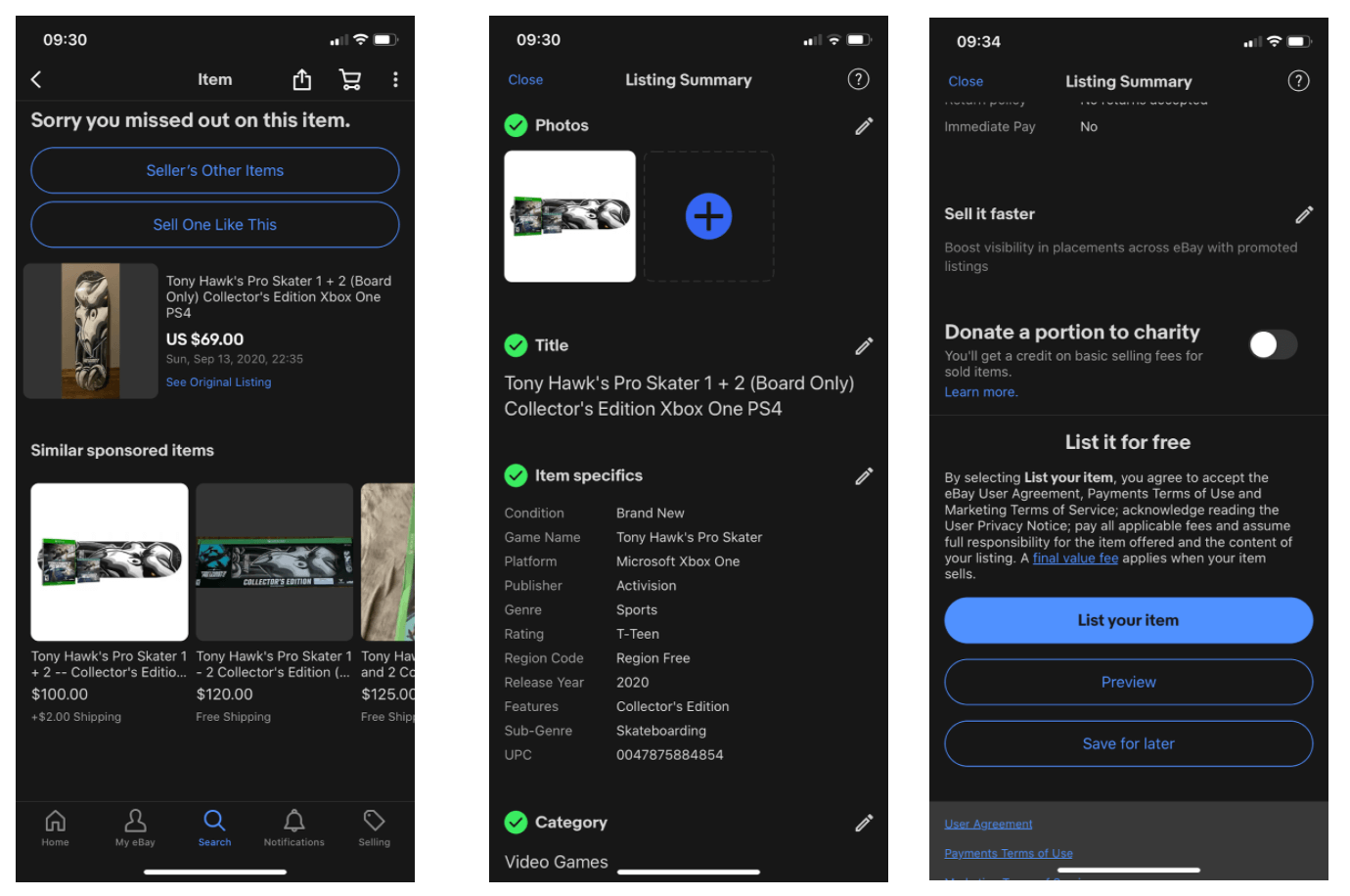 Here's where listing on eBay gets even easier.
Click on "Sell One Like This."
This will bring you to the Listing Summary page. Essentially, you'll have created a duplicate of the successful listing to use for your product. eBay will auto-populate much of the product information, but you should still check to make sure your listing is as descriptive as possible. Since the product is used, verify that its condition is described accurately.
I suggest editing the title and the description so you don't copy the other seller word-for-word. Add any relevant keywords customers are likely to use as they search for your product.
It is also best to measure and add your own weight and dimensions for accurate shipping costs.
Absolutely do not use another seller's pictures—replace any duplicated images with your own. Take your product photos in good lighting and be sure to get every angle—customers will want to make a thorough inspection.

You will have the option to choose between "Auction" or "Buy It Now" pricing. For most items, "Buy It Now" is usually the way to go to lock in your desired price. If you're willing to go lower, you have the option to accept customers' offers on your item.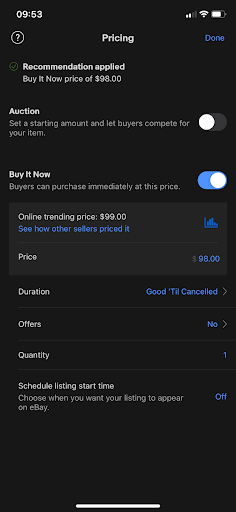 After you set your pricing, weight, dimensions, shipping information, you are ready to list!
Click "List your item" and wait for your sales to start rolling in.
Listing an item on your computer follows the same protocol, except that uploading your own images will involve transferring or uploading them across devices. All in all, I recommend listing directly from your phone—it's just easier.
How to promote your eBay listings
To get more sales, you should market your listings. You can do this directly on eBay by using Promoted Listings.
On the bottom of the listing summary page, you will see a section called "Sell it faster." This allows you to boost your listing to the top of eBay search results.
Compared to advertising on other marketplaces like Amazon, setting up a promoted listing is much easier on eBay. You simply check the box and set your ad rate. There's no need to choose keywords, daily budgets, or other parameters.
The ad rate is the percentage of an item's final sale price that you'll pay eBay in exchange for their promotion of your product. Compared to promotion on Amazon, it's a great deal: you are only charged if the buyer purchases the item. There's no PPC (pay per click) advertising—and associated fees—on eBay.
eBay will show you the suggested ad rate for the best placements within the search results, though you can choose to go lower.
For example, say you set an ad rate of 4%. If someone clicks on your promoted listing and buys, you will be charged 4% of the sale price.
If they don't buy, you are not charged anything. Making it a predictable and profitable advertising cost.
How to ship your items
After you make a sale on eBay, you'll need to purchase a shipping label,
enter the tracking details, and package and ship the item to the customer.
This process takes some time getting used to if you've never handled order fulfillment yourself. It's easiest to do from a computer unless your phone can connect to your printer.
When a customer buys your product, you'll get a notification in your eBay account alerting you to the sale. Click on the notification to enter shipping information, print your labels, and mark the order as shipped.
eBay makes it simple to purchase a shipping label through their system. All you need to do is enter the weight and dimensions of your package—which should already be in the listing.
If you plan to sell a few different items on eBay, be sure to have packing supplies on hand so you can ship out orders as soon as you get them—customers love prompt order fulfillment.
Supplies you will need to fulfill eBay orders:
Shipping boxes and/or envelopes. You can buy these at Walmart, Target, Home Depot, or office supply stores.

Tip:

USPS will give you

free shipping boxes

at the Post Office. Just make sure you ONLY use them when shipping USPS.

Adhesive shipping label paper. This makes it super easy to print, peel, and stick the labels on the package.
Packing tape. It's good to have a few rolls on hand.
Packing paper or bubble wrap. Make sure to protect the items you ship so they arrive in the same condition they were sold.

Tip:

I always save the packing materials from packages I receive to reuse for items I've sold.

Package scale. Make sure the packages you ship are

weighed correctly

so you're not paying too much or too little for shipping.
Try to ship out any orders you receive the same day or the following day. This provides a great customer experience and likely they will leave positive seller feedback!
(Hint: most eBay buyers will leave feedback because sellers can evaluate buyers in return.)
Once you package your orders, you will need to either drop them off at the appropriate mail carrier or request a pickup. You can easily request a package pickup from USPS, UPS, or Fedex.
Step 6: Tips & advanced strategies for selling on eBay
Now that you know the basics for sourcing and selling products on eBay, let's go over a few advanced strategies you can follow to take your eBay business to the next level.
Find profitable deals online
You're not obligated to do all of your product hunting stores. Do some research online at home first so you have an idea of what to look for in-store.
You can use a website called brickseek.com that will show you local and online product deals that you can capitalize on with eBay. You can search Brick Seek by zip code, even down to the inventory at specific stores—just note that it's not always 100% accurate.
After you find some interesting deals, vet the products on eBay using Salecalc and the filter method from Step 3.
Follow reselling groups
If you're new to selling on eBay or have little to no experience reselling products in general, finding a reselling community online is a great resource.
Search "reselling" and other similar keywords on Instagram, and you'll find tons of accounts posting tips on what to sell. You can also check out our in-depth arbitrage guide for proven reselling techniques.
If you're willing to pay for product leads, there are plenty of paid groups you can join that will tell you exactly what to sell, where to find it, and how to price it. If used correctly, these types of groups can be goldmines.
Turn on international shipping
The great thing about eBay is that you have an option to turn on Worldwide shipping—at no extra cost or headache to you through the Global Shipping Program.
In the Listing Summary section when entering all your product information, there is a section under "Delivery" titled "Ship Internationally."
If someone from another country orders your product, you will then send your eligible item to eBay's domestic shipping center, and once it reaches them, your job is done. eBay will manage the international shipping and customs process for you.
There is no reason you shouldn't have this option turned on.
Sign up for an eBay Store
When you first sign up as an eBay seller, your account is free. As you grow your sales and listings, you can choose to upgrade to an eBay Store subscription. There are different levels of stores you can subscribe to, with different levels of benefits: Starter, Basic, Premium, Anchor, and Enterprise.
Benefits of an eBay store:
Access to additional tools to manage your business

Discounted seller fees along with additional free listings

Instant access to promoted listings, promotions manager, and exclusive tools to optimize listings

Customizable storefront homepage and web address

Ability to set "Featured Items" to display your products

Greater listing organization with store categories
You're not required to sign up for an eBay store. As you grow your business, you may want to take advantage of its many benefits.
Improve and grow your account feedback
Building positive reviews from customers will give you more credibility in the marketplace. The more trusted you appear, the more customers will be willing to purchase from you.
Of course, when you first start selling, the amount of feedback on your account starts at zero. But the cool thing about eBay is that you can gain feedback both from selling and buying products. Here's a tip to quickly build positive feedback for your account: buy a few inexpensive items from different sellers on eBay, then leave each seller some positive feedback. This will prompt the sellers to throw you a kind word if they haven't already done so.
eBay will award sellers different colored stars as they reach certain levels of feedback. Your goal is to earn the red shooting star—symbolizing 100,000 or more feedback points!
Offer 30-day returns
Unlike Amazon's universal and strict return policy, eBay allows sellers to set their own return policies. Note that buyers are protected by eBay's Money Back Guarantee if the item they received did not match their order.
This flexibility allows you to offer no returns on your listings, though it might impact your conversions. In fact, eBay reports that listings with a 30-day free return policy see a 17% boost in conversions, and listings with a 60-day free return policy see a whopping 34% increase in conversions.
Try offering returns and see if it boosts your sales.
Expand to other marketplaces
As you grow your eBay business and get more familiar with ecommerce, you should look into expanding your business on other ecommerce marketplaces such as Amazon and Walmart.
Selling on Amazon
Amazon is a massive market, so it only makes sense to expand your ecommerce business there. Selling on Amazon allows you to take advantage of their sophisticated fulfillment network (Fulfillment by Amazon) and reach the 121.3 million U.S. consumers who are Amazon Prime members.
If you run a Shopify storefront, you can also integrate your orders with FBA, ensuring swift fulfillment for Shopify customers.
READ MORE | How to Sell on Amazon FBA for Beginners
Selling on Walmart
Another emerging marketplace for ecommerce businesses is Walmart's online store. Well over one-third of U.S. consumers shop online at Walmart in 2023, indicating its immense market reach.
Currently, Walmart's online marketplace has around 150,000 sellers, versus eBay's 17 million—with its relatively low competition and popularity among consumers, now is a great time to sell on Walmart.com.
Get started selling on eBay today!
Whether you're looking to declutter your home, start a side hustle, or even replace your current income, selling on eBay is a great way to start your ecommerce journey.
The low barrier to entry on this platform makes it ideal for aspiring business owners and entrepreneurs alike.
We hope this guide will help you start selling on eBay and making some money!