To continue the trend of a very strange year, Halloween festivities in 2020 will likely take some odd departures from autumns past.
To be sure, Amazon sales trends indicate that consumers do plan to celebrate; sales for items like costumes, candy, and creepy decorations are tracking toward net growth from last October.
But due to distancing guidelines and changing norms around social gatherings, we can expect to see some changes. Sales data indicate that more people will choose costumes with masks, opt to express themselves through over-the-top decor, or exploring creative alternatives to traditional trick-or-treating than ever before.
Using Jungle Scout Extension, let's identify the Halloween costumes and decorations that are shattering sales records on Amazon in 2020.
Weird 2020 Halloween Costume Trends
Demand for masks for all costumes is up…
This year, people may replace face paint with face masks. For instance, a mask printed with vampire fangs has raked in just under $10,000 in revenue this October, and sales of a popular cat face mask are up 1,245% in October from its previous bestselling month. A listing for a multipack of clown and skull-themed masks has made an impressive $110,714 in sales this month.
People are also taking advantage of costumes that traditionally feature masks. For instance, this Deadly Ninja ensemble comes with a mask and has already made 852% more in sales this month versus last October.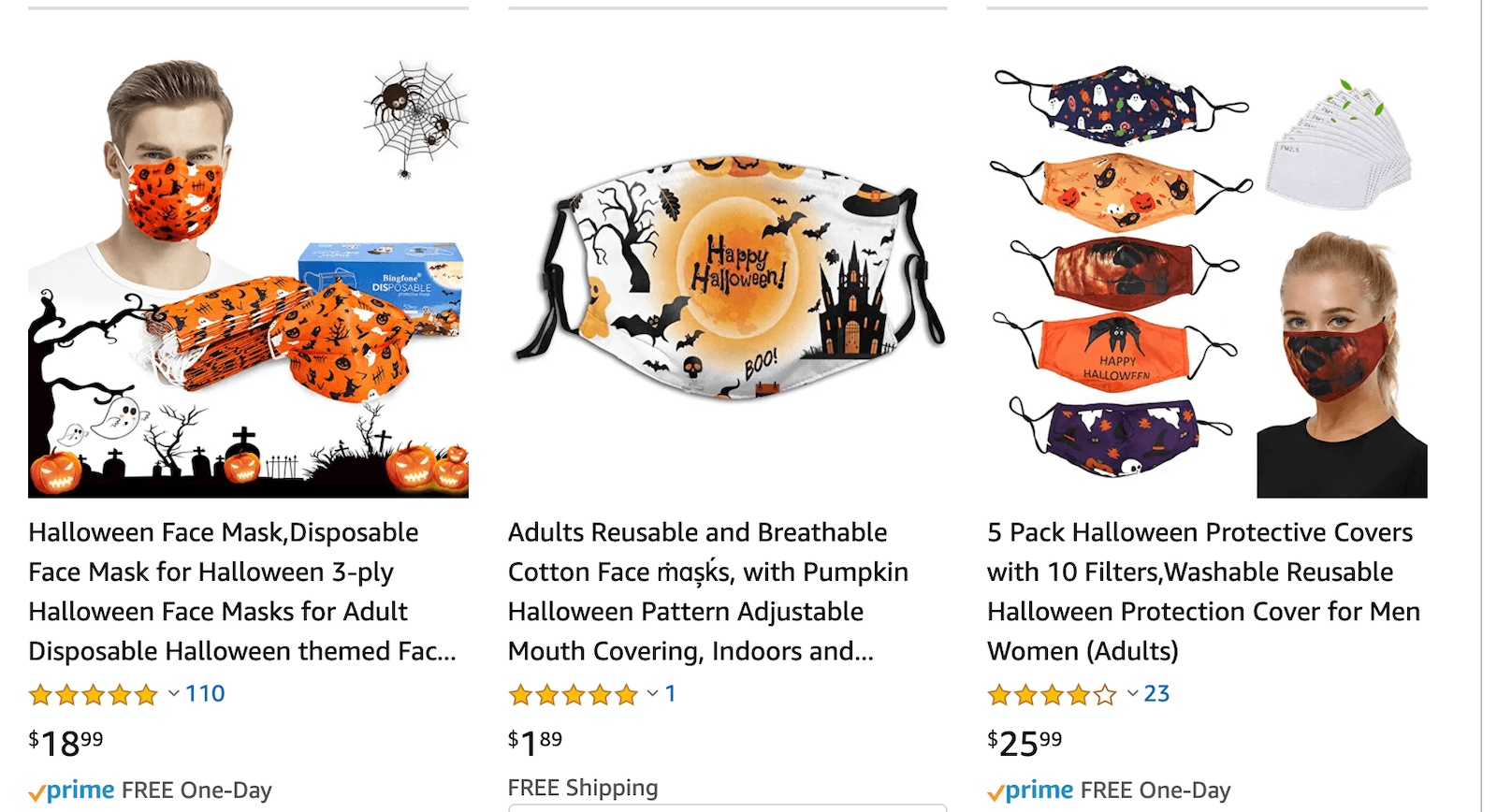 Generic Halloween-printed masks are a hot item, like this listing for a disposable version, already tracking $239,844 in sales for this month. This suggests that people are looking for festive masks, even if they don't necessarily match their costume.
More shoppers than in years past may choose pared-down costumes this year, reflecting a tendency toward having low-key celebrations at home to minimize social contact. Sales of simple jack-o-lantern printed t-shirt are 424% higher than in October 2019.
…but plague doctor masks are the real trend
Costumes will be very on the nose—er, beak—this year, given the popularity of plague doctor masks. Last October, this listing sold only 201 units, whereas it's sold 2,720 so far this month.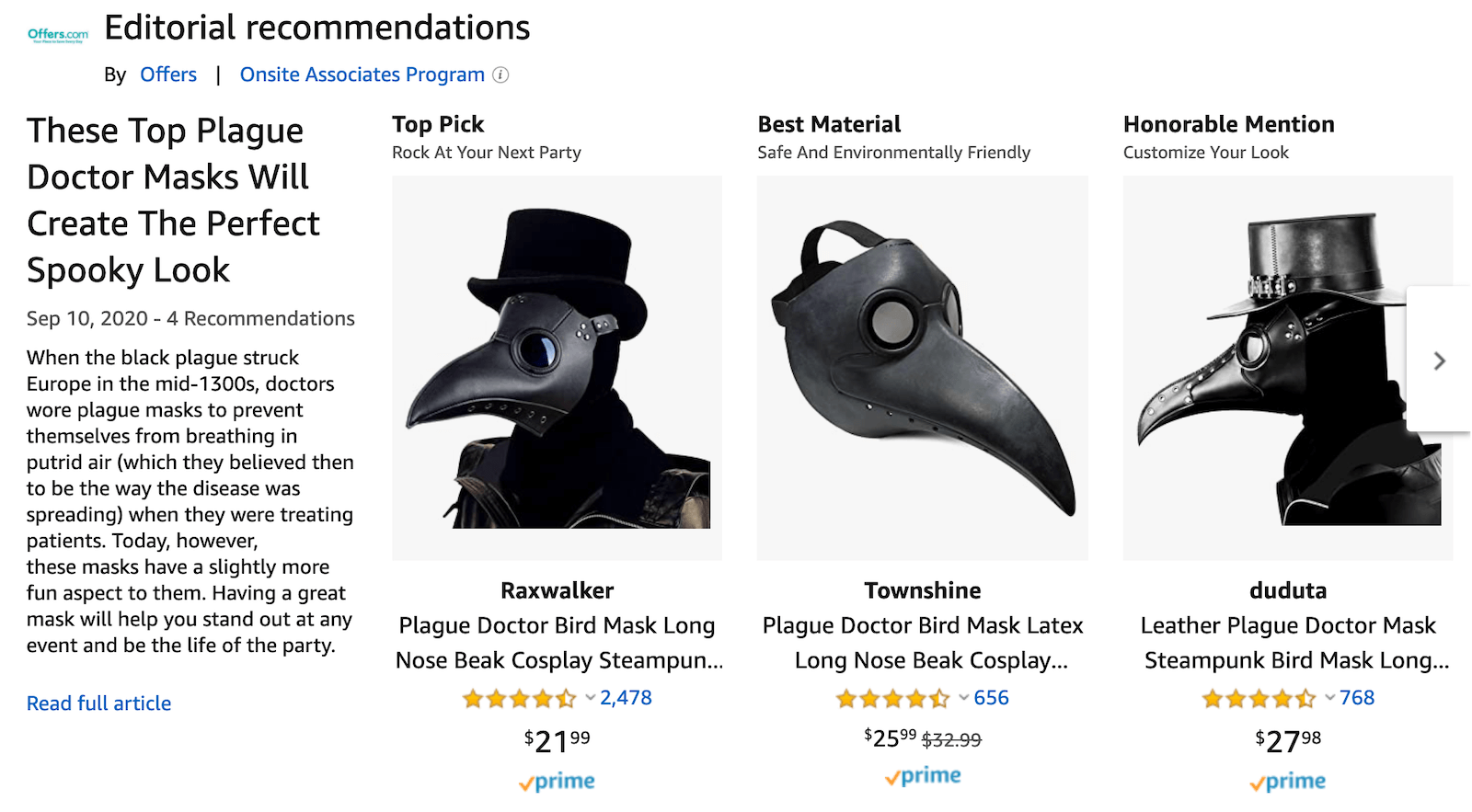 Put on some hand sanitizer
Hand sanitizer suits started cropping up on Amazon in late August, and at least three separate listings have each since generated upwards of $22,000 in monthly sales (check out listing #1, listing #2, and listing #3, as pictured below).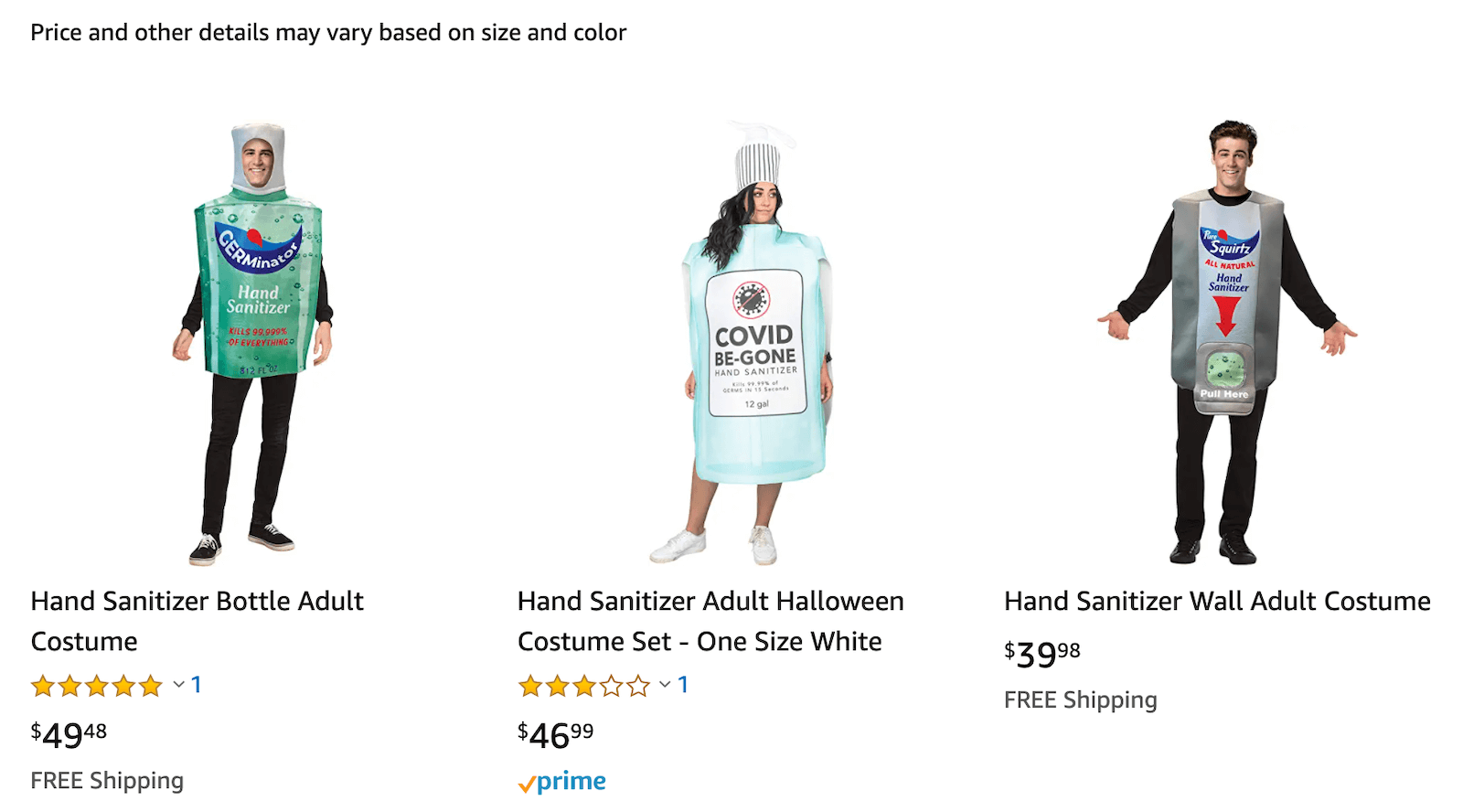 Other popular hygiene-related costumes include this couple's soap and loofah set, which has sold 203% more units this month than in October of last year.
Dog costumes are officially a bigger deal than people costumes
According to Google Trends, people are now searching for dog Halloween costumes at a greater volume than for mens, womens, unisex, and childrens costumes.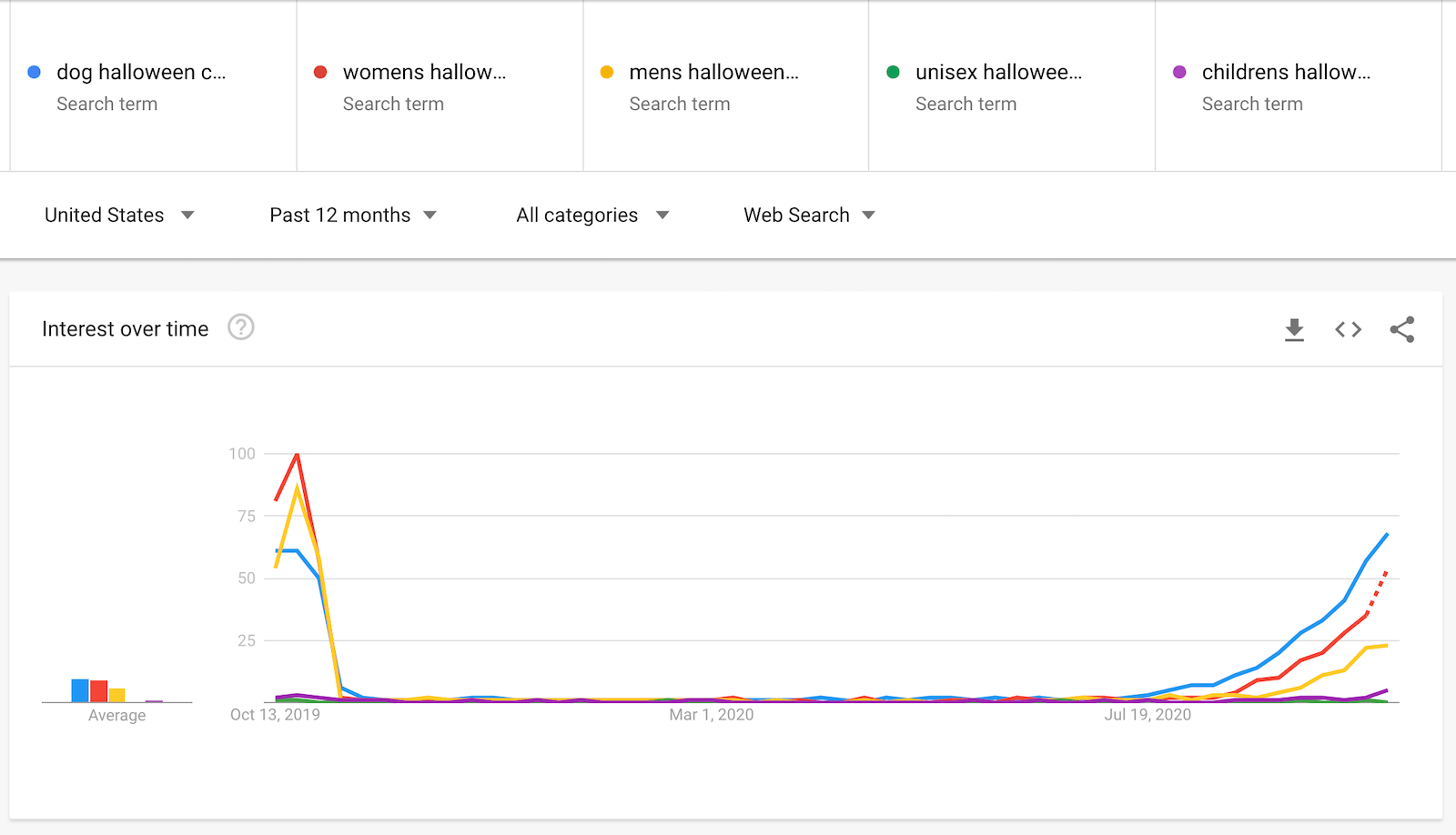 It's tough to say if this is truly a win for dogs, but it does seem like the logical conclusion to years of late-October Instagram feeds inundated with festively adorned pets.
This year, we can look forward to cooing (from across the street) at pooches sporting tiny foam butcher knives (this elaborate "deadly doll" costume has pulled in over $105,000 in monthly revenue), giant Beanie Baby tags (this listing currently shows $47,543 in monthly sales), and yes, even dog-sized plague doctor masks (this listing already has 138 sales for October).
Unusual Halloween Decoration Trends for 2020
Socially distanced trick-or-treating infrastructure
Sellers have flooded Amazon with decor and other supplies encouraging a CDC-approved Halloween. Several listings for spooky social distancing floor decals have already moved hundreds of units, and rolls of caution tape are seeing monthly sales boosts of as much as 662% from last October.
Trick-or-treat bags featuring extended handles are expected to be popular, as are yard signs encouraging kids to stay six feet apart while collecting candy.
For those who won't go near 2020 trick-or-treaters with a 10-foot pole, may we suggest a 10-foot pipe? After an Ohio dad's gravity-powered candy chute went viral last month, a slew of tutorials popped up online instructing readers on how to craft their own out of basic hardware supplies. And while there aren't any pre-fabricated candy chutes listed on Amazon yet, monthly sales of recommended materials, like three-inch PVC piping and orange duct tape, have shot up by as much as 855% and 2,839%, respectively, since September.
The CDC has advised against "trunk-or-treat" gatherings where kids collect candy from cars lined up in a parking lot. However, sales of creepy car decor, like bloody handprint window decals and Freddy Kruger-esque wiper blade attachments are going strong.
Unsettlingly large replicas
2020 has taken Halloween decorating to new heights, as seen in the variety of larger-than-life decorations available on Amazon. Take this seven-foot-tall haunted scarecrow, which has made $4,500 in sales since October first. Or the 71" talking witch currently destroying its October 2017 monthly sales record at $91,410 in revenue for this month.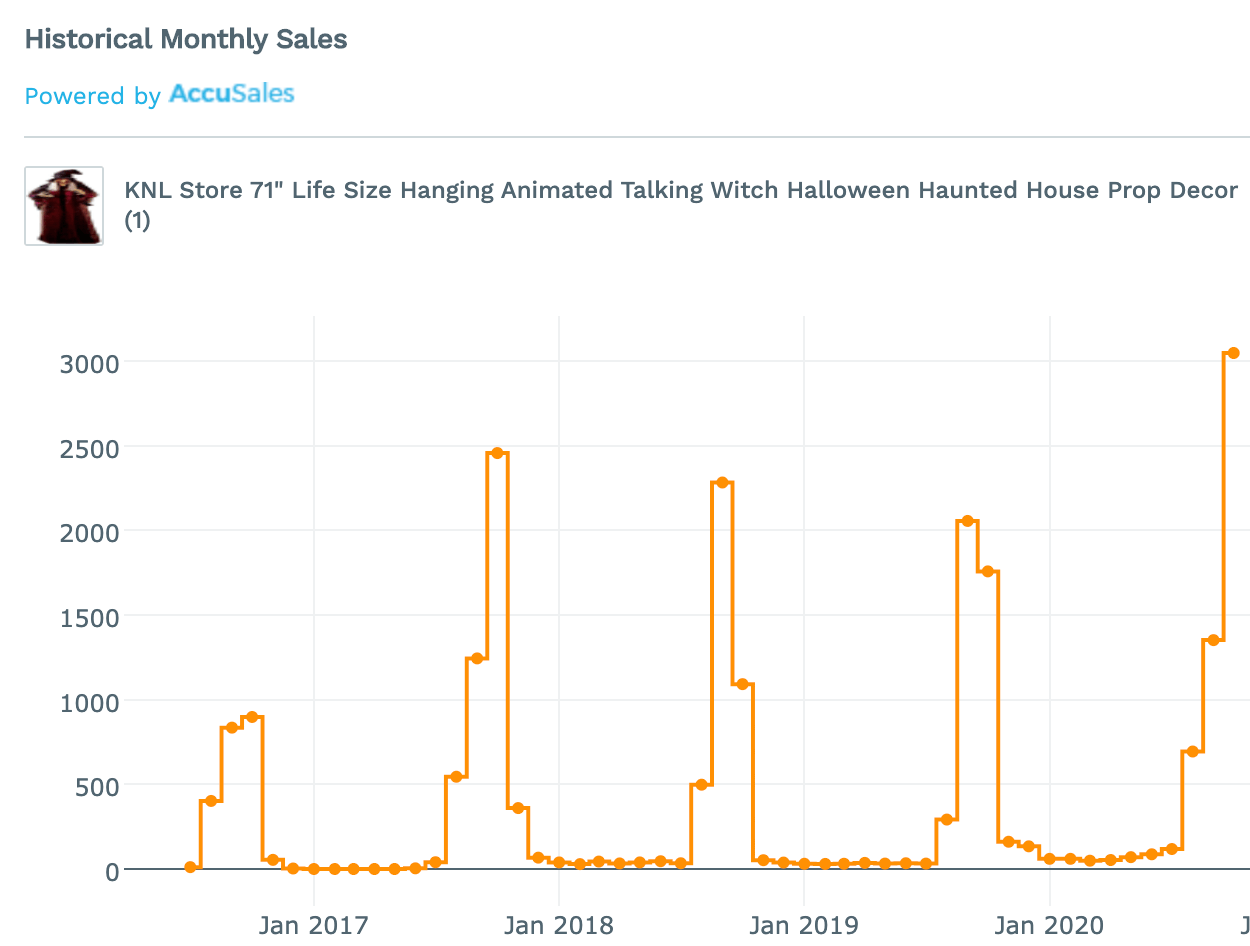 Wildlife enthusiasts can opt for five-foot, eight-and-a-half-foot, or 10-foot posable nightmare spiders—these three listings have pulled in a combined $63,497 this month.
Interesting 2020 Halloween treats
Alternatives to trick-or-treating
Some parents may decide to keep their little ghouls and goblins at home this year in lieu of door-to-door trick-or-treating. They could plan instead for a night of Halloween bingo or a haunted backyard scavenger hunt. Many of these products are new to market for 2020, but are charting thousands of monthly sales.
Treats you can't eat
As nearly every child will assure you, handing out anything but candy on Halloween (think: toothbrushes, apples) is a bone-chilling offense. This year, though, finding inedible treats in their pillowcases may be unavoidable; sales of small-toy alternatives to candy, like Halloween stickers and slap bracelets, show higher sales figures for 2020 versus 2019. But really, who can say no to a ghostly, glow-in-the-dark bouncy ball? At 1,899 monthly sales so far, these are on track to outpace their October 2019 sales figure.
If regular caramel apples have always left you wanting for glamour, consider mounting this year's batch on bedazzled skewers. Candy apple "bling sticks" are a popular item this month—this listing has already brought in $6,281.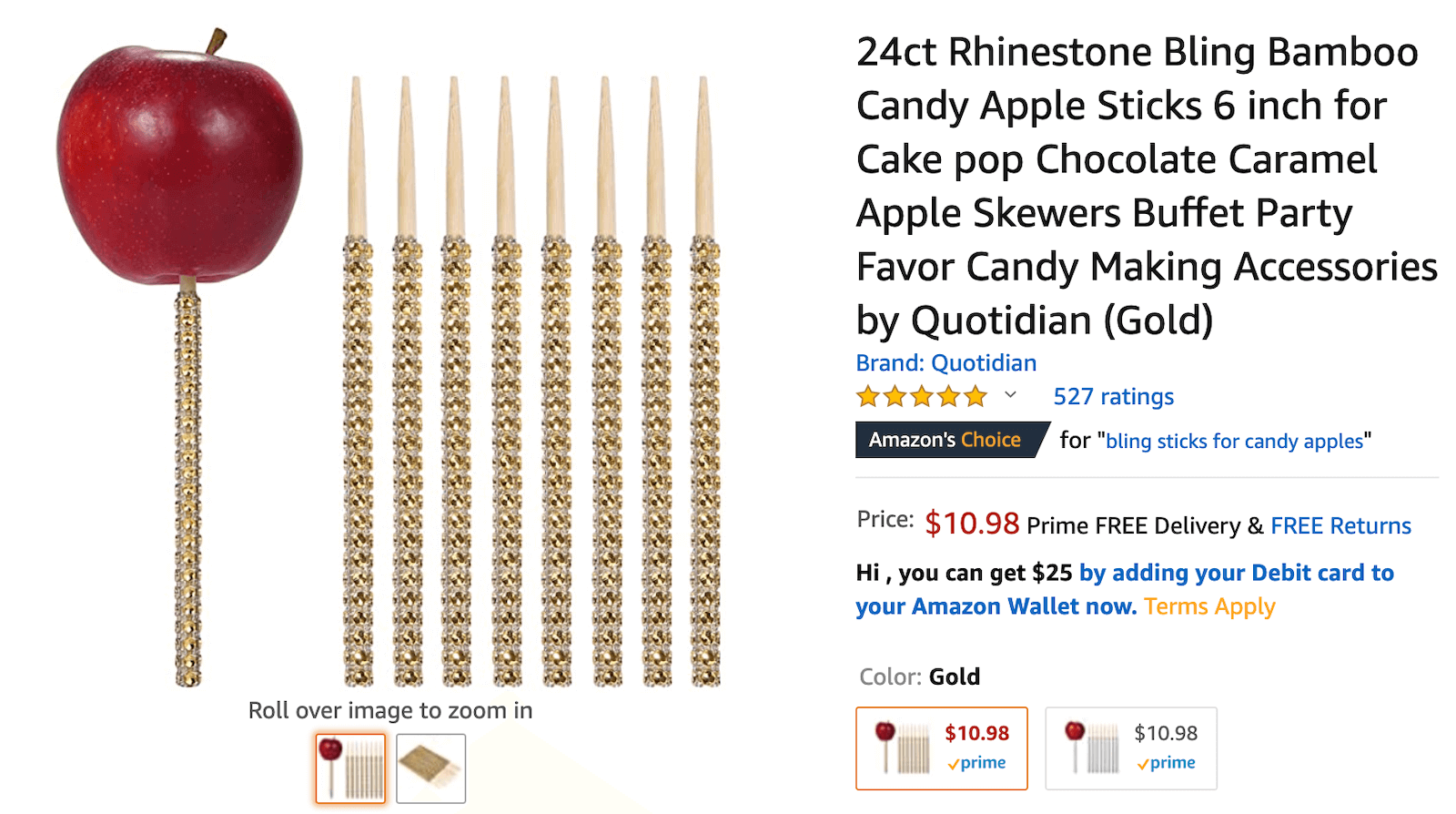 Pumpkin spice everything
It wouldn't be Halloween season without a mountain of pumpkin spice-themed items to collect, like autumn-apropos protein shakes, remixed Werther's caramels, and PSL-bedecked shower curtains. If you think this pumpkin-scented toilet spray crosses the line, its $224,465 in October 2020 sales would like a word.
Scare us, we dare you
With Jungle Scout data updating every day, we're likely to see more and more spine-tingling sales figures appear in the run-up to October 31st.
How will you spice up your Halloween in 2020? Let us know in the comments below.
Header image courtesy of Amazon.