Americans' ideas about Mexico tend to include vacations lounging on beautiful beaches, exploring colorful cities, and enjoying enticing street food. In reality, the United States' economic ties to its closest southern neighbor are much more complex and contribute to a rich but often tense relationship. One thing is for sure: trade with Mexico is considered critical to American economic success, and U.S. imports from Mexico are unlikely to halt anytime soon.
It's difficult to name a type of product the U.S. doesn't import from Mexico. Most Americans use Mexican-made products in their everyday lives—think fresh produce, cane sugar, and textiles that make up our clothing and home furnishings. According to the 2020 Global Imports Report, the U.S. sources thousands of imports in every product category each year.
How has Mexico's trade with the U.S. performed in recent years, what are the U.S.'s most-sourced products from Mexico, and how might these numbers change in the future? Let's dive into the data.
Mexico's global trade performance over time
This data concerns imports that are shipped to the U.S. from their country of origin by boat. Though many other imports from Mexico and its continental neighbors are exported via road or rail vehicles, maritime imports remain an instructive metric when analyzing trade performance, both past and future.
Mexico has maintained its position solidly within the top 20 maritime importers to the U.S. since 2015. While it has ranked higher in the past, its share of total U.S. imports is larger now than it has been for most of the past five years.
Currently, Mexico accounts for 1.5% of all U.S. maritime imports, or about 85,095 imports in total.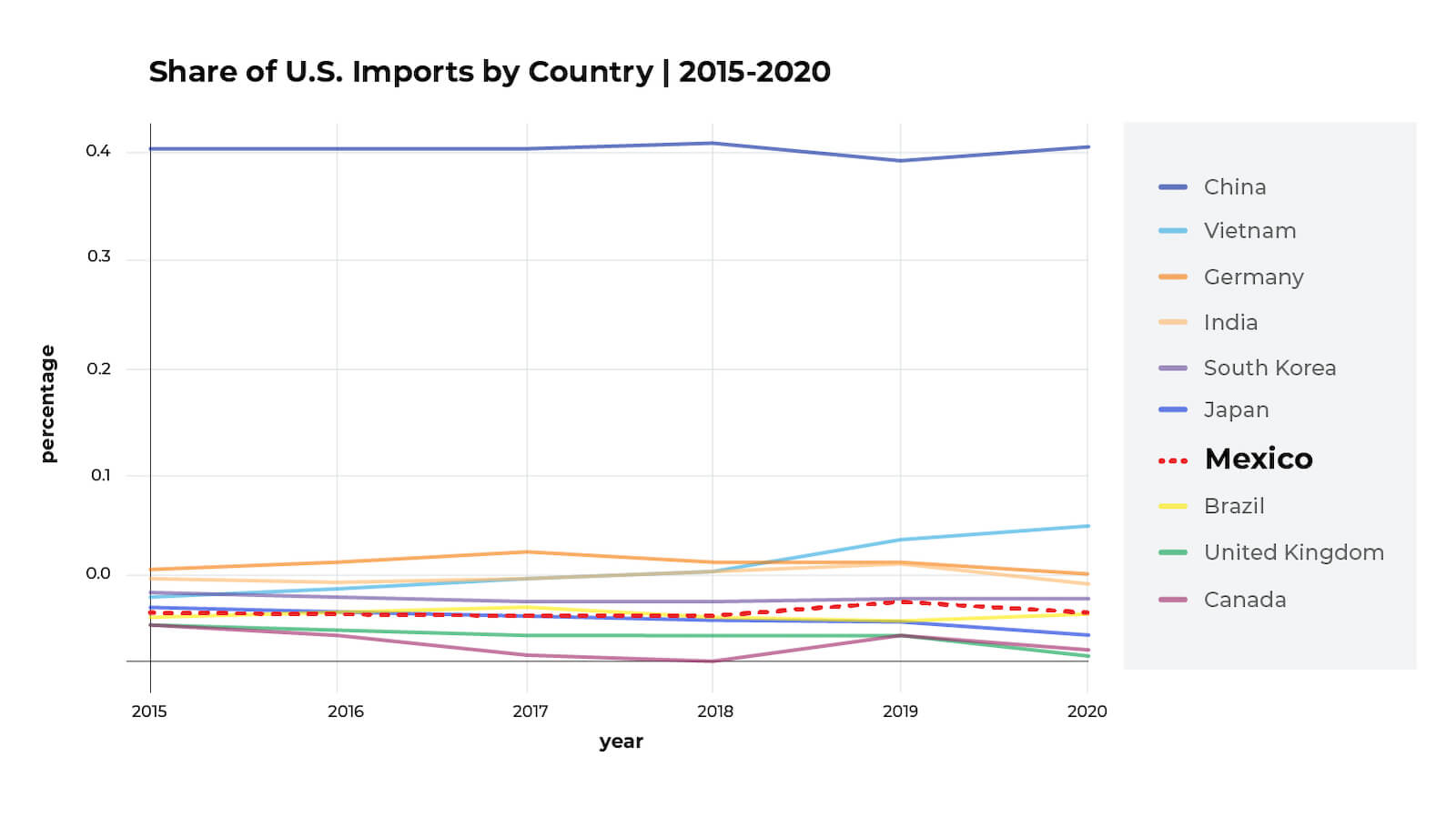 Mexico also ships more imports to the U.S. than any other Latin American country by a significant margin—more than double that of the next-largest Latin American importer, the Dominican Republic.
Top U.S. Importers in Latin America | 2020
| | | |
| --- | --- | --- |
| Country | Number of imports to the U.S. | Share of U.S. imports |
| Mexico | 85,095 | 1.50% |
| Dominican Republic | 39,962 | 0.70% |
| Guatemala | 35,541 | 0.63% |
| Honduras | 34,092 | 0.60% |
| Chile | 32,795 | 0.58% |
| Costa Rica | 28,271 | 0.50% |
| Ecuador | 24,014 | 0.42% |
| Colombia | 22,155 | 0.39% |
| Peru | 18,403 | 0.32% |
| Panama | 9,852 | 0.17% |
Notably, the country has put distance between itself and Canada, the U.S.'s other bordering neighbor. In share of U.S. imports shipped by sea, Mexico leads Canada by nearly half a percent, or around 23,000 imports.
What kinds of products does the U.S. import from Mexico?
Like many of the top U.S. importers, Mexico ships large amounts of the products that make up the top U.S. import categories: machinery, chemicals, and vegetable products.
Using Jungle Scout's Supplier Database, we can identify which items sold in the U.S. Amazon marketplace originate from Mexico. Here are some examples of the U.S.'s most-imported products from Mexico, organized by import category.
1. Machinery & Electrical
Over one fifth (22%) of U.S. imports from Mexico are classified as machinery and electrical products—items like televisions, household appliances, and smartphones. Mexico is a major manufacturing hub for some of the largest global brands, including Samsung. The South Korean electronics giant sources much of its Amazon-bound inventory from Querétaro.


2. Chemicals & Allied industries
Chemical products make up nearly 15% of U.S. imports from Mexico in 2020. This includes household staples like soap, garden fertilizer, and multivitamins.
Some of the world's largest brands source their chemical products from Mexico. Colgate, for example, imports its toothpaste from Monterrey.


3. Vegetable Products
Just over 10% of the U.S.'s 2020 imports from Mexico are classified as vegetable products. A broad category, Vegetable Products includes plant products like fresh-cut flowers, dried fruit, and an Amazon staple: roasted coffee beans.
Beloved by caffeine lovers, Mexican beans account for much of the global supply of coffee, including 60% of the world's organic coffee.
Texas-based Ruta Maya Coffee sells beans sourced from Chiapas.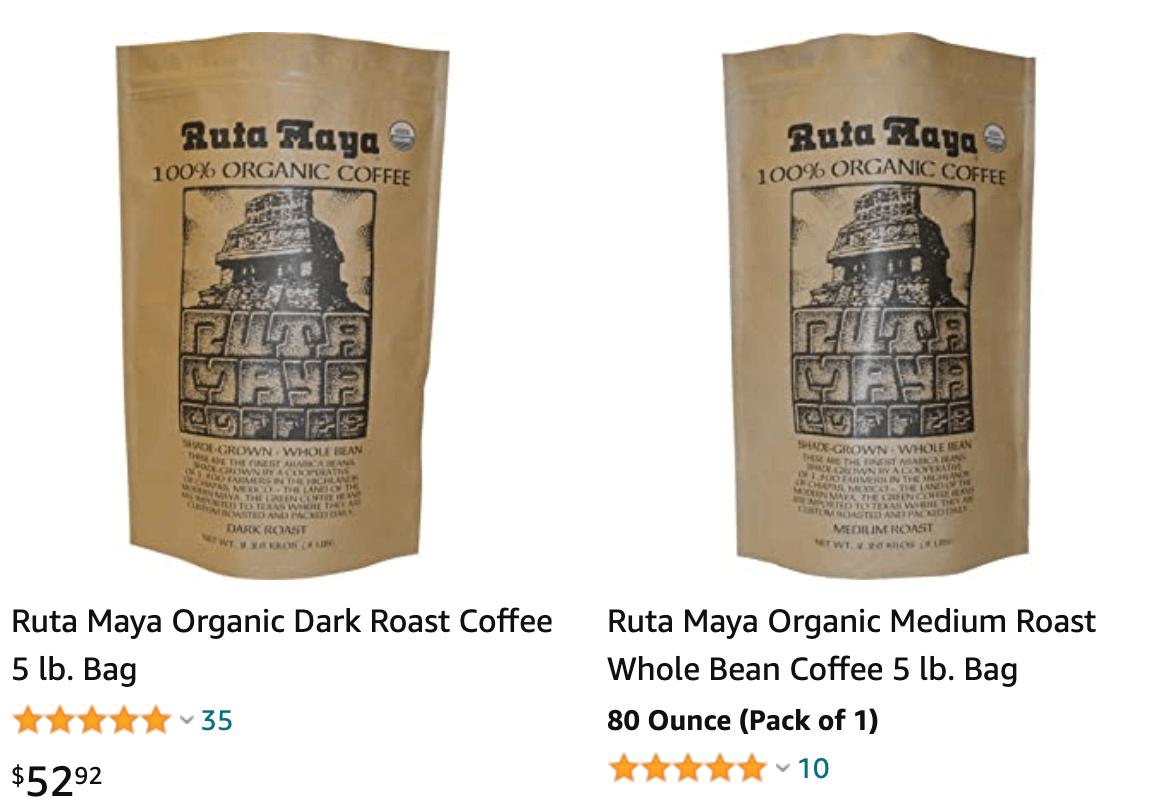 Predicting the future of U.S. Imports from Mexico
Due to COVID-19-related disruptions to global trade, Mexico withstood one of the deepest year-over-year reductions in imports to the U.S. in the first half of 2020. At a 14% year-over-year loss, it fared worse than the Dominican Republic, Guatemala, and Honduras—the U.S.'s next-largest Latin American importers.
However, given Mexico's steady position as one of the United States' largest importers over the past five years, it's likely that it will remain a prolific trade partner for years to come. The incoming Biden presidential administration considers the USMCA, the trade agreement binding the U.S., Mexico, and Canada, as "gold standard" policy in terms of trade law enforcement, labor rights, and the environment.
Based on historical trade data, it also seems likely to remain the largest U.S. importer in Latin America. Though the Dominican Republic and Peru have both significantly increased their share of U.S. imports since 2016, they still trail Mexico by a large margin.
For more on global trade, see the full 2020 Global Imports Report.