Hey #freedombuilders!
Some BIG news coming your way today: the Jungle Scout team has been hard at work putting together another set of awesome features for Jungle Scout!
As I go over the new functionality, you might remember a few of them from our application Jump Send. Well, that's because our developers spent the last several months migrating and perfecting the application.
So, if you're already a Jump Send user, you should be right at home with these changes/additions.
Learn more during our Launch webinar!
We're hosting a webinar so I can demonstrate how our cool new features work, and to answer any questions people might have. Just click on the button below to access the video.
It's going live tonight, at 7pm CST:
Until then, here's a quick rundown of Launch and its features.
Jungle Scout Launch
Launch has two important elements:
1) Email Campaigns

The first part of Launch–Email Campaigns–allows you to follow up with your Amazon customers, ensuring they've received their products, have had no issues, and to ask them to leave feedback and reviews.
The feature uses Amazon's actual Buyer-Seller messaging system, which means it's automated and anonymized. You don't have to send the emails manually!
Not only that, email campaigns can help you:
Increase sales and gain social proof;
Get better conversions;
Get a higher page ranking.
And it's an incredibly easy tool to use, leading you through the process step-by-step.
2) Product Promotions

The second component of Launch offers a promotional marketplace for you to advertise your discounted products on Amazon.
Once you have a product promotion created, it appears on the Jump Send marketplace. There, hundreds of thousands of shoppers looking for deals on JumpSend will be able to request a coupon code to purchase your product.
In turn, that discounted sale helps improve your product's visibility.
Plus, product promotions help you:
Launch products successfully;
Increase sales velocity;
Improve product rank.
Just like the Email Campaigns, and all of the other functionalities included with Jungle Scout, the Product Promotions feature walks you through the entire process. You can have a promotion up and running on Jump Send in less than 20 minutes!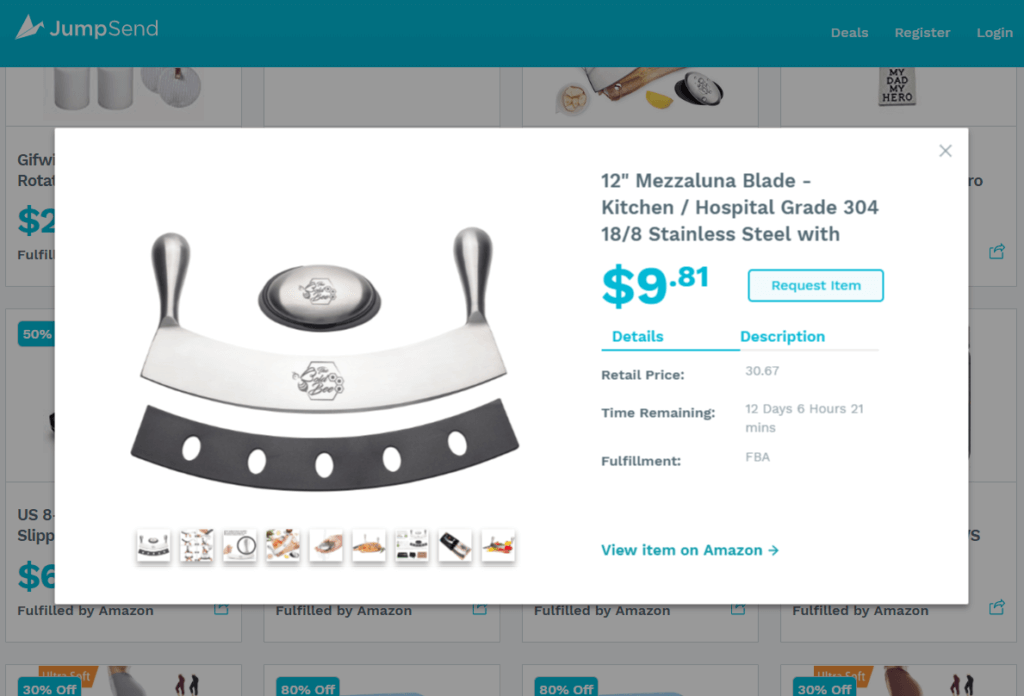 Coming soon to our suite of tools:
Our new Launch features aren't the only things we've been working on though–they're just the first to be released! We also have the following coming out in 2019:
Sales Analytics
Inventory Forecasting
PPC Management
Listing Optimization
What else is included with a Jungle Scout Seller membership?
If this is your first time using, or hearing about, Jungle Scout, here's a quick recap of Jungle Scout's full complement of features:
Find products –
Product Database. Sort and organize Amazon's extensive catalog any way you like. This helps you find product opportunities faster.
Product Tracker. Track your competitors' sales and keep tabs on hot product ideas.
Opportunity Finder. Can't find a product idea? Put your own parameters and selling metrics into the Opportunity Finder. Then, watch as it comes up with product niches for you within a matter of seconds.
Find suppliers –
Supplier Database. Get US-import data on international suppliers from all over the world. You can even discover who your competitor is using to make their products!
My Suppliers. Once you've used the Supplier Database to discover a vendor, you can save their information for future reference.
Keywords –
Keyword Scout. The perfect tool for building effective Amazon PPC (pay-per-click) campaigns, Keyword Scout offers search volume and cost-per-click estimates, relevancy data for Amazon advertising keywords, and much more.
My Lists. Have some great keywords picked out? Save them as a list which you can then export and input directly into your Amazon FBA Seller Central.
Listing Builder. This tool lets you auto-populate the details for your Amazon FBA product listing from your Jungle Scout account!
Academy –
Need help in the Amazon FBA selling process? The Jungle Scout Academy gives you a series of FREE videos and training tutorials. Whether you're a new seller or an experienced seller, these lessons are a big help for those who want to master Amazon sales.
New to Jungle Scout? Get a FREE trial!
Try it before you buy it!
If you're an Amazon seller and new to Jungle Scout, you can try our Launch features (along with our other Jungle Scout tools) for seven days absolutely FREE! All you need are your Amazon MWS keys to unlock and access the new features.
But if you enter in your keys and it turns out our software isn't right for you, no problem! Just let us know within seven days of your initial sign-up, and we'll end your membership and delete your keys. No explanation needed.
And if you're an existing Jungle Scout user, we've got you covered too!
You can switch from a research subscription to a seller plan, which will automatically give you access to the Launch features as soon as you've connected your Jungle Scout account with your Seller Central account via your MWS keys.
All you have to do is click on the following 'Upgrade' button:
We're really excited about these additions, and we'd LOVE to hear what you think too. If you have any questions or feedback about the Launch features, please leave a comment below.
Or, reach out to us at [email protected]. Our Support Team is always happy to help. 🙂