Looking to start your own business in 2020? While an extra set of hands never hurts, it's possible to succeed as a solo ecommerce entrepreneur. In fact, the majority of Amazon sellers run a one-person show, and over 85% do so profitably.
Many sellers begin their ecommerce careers with the specific goal of working by and for themselves. This has some obvious advantages, and having complete control over your business can certainly pay off.
On the flip side, over a third (38%) of sellers have chosen one or more business partners to help them manage their Amazon business.
Either way you slice it, entrepreneurs have a convenient business option with Fulfillment by Amazon (FBA). With this model, sellers can ship inventory straight from their supplier to an Amazon warehouse. When an item is purchased, Amazon handles packing and delivery to the customer. Two-thirds of all Amazon third-party sellers use FBA, leveraging Amazon's massive reach and fulfillment capacity.
There are some key differences between selling solo and with a partner in terms of performance projections, finances, and work style. Keep reading to find out what it takes to become a solo seller and which business model is right for you.
Amazon business performance: solo vs. team
Whether you're a solo seller or teamed up with a business partner, you have a great shot at building a profitable business on Amazon. However, across the biggest metrics for success, teams lead the way.
The vast majority of Amazon sellers are profitable, making over $1,000 each month in sales. One in five rakes in over $25,000 monthly. Among those super-sellers, teams outperform solo sellers. This competitive edge occurs again in lifetime sales as rates climb past six figures; teams are far more likely than solo sellers to achieve lifetime sales above $10 million.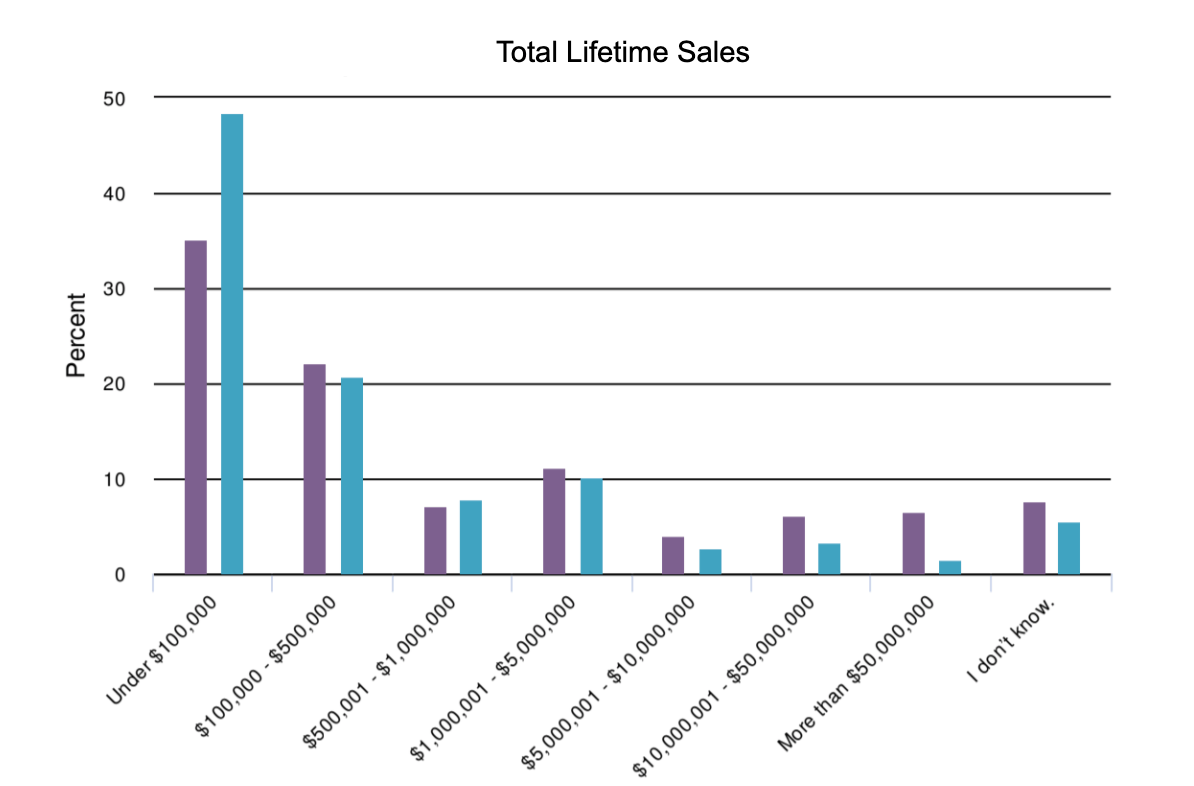 Predictably, teams also outperform solo sellers in terms of profit. As lifetime profits pass $100,000, teams pull ahead by a considerable margin. Teams were also 11% more likely than solo sellers to report that their profits increased from 2018 to 2019.
All that said, FBA is absolutely a viable way to make money for both groups. Teams and solo sellers are almost equally likely to rely on Amazon profits as their sole source of income.
Pros and cons of selling as a one-person business
Why might someone choose to sell alone? We asked actual Amazon sellers and our resident expert entrepreneur, Brian Connolly. Turns out, there are some great perks to going solo:
More control over your business

You decide what to do with the profits

Work on your own time

You're in charge of yourself, not other people

Seller resources abound. Don't love bookkeeping? There's an

app for that

.
But selling alone has its drawbacks. The challenges nearly everyone faces on Amazon, like fundraising, product research, managing PPC, and getting customer reviews, can really add up without a partner to share the load. Consider some of the cons to selling solo:
Financing the business on your own

You'll need to understand and manage all aspects of the business—even the ones you don't enjoy

You may lack the bandwidth to grow and scale your business
It's entirely possible to build an empire of one. But if you're someone who loves collaboration or has significant startup fundraising needs, consider finding a business partner.
Benefits of having a business partner—what Amazon sellers say
Sellers choose business partners for many different reasons. Teaming up provides continuous opportunities to share skills, knowledge, and in time, earnings above what you might achieve on your own.
"We saw the value in bringing on people who had different strengths than us."
Sharing is caring—until you butt heads on a business plan.
"If I wanted coworkers, I'd get a job."
But having a business partner doesn't have to mean giving up half of your control over operations. Partnership can take many different forms: a brand co-owner, a hired employee, a contracted freelancer, or even an investor each offer different benefits.
Shared responsibilities
"Four hands are better than two."
Running an Amazon business takes commitment and time management. This can get overwhelming if you, like 54% of all sellers, work full- or part-time jobs outside of FBA. If you've hit a wall trying to master, say, PPC and would rather play to your strengths in accounting, a marketing-savvy partner could come in handy.
Partners have a vested interest in the success of your venture, and you might feel a sense of relief knowing you're not alone in your responsibility.
Financial help
"A business partner might mean extra capital, but also interference."
Both team and solo sellers cite money as their most critical business need going into 2020. While you can seek ecommerce-specific loans and other financing options to start or scale your business, pooling cash with a partner means speedier access to capital investment. Teams are much more likely than solo sellers to pay $5,000 or more to launch their business.
Investing heavily at startup doesn't necessarily translate to a quicker time-to-profit. But if you want multiple product listings and well-stocked inventory fast, it's a great idea to split costs with a partner.
What might this look like? Some sellers recruit friends and family to sponsor their businesses. Or, you could combine your business with an existing seller who has similar product offerings. A third strategy is to source an investor to fund the business while you maintain control of operations.
Education and mentorship
"I am looking for someone who can guide me to sell even better."
While bootstrapping and remote learning works well for many people, some sellers prefer face-to-face brainstorming and skill-building. In that case, working alongside a partner with entrepreneurial experience could prove beneficial.
Business ideas for solo entrepreneurs to get started on Amazon
You don't have to be an ecommerce expert—or even a high-school graduate—to make millions selling online. Here are some winning business models for solo sellers just starting out on Amazon.
1. Online or retail arbitrage
Arbitrage refers to sourcing inexpensive or discounted products from one marketplace and reselling them on another. This takes two forms. One is retail arbitrage, in which you buy products from physical stores to resell on Amazon. The other is online arbitrage, whereby you purchase products from another online vendor and resell them on Amazon.
Since it involves selling products that already exist, arbitrage is a beginner-friendly approach to FBA. It's a flexible option for those with limited capital; you can start with as small an inventory as your finances demand, and expand your offerings over time as your sales grow.
2. Used books
Check your bookshelves and you're bound to find a few titles that sell well on Amazon. Selling used books is a great way to dip your toe into FBA. Once you get the hang of it, you can buy more inventory and expand your listings.
Have you written a book? Publish a paperback or ebook version on Amazon for free with Kindle Direct Publishing.
3. Private label
By far the most popular seller business model, private label selling involves creating an original product or simply renaming or rebranding an existing product for your label. Note that this model involves more up-front investment, but we'll show you, step-by-step, exactly how to make it pay off.
If you're stuck trying to come up with a private label product idea or product niche, check out our guide to the top-performing Amazon product categories.
Tip: Establish an audience outside of Amazon with a brand website or a social media presence, for example. Building your business into a recognizable brand helps drive sales. A social media following can serve as a product-testing lab where you can pitch ideas, gauge market demand, and announce product launches.
4. Wholesale
The second most popular business model among third-party sellers involves purchasing and reselling products from an existing brand. These products come with established sales histories, so there's less need to advertise to build brand awareness.
You can find wholesale products a few different ways. Browse our Product Database, or try contacting a small or medium sized brand to see if they're interested in wholesale supply (hint: check Kickstarter and Facebook for young brands that aren't already on Amazon). You can save time building your listings by getting permission to reuse original photos and product descriptions from the brand's website.
5. Handmade
Calling all Etsy vendors! If you have an existing brand of handmade items—pottery, jewelry, bath bombs, and the like—you can also sell them on Amazon handmade. It's an artisan-only platform that allows you to share your handcrafted goods with Amazon's massive audience.
6. Merch by Amazon
If you love graphic design, consider putting your original art on a t-shirt. You can post a design on Merch by Amazon and, once it sells, Amazon will handle printing and shipping.
7. Dropshipping
Quick and inexpensive to set up, a dropshipping business allows sellers to take orders on behalf of another company—typically a manufacturer, supplier, or distributor. When a customer makes a purchase through one of your Amazon listings, your business automatically buys the item from the manufacturer, who then ships it to the customer.
8. Freelance for other sellers
If you're not ready to take the plunge into full-fledged selling, don't worry. You can try out entrepreneurship by helping existing sellers with their businesses. As a freelancer, you'll be able to build the knowledge and confidence you'll need to sell your own products.
Advertise your skills in copywriting, photography, or logo design on Jungle Scout Market and other freelancing platforms where sellers can view your profile and hire you for projects.
For other ideas on digital entrepreneurship, check out our guide to making money from home.
What you'll need to go solo on Amazon
You should approach selling on Amazon like you would any other job: with confidence, discipline, and the willingness to ask for help when you need it. Once you're ready to get started, make sure you've got the following essentials for success.
Time, goals, and reasonable expectations
Success on Amazon won't happen overnight, though solo sellers tend to get up and running quickly—and at a faster rate than team sellers. A large majority (82%) of all solo sellers launch their first product listing within 6 months of starting their business, and 37% do so in just 6 weeks or fewer.
You should expect to spend some time building your business before you see your hard work pay off. Around 22% of solo sellers become profitable within 3 months of startup, but for another 44%, it can take three months to a year. Only around 2% of solo sellers wait longer than two years to see profits.
Whether you're an early bird or a night owl, you'll want to establish a work schedule to avoid burnout. But keep in mind that selling doesn't have to be a huge time commitment. Roughly half (49%) of solo sellers spent 20 hours or fewer each week managing their Amazon businesses.
How quickly you succeed depends on a lot of moving variables—factors like the type of product you choose to sell, the strength of your listings, and your keyword rank each play a role. The important thing is to stay committed, learn everything you can about your business model, and turn to others for help.
It helps to set goals around how much time you'll devote to building your business. Regular progress checks will help you keep yourself accountable.
Funding
No two sellers have the same financial needs. Some make do with very little, if any, startup cash. Others may qualify for multi-million dollar loans to grow their businesses. There's an expanding variety of financing options available to sellers as investors work to fill the gaps between ecommerce and traditional lending.
It's worth noting that you don't have to spend a fortune to get started on Amazon. 65% of solo sellers spend $5,000 or less in startup costs, with 19% of all solo sellers shelling out under $500.
Educational resources
Youtube is stuffed to the brim with expert-led tutorial videos for how to sell on Amazon.
Tuning in to webinars is a great way to stay up to date with marketplace trends and freshen your selling skills.
You'll find no shortage of free resources to build your skill set. Take advantage of all the ebooks, blog posts, and podcasts made by millionaire sellers.
Support groups
If you do run into trouble, don't hesitate to ask around for tips and best practices from successful sellers. FBA pros are usually more than happy to share their wisdom with those who need it at in-person meetups and online on Reddit, Facebook, and Seller Central.
Seller tools
Another way to get help running your business is by purchasing seller software. Platforms like Jungle Scout make it easy to access overseas suppliers, leverage powerful databases for product research, and track the health of your business over time. On top of that, some come with round-the-clock hotlines for convenient customer support. Options abound, with flexible pricing to fit most budgets.
Get started today
If you're ready to begin your career in ecommerce entrepreneurship, Amazon is a great launching pad. With virtually limitless educational resources, a multitude of funding options, and a thriving seller community, you have everything you need to jump in now.
For expert tips on how to begin, check out our comprehensive guide for How to Sell on Amazon.