This session was a little different to usual as Greg and myself were both in the same room, in Budapest. The whole Jungle Scout team spend a week exploring the city and working together so we figured we would sit side by side for the webinar.
A lot of you had been asking how we decided on the product specification, so I took this opportunity to show exactly how I landed on the final product design specification for my sleeping bags and how you can apply the same tactics to do the same for any product idea under the sun.
This is like extended product research, specifically for your final product idea. It's a super important part of the decision making process, because it will determine how your final manufactured product will stand out against the competitors.
Check out the replay and slides below…
Replay video coming in:
Here's the slides:
How To "Design" A Product To Sell On Amazon
OK, so as a private label seller, I am not reinventing the wheel or creating a new product idea. In fact, I am selling an existing product with existing demand. But that doesn't mean that there is no work to be done to design an improved version of my product.
Here's the things that we took a look at in this session:
Using data to create a product specification – What already sells well? What doesn't?
Comparing real customer reviews – What do people like and what don't they like?
Research outside of Amazon – What are other retailers doing with this product idea?
Testing & Certification considerations – What do we need to ensure we have before ordering samples
Early branding & labelling considerations – How should I label and brand this product?
Using my sleeping bags as an example, straight away I found myself looking at all different types of styles and features for this product. How am I going to choose what mine will look like?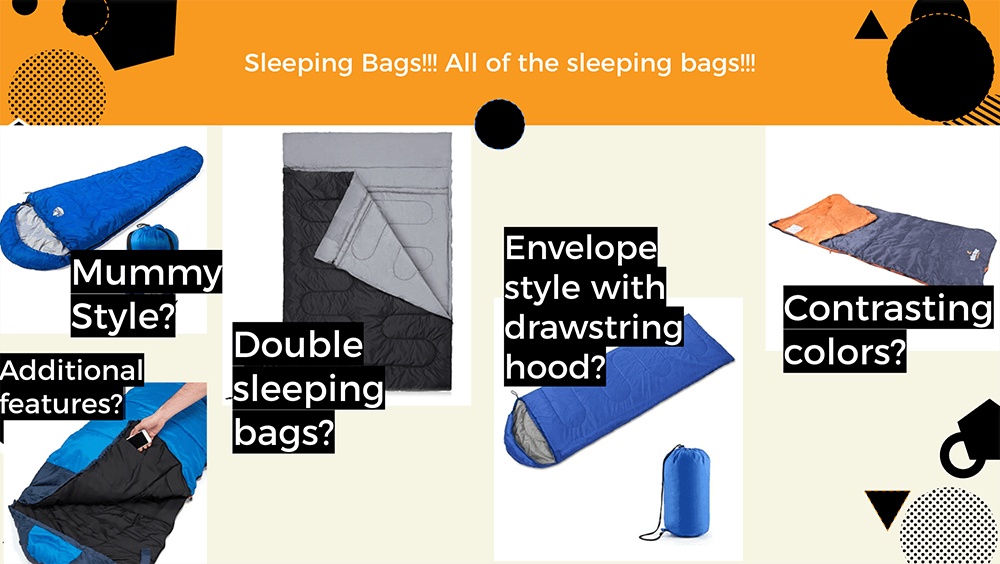 Step 1: Eliminate Guesswork With Data
My first port of call was to head back to the Jungle Scout tools to see what the demand and competition looks like for existing sleeping bags. I want to see what actual sales are like for three main types: mummy style, envelope style and double sleeping bags.
First up I took a look at the data in the Extension, so get a quick overview of demand and revenue: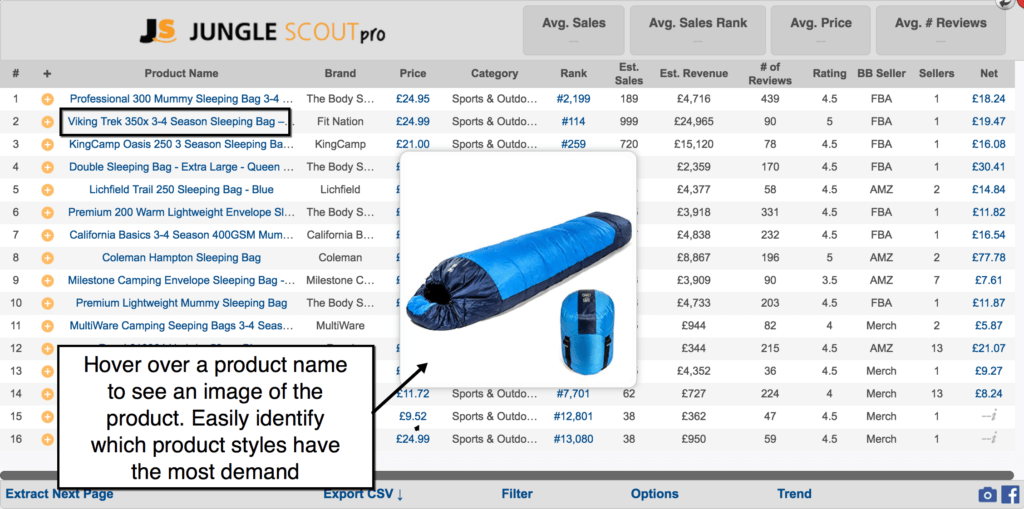 Then, to take a deeper look I went back to the products I added to the Product Tracker in the Web App: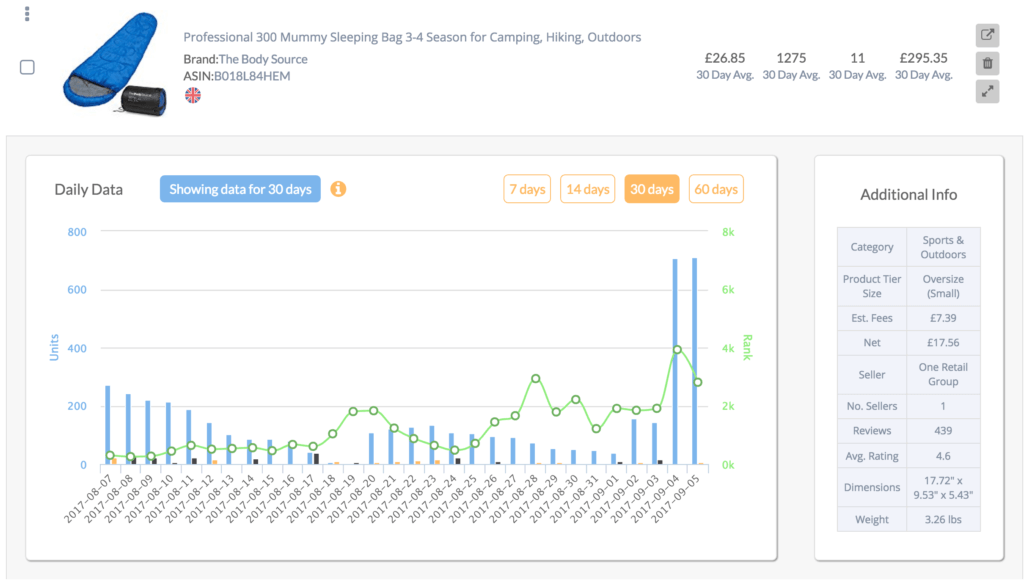 This allows me to really drill into individual competitor products and see how their sales perform over an extended period of time. Again, I am looking for which styles, colors and extra features appear to be bringing in those important sales.
Here's what I found out about the three types of sleeping bags I am interested in: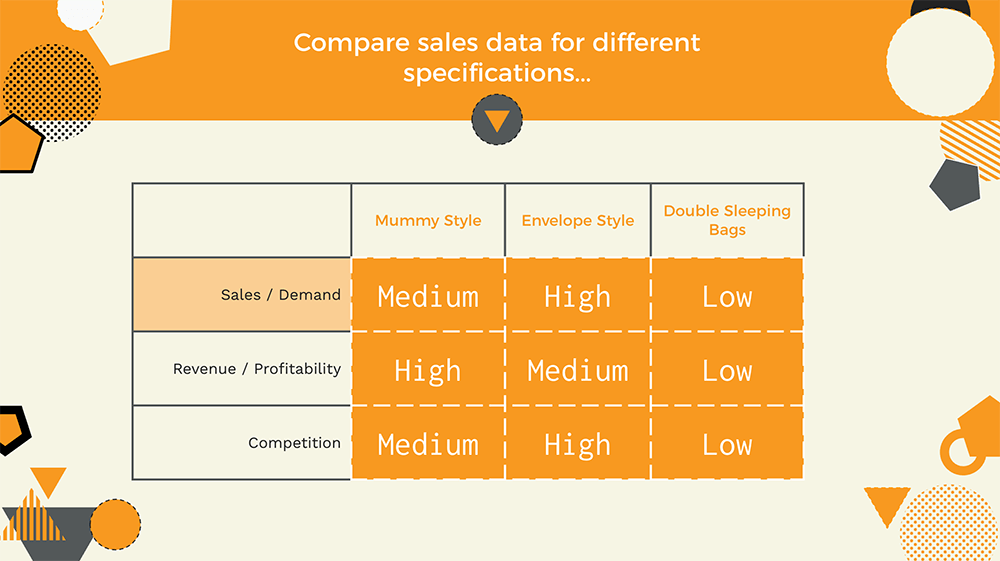 My assessment so far is that either the mummy style or envelope style are looking like the strongest contenders, according to the sales estimates.
The difference between them is that mummy style sleeping bags have slightly less demand, but as they are higher ticket items, they are usually more profitable. Envelope style sleeping bags (less fitted around the legs and feet) seem to shift more units, but at a lower price, with less profit.
Interestingly, when I started my product research over five weeks ago, double sleeping bags looked like they would be a really good consideration. However, when I checked the sales data again a few weeks later, it looks like the demand has decreased, or the main seller had ran out of stock.
This is why doubling down on your product research over the course of a few weeks, even after selecting your product, is so important.
Step 2: Read All Of The Reviews
This might take a little bit of time but the results you will get are very much worth it. I would advise reading all of the reviews for all products in the top 10, specifically the 1/2 star reviews and the 5 star reviews. This will give you so much insight into what people like and dislike about existing sleeping bags that are selling on Amazon.
Here's an insight into just some of the ideas I found to design my own private label sleeping bag:




From these reviews I found out that people generally want to the sleeping bags to be warm, even being too warm is not a bad thing. But a sleeping bag that is too cold resulted in a lot of negative reviews.
I also took away the learnings that size matters with sleeping bags, especially the mummy style ones. I was already thinking of doing two sizes so that confirmed this decision for me. There were some positive comments about sleeping bags that allow you to zip two together to create a larger sleeping bag / duvet. What a great idea – definitely speaking with my top suppliers about that.
Step 3: External Research
It's time to step away from Amazon!
This is a prime opportunity to see what other brands are doing with your product idea. This can help to identify common trends for your product niche across the board and can be really inspirational for your product design, product listing content and more.
Find A Niche Retailer
If you can, try to find niche specific retailers in the country you are looking to sell in. Being from the UK I happened to know a few brands for my product. If you have no idea, a simple Google in the right country (i.e. Google.co.uk or Google.de) for your niche should work. For example, I could have searched for "sleeping bags" or "camping equipment" on Google.co.uk and the top results give me a handful of camping retailers.
I took a look at retailers like Mountain Warehouse, Blacks and Millets. On the Mountain Warehouse website, I was able to sort by "recommended" and "best sellers". This sorted the range of products to put mostly mummy style sleeping bags first, which is a strong sign that this would be a good design specification for my product: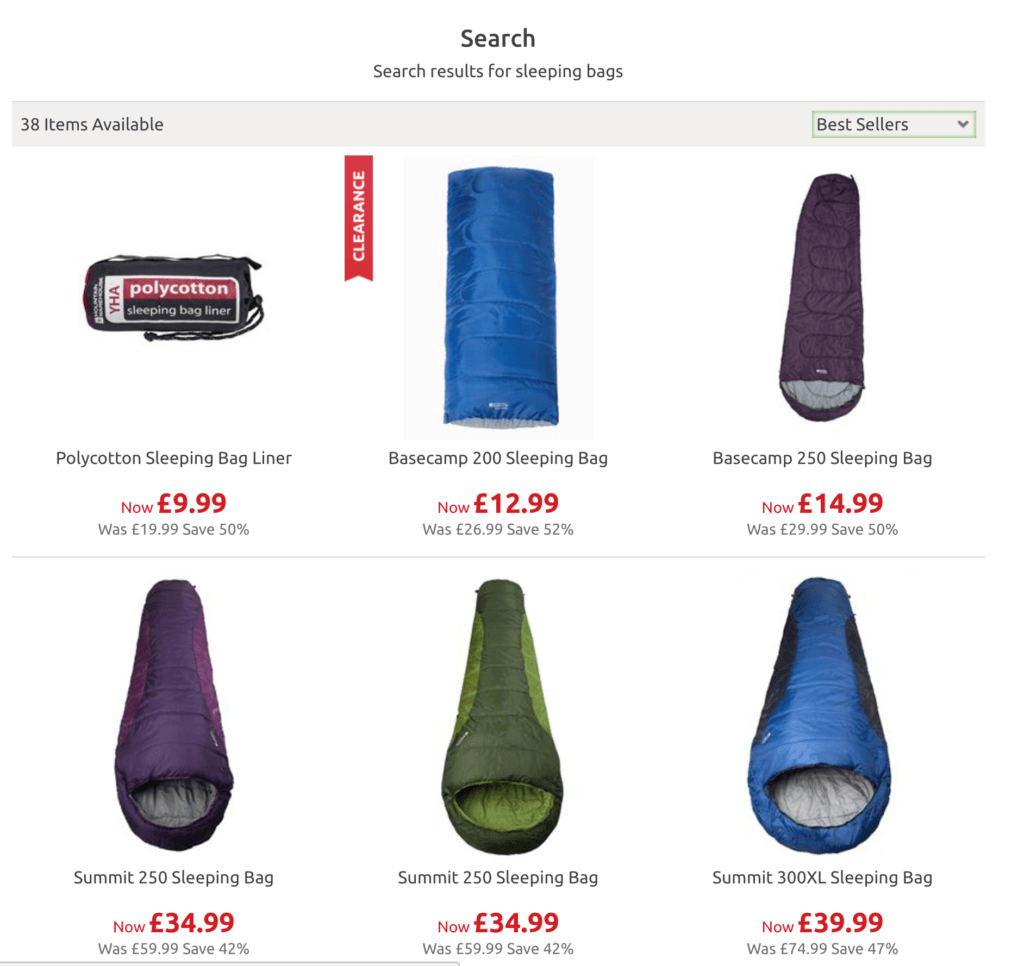 Explore Product Details
Whilst you are researching other retailers, make sure you read some of their product description copy and reviews if there are any. This gives you a broader perspective and can also offer up further additional feature ideas.
I found some nice ideas on the Mountain Warehouse website where they set customer expectations by being very specific about the use case for this sleeping bag, and even add a note about personal preference to feeling the cold. This might be a nice idea to help prevent negative reviews.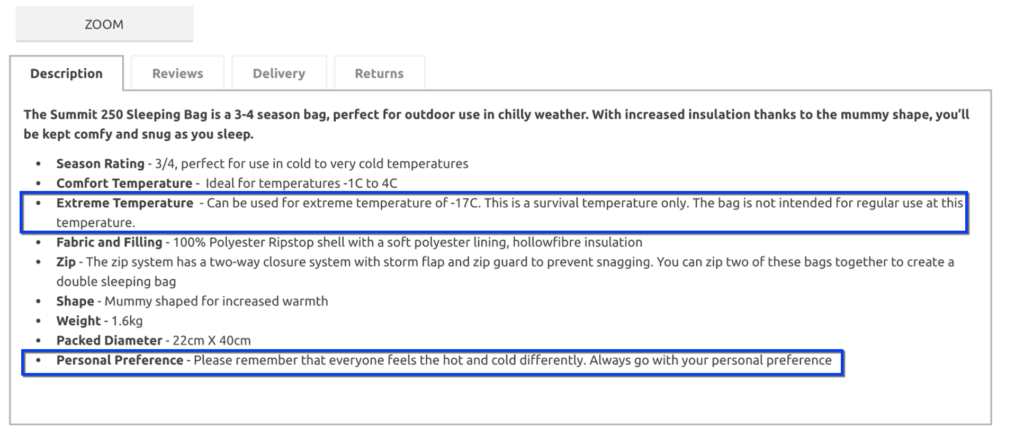 Step 4: Get Ahead With Testing & Certificates
We touched on this in the last session but now is a good time to start doing some real research into what testing and certificates you will need. European markets are known for being stricter with product certification and importing compared to the US. Here's some of the certificates I am looking into for the UK marketplace for my sleeping bag product:
I am not required to have all of these, but as Manuel suggested last week, having more than the basic requirements is not a bad thing. You can even use it in your product listing to set yourself apart and show that you have a higher-quality product, or more ethically sourced product.
How Do I Find Out Which Certificates I Need?
If you have no experience with manufacturing or certifications then there are ways to do this. First of all you can do your own research online to start to get an idea of which tests are commonly required in the country you are looking to sell your product.
Aside from that, speak with your suppliers. If you are selecting good suppliers who are used to working with clients in Europe or the US then they will likely know a lot about this subject, and even have test certificates for the raw materials they use to manufacture products similar to yours.
You should also speak with inspection companies at this stage. Let them know that you will be importing your product and ask them what certificates you would need ahead of the inspection.
Asia Inspection actually has a useful list of certificates on their website under the "your industry" link.

Greg uses this company and they are very helpful. Here's what I found listed for textiles in Europe.
Step 5: Finalize Your Product Spec
With all of the above considerations, it's time to finalize your design specification in writing.
Consider:
Style, color, sizes
Materials used and material qualities
Additional features
How many variations?
Certificates needed?
Here's what I came up with: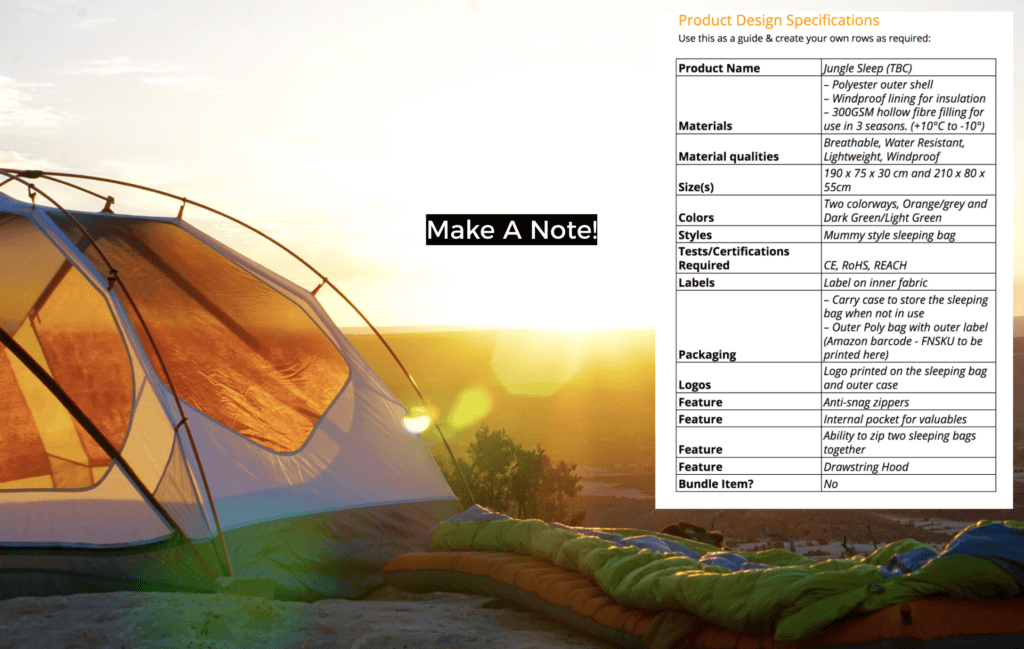 The Key Is In Communication 📧
It's really useful to have done all of this work and have it down in writing so that you can go back to your supplier communications and ask further questions about the design spec and testing certificates before you order samples.
I sent another email to my top suppliers as follows:
Dear Mr. Supplier,

Thank you for your fast response and quotation for these sleeping bags. I am very interested in working with you.

I have some further questions if you wouldn't mind me asking?

We want to ensure that the sleeping bag is lightweight, windproof, water resistant and breathable? Could you send further information about the fabrics used?

Can you make the zippers allow two sleeping bags to be joined together?

Do you have test certificates for CE, RoHS and REACH for the UK marketplace?

We would like the sleeping bag to be in a Mummy Style with a drawstring hood, is this possible?

Can you certify what temperatures the sleeping bags can be used in?

I would like to ensure we get the specifications correct before moving ahead with the samples.

Looking forward to your reply,

Kind regards,

Kym
Jungle Creations – Purchasing
From here, I am maintaining conversations with suppliers using alternative methods such as WeChat and Skype. This usually means you can get fast answers to all of your smaller questions and it speeds the whole process up a little.
Greg mentioned that it's a really good idea to get up early one night so that you can communicate in the same timezone as your suppliers, this can also pay off and ensure you get things done faster.
Your Homework
You can access the Session #5 homework spreadsheet here – there's a useful round up of each step in this post, as well as a template you can use and amend to build out your own product design specification.
Your task for the week is to follow along in my footsteps and create your product design specification, continue to speak to your top suppliers and your end goal is to order 2-3 samples!
Next Up
In the next session, we covered VAT and tax considerations for selling in the UK and across Europe. This is a topic we have been asked a lot of questions about, and as myself and Greg are not VAT experts, we took the time to speak to and interview lots of real experts. If you are looking to sell on Amazon in Europe, no matter where you are from in the world, this session is not to be missed. Check out the full recap here – Amazon VAT in Europe.
If you are following along with the case study retrospectively, no matter when you started, the key is to make sure you dedicate the time each week to watch and/or read the recap, and complete the homework tasks set. You can find a full list of the session recaps here:
Join The Million Dollar Case Study: Europe
Subscribe to our channel on YouTube for the freshest Amazon content: