It's finally here: Opportunity Finder, the powerful new tool that helps you find high-demand, low-competition Amazon FBA product niches in a matter of seconds.
What is Opportunity Finder?
Jungle Scout's Opportunity Finder helps you zero in on profitable niche ideas. Using its custom filters, you can organize the top niches on Amazon using criteria you select. That way, you can develop your own winning niche research strategy.
Check out the following video, as I walk through Opportunity Finder to show you how it can help power up your 2019 sales:
From there, it helps you discover product niches for you to sell in by allowing you to filter by one or more of the following:
Average Monthly Units Sold

: Month-to-month, this is what a seller can expect to see in total transactions in this niche.

Competition

: Using review counts and advertising costs, we help you determine the overall competitiveness of a niche.

Average Monthly Price

: The average sales price for listings in this niche.

Niche Score

: The Niche Score is graded on a scale of 1-10 where 10 is the highest opportunity and one is the lowest. The score is calculated based on the demand, competition, and the quality of the listings in this niche.

Monthly Search Volume

: The number of times the keyword has been searched in the last 30 days.

*COMING SOON! Brand Names

: Filter out top-selling brands from search results so you can see the best private label products left to discover.
Plus, you don't only get a snapshot of how well a product is currently doing on Amazon. Opportunity Finder also provides historical data with graphs and charts that present how well the niche has fared over time.
Remember: Whereas most product research tools focus on the individual product, Opportunity Finder investigates the niche and its related search terms as a whole.
What's the difference between a niche and a product?
A niche is a sub-sect of a market targeting a specific customer or type of products. Product-specific niches might include multiple variations of a product, or items that complement a product.
Within a niche, a seller can find many products. For example, for sellers who sell products in the "female travel workout products," they might sell travel elastic-bands and duffel bags that fit into overhead compartments.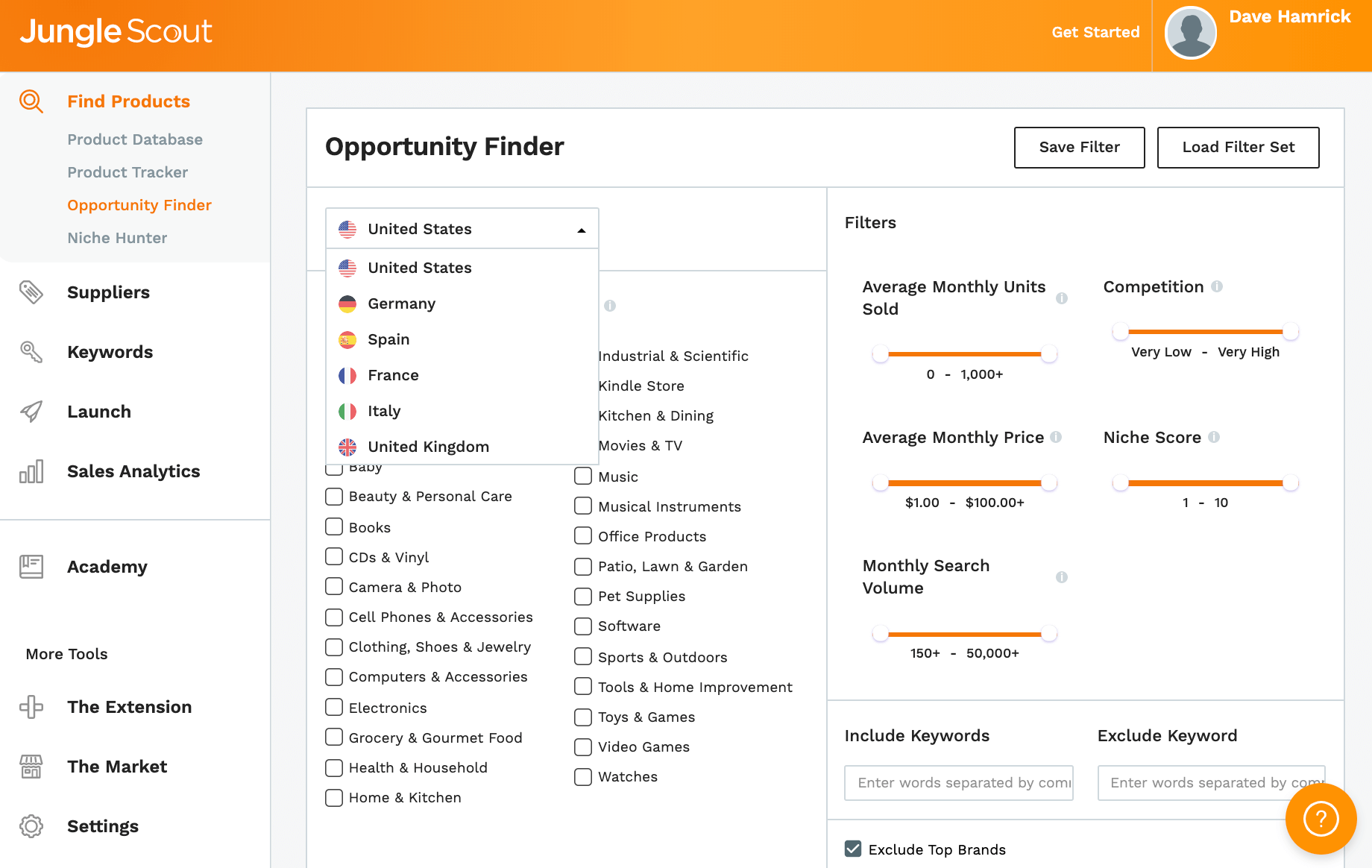 How can Opportunity Finder help you?
The Opportunity Finder comes packed with features that can help you no matter where you are on your seller journey. Here are just a few of the benefits:
Choose your products scientifically. Unsure of whether or not a niche is a good opportunity or not? Our Niche Score uses a top-secret algorithm to rank each and every opportunity.
Avoid competition. Competition is one of the hardest things to avoid as a new Amazon seller. Fortunately, Opportunity Finder can help you circumvent a crowded niche so you can turn a profit faster.
Take a glance into a product niche's past. Not only are you presented current sales data for niche opportunities, but Opportunity Finder also gives you a look at how well a niche has performed in the past. You can review the niche's historical average units sold per day, price, and search volume.
Cure your Analysis Paralysis. We've discovered that one of the biggest things that hold new sellers back—and experienced sellers, too!—is an inability to settle on one product. If you suffer from analysis paralysis, then Opportunity Finder is the push you need to pick a winning niche without overthinking it.
How to get started with Opportunity Finder
Opportunity Finder is the tool every Amazon seller needs to find profitable product ideas fast. It cuts through the massive Amazon FBA catalog and puts the products opportunities that matter to you in front of you.
And Opportunity Finder is yet another powerful feature included with your Jungle Scout subscription. That means you no longer have to access a different tool; Jungle Scout is your all-in-one Amazon seller solution.

But if you aren't subscribed and want to learn more about Jungle Scout and Opportunity Finder, be sure to check out our subscription options. In addition to the learning you'll be doing, all of the top Amazon selling tools on the market will be at your disposal.