Welcome to episode two of Seller Strategies! In this episode, Maria and Ervin share the tips and tricks around using Amazon coupons effectively.
In it, we cover the following:
Amazon coupons.
What works best: dollar off, or percentage off coupons?
Can Splitly A/B test coupons?
So, get comfy, watch the video, then keep on reading! And don't forget to subscribe to our YouTube channel! That way you'll never miss an episode:
If you've missed an episode, you can see them all here.
Welcome to Seller Strategies!
As Amazon sellers, we know how important it is to run promotions to boost sales. For that reason, I want to tell you about the coupon feature Amazon released, in case you haven't heard about it yet.
It's available to all sellers, and is just above the promotions feature found under the advertising tab in your Seller Central account. This is where you can find the coupons feature: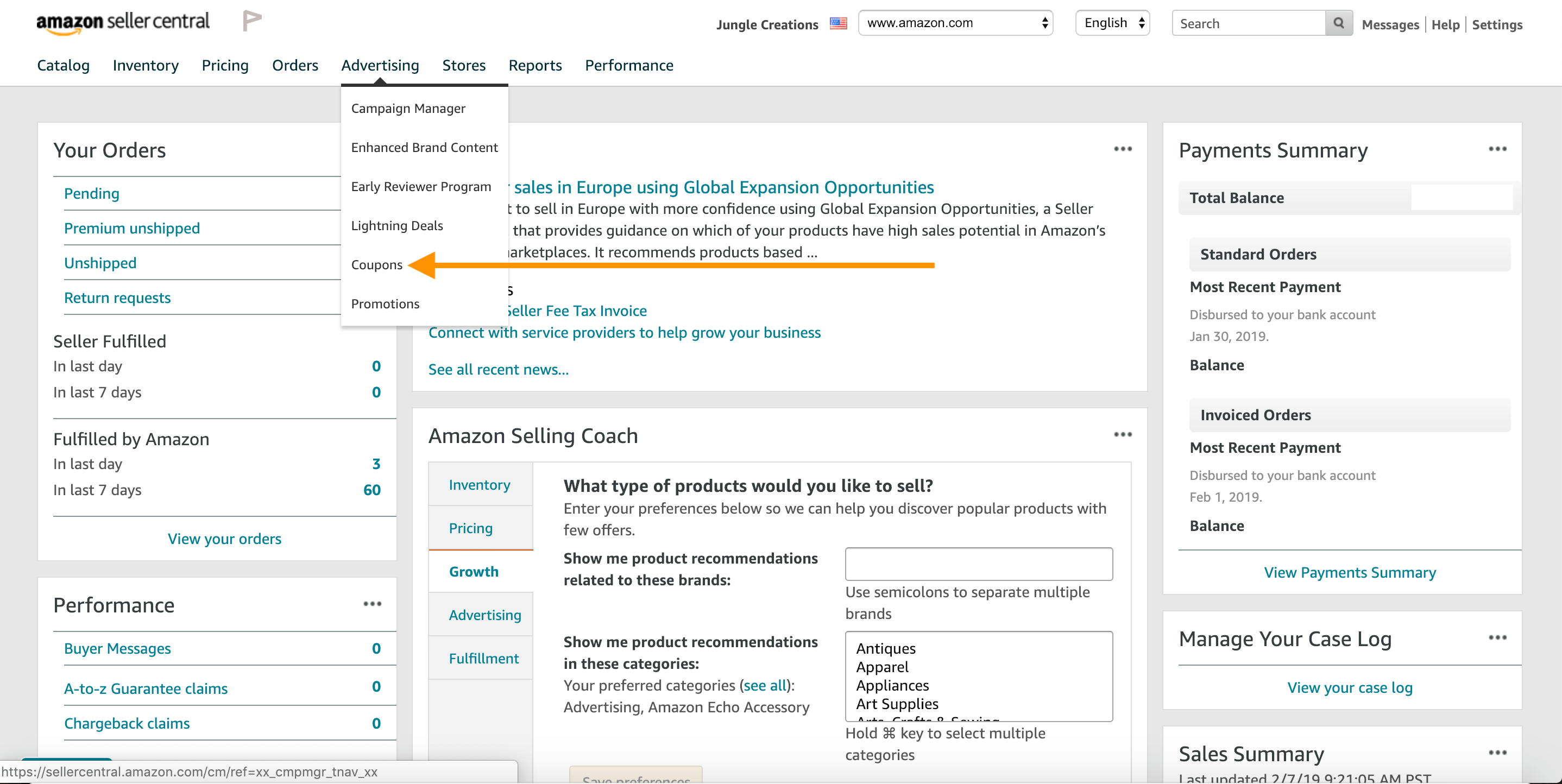 How does this coupons feature work?
It depends on how you set up the coupon. You have two options:
You can give customers percent off coupons;
Or, you can give them coupons with a set dollar amount off.
You can also set a specific budget for the overall campaign.
Once the coupon feature is up and running, your potential customers will see a button for the discount. Prime customers are presented with a green coupon button. It's directly below the list price: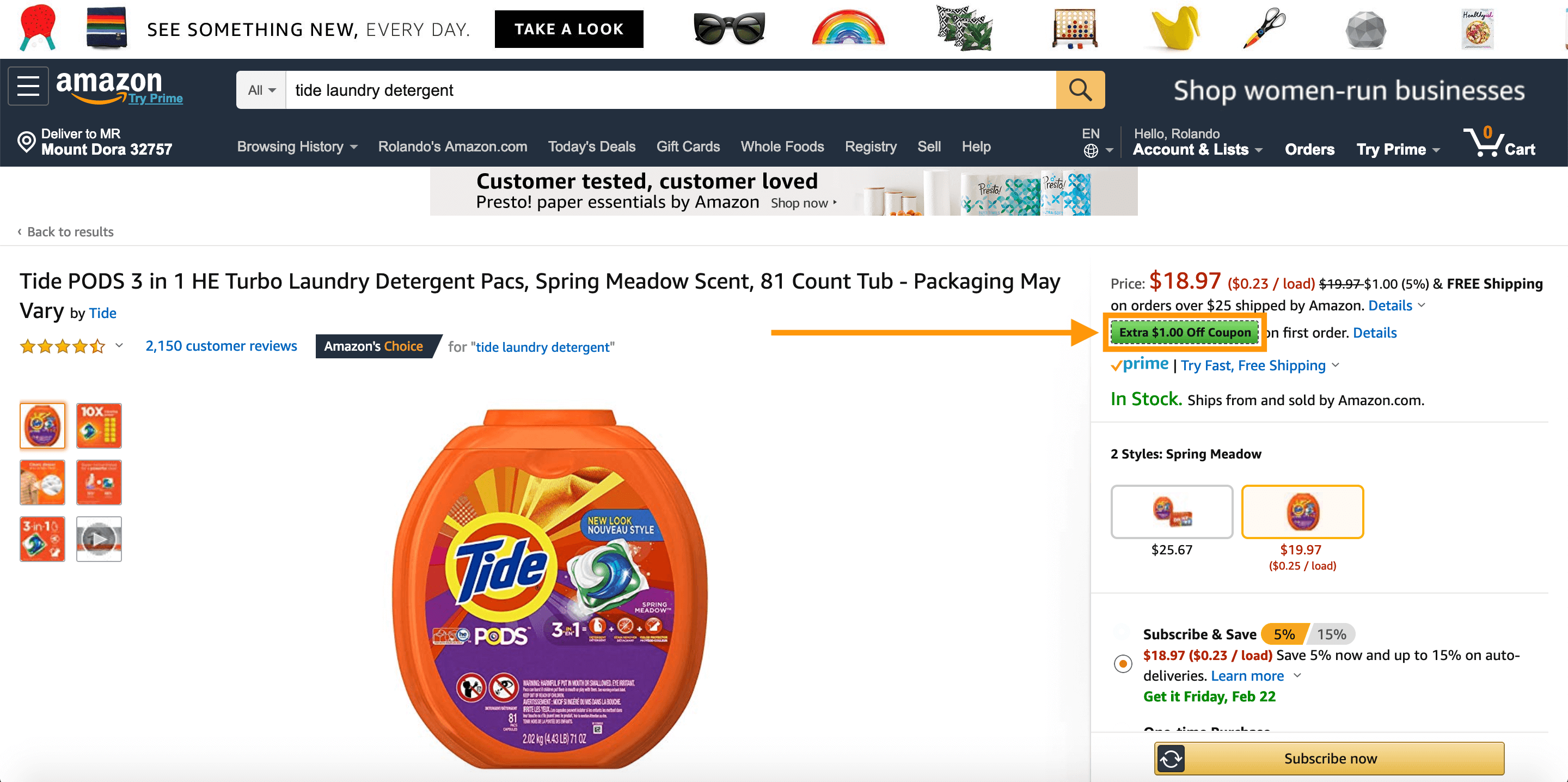 And non-Prime shoppers are shown a white button, with green lettering. It's still located below the listing price though: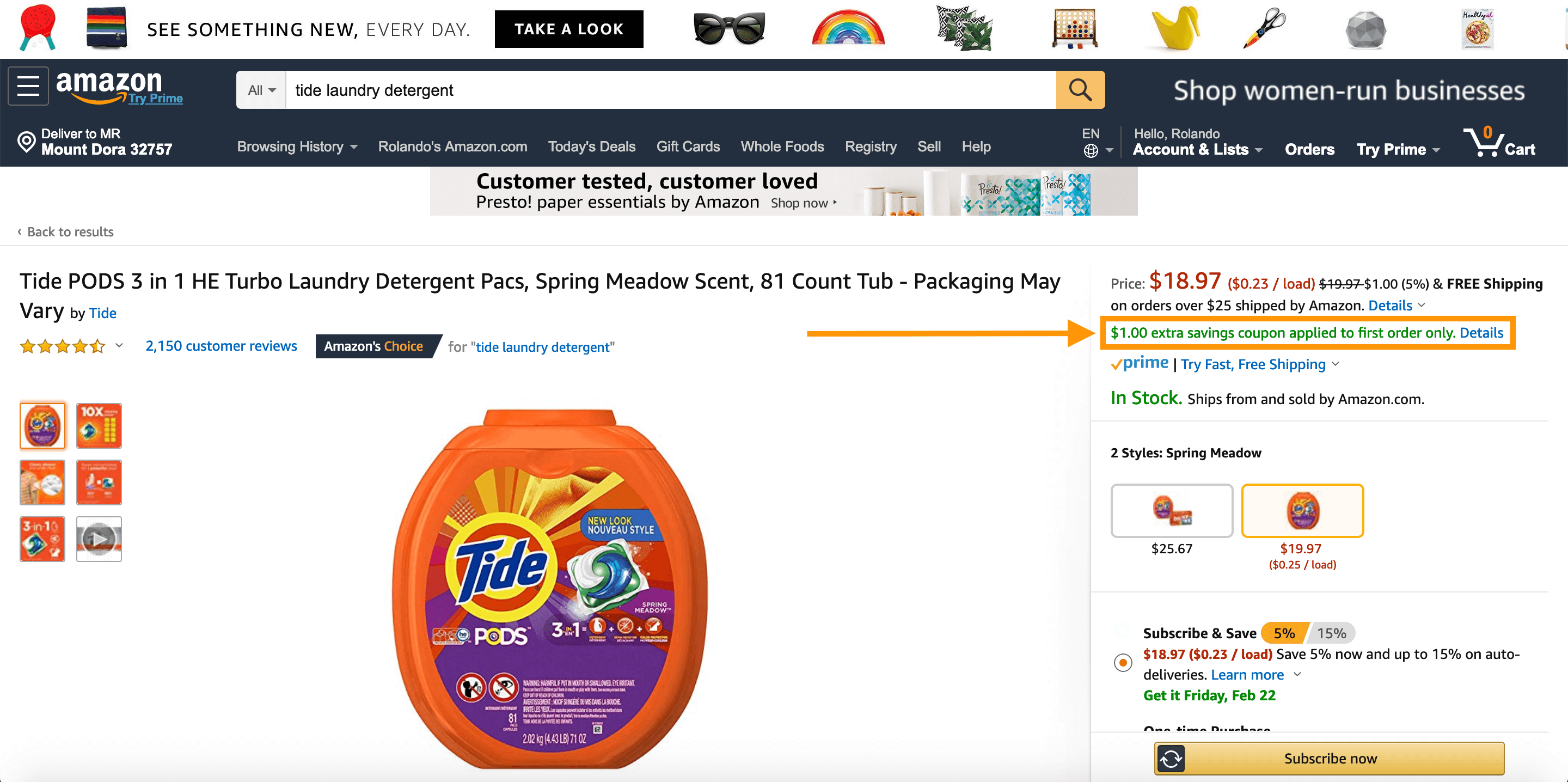 And while this is a great feature, using it comes at a price. Every time someone clicks on a coupon, Amazon charges that seller a fee. And that's in addition to the fees they're already paying.
So, let's say you're discount a $18.97 item by one dollar, like the example pictured above. And let's say that Amazon charges you a $0.60 fee every time someone buys and gets the dollar discount. That means you're paying an extra $1.60 (the 60 cent fee, plus the one dollar off) per unit sold.
Thankfully, though, this coupon feature is very flexible. You can reap its benefits without blowing up your budget. It allows you to set a max spend, pick an expiration date and, of course, choose your discount amount and type.
What works best: dollar-off or percentage-off coupons?
What we've found interesting about this new coupon feature is that the dollar off coupon works best.
I was surprised when I saw the results. But, from my perspective, I think the reason the dollar off coupon works best is because people are on Amazon to shop. Most don't want to do math.
They want to buy, and go onto their next purchase.
So, let's say I told you I was selling an item for $33.95, with 5% off. You would have to figure out for yourself how much you'd have to pay. And percentage off math is more complicated than dollar off math.
With percentage off, you might be thinking, "Okay what's 5% off of $33.95?" Then you'd have to subtract that amount from the original price to determine the final price.
But, if I gave you approximately the same discount in dollar form (for this example, rounded up to $2), then all you'd need to do is subtract:
$33.95 – $2 = $31.95
And in addition to ease of use for shoppers, when we ran a test, the dollars off coupons returned a 43% redemption rate, as opposed to the 32% redemption rate with percent off coupons. So, with dollar off coupons winning hands down, we're sticking with dollar off discounts.
Does Splitly allow A/B coupon testing?
You can test various aspects of your listing with Splitly.
Want to know which image, when used as your main image, gives you more sessions or drives more traffic? Done. Curious about your price? Splitly will tell you which fee leads to more profits.
But this coupon functionality? It isn't available on Splitly just yet.
If Amazon opens the API (application programming interface) to this coupon feature, then we'd love to test these results to see whether or not they're statistically significant. From the results we've found so far though, everything points to the dollar off coupon as driving more conversions.
Conclusion
It's important to note that as a seller you can't look at Amazon Coupons as if you're losing money. It's a form of paid advertisement. It makes your product appear more lucrative, in comparison to your competitors.
Furthermore, you usually make more money with coupons. If people are redeeming your coupons, you're getting more sales. Not to mention, those sales will lead to a higher sales velocity and, therefore, a better best sellers ranking (BSR). And a better BSR usually means more sales. So when you offer a discounted product, you're end up winning.
Give it a try. Do some manual testing of your own, and let us know how it goes!
Well, that's it for today. But tune in next week to learn more tips and tricks to help you succeed as an Amazon FBA seller.
Missed an episode? See them all here.