In this blog post, Maria Galindo and Ervin Ong share their best tips and tricks for Amazon FBA seller success. Topics discussed include:
Conversion rates and unit session percentage explained
How to improve conversion rates
What is Splitly?
How to hack the "Frequently Bought Together" section
Missed an episode? See them all here

.
We're covering all of this today in episode 20 of Seller Strategies: Improving Conversion Rates. Watch the video, keep reading and don't forget to subscribe to our YouTube channel so you never miss an episode!
Welcome to Seller Strategies!
In today's episode, we're going to share with you two strategies to help you improve your conversion rate (aka unit session percentage) on Amazon.
And as a bonus, we will share a secret hack on how you can dominate the "Frequently Bought Together" section of Amazon.
Conversion Rates and Unit Session Percentage explained
Amazon spends millions, if not billions, a year optimizing their conversion rates on their platform. So naturally, they expect us to be able to sell as much as we can in order to bring them more revenue and satisfy their customers.
If you look at your business reports, they actually refer to this as the "Unit Session Percentage". So the more orders that we get, and the higher the order value that we give to our customers, the higher that Amazon ranks us for the unit session percentage. It's not the conversion rate that Amazon looks at, but more so our unit session percentage, how much money can we make in one visit or one session.
As an example, if 3 out of 10 customers land on your listing and place an order for one unit each, the conversion rate ends up being 30% while the unit session percentage also ends up being 30%.
But…
Let's say 2 of those 3 customers decides to order 2 units each, the conversion rate still sits at 30% but the Unit Session Percentage now has jumped to 50%.
How do we improve our Conversion Rate/Unit Session Percentage for our listing?
There are different strategies on how to improve our unit session percentage. The most simple one is the "Buy One, Get One" promotion, and you can set this up under the Advertising tab of your Seller Central.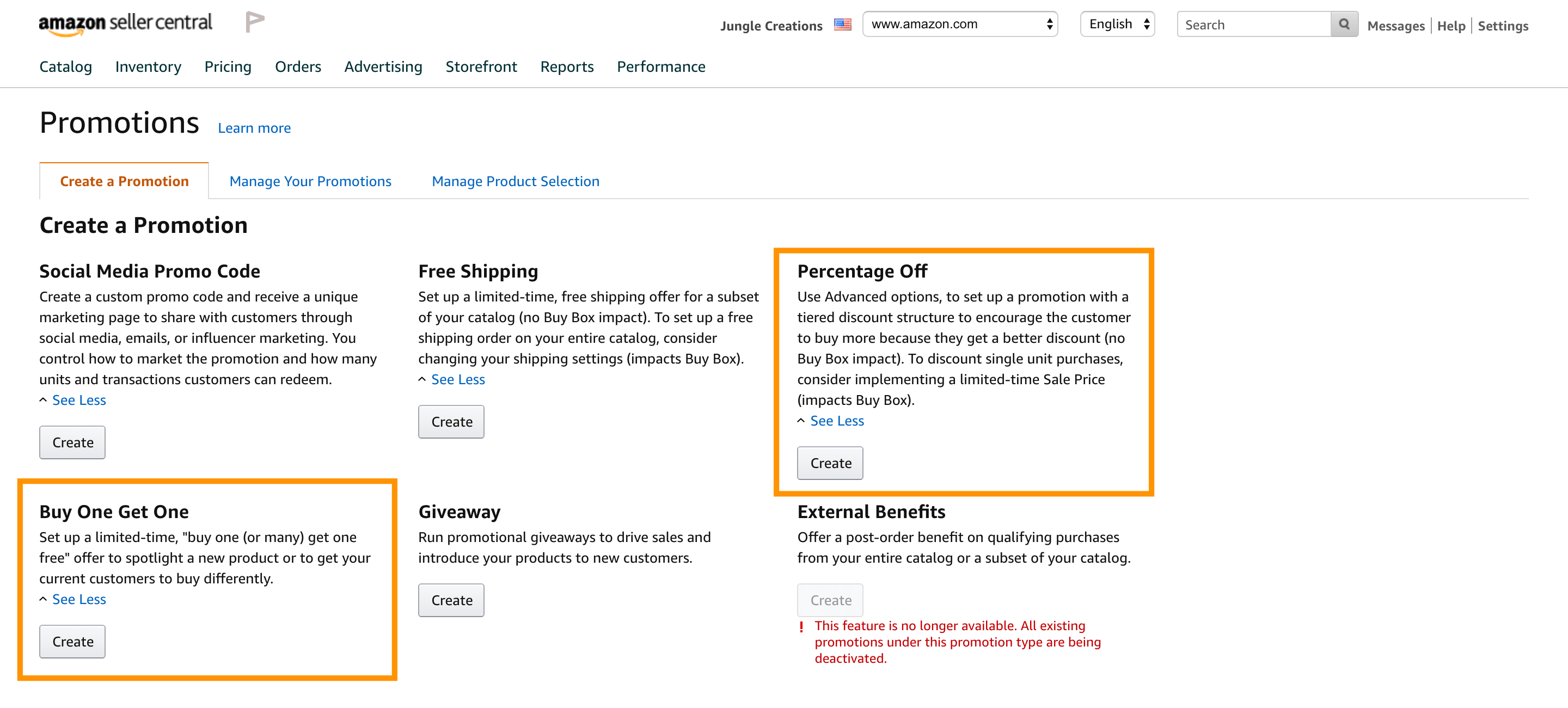 Alternatively, you can use the "Percentage Off" promotion. So for example, if a customer buys X of one product and Y of another product, then they can enjoy a 10% discount.
What is Split Testing?
Another strategy is you can run split tests on your listing. Split testing is when you take the current version of your listing and test that against a potential listing that you think could do better. My tool of choice for doing this in a very systematic matter is Splitly, and that's because Splitly can automate all these processes for you, and eventually find a winning variable.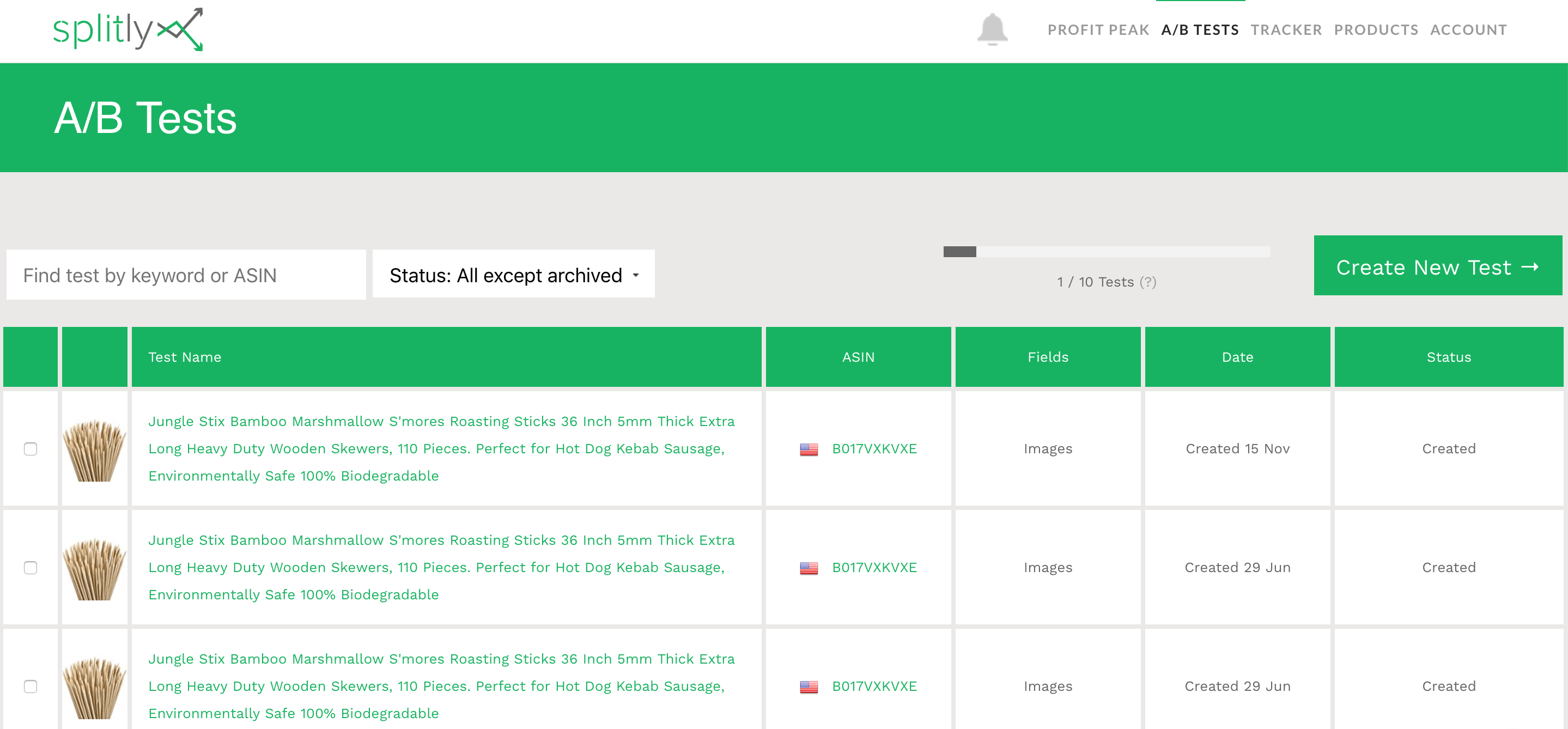 For example, in the image below I would run a simple test on image "A" vs. image "B" (A/B test) to see which of the 2 images outperforms the other.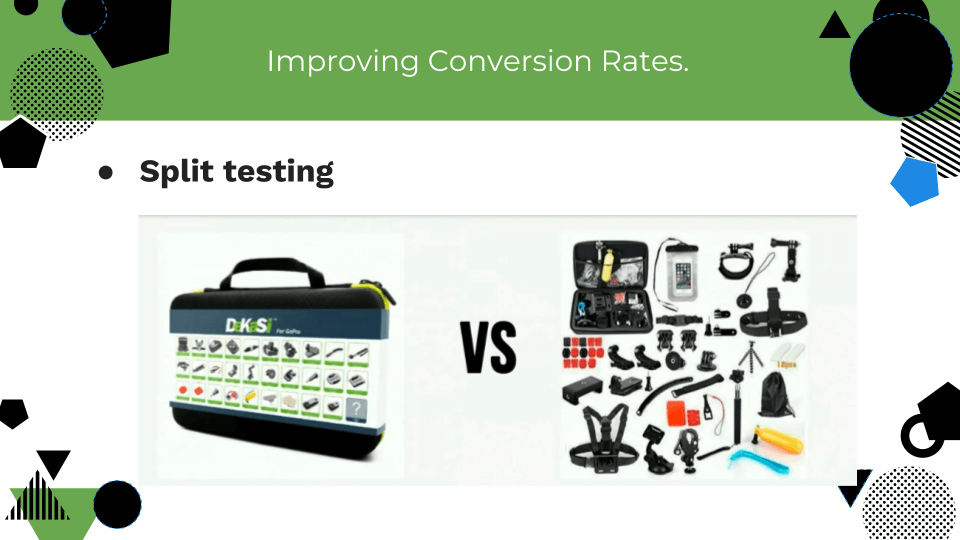 Take the guesswork out of the decision-making process, automate the process with Splitly, and allow your customers to cast there vote by making a purchase. You may be shocked to find that the image or the title you perceived to be a winning combination doesn't stack up against what your customers are doing.
How to hack the Frequently Bought Together section
The Frequently Bought Together section is based on Amazon's algorithm and detects when users buy one product and another similar or related product at the time of purchase. Amazon would think that these two products match each other, and hence would appear on each other's Frequently Bought Together section.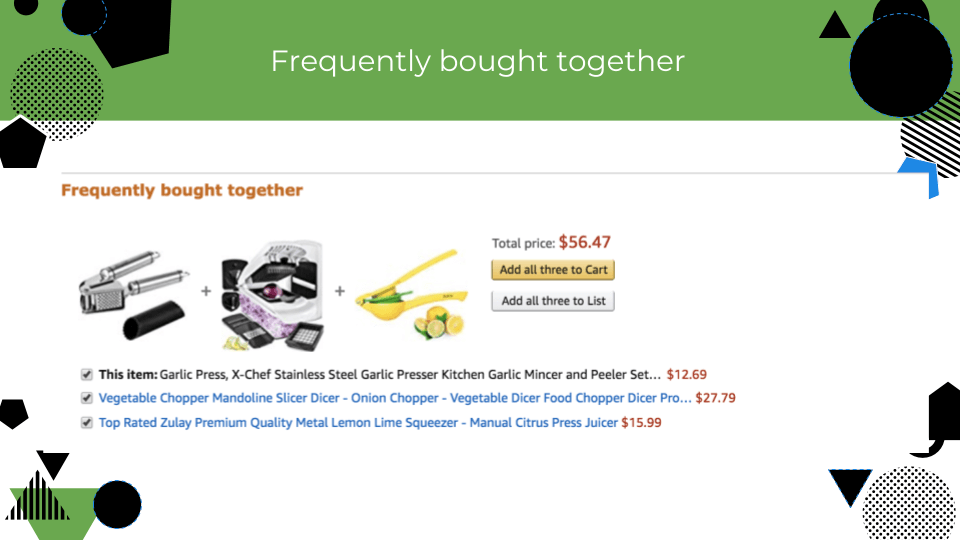 The hack I'm about to share with you is especially useful if you have a range of products in the same brand or maybe in the same category that would compliment each other.
If you are driving traffic to Amazon externally, then you can use the link below to combine orders. And all you have to do is change your ASIN into one of those three items in bold. Or if you only have two items, then you can remove the last part of it.
https://www.amazon.com/gp/aws/cart/add.html?ASIN.1=B012A43XZW&Quantity.1=1&ASIN.2=B0764HM9BM&Quantity.2=1&ASIN.3=B0738C7RXF&Quantity.3=1
If you post the above link on your Facebook ad, or on your website, etc., then these items will show up together. Once that person clicks on the link it will actually take them directly to the cart with the items already selected.
So this little hack, if you run it enough times, and have enough customers buy it, eventually will show your products organically in the Frequently Bought Together section of Amazon.
Conclusion
I hope that these tips are helpful and you make the best of them. Remember: always be testing. Sometimes a small and what we would think to be insignificant change can make all the difference on your conversion rate and unit session percentage. So test your images, test your title, test your bullet points, test your description and automate this process with Splitly. I look forward to hearing about your results and what your winning combination is.
So that's it for today, however, tune in next week as we continue to share our best tips and tricks to help you succeed as an Amazon FBA seller.
Missed an episode? See them all here.