When you think about the United States' biggest imports from Germany, what comes to mind? If you pictured beer and luxury cars, think again—according to the 2021 Global Imports Report, the U.S. receives mostly machinery, plastic and rubber products, and metals from this global trade powerhouse.
Germany has been the leading European maritime importer for the United States for years, and sends more goods to the U.S. than some of its most populous top trading partners—India, Japan, and Indonesia, for example.
How has Germany performed in global trade over the years, what specific products does it send across the Atlantic, and how might those change in the future? We analyzed millions of import records to give a clearer picture of Germany's performance in import shipping.
Germany's trade with the U.S. over time
Germany is the U.S.'s top European maritime trade partner, and since 2015 had consistently ranked as the second or third-largest importer to the U.S. overall.
However, in 2021 it is now the U.S.'s fourth-largest maritime trade partner, having lost 2.3% of its share of U.S. imports since 2020. In its place sits India, a country that rebounded remarkably from its severe COVID-related supply chain issues last year.
Top 5 countries by share of U.S. Imports | 2015-2021
Rank
2015
2016
2017
2018
2019
2020
2021
1
China, 40.6%
China, 40.5%
China, 40.7%
China, 41.6%
China, 38.6%
China, 43.3%
China, 41.5%
2
Taiwan, 4.1%
Germany, 4.3%
Germany, 4.5%
Germany, 4.2%
Vietnam, 5%
Vietnam, 5.6%
Vietnam, 6.3%
3
Germany, 4.1%
Taiwan, 4%
India, 3.8%
Vietnam, 4%
Germany, 4.3%
Germany, 4%
India, 4.8%
4
India, 3.7%
India, 3.7%
Vietnam, 3.7%
India, 4%
India, 4.3%
India, 3.9%
Germany, 4%
5
South Korea, 3.4%
Vietnam, 3.5%
Taiwan, 3.7%
Taiwan, 3.5%
Taiwan, 3.6%
Taiwan, 3.4%
Taiwan, 3.3%
Germany currently accounts for about 4% of all U.S. maritime imports, a figure that had risen to 4.5% in 2017. While some countries have experienced dramatic growth or reduction in trade with the U.S. — like Vietnam, whose share of U.S. imports grew by 88.3% from 2015 to 2021 or the Netherlands, whose share contracted 23.4% in the same period—Germany is a stable leader in terms of its trade with the U.S.
In the first half of 2021, Germany shipped 301,815 imports to the U.S. This is about 21% more than Taiwan, the fifth-largest U.S. importer, and 16% fewer than India.
Germany's trade recovery during COVID
Like many of the U.S.'s European trading partners, Germany's recovery from COVID-related supply chain difficulties in 2020 wasn't quite as strong compared to trade leaders in Asia. Overall, countries in Asia and Europe increased their volume of shipments to the U.S. by similar magnitudes in the past twelve months (36% and 33%, respectively). However, whereas Asia as a region increased its claim on U.S. imports by 2.1% in the past year, Europe's share contracted by about 0.4%.
Germany's share of U.S. imports has not changed since last year, though that of India and Vietnam have shot up.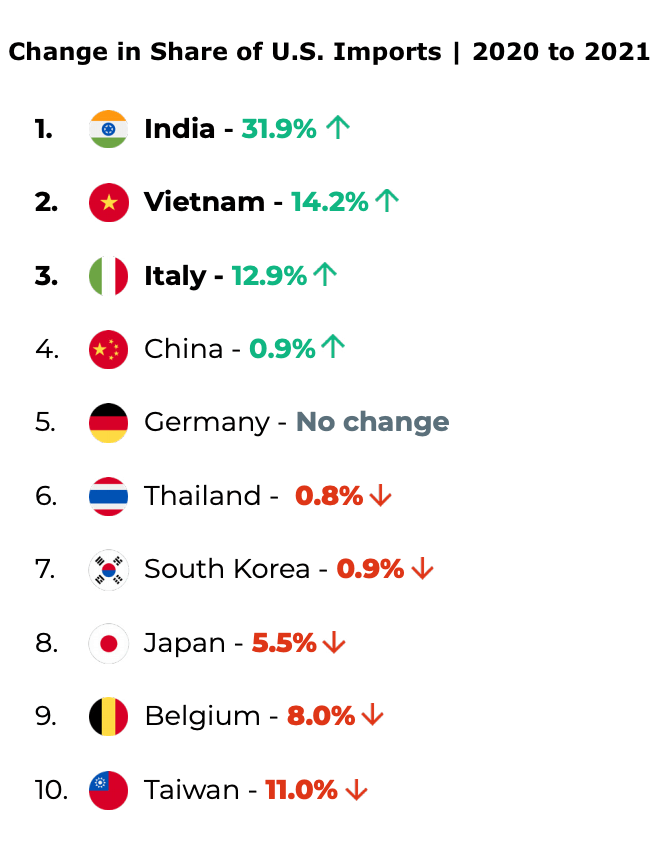 That said, the U.S. is importing more products from Germany in certain categories this year compared to last year:
Textiles – up 11.2%

Mineral Products (including petroleum, ores, and cement) – up 9.4%

Wood and Wood Products – up 8.2%

Chemicals – up 5.7%
Additionally, the volume of U.S. imports from Germany from January to June 2021 has increased by over a third (33.4%) compared to the first half of 2020.
What kinds of products does the U.S. import from Germany?
Volkswagen, Mercedes-Benz, and BMW cars may be the best-known German imports in the U.S. — but while Germany is a prolific contributor to U.S. transportation imports, vehicles are not its primary export to the U.S. The majority of products Germany sends to America fall into these top import categories: Machinery & Electrical, Plastics & Rubbers, and Metals. We can browse Jungle Scout's Supplier Database to find out where popular German brands manufacture the products they sell in the U.S. Amazon marketplace.
1. Machinery & Electrical
Over a third (35.4%) of U.S. imports from Germany in 2021 are machines and electrical products. Known for its innovative engineers, Germany has produced world-renowned brands that specialize in complex household and commercial machinery. Electric clippers, coffee makers, and digital cameras are a few examples.
Gerlingen-based Bosch sells a popular line of power tools on Amazon, including drills and reciprocating saws. It produces its products in Hildesheim, located in northern Germany.


2. Plastics & Rubbers
Germany produces much of the rubber and plastic used in consumer products sold in the U.S. — in fact, 12.8% of U.S. imports from Germany fall into this category. For example, Hanover-based brand Continental AG sources its rubber from German manufacturers in Görwihl, Gummersbach, and Aschaffenburg. It then gets made into automotive and bicycle tires, as well as shoe soles for Adidas, another German brand.


3. Metals
One in ten imports from Germany falls into the Metals category. And if you've ever shopped for kitchen knives, you know that German steel tends to fetch high ratings.
Take Zwilling and Henckels for example. These two labels make up the Zwilling J.A. Henckels brand, which has been headquartered in the west German city of Solingen since its founding in 1731. On Amazon, listings for Zwilling and Henckels knives on Amazon are often rated 4.5/5 stars or higher.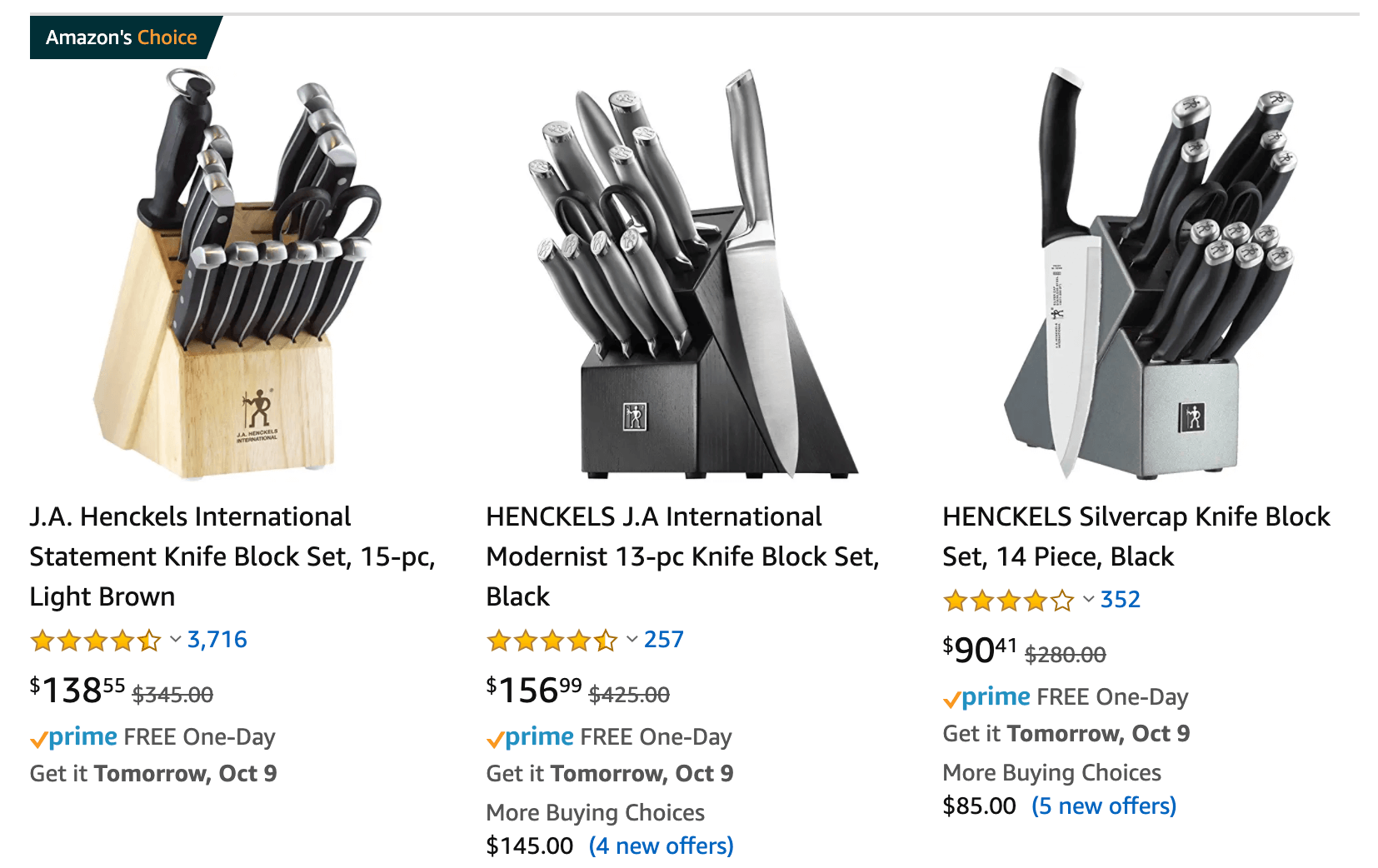 Other popular German imports: footwear, fashion, and food
We can find other popular German-made items on Amazon within other U.S. import categories, like Footwear & Headgear, Textiles, and Foodstuffs.
For instance, Birkenstock sandals are manufactured in Neustadt.

Adidas products are made in Scheinfeld.

And Haribo gummy bears come from Bonn.


Predicting the future of U.S. Imports from Germany
Given that Germany ships relatively large amounts of imports within the U.S's top import categories each year, it's easy to see why it has remained rock-solid as a top U.S. importer over the years.
It also seems likely that Germany will continue to be the dominant European trading partner with the U.S., given its lead over neighboring countries. If we look at other high-volume producers shipping products to the U.S. that fall within Machinery & Electrical, Plastics & Rubbers, and Metals, all are in Asia.
Leading Global Traders by Category | 2021
| | | | | | |
| --- | --- | --- | --- | --- | --- |
| Machinery & Electrical | U.S. Imports | Plastics & Rubbers | Imports | Metals | U.S. Imports |
| China | 734,766 | China | 216,280 | China | 305,908 |
| Germany | 103,935 | Germany | 37,536 | Taiwan | 61,887 |
| South Korea | 65,372 | South Korea | 25,056 | India | 40,276 |
| Taiwan | 56,947 | Taiwan | 24,374 | Germany | 31,989 |
| Vietnam | 54,103 | Vietnam | 23,080 | Vietnam | 25,862 |
Germany is the only European country within the top five global traders in all three of these large U.S. import categories.
It's hard to imagine the demand for Germany's most popular brands declining in the U.S., as well as the many other products it supplies to American consumers and businesses.
At its current rate, the U.S. is projected to receive 15.1 million shipments of products imported from around the world by the end of 2021 — a 12.9% year-over-year increase. If Germany maintains its 4% share of that total, it will send over 600,000 shipments to U.S. ports this year.
Typically, the U.S. receives more goods in the second half of the year. If that's the case for 2021, and the U.S. charts 16 million import shipments, Germany's tally could top 640,000.
The future of Germany's dominance in U.S. trade may depend in part on how well it maintains its current share of U.S. imports as trade partners in Asia grow, as well as how it recovers from any future pandemic-related supply chain issues.
For more on global trade, see the full 2021 Global Imports Report.