AUSTIN, Texas — November 16, 2020: Today, Jungle Scout, the leading all-in-one platform for selling on Amazon,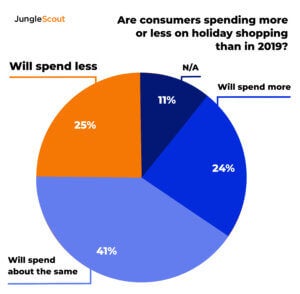 released a new report exploring how U.S. consumers' spending has changed in 2020, and how many Americans are cutting back holiday spending due to the COVID-19 pandemic, Presidential election results, and more.
Jungle Scout's Q4 Consumer Trends Report key insights include:
The critical end-of-year shopping season is more precarious than ever.
1 in 4 Americans will spend less on holiday shopping this year than they spent in 2019.

32% of Donald Trump-voting consumers will reduce holiday spending because Joe Biden won the U.S. Presidential election.

23% of Americans plan to reduce their 2020 holiday spending in the absence of a stimulus check.
Half of consumers have reduced their overall spending.
46% of consumers say their overall spending decreased further throughout Q3 (July-September) after already reducing spending in the first half of 2020.

1 in 3 Americans will decrease overall spending through the end of the year.
Ecommerce is surging during the 2020 COVID-19 pandemic — and Amazon is dominating.
34% of consumers increased their online spending in Q3 (even while reducing overall spending). 

70% of consumers shopped on Amazon in Q3 — compared to 35% who shopped on Walmart.com and 26% on Target.com.

69% of consumers plan to shop on Black Friday and Cyber Monday — but the majority will shop online instead of in stores.
"This time of year is normally a boon to retailers as consumers spend on gifts, celebrations, and other splurges — but 2020 is not a normal year," said Jungle Scout Founder & CEO Greg Mercer. "Americans are uncertain about the economy due to the COVID-19 pandemic and a change in political leadership. Will they keep their jobs? Get a stimulus check? Consumers are responding by tightening their wallets, and when they do spend, they shop online from the safety of their homes, leaving some retailers in a good spot this season, and others worried."
About the Report
Jungle Scout's Q4 Consumer Trends Report is a quarterly study of 1,000 U.S. consumers which explores how spending behaviors and preferences change over time and due to current events. The survey ran from October 1-2, 2020, and assessed consumer behaviors from Q3 (July-September 2020) and projections for Q4 (October-December 2020).