Austin, TX – February 7, 2023: Today, Jungle Scout, the leading all-in-one platform for ecommerce sellers, released its 2023 State of the Amazon Seller Report, a study of more than 2,000 Amazon sellers, from entrepreneurs to major brands, that reveals key trends, challenges and opportunities in ecommerce. The report finds that 89% of Amazon sellers are profitable to start 2023, and the majority plan to expand their global footprint and diversify their marketing strategies in the year ahead.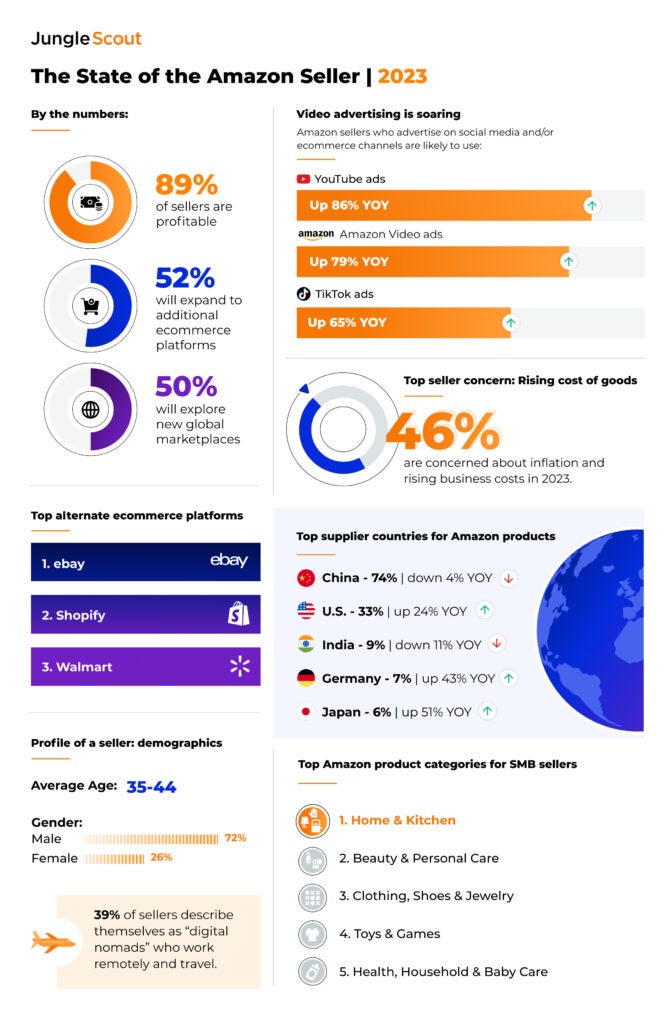 Key insights from the report include:
89% of Amazon sellers are profitable, up from 85% a year ago, and despite concerns around inflation, 37% of sellers say their profits increased in 2022.  
Opportunistic Amazon sellers are diversifying and expanding their reach.
61% of Amazon sellers already sell on at least one other ecommerce platform, leading with eBay, Shopify, and Walmart. Still, 52% say they will expand to additional platforms in 2023 — up from 25% who said the same a year ago.

45% of Amazon sellers operating in the U.S. marketplace also operate in at least one other international marketplace. 

50% of global Amazon sellers will explore selling in additional international markets in 2023 — up from 25% who said the same a year ago. Brazil, Turkey, and Japan are among the fastest-growing global Amazon marketplaces.
Social media marketing is key for Amazon sellers, with TikTok and YouTube ads trending up and Facebook and Instagram ads trending down.
41% of Amazon sellers use social media marketing to promote their products, up 15% from those who did so a year ago.

While Amazon sellers still favor Facebook and Instagram advertising (respectively, 67% and 49% of sellers who market on social media use these platforms), their popularity is down from a year ago.

31% of Amazon sellers using social media marketing use TikTok ads, up 65% year-over-year. These sellers' use of YouTube and Snapchat advertising also grew 86% and 41%, respectively, demonstrating growing demand for video content.

Nearly half of Amazon sellers (49%) plan to work with social media influencers to promote their products in 2023.
Amazon seller concerns center on the rising costs of goods, shipping, and advertising.
Although fewer Amazon sellers lost sales due to supply chain disruptions in the past year (46% did in 2022 compared to 74% in 2021), sellers still raise concerns over the fluctuating costs of shipping, storage, and goods from global suppliers.

36% of Amazon sellers are also concerned about inflation impacting their business in 2023.
"Amazon is constantly evolving and ecommerce is constantly optimizing. Still, Amazon sellers continue to prove that they know how to pivot in 2023," said Mike Scheschuk, President of Small & Medium Business at Jungle Scout. "This year, we expect to see Amazon sellers exploring new strategies to help them stay ahead of the curve, including expanding into international markets, bringing their brand to new ecommerce platforms like Shopify or Walmart, or promoting their brand on TikTok to drive awareness and sales."   
See the full report for trending insights on sales, profitability, popular product categories, and more, as well as the methodology.