AUSTIN, Texas — September 14, 2021: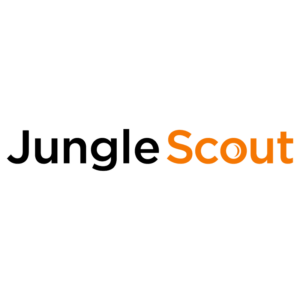 Today, Jungle Scout, the leading all-in-one platform for selling on Amazon, released its Q3 2021 Consumer Trends Report, a quarterly study of 1,100 U.S. consumers which reveals how social media and tech continue to steer consumers' purchases — particularly among younger shoppers.
Key insights include:
40% of consumers search for products to buy while on social media. 
While 65% of all consumers start their online shopping search on Amazon and 47% on a search engine like Google or Bing, many also shop directly on social media: 30% on Facebook, 27% on Youtube, 21% on Instagram, and 13% on TikTok. 

However, among consumers ages 18-24, 35% shop on Facebook, 44% on Youtube, 44% on Instagram, and 33% on TikTok.

More than half of consumers (56%) consider purchasing products that are recommended to them when shopping online. 
Consumers are seeking greater accountability and transparency from brands they follow.
58% of consumers say a brand's social activism impacts their impression of a brand — including whether they choose to buy from that brand. 

43% of consumers view brands more positively when they take a leading or active role in enacting social change; however, 15% of consumers view brand activism negatively.

The most influential brand activism attributes are: Employee treatment (63% of consumers agree this would influence their buying behavior), transparent policies (60%), Local/locally sourced products (56%), and Eco-friendly brands (56%).
"Brands continue to gain visibility and influence buyer behavior across new channels and online platforms," said Greg Mercer, Founder & CEO of Jungle Scout. "Advertising, social media campaigns, and partnering with influencers is more trackable and effective than ever before."
Other insights in Jungle Scout's Q3 Consumer Trends Report include:
Consumer spending: 
32% of consumers say they will reduce their overall spending through late 2021, while just 19% will increase spending; 50% will keep spending the same.

Shoppers are heavily price-focused. The ability to find the lowest price is the main reason consumers shop online, followed by convenience.

48% of consumers like when retailers offer flexible payment options like "buy now, pay later" or cryptocurrency, and 44% use deal-finding browser extensions (Honey, Pricescout, Amazon Assistant, etc.) to save when shopping online.
Top retail stores and websites: 
Amazon leads online shopping, with 65% of consumers shopping there, followed by 37% shopping on Walmart.com, 17% on eBay.com, and 13% on Target.com. 

Nearly as many shoppers (63%) have purchased from a physical Walmart store as have shopped on Amazon.com (65%) in the past 3 months.
In-demand products: 
Many consumers continue to buy more groceries and cleaning supplies, but 37% are also purchasing more office supplies and 18% are buying more beauty and personal care items.

The 2021 holiday season is starting early — 31% of consumers will start their holiday shopping before Halloween and more than half before Thanksgiving.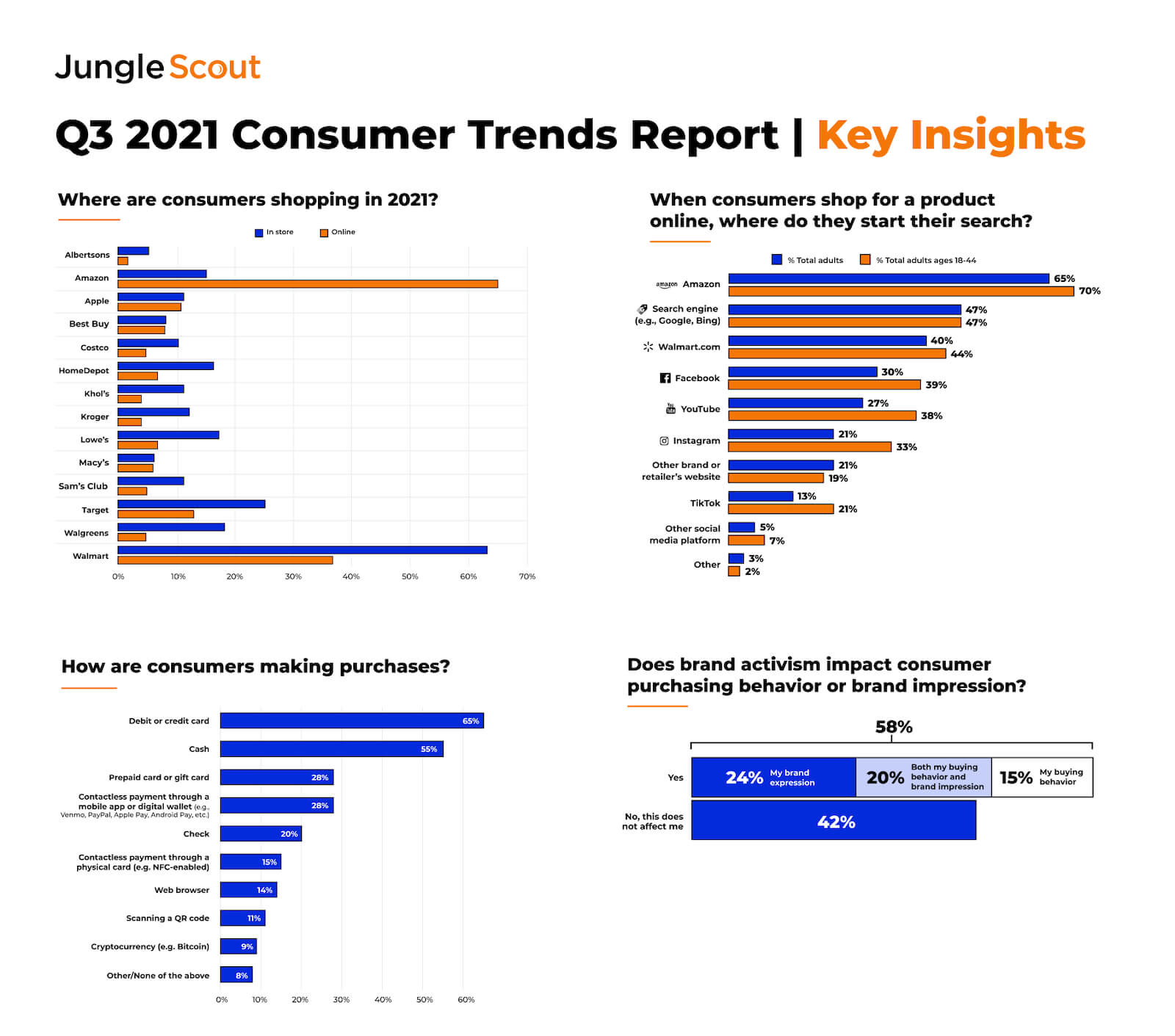 About the Report
Between August 6-9, 2021, Jungle Scout conducted an anonymous survey among a panel of 1,100 U.S. consumers about their buying preferences and behaviors. Respondents represent every U.S. state, all genders, and ages 18 to 75+, as well as all employment types and varying income levels.