Streamline your Amazon business
Save time managing your business so you can focus on growing it.
Automate review requests
Take the guesswork out of inventory management
Easily track the performance of your business
Get instant notifications for product changes
Get started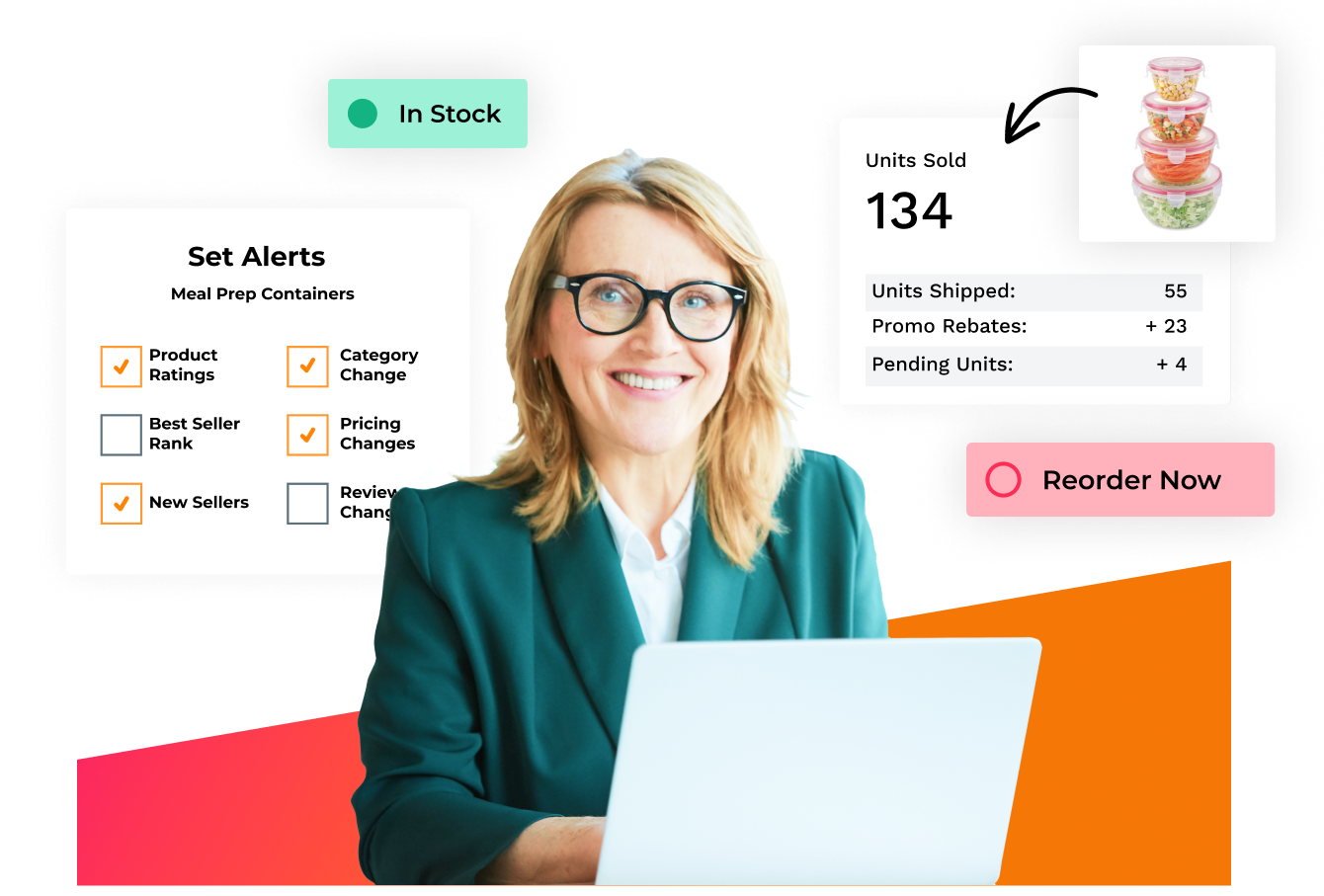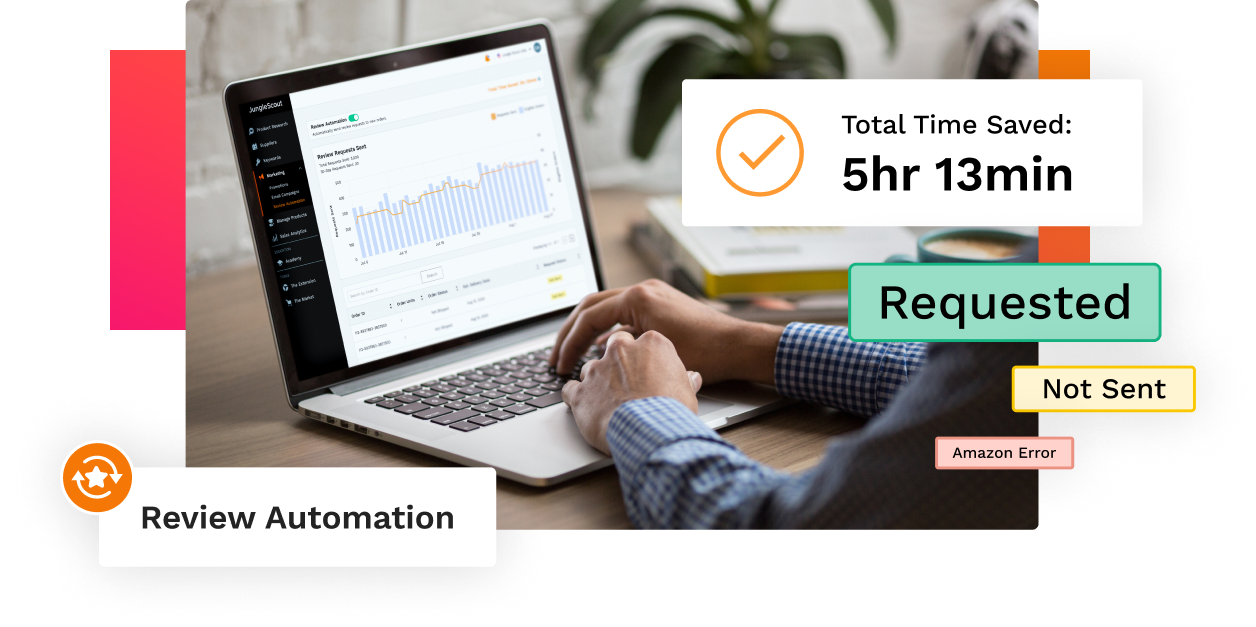 Automate product review requests
Never miss the opportunity to earn a review. Jungle Scout's Review Automation feature completely automates the Seller Central review request process so you can invest time back into your business. Ensure every eligible order receives a review request, track the request status, and even see how many hours you've saved.
Maximize your review potential with Review Automation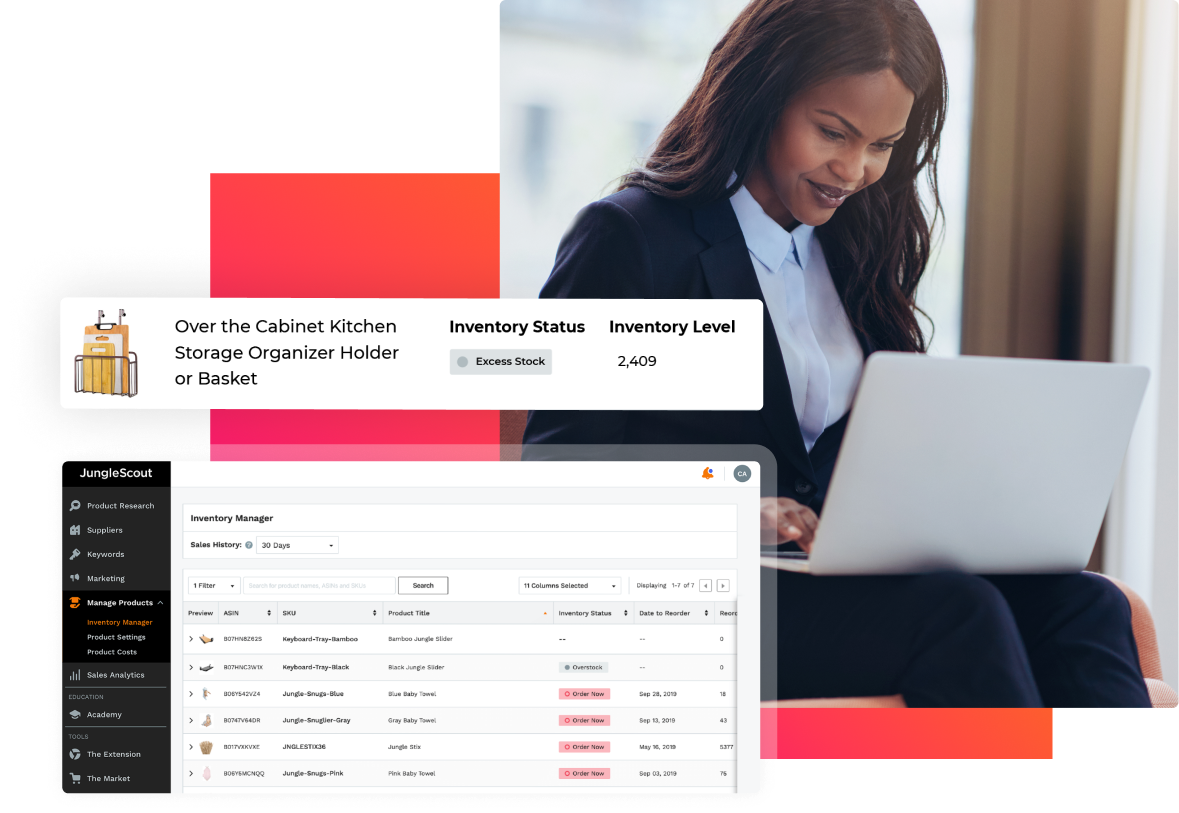 Intelligently manage your inventory
Automate inventory planning to prevent stockouts. Jungle Scout's demand forecasting tools harness data to predict market trends and seasonality. Our AI-powered inventory dashboard suggests optimal stocking levels, reorder dates, and reorder quantities.
Stay on top of your stock with Inventory Manager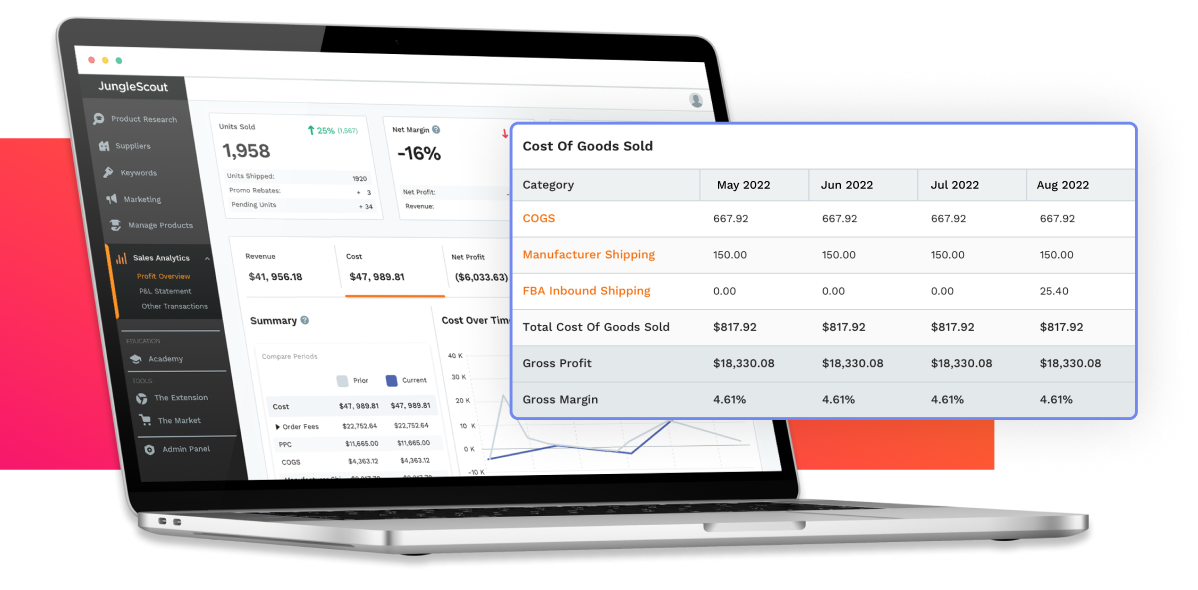 Easily monitor your business performance
View sales and profit data from a company perspective or a multi-product dashboard with each of your SKUs. Compare sales over time with custom date ranges to understand how promotions, refunds, and other variables impact your bottom line.
Get actionable insights with Sales Analytics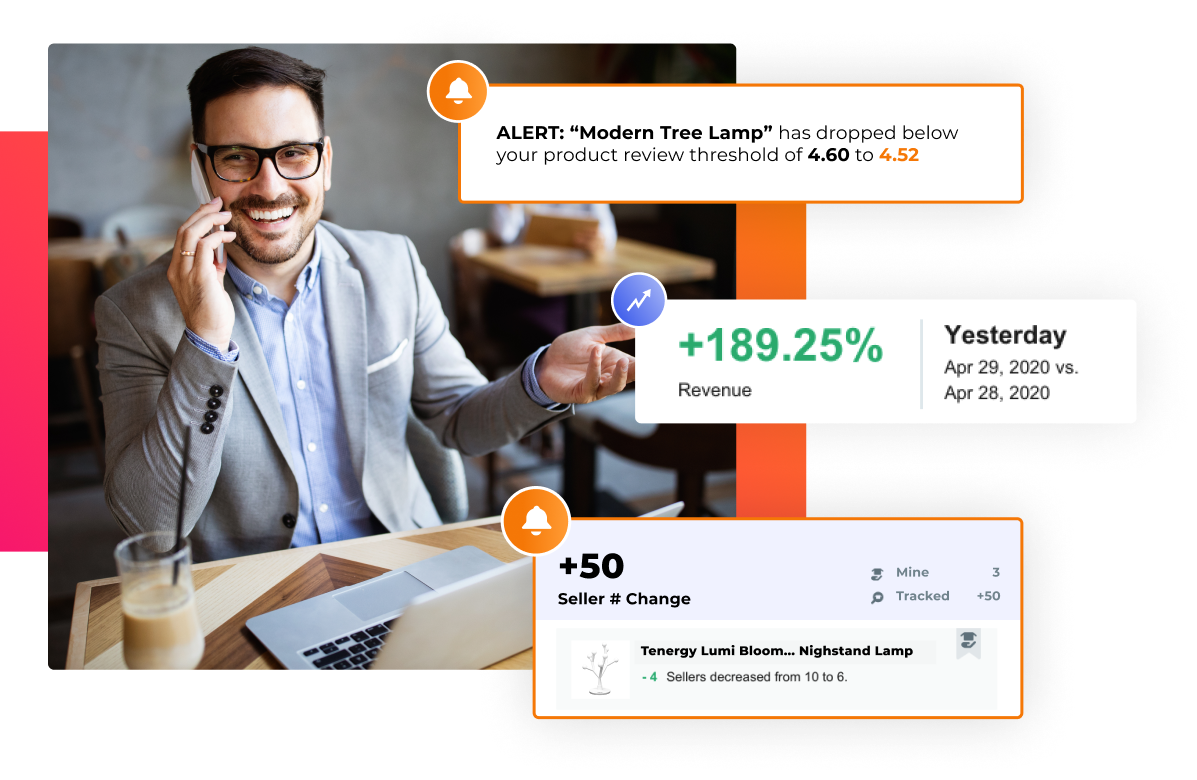 Keep up with product changes
Track changes in price, reviews, and more for your products and your competitors' products with custom alerts. Get notified instantly so you can take action fast and keep up with competitors. Receive daily performance emails with a summary of your alerts to observe changes over time.
Monitor product changes with Alerts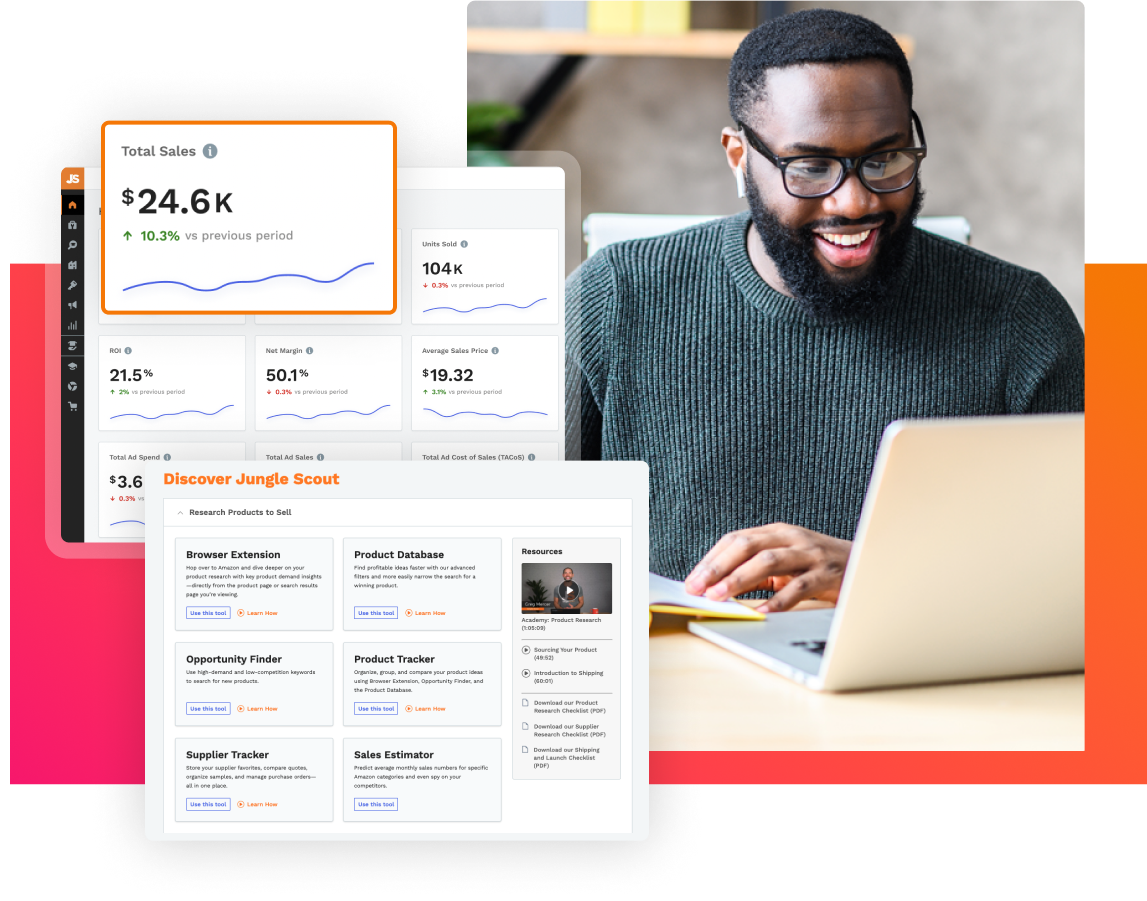 Home Dashboard
See high-level metrics the moment you log in with our Seller Central-synced home dashboard. Our sales widgets show metrics that directly impact your business, like units sold, total sales, revenue, and more so you can keep a pulse on your bottom line.
What sellers are saying about Jungle Scout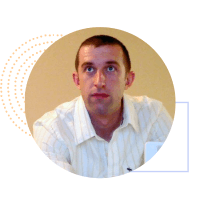 "Jungle Scout is the only software that I have held onto over the course of my 10-year selling career."
– Gregory Green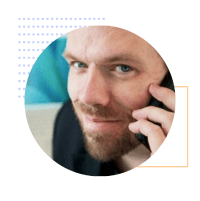 "Jungle Scout gives me a clean and user-friendly dashboard that helps me to manage my business and make decisions. I can tell Jungle Scout is run by a creative team of individuals that is constantly seeking to improve and the customer service is really friendly and responsive!"
– Kevin Parkinson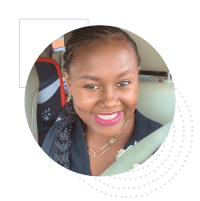 "Everything I need for my Amazon business all under one roof. I use it daily — all day really."
– Judith Njogu
Our most popular content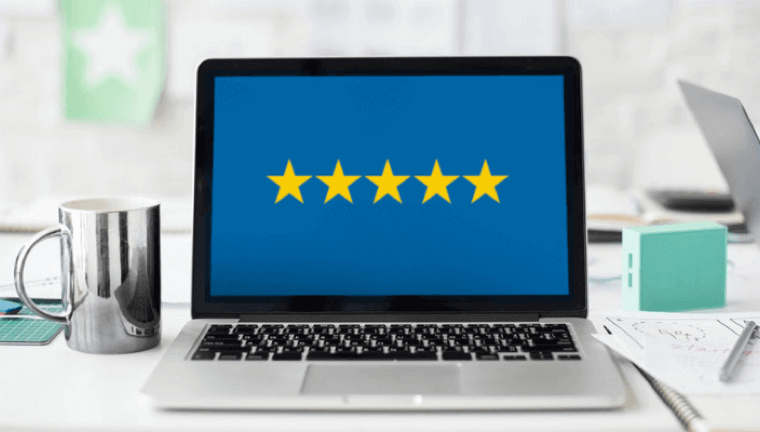 BLOG
How to Get Reviews on Amazon in 2020
Learn nine strategies to earn more Amazon reviews and watch a webinar led by Jungle Scout CEO Greg Mercer
Read more keyboard_arrow_right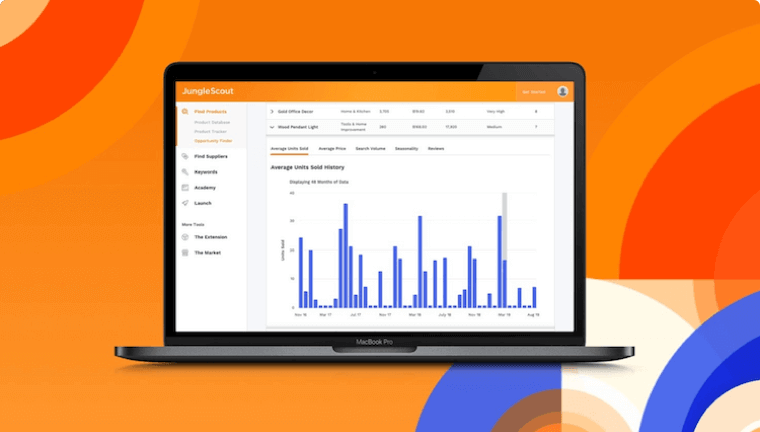 BLOG
Managing Your Amazon Inventory
Find out how automating your inventory management can save you money
Read more keyboard_arrow_right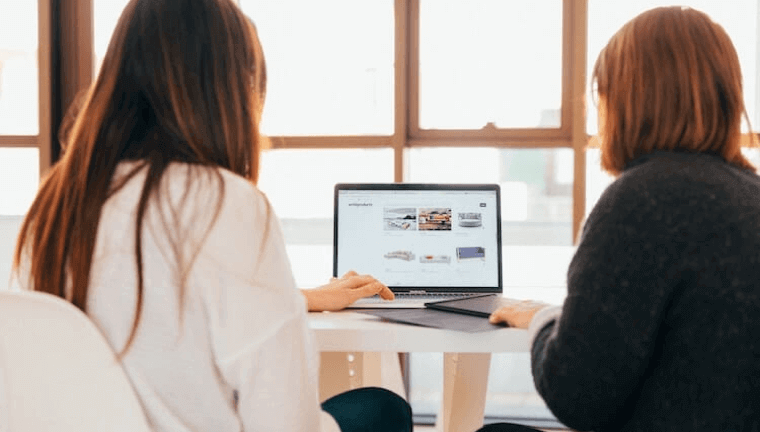 BLOG
Jungle Scout Alerts: Track Amazon Product Data (Wherever You Are)!
Learn about the benefits of Alerts and how to set it up for your business
Read more keyboard_arrow_right
Maximize the time you put in your business
Try Jungle Scout risk-free for 7 days with our money-back guarantee.
Streamline today
*Based on a survey of 1,046 active Amazon Sellers