Want to know why Amazon is one of the biggest, most successful companies in the world? They're customer-obsessed and will always put buyers first before anything else.
As a customer-centric company, Amazon has put the A-to-Z Guarantee in place to protect buyers in the event they're unsatisfied with their order. No matter how experienced you are as an Amazon seller, it is likely that you've dealt with an A-to-Z Claim at one point or another.
Too many Claims against you will hurt your business and Amazon seller account — which is why you need to do all you can to avoid them.
How do you do that? Keep reading to find out:
What an Amazon A-to-Z Guarantee Claim is

How A-to-Z Claims affect Amazon sellers

The A-to-Z Claims process

How to handle an Amazon A-to-Z Claim

How to prevent A-to-Z Claims in the future
What is Amazon's A-to-Z Guarantee?
The Amazon A-to-Z Guarantee protects buyers when they purchase items from one of Amazon's third-party sellers — aka, you. The guarantee ensures that buyers have a consistent and satisfactory customer experience, and covers factors such as on-time delivery and item condition.
No matter if you are fulfilling orders through FBA or FBM, you can still have an A-to-Z Claim opened against you. The only difference is that FBA sellers are not responsible for delivery-related issues.
In most cases, before the buyer is eligible to make a Claim, they must attempt to contact the seller so they have an opportunity to resolve the situation before the case escalates.
If the seller cannot offer a solution to the buyer within 48 hours, then the buyer can open a Claim, leaving Amazon to decide whether the buyer is eligible for a refund.
It's a good practice to constantly monitor your buyer-seller messaging to see if any customers have contacted you regarding their order.
How A-to-Z Claims affect Amazon sellers
If you are unable to resolve any issues a customer may have, you run the risk of damaging your overall account health and order defect rate if the Claim is granted in favor of the buyer. Not only will your metrics take a hit but you will need to refund the buyer in the case you lose the Claim.
If you receive too many Claims that are decided against you and your order defect rate goes above 1%, your seller account is at risk of becoming suspended or worse, permanently banned.
These Claims are not to be taken lightly. If an Amazon customer is unhappy with your product or service, they will not hesitate to do everything they can to get their money back.
When an Amazon buyer can file an A-to-Z Guarantee Claim
Fortunately for sellers, buyers cannot just open an A-to-Z Claim for any reason or at any time.
According to Amazon, here are the two buyer issues that qualify for a Claim:
Item has not been received by buyer
Example: You fail to deliver an item within three calendar days of either the maximum estimated delivery date (EDD), or the date of delivery confirmed by a valid tracking link, whichever is sooner.

Buyer eligibility criteria for filing a Claim:
Buyer has waited until EDD +3 days and first contacted you through Buyer-Seller Messages; and
You and the buyer do not resolve the issue(s) within 48 hours of the Buyer's first message.
Item did not meet buyer expectation
Examples:
(i) The item received by the buyer was damaged, defective, materially different from what was ordered, or the buyer changed their mind and returned the item consistent with Amazon's return policy, but was not refunded or was refunded in the wrong amount.

(ii) The buyer wants to return an item internationally but you did not (1) provide a domestic return address, (2) provide a prepaid return label, or (3) offer a full refund without requesting the item be returned.

(iii) The buyer has been charged more than the purchase price due to extra charges (for example, Customs charges) not covered by you as the seller.

Buyer eligibility criteria for filing a Claim:
Buyer has contacted you through Return Request; and
You and the buyer do not resolve the issue(s) within 48 hours of the buyer raising a return request.
If you do not respond promptly and/or resolve the customer's issue by issuing a refund, the buyer has the right to open an A-to-Z Claim against you.
As an Amazon seller, especially through FBM, you need to offer stellar customer service. Even if you believe the customer is in the wrong, it is easier to try and meet their needs to avoid going through the process of dealing with a Claim.
The A-to-Z Claims process
As mentioned above, you have an opportunity to resolve the issue directly with the customer — which is highly recommended unless you truly believe the customer is wrong or is trying to scam you. If the issue is not resolved within 48 hours of customer contact, they can open a Claim.
Once a customer has filed a Claim, there are four possible outcomes:
1. The buyer withdraws their Claim and there is no impact on your account health or ODR.
2. You can choose to refund the customer while the investigation is still open. This will close the Claim and no further action will be required of you.
Note: Once the Claim is opened, your ODR will still be negatively impacted even if you refund the buyer. This is why it is important to do so before the buyer files a Claim.
3. Amazon will manually begin their investigation into the A-to-Z Claim and determine if the Claim should be granted in favor of the buyer or the seller. During the investigation, Amazon may ask you for additional information regarding the Claim. If you do not respond to Amazon within 48 hours, the Claim will be granted in favor of the buyer which will hurt your account metrics.
4. Amazon will automatically grant the Claim in favor of the buyer if any of the following criteria are met:
The order did not have a tracking number

The customer did not receive a response from you after contacting you through buyer-seller messaging or a return request

The order was not shipped by the expected shipping date

The order was not delivered by the estimated delivery date
How to handle an Amazon A-to-Z Claim
First things first: don't panic. Before responding to a Claim, assess the situation. Note down all of your thoughts regarding the Claim, make notes as to why you think the Claim should go in your favor, and support your notes with evidence related to the transaction.
According to Amazon, this is the type of information they may seek from you during the investigation:
For delivery-related Claims: Dispatch method, proof of delivery, tracking number, and carrier details.

For returns-related Claims: Eligibility of return request, domestic return address, returns shipping details (such as return label)

Any correspondence between you and the buyer that proves you spoke to the buyer or received an email message from the buyer with an acknowledgment of receipt of the order and/or satisfaction with the transaction.
Make sure you respond to Amazon's requests within 48 hours or the case will be closed and granted in favor of the buyer. The only reason you should not reject an A-to-Z Claim is if you truly believe the buyer is in the wrong or has made a fraudulent Claim.
Some buyers may claim that they never received the package even if they did. Unfortunately, some will attempt to game the system to get items for free. This is why it is very important to always include tracking information such as carrier and tracking numbers so you can prove the item was successfully delivered.
How to file an appeal
If Amazon grants the Claim in favor of the buyer, you have 30 days to appeal the decision. If you do not appeal within 30 days, the case will be permanently closed and any negative impact on your ODR will not be reversed.
How to know if a buyer has filed a Claim
If a buyer opens an A-to-Z Claim against you, Amazon will send you an email notifying you of the Claim. Check your Manage A-to-Z Claims page often. To do so, go to the Performance tab and click "A-to-Z Guarantee Claims."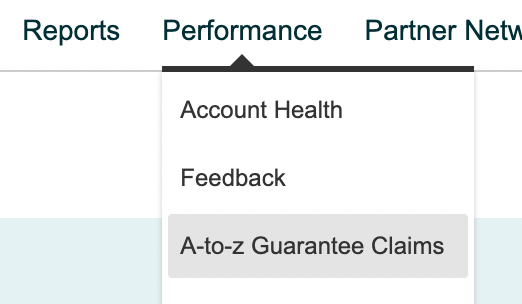 Ways to prevent A-to-Z Claims in the future
The best way to fight an A-to-Z Claim is to avoid them altogether. Here are some best practices to prevent buyers from filing a Claim against you:
Make sure your listings are accurate
One of the reasons a customer may open a Claim is because the product they received did not meet their expectations, based on your product listing. Manage customer expectations with strong listings. Make sure your product description is accurate and well-written. Include key details such as sizing and weight, and provide clear, high-quality images to avoid any confusion.
Securely package your products
Your products may have been in top condition when you shipped them out. But if your packaging is not great, it could potentially damage or alter the product before the customer receives it. Make sure items are securely packaged and properly protected with bubble wrap, tape, packing peanuts, and any other necessary materials.
Ship on time
We know this may sound obvious but do ship your products on or before the expected ship date! Amazon customers expect their products to be delivered fast and on time. If you believe there will be a delay in shipping, contact the customer immediately to notify them immediately. Once your item is shipped, make sure you confirm it in Seller Central.
Provide accurate shipping information
Enter valid tracking information in Seller Central so your customer can keep track of their package. If you do not provide valid tracking information, any Claims made will be granted in favor of the buyer.
Require a signature for high-value items
If you are selling an expensive item such as a rare book or piece of jewelry, make sure to require a signature when creating your shipment. This helps Amazon determine if a buyer received the item. Without a signature, it is harder to prove that an item was delivered to the customer.
Use Amazon's Buy Shipping Services
By using Amazon's supported carriers in Seller Central, sellers are protected against A-to-Z Guarantee Claims if they are related to delivery issues. Using the Buy Shipping Services also ensures that valid tracking information is provided as it will be automatically entered into the order.
Respond to buyer inquiries quickly
If a buyer contacts you via buyer-seller messaging, make sure you respond to their questions within 48 hours. If you do not respond, this gives the buyer a right to open an A-to-Z Guarantee Claim.
If they contact you about a refund or an item return, respond to their message with a solution as quickly as possible. For example, if the product arrived damaged and the customer provides you with an image as proof, it would be in your best interest to simply offer a refund to avoid any further issues.
It all comes down to your customer service skills and willingness to go the extra mile for your customer — even if they're in the wrong. In most cases, it makes more sense to just eat the refund cost and move on instead of dealing with the hassle and risk of a Claim.
Protect yourself against A-to-Z Claims
A-to-Z Claims are most likely to happen when you do not provide a good customer experience. We hope this article helps you understand why A-to-Z Claims can happen and how you can avoid them in the future!
Do you have any more questions about A-Z Claims? Have you received one before? Let us know in the comments!