This article was written by Jungle Scout ecommerce experts with some assistance from artificial intelligence.
In the highly competitive realm of selling on Amazon, it is crucial for sellers to explore every avenue to stand out from the crowd.
One effective strategy to significantly boost brand awareness and customer satisfaction is incorporating product inserts into your product packaging.
While product inserts can be a fantastic way to thank a customer for their purchase and a way to solicit honest feedback and reviews, there are rules set forth by Amazon that every seller needs to follow when it comes to product inserts.
In this article, we will dive into what Amazon product inserts are, Amazon's product insert policy, the dos and don'ts, and tips for creating effective product inserts.
What are Amazon product inserts?
Amazon product inserts are small pieces of printed marketing material that sellers include in product packaging.
Packaging inserts can be used to provide information about the product, assembly instructions, promote your other Amazon products, collect honest product reviews, or simply thank the customer for their purchase.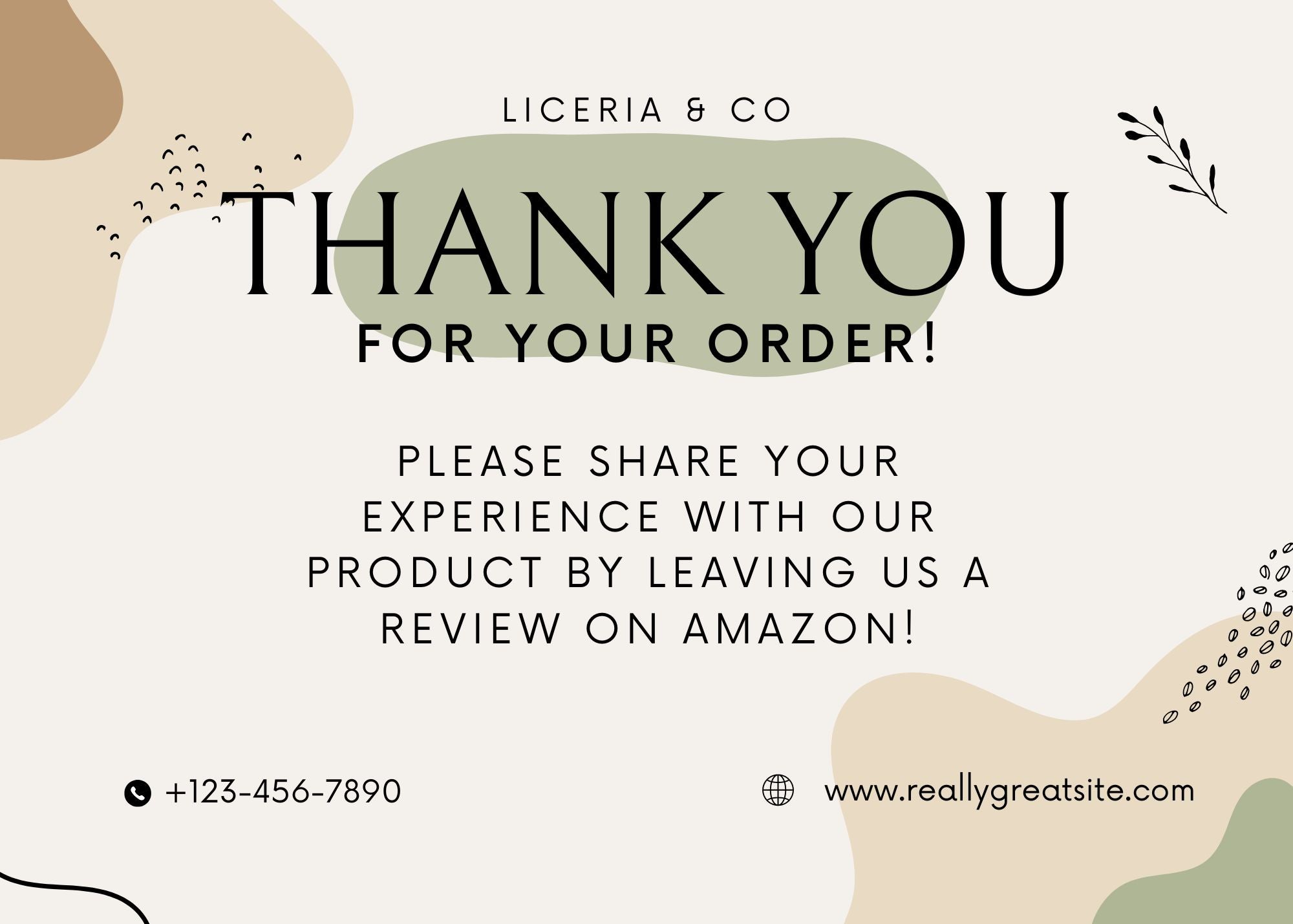 Product inserts can be a great way to connect with your customers on a personal level and to build brand awareness and loyalty.
How to add product inserts into your packaging
Adding inserts to your product packaging is also very simple. Once you have the design made (we'll go over how to create one later), download and send the file to your supplier, and they can print and put it inside your packaging. Make sure to tell your supplier to add an insert into each product package.
If you fulfill orders yourself, use a print service to print and ship you your product inserts to you. Before shipping out your orders, add an insert card into the package.
Below we go over some free graphic design tools, with a few of them that offer a print service as well. If you have a design file, you can find many services to print your cards such as Vistaprint, Zazzle, or even from a local print shop.
Amazon product insert policy
Before we go further and explain the best ways to use product inserts, let's go over Amazon's product insert policy to be sure you never violate any rules and risk your account.
Amazon's biggest concern with product inserts is sellers offering incentives to buyers in exchange for positive reviews or asking for specific feedback.
If you offer a customer a discount, refund, free gift, or any sort of compensation in exchange for a review, that is against Amazon's TOS, and your account will be at risk for suspension.
Amazon is very strict regarding reviews, as they want to be sure every review on Amazon is honest. Please review Amazon's customer product reviews in Seller Central policy to learn more.
Failure to comply with Amazon's rules can result in penalties, suspension, or even termination of your seller account. Familiarize yourself with the guidelines to avoid such issues.
Amazon also has a video within their Seller University that goes over product insert compliance.
READ MORE | How to Get Reviews on Amazon
How best to use Amazon product inserts
Now that you know Amazon's policy regarding inserts, let's review some dos and don'ts for your product inserts.
Amazon product inserts dos
DO say thank you.

This seems like a no-brainer, but simply saying "thank you" to a customer goes a long way.

DO include instructions.

If you sell a product that requires a bit more effort to use, include simple, easy-to-read instructions for them to follow.

DO list warranty/guarantee information.

If your product has a warranty, include the information on how the customers can make claims.

DO request a review (neutrally).

It's okay to ask for a review with a product insert as long as you follow the rules. So, ensure your review request is neutral, and your customer knows that every experience — good or bad — warrants a review on Amazon.

DO encourage buyers to stay connected.

Product inserts offer a great opportunity for customers to follow your brand on social media or subscribe to your newsletter. You can include a QR code to make things easier for buyers.
Amazon product insert don'ts
DON'T use manipulative language to get reviews.

Telling your customers that you're "a small, family-run business" or that they should "support products made in America" and then asking for a product review is seen as manipulative according to Amazon's terms of service.

DON'T cherry pick your customers for reviews.

Asking customers "If you had a positive experience with this product, tell us about it with a product review," on your insert is a BIG no-no. Even saying, "if you are unhappy with your purchase, please contact us before leaving a review," is against the rules. Amazon considers these types of insert-copy to be a form of cherry-picking, which violates the product review terms of service.

DON'T incentivize reviews.

Offering a gift card, warranty, discount, or any other benefit in exchange for a positive review — or any review, for that matter — is (again) against Amazon's terms of service. Be very careful with what you add to your product inserts, as Amazon can change its rules anytime. We suggest keeping it simple, thanking customers for their purchase, and asking them to leave a product review based on their experience.
How to create inserts for your Amazon product packaging
Creating your own custom product insert design is simple, with a free tool you can find online! While you can hire a graphic designer to create a design for you, if you are on a budget or have a good eye for design, make your own in just a few minutes.
Create a product insert using Canva
Canva is an awesome user-friendly graphic design platform that allows anyone to create unique design assets, even if you don't have any graphic design experience. It features thousands of templates, fonts, and graphics, making creating an insert for your product packaging simple.
While Canva does have a paid professional account type, the free version is perfectly capable and perfect for your design needs.
Create a free account and start browsing the premade designs and add your own branding to it.
You can also search in Canva for what you want to design. In this example, I searched for "product thank you card."

Canva brings up thousands of templates to choose from. Take some time to scroll through the options to see what would work best for your brand and products.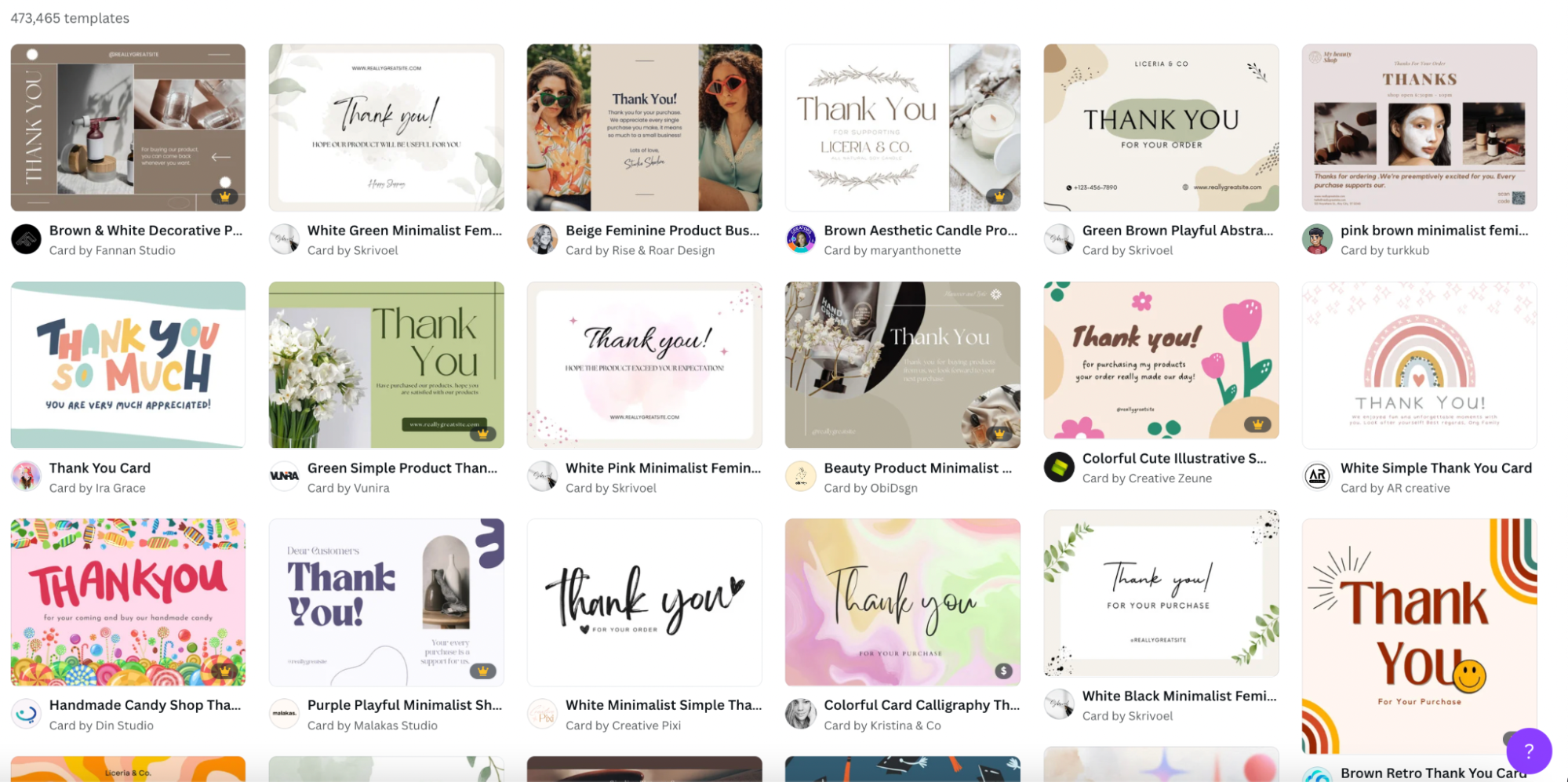 Once you find something you like, click on it, then click "Customize this template."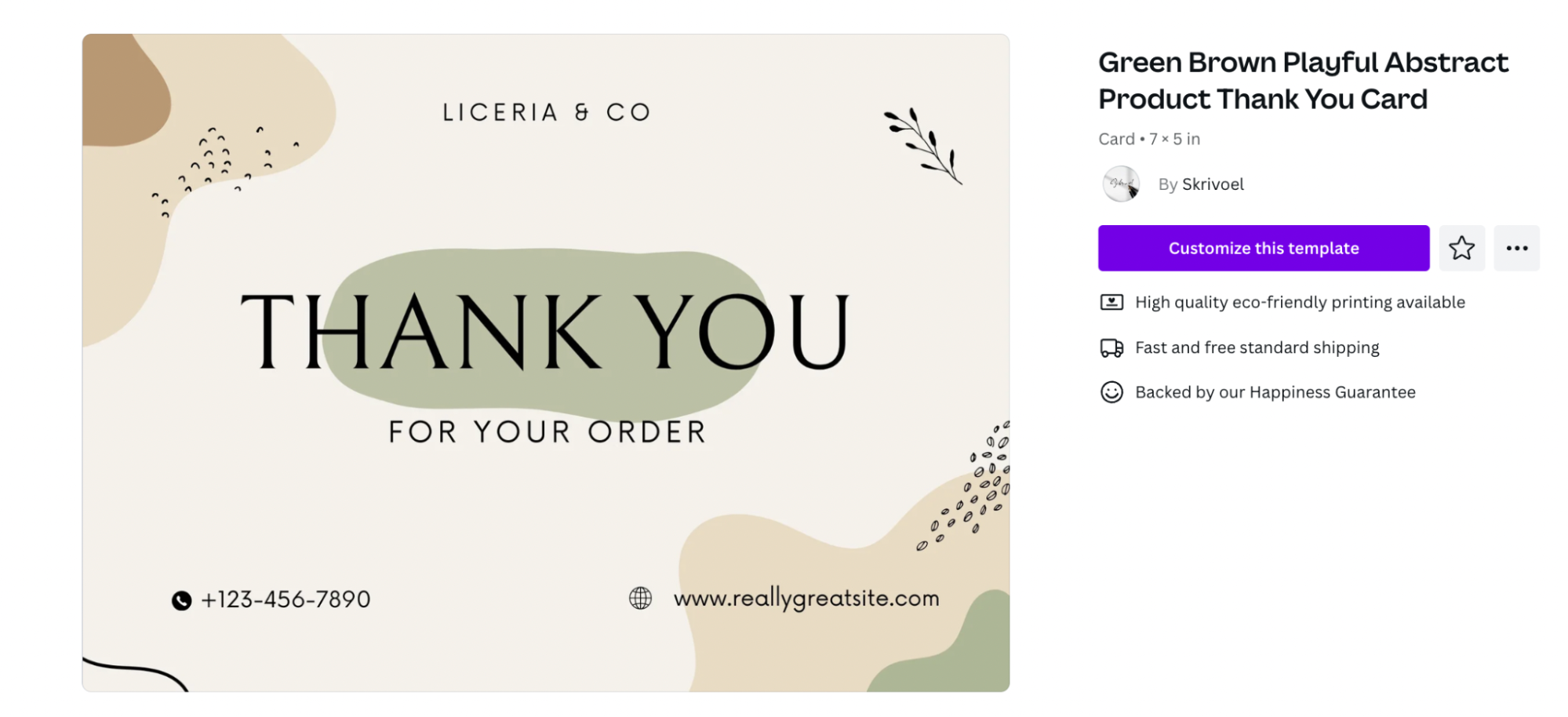 In the designer, you can customize it any way you want, with different colors, fonts, and other design elements. The cool thing about the Canva tool is that you can have them print your cards for you to add to your product packaging in case you fulfill orders yourself with FBM.
READ MORE | Amazon FBA vs FBM Comparison Guide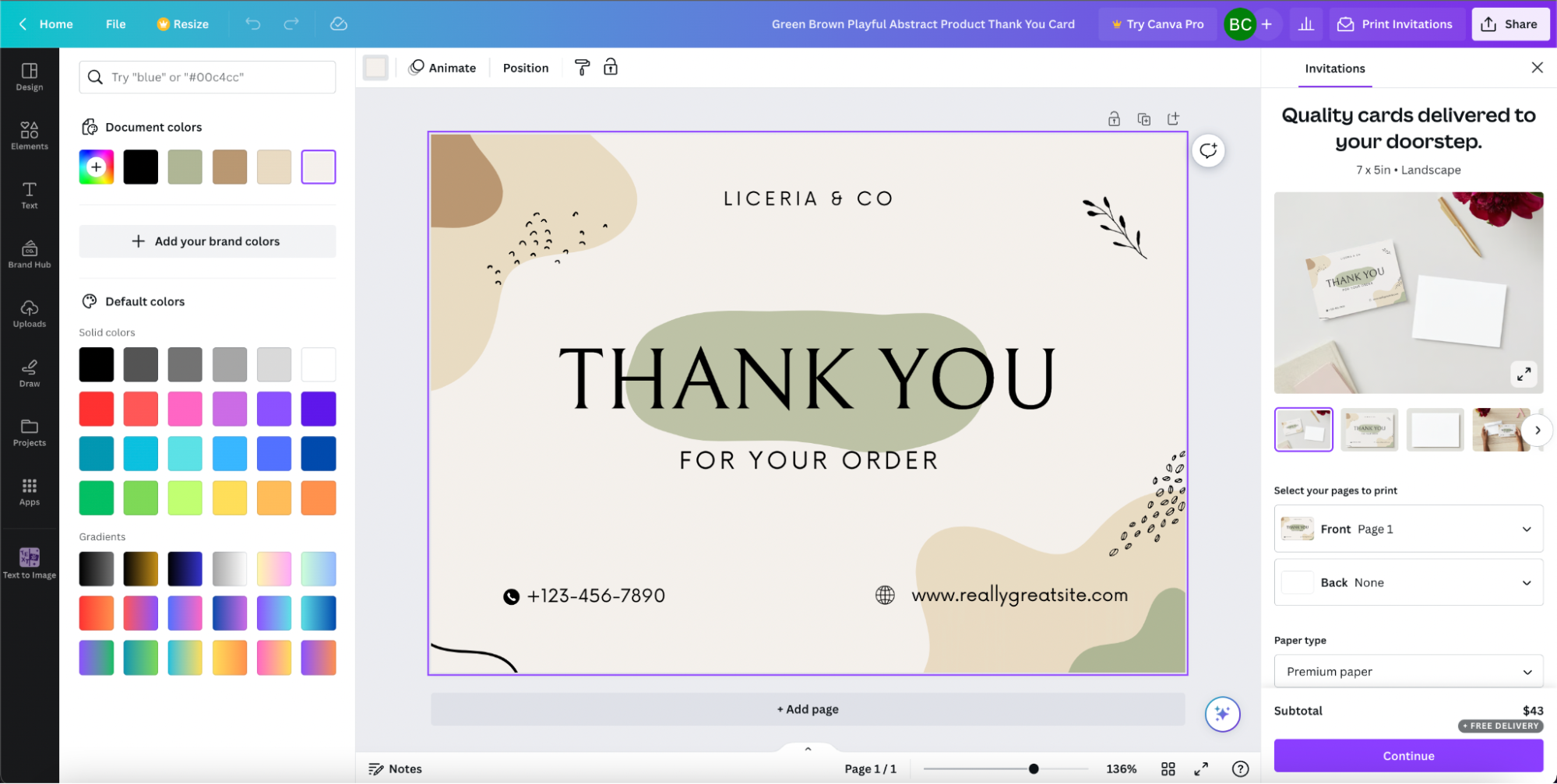 There are plenty of other free online graphic design tools so search around and find something that works best for you. Here are some other tools you can use to create a product insert:
Do you have inserts in your Amazon product packaging?
Amazon product inserts can be a great way to connect with your customers, build brand loyalty, and increase sales. By following Amazon's rules and creating informative and engaging inserts, you can use this marketing tool to its full potential.
Do you have more questions about Amazon product inserts? Let us know in the comments.
Explore new product opportunities with Jungle Scout and start making money on Amazon!