Imagine a business model that requires no inventory or startup capital, which partners with the biggest internet retailer in the world. It can be conducted from anywhere, and generates cash flow around the clock, into perpetuity.
Sounds pretty amazing, right?! And it is real. It's called the Amazon Associates program, and it is a free-to-use affiliate marketing program where you can promote and market any product selling on Amazon, and get a commission of 1-10% on any sale you generate for Amazon.
With Amazon's simple link-building tools, it is much easier to get started than you may think.
What is Amazon's affiliate program?
Do you have a blog, niche site, YouTube channel, or other social media account with a decent following? Well, you can use the Amazon affiliate program to recommend products you love to your audience — and get paid for it.
For example, I searched "best air fryers" on Google and found a website called Allrecipes.com that compared six of the best air fryers. As you go through the content, you will see links of where to buy these products.
When you click the (affiliate) link, you will be brought to an Amazon listing. And if you purchase that air fryer, All Recipes would earn a commission.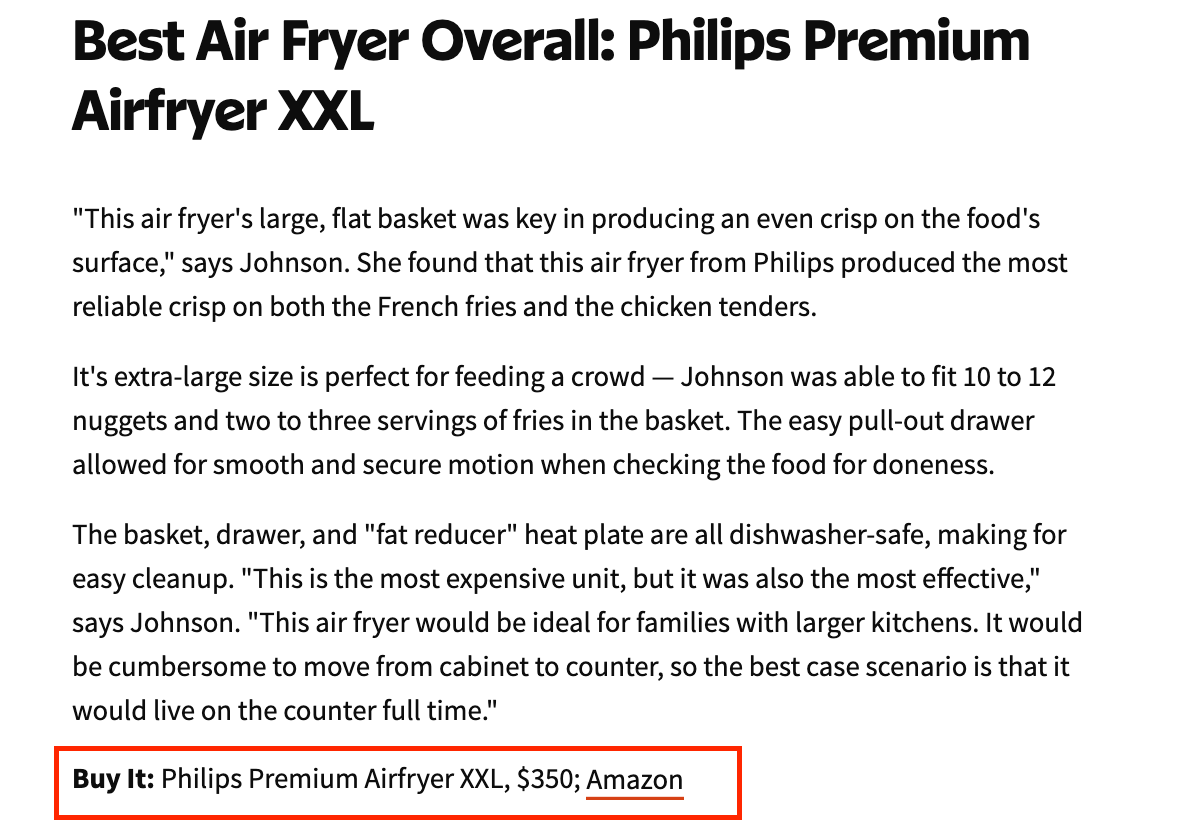 I know this because at the top of the post they have stated:
"Each product we feature has been independently selected and reviewed by our editorial team. If you make a purchase using the links included, we may earn commission."
This is required by law (and Amazon) that you disclose you may earn a commission if the reader makes a purchase using your link.
How does the Amazon affiliate program work?
The Amazon affiliate program helps content creators, publishers, and bloggers monetize their traffic and earn supplemental income. Simply put, Amazon will pay you a commission every time a customer makes a purchase using your affiliate link.
The coolest part is, even if the reader purchases a different product than the one you promoted, you will still receive a commission as long as they got to Amazon from your unique link (and as long as they make a purchase within 24 hours of clicking it).
In order to generate traffic that you refer to Amazon, you will need to have an audience. That can come in the form of a blog, niche website (such as a review site), YouTube, Instagram, TikTok, and other social media channels.
Promoting products on TikTok with affiliate links has become a very popular way creators are making money on the platform. If you are not yet on TikTok and create video content about different products, start posting there to drive more and more traffic.
You can also earn affiliate commissions from the Amazon Influencer Program, an extension of the affiliate program.
READ MORE | Amazon Influencer Program 2023 Guide
The type of content you create can vary as well depending on the medium you prefer:
Informational overviews

Product reviews

Product comparisons

Videos reviews/comparisons

How to guides
More specifically, you want to choose a topic that is highly targeted around one particular niche that you will write or create video about, in-depth, to establish authority.
Here is an example of a YouTube channel that focuses on the camera and content creation niche. They created a video comparing five video cameras and are promoting each camera in the Youtube description using Amazon affiliate links.
There's much more too, but the point is, you will need to create a wide variety of content within your particular niche to enable you to successfully refer consumers to Amazon.
How much do Amazon affiliates make?
Amazon Affiliates can earn good money with the program, but it all depends on the types of products you are promoting and the price points. If you promote products that sell for $20, you won't earn that much per sale. If you sell products priced at over $100, you can expect your earnings to increase.
However, it also depends on the commission rate. The commission rate is based on the product category.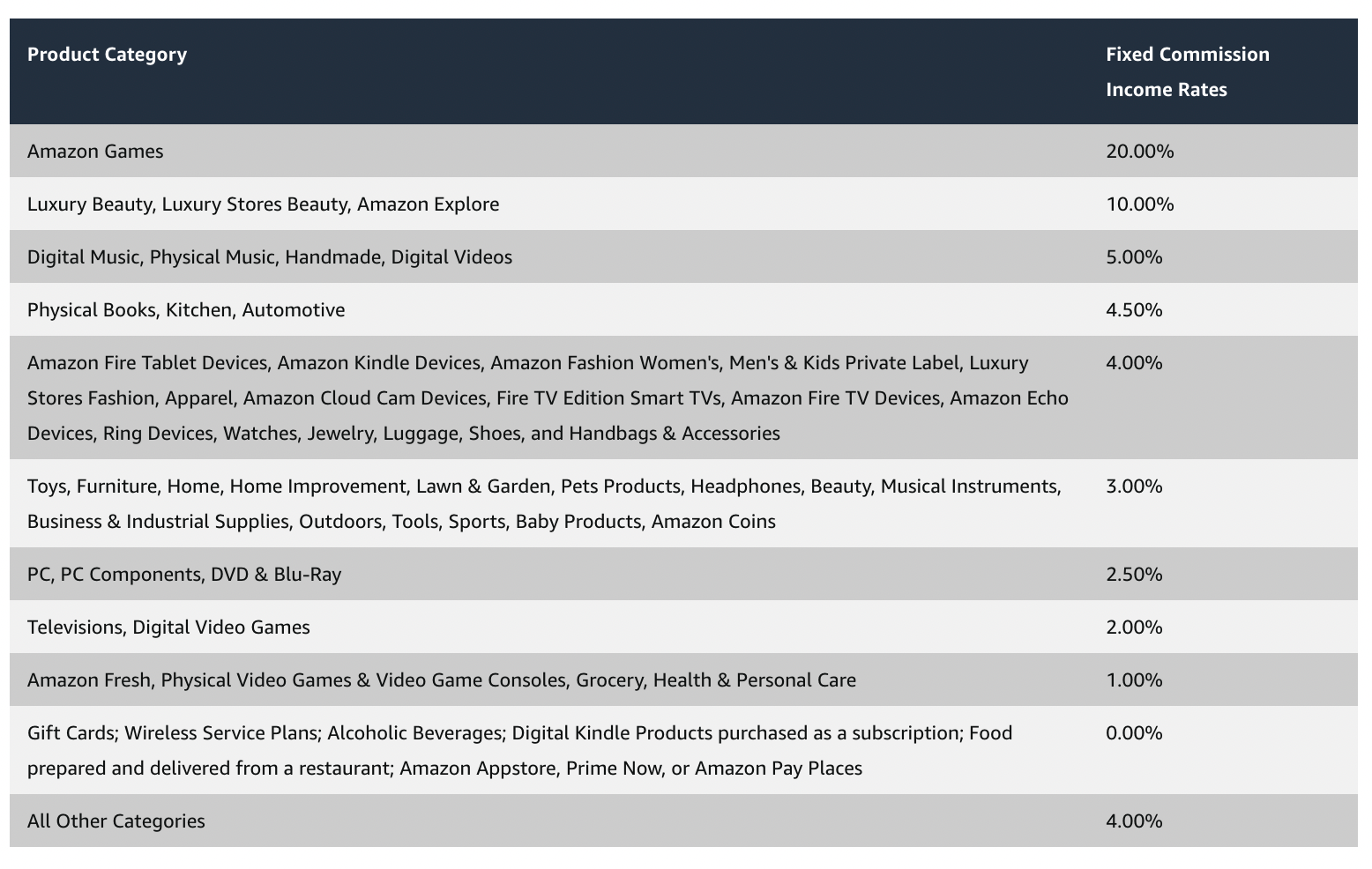 Most categories earn around 3-4% commissions, which sounds low, but if you receive many affiliate sales, you can earn a few hundred to a few thousand per month.
For example, if you promote a $100 product toy category, you will earn $3 per sale. If you can sell 100 of them per month, that's $300/month from just one product. The more you promote, the more you can earn.
Now if you're in the luxury beauty space, you'll earn 10% for each sale you bring to Amazon!
How to sign up for the Amazon Affiliate Program
Let's quickly go over how to get your Amazon affiliate program account up and running.
Step 1:
Go to the Amazon Affiliates website and click Sign up to create a new account.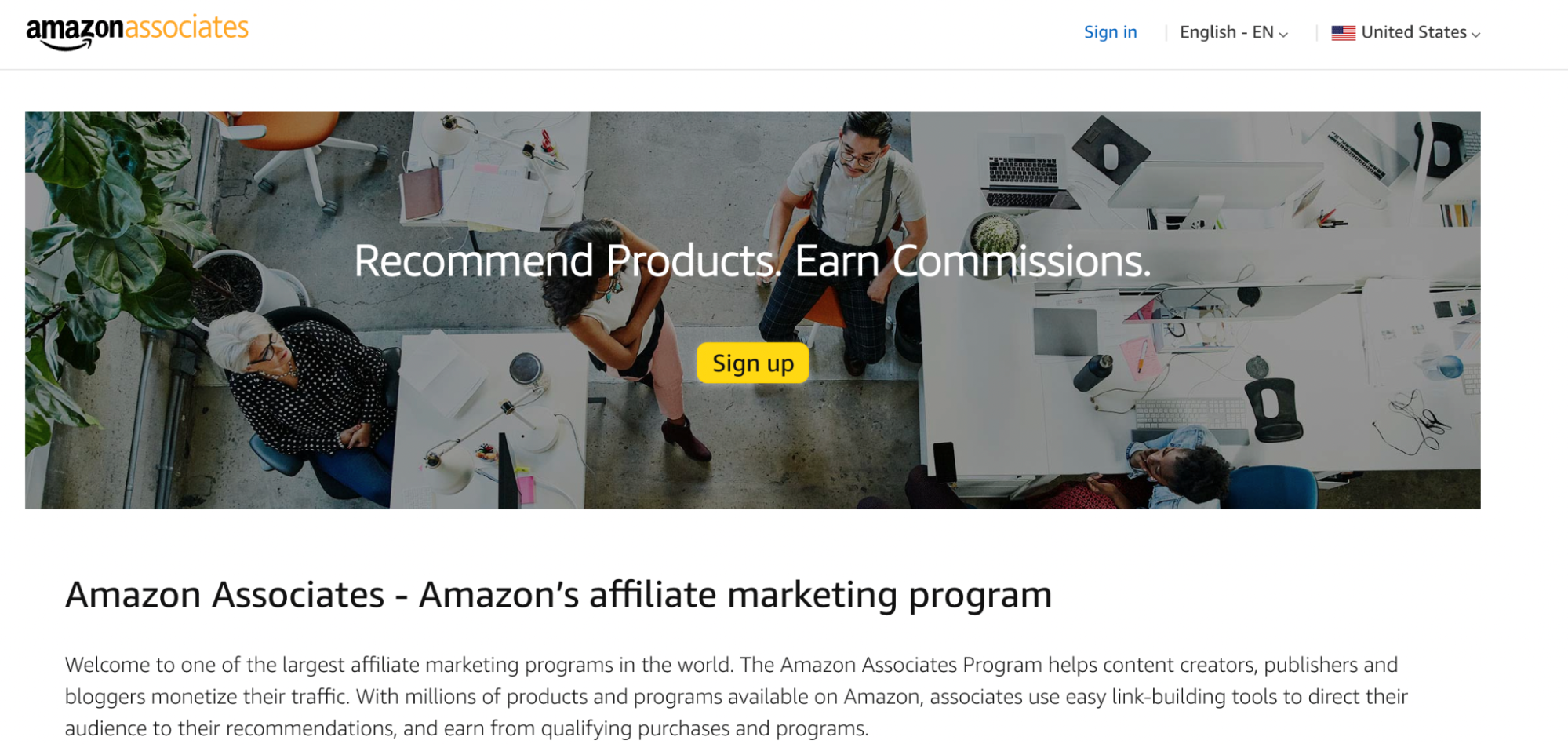 Step 2:
Enter your account information including your name and address.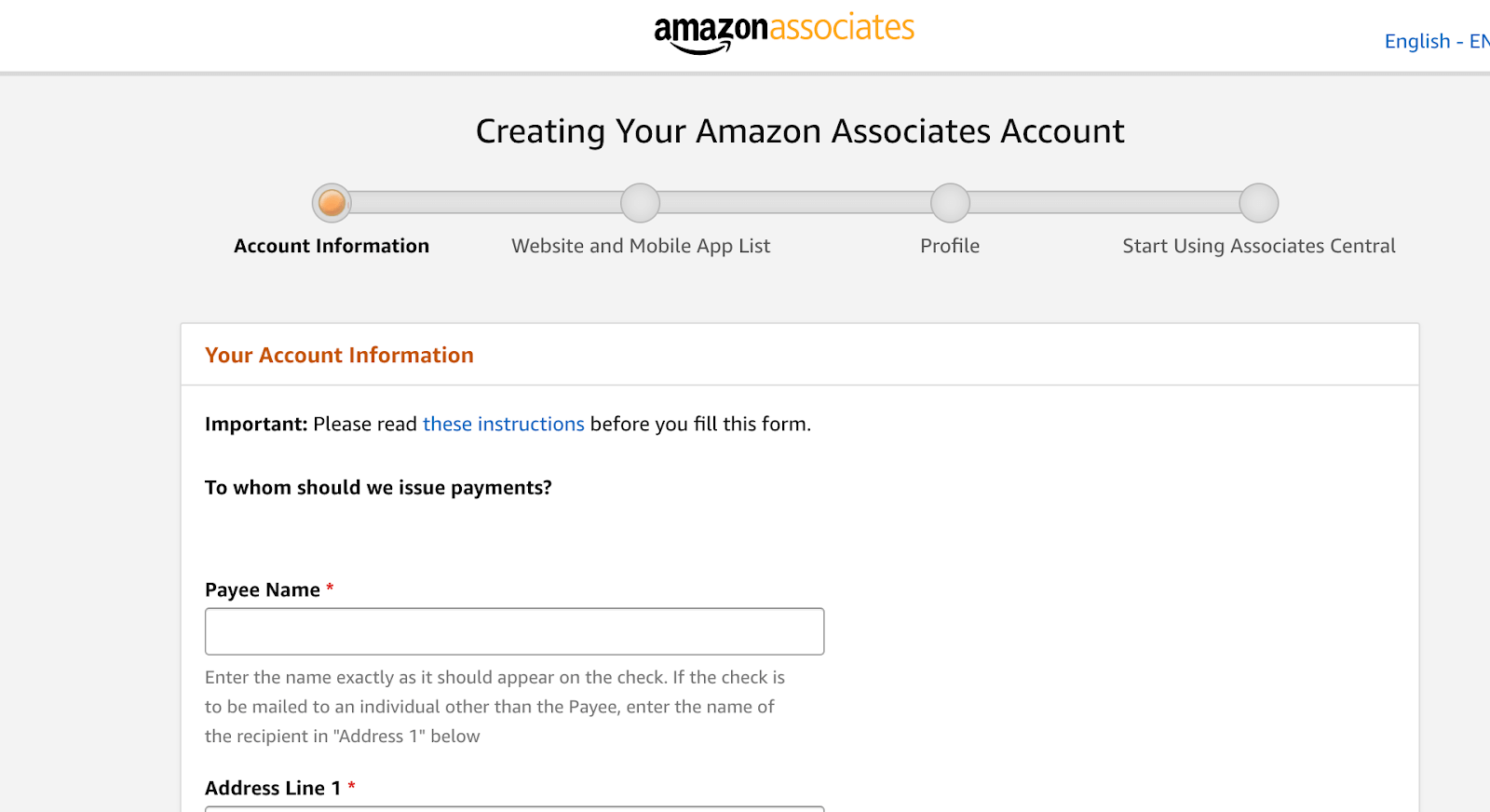 Step 3:
Enter your website, YouTube channel, social media accounts, etc. where you will be promoting products.
Step 4:
Enter your profile information. This will include how you will drive traffic to your site, what the topic of your website is, how many visitors per month you receive, etc.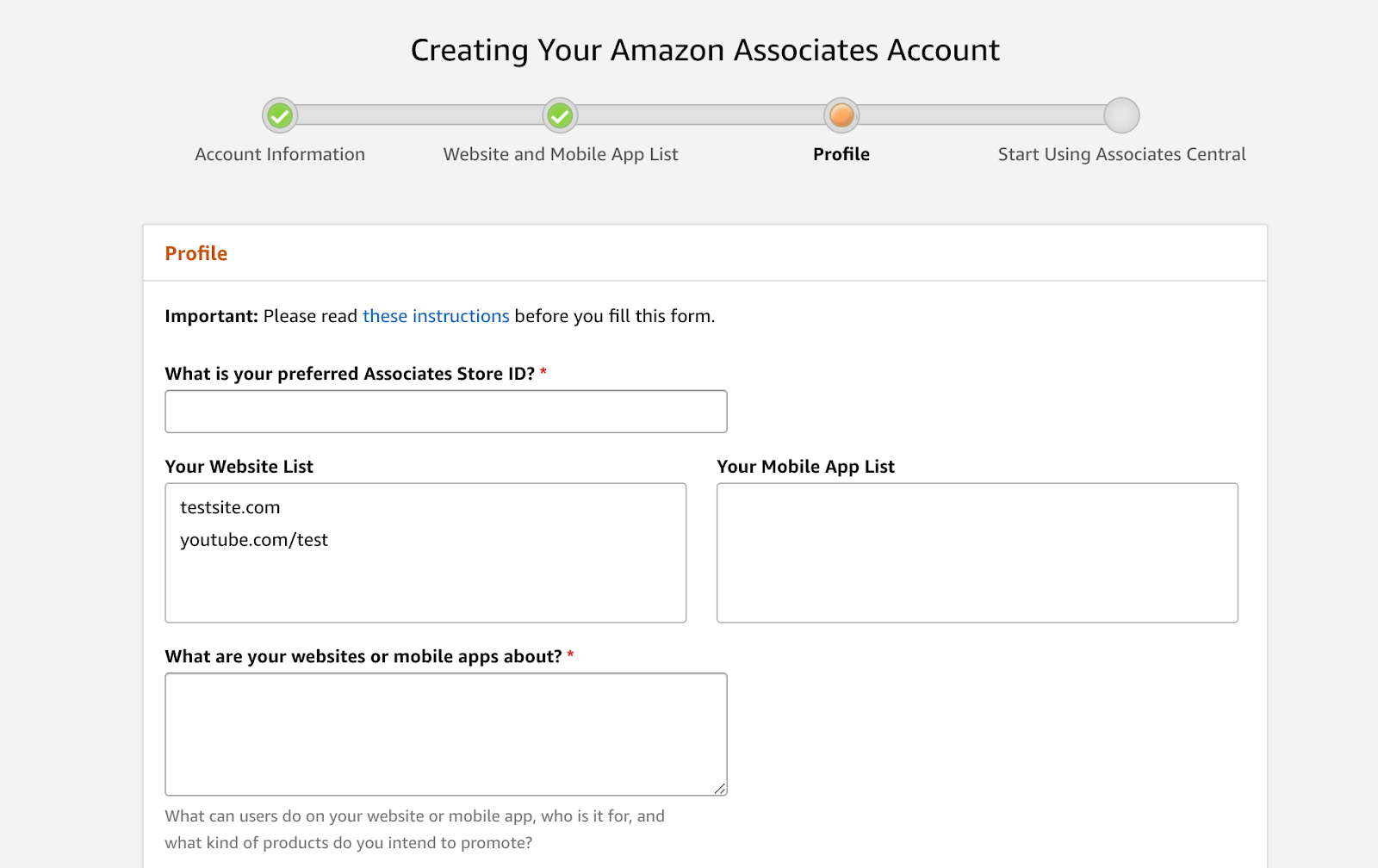 Step 5:
Choose to enter in your payment in tax information now or later. And then you are ready to start promoting some products!
How to create an Amazon Affiliate link
Once your account is set up, it's time to create an affiliate link. This is a very important step because if a customer does not use this specific affiliate link, you will not get paid a commission if the customer decides to purchase.
Once you are signed into your account, you will be able to see your performance dashboard and earnings overview.
Step 1:
On the homepage go to Product Linking > Product Links.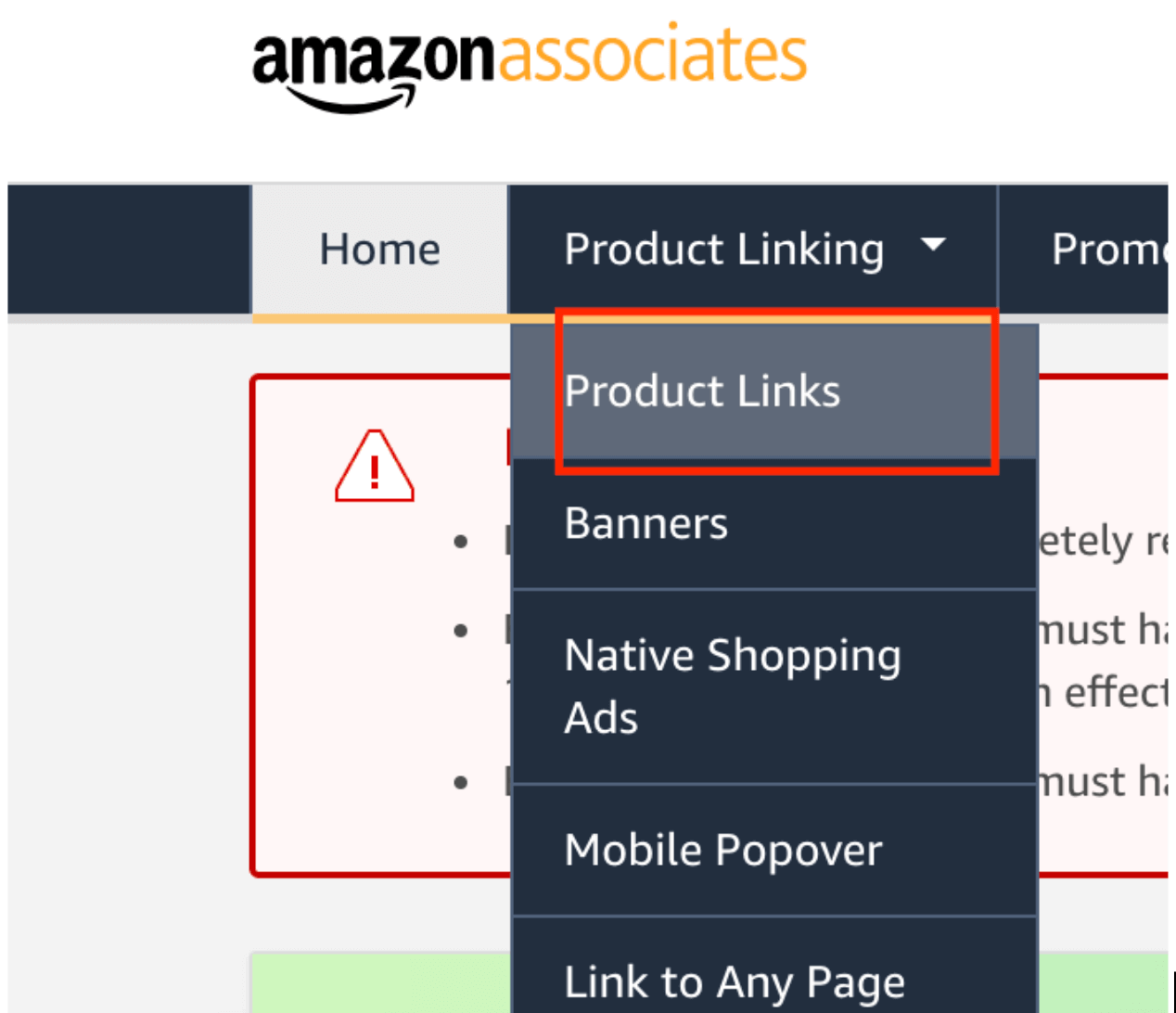 Step 2:
Keyword search for the type of product you want to promote or enter a specific ASIN.
Step 3:
Click on get link and choose the type of link you want.
You can choose from a Text and Image link, Text only (HTML, Standard, or Shortened Link), or Image only.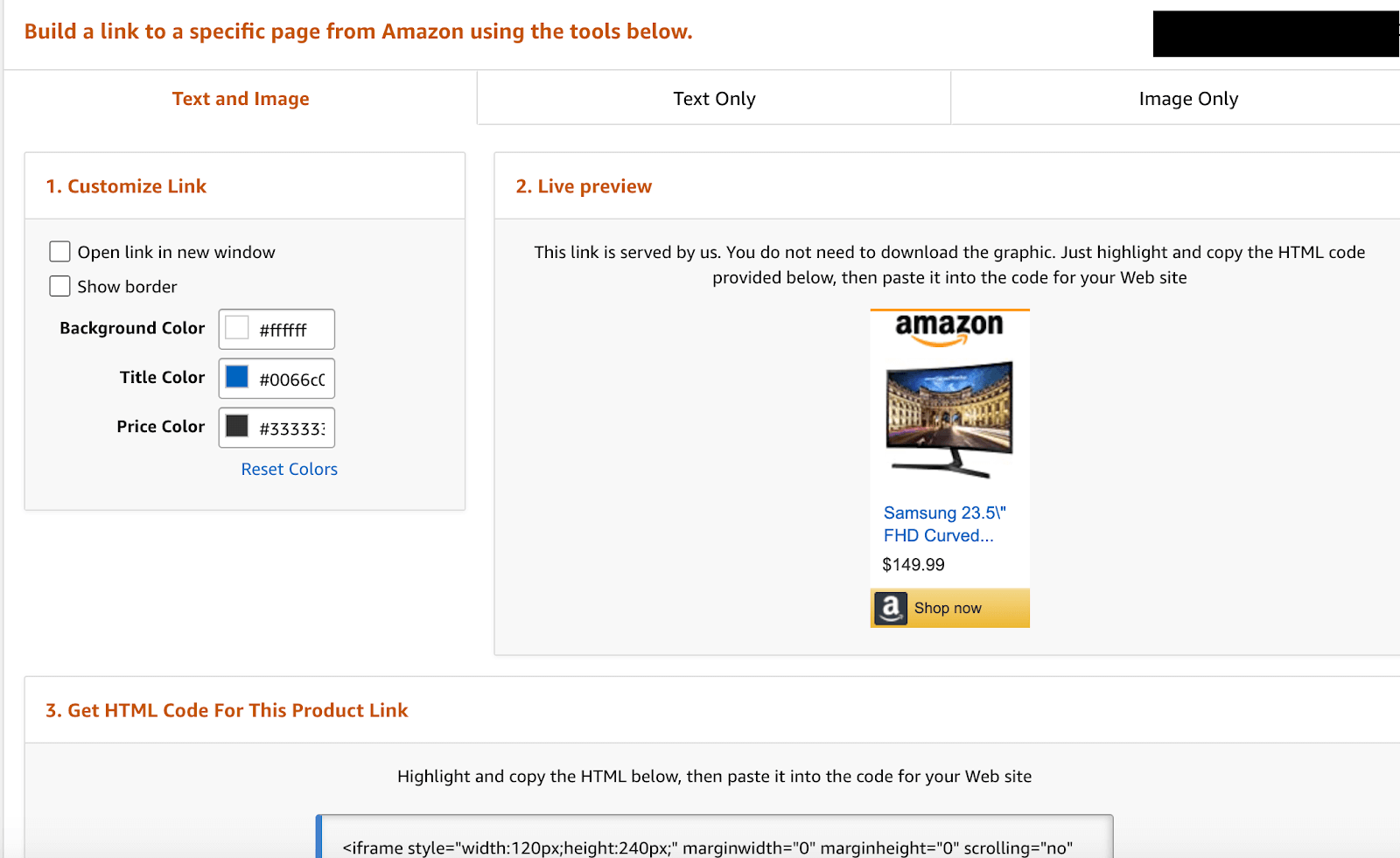 Step 4:
Paste the link on your website or wherever you are promoting an Amazon product!
How to make money as an Amazon affiliate
Now, let's explore three ways to get started with Amazon Associates:
Find a high-demand product or niche to promote
The sweet spot for a good niche is where low competition and decent interest intersect. However, there's nothing wrong with a few existing niche sites in the area that you are considering, as that usually validates the existence of a market.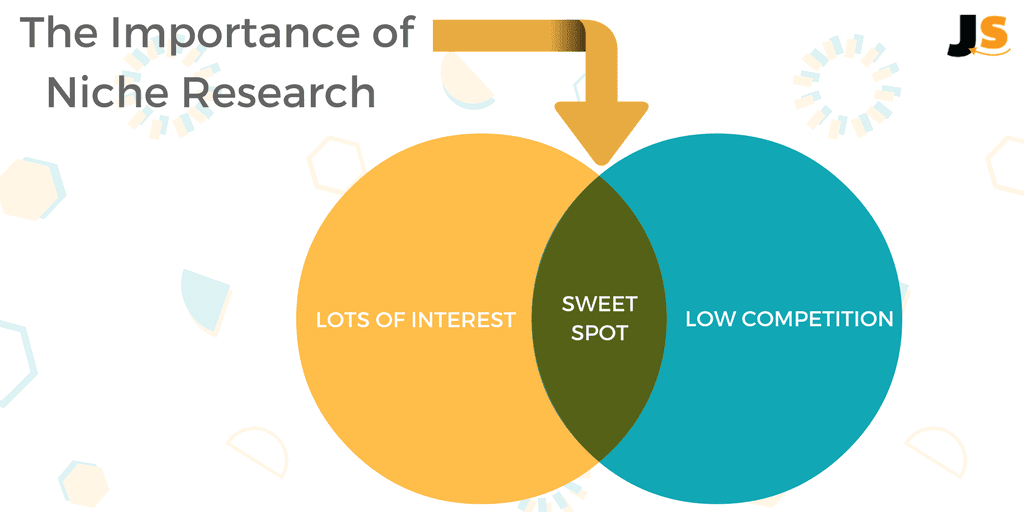 At Jungle Scout — an all-in-one platform for selling on Amazon — we share a similar concept in product research for physical products. A good product is one that has significant demand and limited competition. But we're not inventing new product ideas as something to sell on Amazon. Instead, we're looking for a product to promote.
Plus, creating a new product is an intricate and expensive endeavor.
Niche sites
For both niche sites and physical products, we rely on organic traffic. In other words, people who search for a product and base their decisions on the results that pop up.
For niche sites, AKA blogs, we look at Google traffic to determine how many people are searching and what they're searching for. For physical products, we rely heavily on Amazon's search traffic.
The easiest way to begin your niche research is by browsing Amazon Best Sellers, categories and sub-categories. You can also use Jungle Scout's Category Trends tool for this.
Of course, even though niche sites rely on Google search and keywords to get the message out to your target audience, it's also useful to do your Amazon research, too. This step is necessary in order to find out how many relevant products are being sold, and whether they are best sellers or not.
With that in mind, let's move on to keyword research and validating a niche.
Validating demand for your niche
In the chaos of online marketing, there are tools to organize and quantify the data for you. There are a variety of free and paid tools available to you for doing keyword and competitor research.
The three tools below — Product Database, Keyword Scout, and Opportunity Finder — are a part of Jungle Scout's suite of tools for Amazon sellers, but they can also be very useful for finding products you can promote in your niche via the Amazon affiliate program.
Product Database, Keyword Scout, and Opportunity Finder
These three tools are a part of Jungle Scout's suite of tools for Amazon sellers, but they can also be very useful for finding products you can promote in your niche via the Amazon affiliate program.
Product Database
Use Jungle Scout's Product Database to plug in certain categories and other criteria to find products you can promote.
Say you have or want to start a blog in the power tool niche. You can use the Product Database to search by the 'Tools & Home Improvement' category to find products you may be interested in talking about.
The reason I use power tools as an example is because they're typically priced fairly high. When promoting products using an affiliate link, it is best to aim for products at $50 and above since you will only get paid anywhere from 1% to 10% in commission.
In this particular category, the commission paid by Amazon is 3%. So, if you promote a product that costs $100, you will get paid $3 in commission when someone purchases using your link.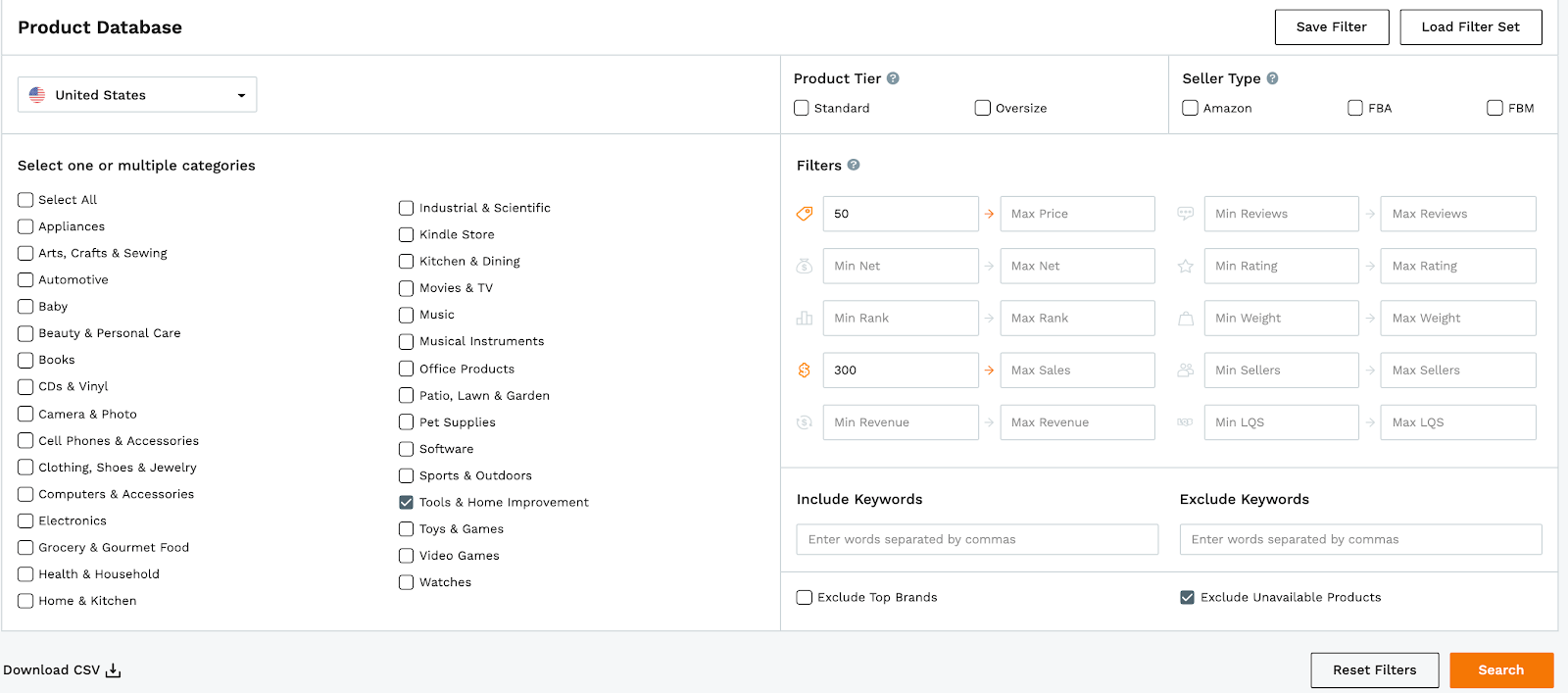 The only filters I used were selecting a category, adding in a minimum $50 price, and at least 300 sales per month. We want to be sure the product we promote actually sells!
Scroll through the results and look for products that you are interested in or maybe that you use frequently. The first product I see is a gallon of wood stain for around $80. Now, I can write a blog post or create a YouTube video comparing that stain with other brands.
Keyword Scout
Using Keyword Scout, you can search for a particular keyword within your niche to get an idea of what the search volume is on Amazon.
If you see your keywords have high search volumes (more than 1,000 per month), that may be a good niche to promote since you have lots of customers actively searching for those products.

Opportunity Finder
Opportunity Finder is a great way to find niches that you may have never thought of before. This tool allows you to turn a keyword into a market segment, and see in-depth data on sales performance, emerging trends, and competitive insights.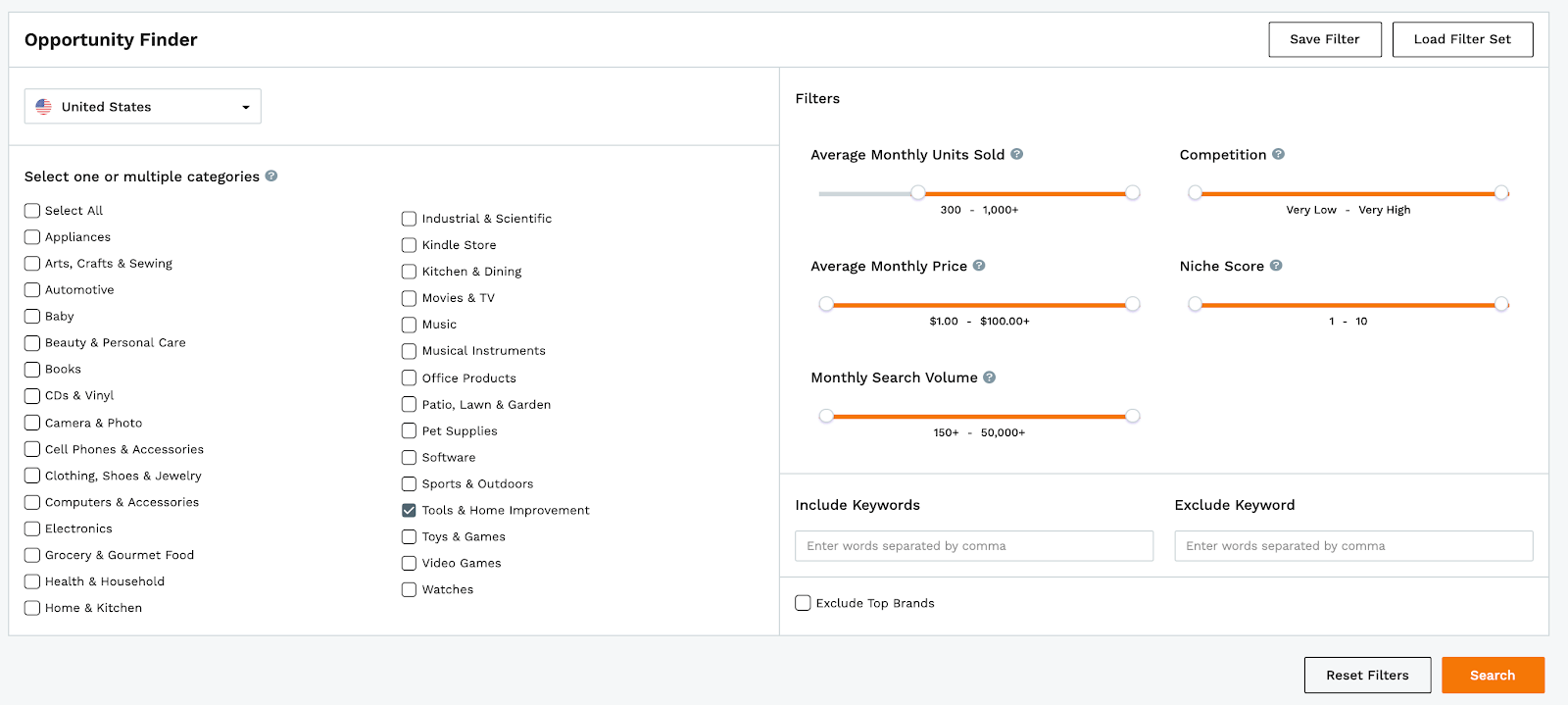 Other keyword research and search engine optimization (SEO) tools
There are also a variety of search engine optimization tools you can use , like SEMrush, KWFinder, Long Tail Pro, or SeCockpit. These tools are helpful to offer search volume estimates, the competition level for a niche or keyword, and ultimately the viability of a potential niche.
Some other tools which are great for keyword research are Keywordtool.io and Ubersuggest. Oh and don't forget to check out Google Trends to see if you can find any useful trends, or take a look at the trend graph for a niche you are interested in.
When using these tools, there are a few general best practices that he recommends, which are really useful to bear in mind.
Start broad and go narrow as you dig deeper.

Starting from a high level allows you to get an understanding of the niche landscape before becoming too invested in a particular niche. For example, you may start with a men's interest idea, narrow that down to men's grooming, and get even more granular with men's shaving or razor.

Explore the "best" and "review" keywords first.

These are what can be referred to as the "money" keywords. People who search for these keywords have done their due diligence and now looking to make a purchase. They are prime customers to land on your site and ultimately refer to Amazon for the sale (and the best part, the commission!).
Determine which products are good for affiliates
We know that we are looking for a niche that has some existing interest, without overwhelming competition. Our assumption is that we will be able to create a website marketing products within a niche, and start sending purchase-ready consumers to Amazon. When they buy, we make money.
Here are the criteria for finding a good product:
Plenty of products and related products on Amazon

Good price range ($50-$150)

Steady sales volumes (you can reference the

Best Seller Rank

on the Product Listing page). The best seller rank gives you an idea of how well a product sells. The lower the number, the better. For example, a product ranked #1 has much higher sales than a product ranked #200,000

People are leaving decent reviews of the product
The beauty of today's niche research is that there are tools to quantify how many people are searching for various keywords.
Generate interest in your product to bring in sales
Now that you've identified your niche, it's time to start generating interest for the niche-specific product you've chosen to promote.
Hone your content plan
There are some very straightforward steps you need to take once you have found a niche. Ultimately, though, the goal is to get your niche site ranking on Google for the main keywords you are targeting.
The way to get there is by building a content-rich site. You need to fill your website with high-value informational content, and conversion-focused product reviews to get people to purchase on Amazon.
At a high level, we recommend building your content plan as follows:
Create "main articles" (intended to convert users") at 2,000 words or more

Create supporting articles of at least 1,000 words

Aim to publish 30-40 articles as soon as possible

Don't over-optimize – Google can easily identify keyword stuffing or sites with "thin" content, and you may even get penalized

Get other websites to link to your page (also known as link-building, which has a profound impact on your search engine rank)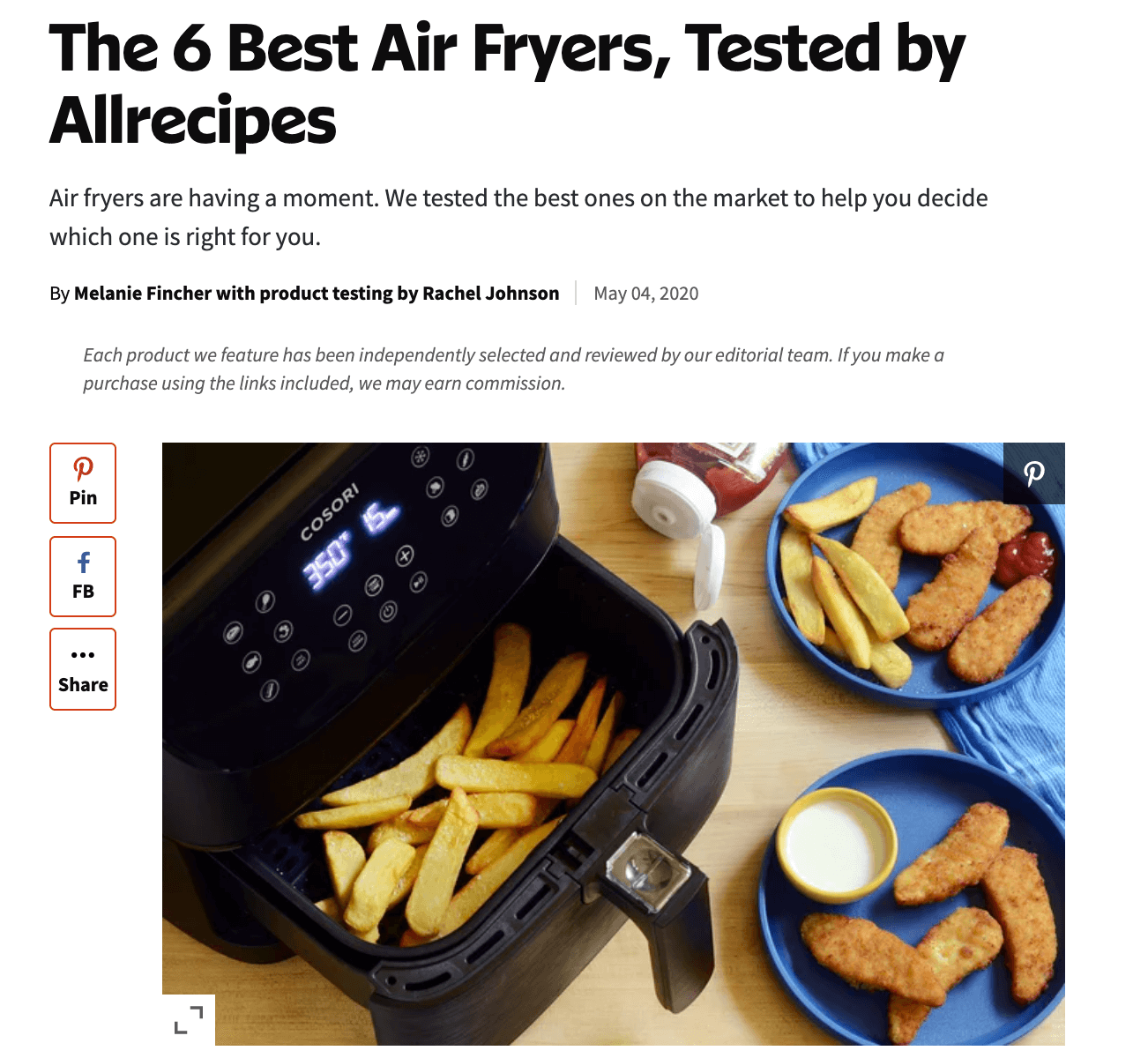 Sharpen your digital marketing skills
Continue to do research on digital marketing if it's not something you are familiar with. After all, you are creating a website which needs to gain traffic from search engines and other sources in order to refer people to Amazon and make you money.
When launching physical products on Amazon, you rely on Amazon's powerful marketplace to make sales and profits as a seller. You don't need to create your own website, but you do need to have a grasp of digital marketing in terms of Amazon optimization and Amazon pay-per-click advertisements.
Here are some useful resources and blogs that share articles about digital marketing and SEO:
Become an Amazon affiliate today
Now that you know how to build a business using the Amazon affiliate program, it's time to find your niche and start creating awesome content around it! Let us know in the comments how you do and if you started earning commissions on your affiliate products!