What is an ASIN?
How can I find a product's ASIN?
Where do I get an ASIN on Amazon?
Why is the ASIN so important to sellers?
What is reverse ASIN lookup?
FREE GUIDE: Three Easy Steps to Performing a Reverse ASIN Lookup Using Keyword Scout.
What is an Amazon ASIN?
ASIN stands for Amazon Standard Identification Number.
The ASIN is a ten-digit alphanumeric unique identifier that Amazon assigns each of its and its partner's products. Basically, it's how Amazon identifies the millions of products in its database.
For example, the ASIN for Brita Pitcher Filters is B0006GQ8RW. Meanwhile, the ASIN for Old Town Canoes' Recreational Canoe is B00NGIXAXW.
Note: for books on Amazon, the ASIN is the same as the book's International Standard Identification Number (ISBN).
How can I find a product's ASIN?
There are two ways to find a product's ASIN.
First, the easiest way to find the ASIN is simply scrolling down the page and reading the ASIN in the product's description.

Then, if you've got a keen eye, you might notice that Amazon puts the ASIN in each of the product page URLs, too: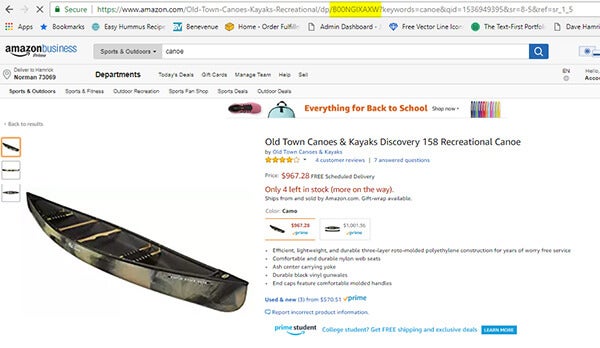 Where can I get an Amazon ASIN?
If you are an Amazon private label seller, you receive an ASIN as soon as your product is approved to sell on Amazon. You can find your ASIN on your product page (like I demonstrated above), or you can even check your Inventory page on Amazon Seller Central. It will be in its own column.

If you sell products that weren't your own creation, then your products will use the ASIN assigned to that product. That ASIN is shared with every seller of the product.
To add a product on Amazon, all you have to do is click on the "Add a Product" button on your Amazon Seller inventory page:

If you are selling books that you wrote and manufactured on Amazon, instead of an ASIN you will need an ISBN. You can purchase an ISBN online or through a local ISBN broker. Or, if you use a format such as Amazon's Create Space, Amazon will create an ISBN on your behalf.
Why is the Amazon ASIN so important to sellers?
There are a number of reasons that ASINs are so important to Amazon FBA sellers.
First, it makes identifying products on Amazon easier for you and everyone else. Plus, the ASIN is solely used for Amazon, unlike a UPC or GTIN which can be used in other retail environments.
But as an Amazon seller, ASINs are most useful for ASIN tracking and Reverse ASIN lookups.
What is reverse ASIN lookup?
Reverse ASIN lookup is a clever way of taking your competitors' products ASINs and using the numbers to look at the actual Amazon pay-per-click keywords they are using to generate sales.
More often than not, you will need to use an application such as Keyword Scout to perform a reverse ASIN lookup. Below, I'll show you how easy it is to do a reverse ASIN lookup using Keyword Scout.
Three easy steps to performing a reverse ASIN lookup, using Keyword Scout
Performing a reverse ASIN lookup is incredibly easy. In fact, all it takes is three quick steps to do it.
Note: you'll need to be a Jungle Scout subscriber in order to use the Keyword Scout tool.
1 – Find your competitor's ASIN.
I showed you two ways to do this above. Make sure you grab that number and copy it to your clipboard.

2 – Open up Keyword Scout and put the ASIN into the search bar.
All you have to do is open Keyword Scout and put your ASIN right into the search bar. Just hit enter! And if you don't want to search by ASIN, you still have the option to search by keyword, too. It's so amazing!

3 – Collect your keywords.
Once you hit enter, within seconds Keyword Scout will generate keywords that you can use in your own product's Amazon PPC campaigns.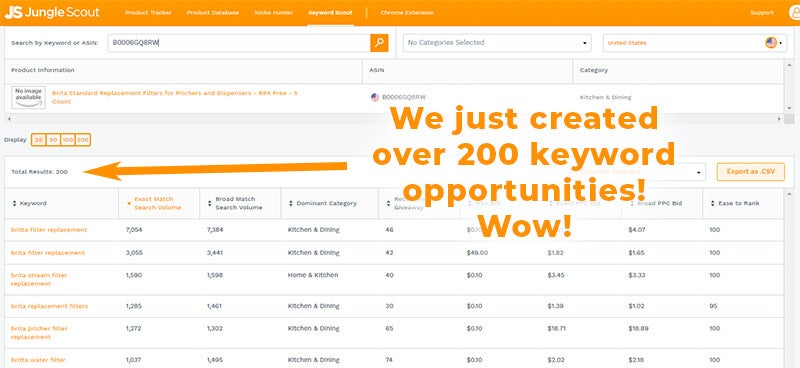 Conclusion
For many, the ASIN and Amazon reverse ASIN lookup can be somewhat of a mystery. But now you understand how the ASIN works and no doubt you're ready to start building powerful Amazon PPC campaigns with all of your new keywords.
Remember, you'll need to have a tool like Keyword Scout to do this. And the good news is, Keyword Scout is part of Jungle Scout's award-winning suite of Amazon selling tools.
With over 1200 reviews with an average of 9.5 stars on Trust Pilot, Jungle Scout — an all-in-one platform for selling on Amazon — is the world's most trusted software for Amazon product research, ASIN tracking, and business scaling methods!
If you're serious about selling on Amazon, get started today: