As you launch and grow your business, you may find yourself looking for Amazon business financing to expand your operations and increase your product offerings — but this usually requires additional working capital that not every seller or small business owner has.
However, as an Amazon seller, it's likely you'll face challenges when looking for financing, especially from traditional lenders such as a bank.
Fortunately, there are now many options available for Amazon sellers to access the fast funding needed to grow a business.
Options for your Amazon business financing
1. SBA Microloan
What is it?
The U.S. Small Business Administration (SBA) offers a microloan* to help businesses start up and expand. The SBA provides funds to designated intermediary lenders, and then qualified applicants can get a loan of up to $50,000.
Terms
Minimum Loan Amount:

$500

Maximum Loan Amount:

$50,000

Maximum Repayment Term:

6 years

Interest Rates:

8% – 13% APR (annual payment rate)
*Terms and rates for SBA microloans will depend on which lender you are using.
Eligibility
Must be a for-profit small business

Microlenders will lend to businesses that are not eligible for a traditional bank loan

No bankruptcies or foreclosures in the last one to two years

Many microlenders do not require any minimum personal credit score
Each intermediary lender has its own lending and credit requirements. Generally, intermediaries require some type of collateral as well as the personal guarantee of the business owner.
Pros & Cons
Pros:
Can be used for inventory or supplies, working capital, furniture, machinery or equipment

Catered towards for-profit businesses and certain not-for-profit childcare centers

Receive up to $50,000 (

average microloan is $13,000

)

Typically requires no minimum personal credit score from business owners

Some microloans offer business mentoring programs
Cons:
Proceeds from an SBA microloan cannot be used to pay existing debts or to purchase real estate

The application process may take a few weeks to months to depending on the organization

You'll need to have a written business plan

You must pProvide personal financial statements

You must provide business licenses and permits

Collateral or personal guarantee may be required depending on the lender
Who is this best for?
This option is great for small businesses, start-ups, and entrepreneurs with little to no business experience. It's also good for business owners with limited credit and financial records; or business owners with lower than average credit.
How to apply?
The SBA works with designated intermediary lenders across the country to provide financing to small businesses.
To find an approved intermediary lender participating in the SBA's Microloan program, click here.
2. Amazon Lending
What is it?
Amazon Lending* is an invitation-only program offered by Amazon to help small- and medium-sized businesses grow on Amazon. It offers various short-term financing options to qualified sellers that best fit their business needs.
Terms
Minimum Loan Amount:

$1,000

Maximum Loan Amount:

$750,000

Term Loan Length:

3-, 6-, 9-, or 12-month term loans with fixed monthly payments

Interest Rates:

Amazon does not disclose this information. Your rate will depend on your account and sales metrics, though sellers have reported receiving a rate anywhere from 3% to 17% APR
Eligibility
Have a seller account in good standing with good customer metrics

Show a steady increase in sales

Must be an active Amazon seller

If you are eligible for a loan, you will see it in your seller central dashboard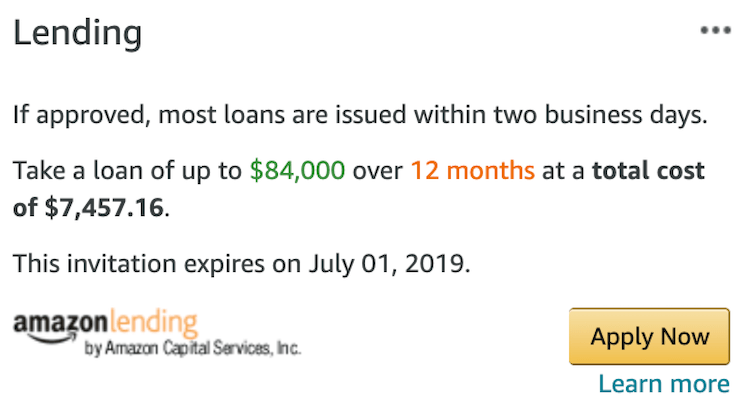 *Every seller's experience will be a little different. Amazon does not provide much information about the loans until you are eligible.
Pros & Cons
Pros:
No credit checks (but they may review your business credit history)

On average, it takes five days for approval, and some sellers stated they received a decision in minutes, with their funds disbursed on the same day

Funds are disbursed right into your seller account balance

No origination fees, application fees or prepayment penalties

Funding amount and terms are based on your metrics and sales history

Previous sellers on the

forums

have reported low rates

Great for sellers with a steady increase in sales
Cons:
Payments are taken out of your seller account balance; even if sales are low one month, your payment will still be taken outIt's invitation only, so you cannot apply

Used only for your Amazon business financing

They're short-term loans, which means the monthly payments will be high

Qualification doesn't equal approval

If your sales are stagnant or begin to decrease, you may have trouble paying down the loan
Who is this best for?
This is best for growing Amazon businesses with a consistent increase in sales. But only take the money if you really need it to increase your inventory. And ensure the inventory is fast-moving so you'll be able to pay back your loan on time.
How to apply?
You cannot apply. This program is invitation-only. You will see it in your Seller Central account if you're eligible.
3. Amazon Line of Credit
(Different from Amazon Lending)
What is it?
Amazon has recently partnered with Goldman Sachs to provide qualified sellers with a 'Business Line of Credit* built specifically for Amazon sellers. This is different from an Amazon Lending loan.
The line of credit provides Amazon sellers with the flexibility to request funds when the need arises, instead of taking one large lump sum.
Terms
Credit Limit:

Up to $1 Million

Credit Length:

Revolving credit; use and pay off as needed

Interest Rates:

Ranging from 6.99% to 20.99% APR
Eligibility
Neither Amazon nor Marcus by Goldman Sachs provides much information about the program

It will be another invitation-only program

When you click on the invitation, you'll be redirected to Marcus' website to verify eligibility and to complete your application

Amazon will share your merchant data with Goldman

, which will then use business revenue data to underwrite your line of credit
*Every seller's experience will be a little different. Amazon does not provide much information about the loans until you are eligible.
Pros & Cons
Pros:
Another financing option built by Amazon and Goldman specifically for Amazon sellers

It's more flexible than an Amazon Lending loan

Lines of credit up to $1 million

The application process is fully digital and can be done in minutes (most customers will get an answer in real time)

Fixed interest rates
Cons:
Credit rates may be very high

They charge a maintenance fee if you don't use at least 30% of the credit line

There are late-payment fees

It's invitation-only

Amazon will not control the underwriting process
Who is this best for?
This is good for growing Amazon businesses with a consistent increase in sales. The line of credit is more flexible than taking an Amazon Lending loan so you can use the cash when you need it.
How to apply?
You cannot apply. This program is invitation-only. You'll see it in your Seller Central account if you're eligible.
4. Fintech Lenders
As more and more business is being conducted online — on Amazon and many other e-commerce platforms — it can be difficult to secure a loan you need from a traditional source such as a bank or a credit union.
The difference with Fintech lenders is that they give loans or lines of credit to e-commerce businesses just like yours. The benefits include providing much-needed growth capital to take advantage of inventory deals, very fast approval, and fast funding.
Example Vendors Include:
A one-of-a-kind fintech company offering unique growth capital to Amazon Sellers with no required monthly payments
They do not charge sellers any interest, they only take a small percentage of profits for as long as you use their money
NO credit checks and no personal guarantees
Funding is based on your Amazon sales
They're backed with $100,000,000 to help fund successful Amazon sellers
They will double your capital and invest $5,000-$5,000,000 in your Amazon business
Payability Capital Advance
Receive up to $250,000 in as little as 24 hours

Fees are typically between 0.5% and 1% per week, with no origination fees, so you can pay your advance back sooner and lower your cost

Payability's Instant Advance is meant to be used to grow your business by spending on marketing and inventory

Must have had a seller account for at least 9 months and average monthly sales of $10,000

Apply online

with your marketplace accounts and get funds in as fast as one business day
Kabbage
This is a r

evolving credit line

; use the cash as you need it

Receive up to $250,000

Many different loan-types available for all kinds of businesses

Is great for e-commerce businesses

Loan amount is based on your sales volume

You don't pay anything until you start to use the funds

Connect your bank account and seller accounts
Sellers Funding
They provide

working capital solutions to help e-commerce merchants run successful businesses

This program offers term loans, revenue advance, credit line, daily advance

Funds are deposited to your account in 1-2 business days

Approval depends on your sales performance

You must have at least six months of sales history on Amazon and sales should be at least $30,000 during that period ( an average of $5,000/ month); the company needs to be in good standing with Amazon

They will check your personal credit
5. Personal Loans
What are they?
Personal loans are often unsecured loans that can be used for a variety of different things (including business), with many banks and fintech lenders offering both secured (collateral required) and unsecured (no collateral required) loans.
A personal loan can be a good option for someone just starting out, without any sales history to get them a business loan.
Terms
Credit Limit:

Typically ranges from $1,000 to $35,000

Term Loan Length:

Typically 2-7 years

Interest Rates:

Based on your personal credit (the better the credit, the better the rate)
Eligibility
Based on your personal credit score, debt and income

When you search for personal loans, a variety of vendors will be available. Take the time to shop around for the best rates.
Pros & Cons
Pros
If approved, your funds are typically available within one business day

Pay the same amount monthly

Very convenient if you have no existing debt but not enough capital to start your business either

Great if you don't have any sales history
Cons
Typically, unsecured loans have higher interest rates

Your name, not your business is attached to the loan

They're typically used to consolidate debt, so if you struggle to manage your finances, a personal loan may not be a good idea

If you have existing debt, do not take out a personal loan

Rates can be extremely high, as they're based on of your personal credit score
Who is this best for?
This is a good option for individuals just starting out and who aren't eligible to take out a business- or sales-based e-commerce loan. They allow you to have fast access to cash so you can get started quickly.
How to apply?
There are a variety of banks and personal loan lenders available. Do a quick google search and you will find many tools to help you compare your options.
What is the right option for your Amazon business financing?
Advantages of using a non-traditional lender
Non-traditional lenders include fintech lenders, Amazon Lending, lines of credit based on e-commerce sales, etc., and they're more likely to understand the unique needs of your business — that the loan offered should be based on your sales performance and account health.
Advantages include:
Receiving your funds as quickly as possible

Not all fintech lenders will check your personal credit score

Approval is based on your online sales history

They offer more financing options with flexible terms than available from banks

You're not required to have a physical brick and mortar location

These types of lenders are designed for e-commerce businesses
By using a non-traditional lender, you'll have an easier approval process than going through a traditional bank.
Why you shouldn't go to a bank for a loan
If you've only been selling online for a year, you won't have the requirements banks usually look for.
In general, many third-party Amazon sellers don't have the traditional business plan, tax history, credit history, or even collateral that a bank will ask for.
Banks require many documents that you may not have as a newer e-commerce business (ie. two years of business credit history, bank statements, tax documents, etc.)

It's usually difficult to get small loan amounts under $100,000 from banks

Banks have traditionally been slow to understand e-commerce

It may take a couple of weeks to get approval for any financing
What if you're a brand new seller and don't qualify for a loan?
Selling on Amazon is a serious business and should be treated as such. Similar to starting any other type of business, selling on Amazon takes careful planning and research.
If you're just starting out on your Amazon selling journey and don't have a lot of money to start with, it may not be a good idea to jump right into borrowing money.
Many sellers got started by bootstrapping their way into a thriving and healthy Amazon business. You can do the same.
There are many ways you can get started for free or for very little money while continuing to reinvest the profits. One of my favorite ways to sell on Amazon, which requires very little — if any — upfront investment, is by selling used books.
Then, as your business grows and requires more capital to continue that growth, you should look into outside funding.
Start now
As you can see, there are now many options available for e-commerce and Amazon sellers to provide them with the proper funding options they need to start and grow a successful online business.
Therefore, when it comes to securing the right loan for your business, do your due diligence and figure out your specific business needs and goals.
Only borrow what you need and make sure you do not get caught up with bad, slow-moving inventory or you'll have a tough time paying down any loan you receive. (These types of short term loans are great for your best selling products to ensure you're always in stock.)
*Disclaimer: We are not affiliated with any of these lenders.
Note: It is not recommended to borrow more than you can afford.
If you have any other questions regarding Amazon business financing, leave them down below!