2022 Update:
In order to provide ecommerce entrepreneurs with all the information they need to succeed with their Amazon ventures—from launch, to first sale, to growth and scaling—we've updated our content for 2022.
This includes new data on the long-term success of Amazon sellers who launched their businesses with little to no money. Spoiler alert: selling on Amazon is still a profitable venture for aspiring entrepreneurs with minimal startup capital. Read on to learn why.
Looking to start an ecommerce business? Check out our updated guides for How to Sell on Amazon, How to Sell on Walmart.com, and How to Sell on eBay in 2021.
Did you know that you can get started selling on Amazon practically for free? This article will teach you everything you need to know in order to get started selling on Amazon without having to open your wallet.
Then, once you've gotten a feel for how Amazon works, you can start investing a little more into your business.
Let's take a look at how you can get started on Amazon for free.
How to sell on Amazon for free (in four easy steps)
To get started selling on Amazon, all it takes is four simple steps:
Find a free product to sell

. If you're like me, chances are you have a bunch of

stuff lying around your house

collecting dust. Why not sell it on Amazon?

Create a free Amazon account

. Creating an

individual seller account

on Amazon costs you absolutely nothing. All you need is to give Amazon a little information and you're good to go.

List your product on Amazon for free

. Amazon.com's product database has more than 300 million products. Therefore, chances are good that whatever you hope to sell is already listed. If it is, all you'll have to do is add your name to the list of sellers already offering the product.

Ship the product when it sells

. Once you make the sale on Amazon, all you have to do is ship the product to the end user.
Does it cost money to sell on Amazon?
While selling on Amazon can cost money, it is possible to do it without spending a dime (or, fewer dimes than you might expect).
In fact, in a survey of over 4,000 Amazon sellers, Jungle Scout discovered that sellers who started with less cash found success in the long run.
17% of sellers started selling on Amazon with $500 or less

32% of sellers started selling on Amazon with $1000 or less
Sellers who started small have a lot to say about what they've accomplished thanks to their success on Amazon. So far, they've achieved:
"Huge retirement savings, paid off house, buy cars with cash, travel first class."

"I was able to stay home with my kids until my youngest started kindergarten."

"Quit my full-time job in 2018. Tripled my income."
So, when starting out there are two main costs you need to consider: fees and the cost of your products.
What are Amazon's fees?
The two main fees you will need to concern yourself with are:
Referral fees

are Amazon's commission (usually around 15% of the sales price).

Individual per-item fees are flat fees you pay if you aren't a professional seller; you will have to pay $0.99 per item you sell.
Both of these fees are taken out after you make the sale. Therefore, you won't have to pay them up front.
Note: There are some other Amazon fees, but as long as you start off as an individual seller — a seller who sells fewer than 40 products per month — you won't have to worry about those just yet.
How to find a free product to sell on Amazon
If you're just starting out and are concerned about keeping costs low, we recommend finding used items around your home to sell.
Used books, kitchen items, toys, and sometimes even electronics are all great items that you can find around your home. You can quickly list these items on Amazon and if they are popular enough, might sell almost immediately after you list them.
Alternatively, you could make your own products. If you have a knack for crafting and design, consider Amazon Handmade and/or Merch by Amazon.
With Handmade, your product costs are the materials you use to create your goods. With Merch, aside from your time, there are no upfront costs.
How do you know if your product will sell on Amazon?
Before you list your product on Amazon, you want to make sure that it will actually sell. Fortunately, Amazon offers a way for you to "tell the future," so to speak. Here's how:
1. Check the product's Best Sellers Rank (BSR)
Amazon awards almost every single product in its product database a special score called the Best Sellers Rank (BSR). Products have a BSR for each category they are listed in.
And the lower a product's BSR, the better it sells. A product with a BSR of #1 will likely sell thousands of units per month versus a product with a BSR of #300,000, which might only sell a handful of units in the same time period.
When you are sourcing and listing your products, be sure to check the product's BSR. You can find it on the product listing page in the Description section. If it's low (or good), it could be a good opportunity for you to add your product to the listing to try to sell.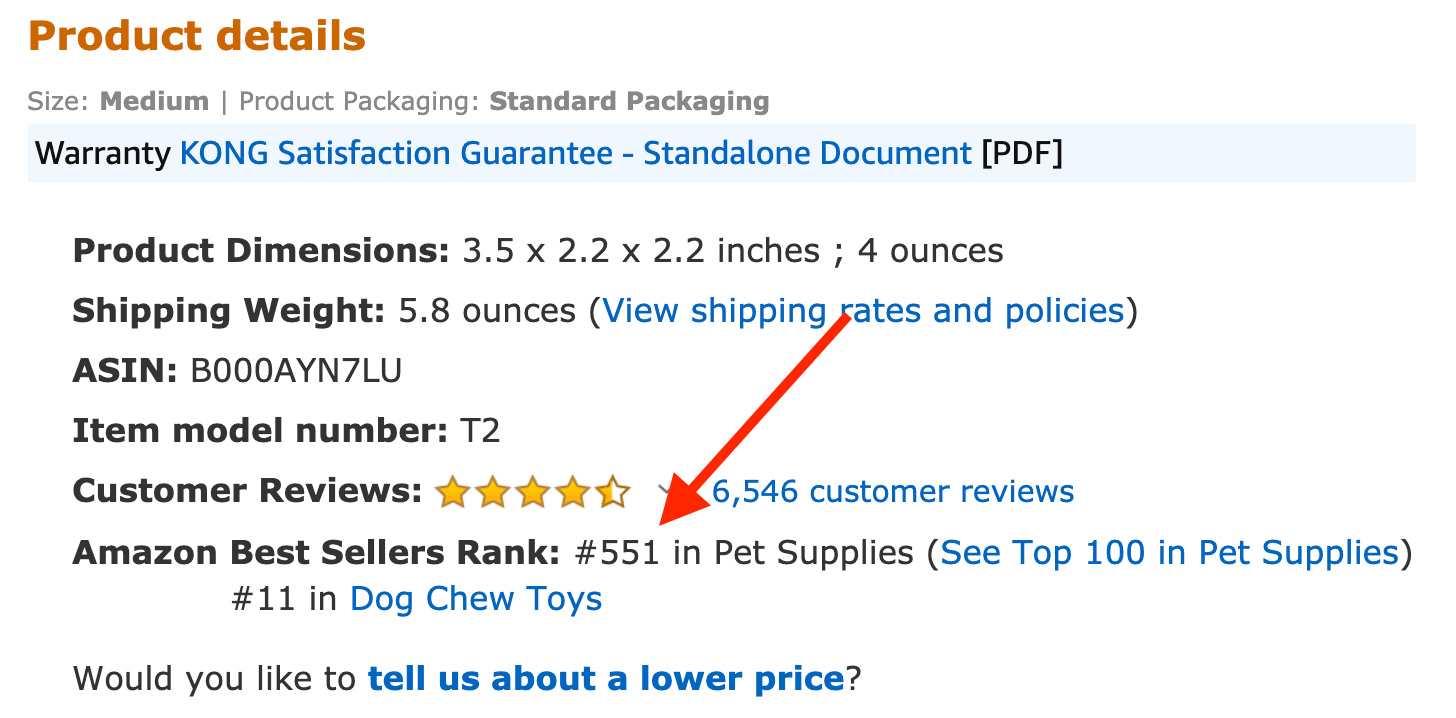 2. Estimate your sales
Put the item's BSR into Jungle Scout's free Amazon Sales Estimator, which calculates the average number of sales the product should have each month.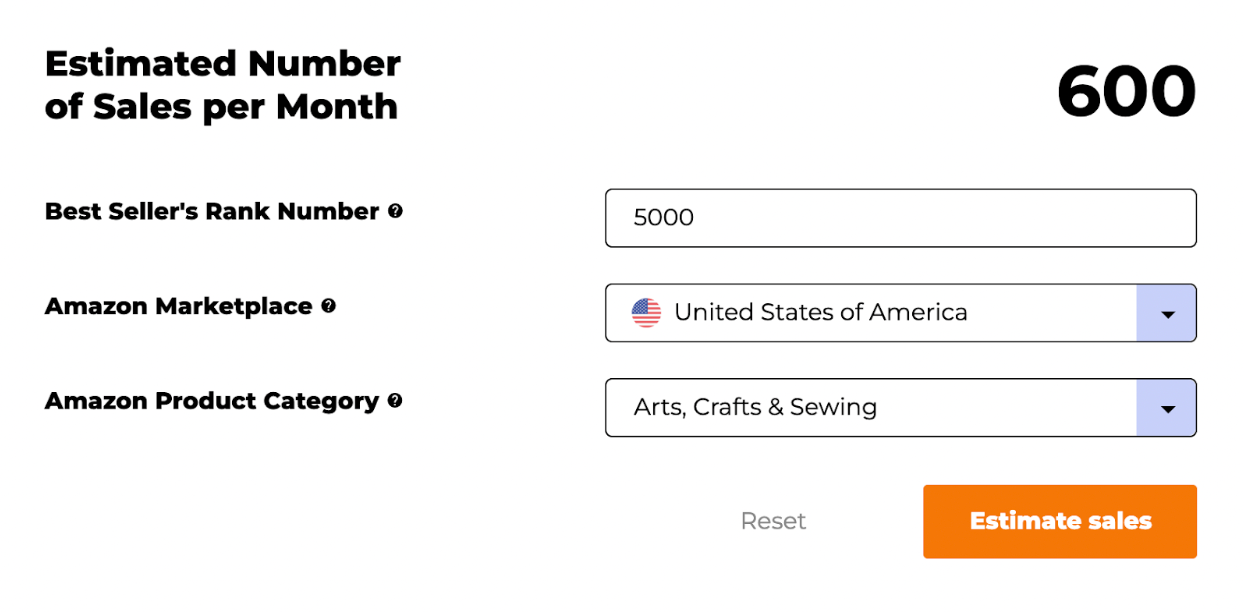 If you want to use a tool that has more functionality, consider using Jungle Scout's full suite of tools.
Jungle Scout includes the following tools which can help you build your Amazon business:
Product research tools to help you quickly find profitable products to sell on Amazon

Keyword Scout to help you find high-performing keywords

Supplier Database to help you find manufacturers to create your products

Alerts that notify you about changes to your listings, reviews, or when other sellers price their products lower than yours
3. Estimate how fast your product will sell
Once you know your product's BSR and the average number of monthly sales that product makes, simply divide the average number of monthly sales by 30.
The result is the number of times per day that product sells on Amazon.
So if you sell a product that sells 10 units per day (300 per month), chances are your product will sell the first day you list it.
How do I create a free Amazon account?
Follow the steps in our "How to Create an Amazon Seller Account in 2022" blog post to create an account. When given the choice between the professional seller account and individual seller account, choose the individual seller account.
If you choose the professional seller account, there will be a $39.99 subscription fee. However, as an individual seller, there is no subscription.
How to list a product on Amazon for free (in three quick steps)?
As mentioned above, almost every product you could possibly think of can be found on Amazon.
So, unless you are selling a brand new product that has never been seen before, such as a handmade product or a product you manufactured, all you need to do to list a product on Amazon is find the existing product's listing.
And the fastest way to do this is to simply go to Amazon just like you would if you were shopping.
1. Find the product's page on Amazon
In the search bar, type in the product that you wish to sell. You can give a description of the product or you can type in the product's UPC (or ISBN if it is a book). You may have to scroll through the search options to find the exact product that you hope to list.
2. Click the 'Sell on Amazon' button
Once you find your product, on the right side of the screen just below the product's Buy Box, you will see a gray button that reads 'Sell on Amazon.'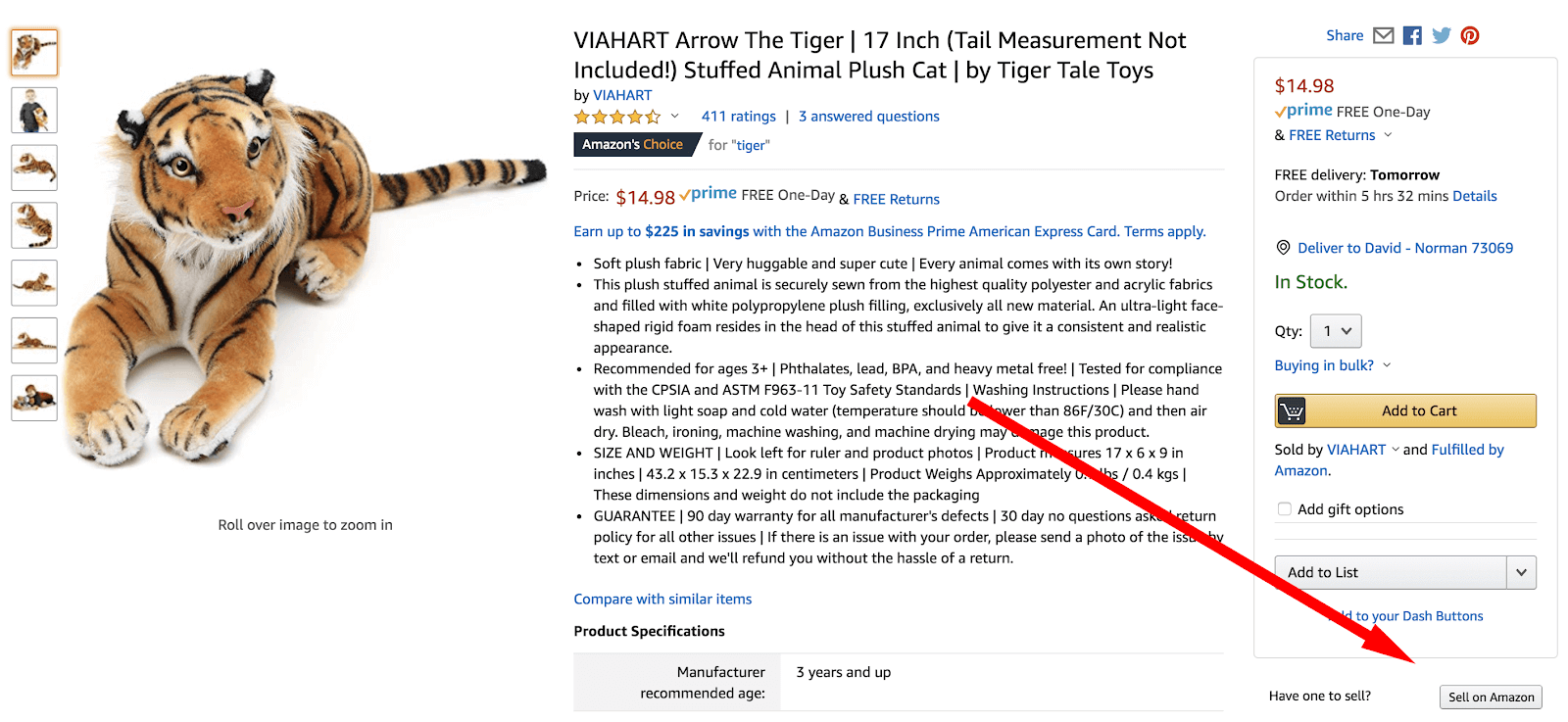 3. Enter in your product's information
After you click the button, Amazon requests the following information about your product:
Condition:

If you are selling a new item, the condition is New. Otherwise, use

Amazon's condition guidelines

to determine the quality of the used product you are selling.

Price:

Unless your product is in better condition than the others listed, likely, you want to offer the lowest price available. Usually, Amazon gives you a price suggestion that would make your price the lowest.

Quantity:

How many units of the product do you have for sale?

Fulfillment method:

How will you send the product to the customer once it sells? There are two ways to do this which we describe below.
After that, click 'Save and Finish.' Usually, your product appears on the product's listing page within two hours.
How do I fulfill/ship a product once it sells on Amazon?
Okay, you've made a sale! Now what? Time to ship.
And although you can't really "ship for free" with Amazon, there are a number of things you can do to keep costs down.
Here are a few tips:
1. Use packing materials you already have
If you're like me, you probably have tons of boxes lying around — probably even Amazon boxes! Reuse those boxes, plus any packing contents that came with them, such as air pillows, packing peanuts, or shredded paper. Just make sure you don't have old labels on the boxes and that they are in good condition.
2. Sell lightweight and small products
The smaller the product you sell, the lower your shipping costs will be. This is especially true with products like books and media products. Thanks to USPS Media Mail, you can ship a book that weighs less than 1 pound for a little over $3.00.
3. Use Amazon's Fulfillment by Amazon (FBA) program
Did you know that Amazon will actually hold your products for you and ship them once they sell? Amazon does this as part of their Fulfillment by Amazon (FBA) program.
Not only that, but the cost for Amazon to do this is often less than what it would cost you were you to do it yourself.
Plus, Amazon deducts the shipping costs from your funds as if it were a fee. That way, you can get around having to spend money out of pocket to ship the products you sell.
All you have to do is ship your products to Amazon and Amazon handles it from there.
Are you ready to start selling? Check out Jungle Scout's options,
which include access to Academy training content reserved for Jungle Scout members,
to help you get up and running: