In this article on the amazing Keyword Scout Amazon keyword tool I'll show you:
How our Amazon keyword tool can find hundreds of profitable Amazon PPC keywords in seconds.
A cool trick to reverse engineer your competitor's keywords (so you can steal them).
Why Keyword Scout is the best and most affordable Amazon keyword tool on the market.
Amazon PPC optimization is probably one of the most important parts of being an Amazon FBA seller. If you can't get your product in front of more people and do it without spending too much money, chances are that your product is going to crash and burn on arrival.
Here's my story…
I used to stink at Amazon PPC.
Back when I got in the Amazon FBA selling game, way back in 2015, it was easy. If you sent out a few hundred units of your product, you'd get a ton of reviews and find yourself on the front page. Then, turn on some cheap ads, sit back, and watch the profits roll in.
Sure, there's still plenty of opportunities on Amazon, but ever since Amazon nuked free-stuff-for-reviews back in October '16, getting to the coveted front page isn't a walk in the park anymore.
Unless, of course, you do Amazon PPC.
Too bad for me, though, that I totally stank at Amazon PPC.
Here's why I was bad at Amazon PPC:
I was bad at picking keywords that had low relative costs to my price point.
My ACoS was waaaay too high. I had ACoS sometimes at 100%+!
I hated doing Amazon PPC research. I felt like it took too long!
Those other Amazon keyword tools weren't so great either.
There were some options, sure. You might even know them (I don't want to sling mud so I'll omit their names). But they were either: a) too darn expensive or b) had crummy data.
So what did I do? I did what many folks do. Just sat and prayed that I made sales. Or at least tried to break even. :\
Then Jungle Scout launched their Amazon keyword tool: Keyword Scout.
Man, I tell you. Jungle Scout has some pretty rad products. I mean, of course I think that, right! I wouldn't work here if I didn't think that. And keep in mind, I've only been working for Jungle Scout since January of 2018. But I've used Jungle Scout's software since 2015. So it's NOT just job-related bias.
But when Greg mentioned that we'd be creating a brand new Amazon keyword tool in June of this year, I was definitely curious. After all, I'd played with those other Amazon keyword tools and was kinda in the "meh" phase.
However, Keyword Scout was different. It was better. Way better. And super easy to use.
Plus, it was part of the Web App suite of tools. And at no additional cost!
Crazy, right?
Check out Keyword Scout:
Let's say I'm selling travel towels on Amazon. And I need some good keywords for it.
I'm going to open up Keyword Scout right now and see what Amazon tells me about travel towels' keywords: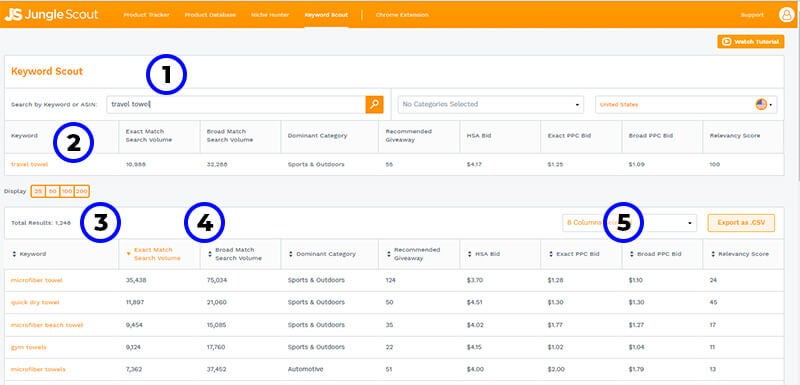 Some things to point out here:
I put in the term "travel towel" into the search bar. But note that I can also put in an ASIN (more on that in a minute).
The first keyword that pops up with its data is the one I selected "travel towel." Keyword Scout tells me that there are 10,988 exact monthly searches for this keyword and 32,288 broad. Its dominant category is Sports/Outdoors. Based on average sales, Keyword Scout also recommends that we give away 55 units per day for 10-7 days for promotions. Finally, my ad costs are $4.17, $1.25, and $1.09 for HSA, exact, and broad keywords respectively.
In addition to letting me know how well the main keyword does, Keyword Scout also generates an additional 1,248 keywords that are relevant to "travel towels."
Each keyword lists its exact and broad search volumes.
And each keyword lists its exact PPC and broad PPC ad costs.
All this in just 5 seconds…
All I had to do was enter the keyword "travel towel" and I got this data instantly. No weeks and weeks of testing with Amazon earnings. No guesswork from Google Analytics.
This is 100% real Amazon data, too, taken directly from Amazon.
Okay, now that you know the basics of Keyword Scout, let me show you how to build an awesome list of keywords with this amazing Amazon keyword tool.
How to find profitable Amazon keywords for your Amazon FBA products.
Let's stick with travel towels for a bit. And let's say that we want to sell a three pack of these towels for $25.00, kinda like this product: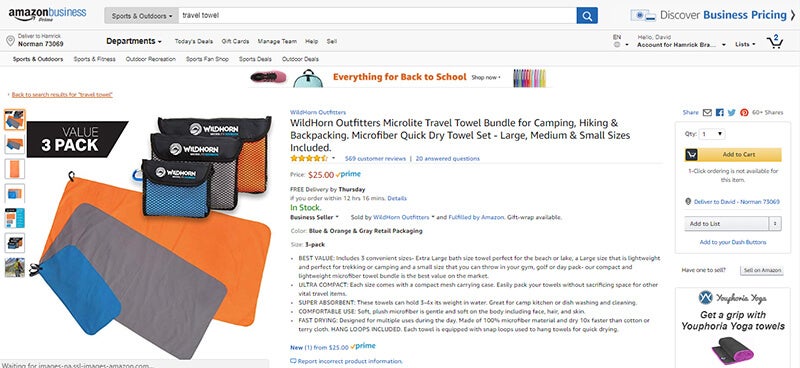 Forgetting everything else about this product, let's focus on the price point: $25.00.
Profitability breakdown:
I know that if I were the seller of this product or a similar product on Amazon FBA, that I'd have about $8.46 in Amazon fees. That's 33.84%.
I'm going to pretend that my costs are around 20% of this product, too, so that's another $5.00.
That leaves me with $11.54 between profit and ads. I like to try to keep my ad cost (ACoS) around 25%, so that gives me $6.25 to spend in ads. That will leave me with $5.29 per unit in profit. That's a 21% profit margin.
Most products I've sold on Amazon have a conversion rate of 10% or better. That means for every ten people who view my product, one of those people purchases.
Therefore, in order to keep my ACoS at 25%, or $6.25 per unit, I need my Amazon PPC costs to be at $0.63 per click.
10 clicks x $0.63 per click = $6.25 ad costs per unit
By the way, this is called the 2.5 Rule. Basically, your ideal ad costs will be 2.5% of your product's price.
So should I bid on the main keyword?
Let's turn back to our Keyword Scout results. Exact PPC bids to get us to the first page for travel towel are $1.25. So if it takes 10 clicks to get to a sale, we're going to spend $12.50 in ads. Unfortunately, looking back at our math, after Amazon fees and costs were removed, we only had $11.54 to work with. Fighting for first page bids on the keyword "travel towel" would cost us almost a dollar in lost money.
And the goal on Amazon FBA is to make money, not lose it!
Now, keep in mind that you don't have to bid all the way up to $1.25 on the keyword "travel towel." You can do less, and your product will appear on the second page and you might still make sales. But if we want to get rapid sales fast, we're going to want to find cool keywords that ideally cost less than $0.63 each or at most $1.15.
Sort Keyword Scout by exact PPC bids to find keywords at your ideal price.
Now that know our goals for ideal and maximum keyword bids, let's go back to Keyword Scout and sort everything by the PPC bid costs in ascending order.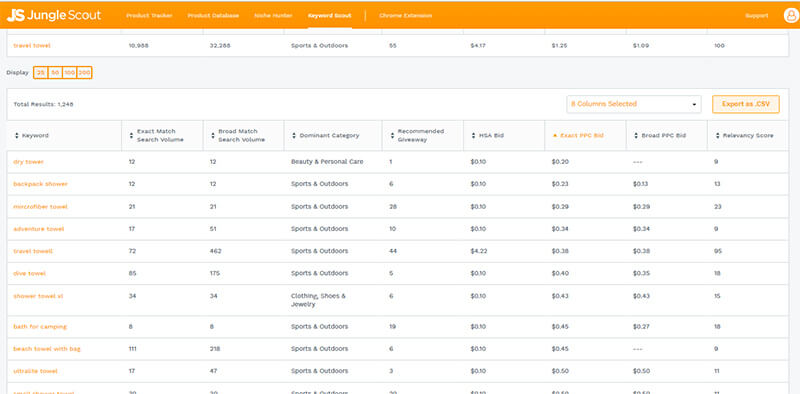 So, naturally search volume is going to be a bit less. And there may be some irrelevant keywords here. But we can start sorting through the list to find some good opportunities for exact as well as broad.
For keywords under $0.63 (2.5 Rule):
There are 20 exact match PPC longtail keywords.
And there are 70 broad match PPC longtail keywords.
For keywords under $1.15 (maximum bid):
There are 300 exact match PPC keywords.
And there are 500 broad match keywords.
Using any of these keywords and staying within our ideal conversion rate of 10% means that we will see a profit or at worst break even.
Reverse engineer your competitor's keywords.
Of course, the method I just showed you is only one method of finding Amazon PPC with the Keyword Scout Amazon keyword tool. Another way, and perhaps a more effective way, is to reverse engineer your competitor's keywords.
Consider this: Amazon ranks products based on relevancy. But how can you know which keywords are relevant before you test them out? The obvious answer is with your competitors.
Keyword Scout uses Reverse ASIN lookup, too.
All you have to do is put a competitor's product ASIN–the special code that Amazon gives each product in its database–into Keyword Scout. Then, Keyword Scout will crawl all of Amazon's search terms to find the keywords that your competitor's product ranks on the first page for.
Here's an example:
Going back to the model product I showed you before, let's grab that product's ASIN. You can find the product ASIN in the Product Details section of your competitor's listing, just above its BSR information.

I'm going to take this ASIN and put it right into Keyword Scout just like I did with the phrase "travel towel." Now watch this:
As you can see, we've just discovered 180 keywords that our competitor ranks for on Amazon. Not only do we know their Amazon PPC strategy, but we've also just learned what keywords that Amazon's search algorithm thinks this product is relevant for.
And what does relevancy mean? Higher conversion rates! Higher conversion rates equal lower ad costs and more profits!
Definitely going to want to take all these keywords and add them into our Amazon PPC campaigns.
Get Keyword Scout and start selling more.
Now that you understand how Keyword Scout works as your #1 Amazon keyword tool, don't waste time getting it. Access to Keyword Scout is included with all of Jungle Scout's subscriptions, which start at just $39 per month (or $228 if you choose an annual plan).
If all Keyword Scout did was increase your sales by 10% for an additional $300 per month in profit, obviously that'd be worth it! Fortunately, myself and many of our customers have seen increases as much as 25% or better when using it.
Get Keyword Scout today and start selling more products.
Read what famous entrepreneurs are saying about Jungle Scout.
"My team loves Jungle Scout as it is the best Amazon software out there." – Robert Kiyosaki, author of Rich Dad, Poor Dad
"Jungle Scout is the ONE tool I can not live without. There's ways to use it that simply blow you away once you realize the power of what they can do for your business. A must-have tool for any Amazon seller!" – Scott Voelker, the Amazing Seller Podcast
"Jungle Scout is how I start all of my product research. It saves my team and I countless hours each and every month. Honestly, I don't know what we did without it!" – Kevin Rizer, Private Label Podcast
We smoke the competition in reviews and market trust…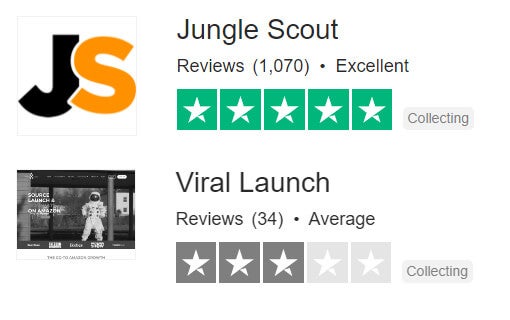 Jungle Scout scores 9.5/10 for Trust Pilot reviews versus 6.6/10 for our next biggest competitor, Viral Launch.
Jungle Scout offers endless free resources for new sellers, too.
From the Million Dollar Case Study to Dave Hamrick's What to Sell on Amazon Series to Jungle Scout University to the Sales Estimator Tool to our Free Profit Calculator, you're always in good hands with Jungle Scout.
Get started today.
So what are you waiting for? Get started today with Keyword Scout and Jungle Scout!