At Jungle Scout, we're all too familiar with the overwhelming process that is supplier research.
You find the perfect product (a complicated process in and of itself), and then you immediately have to go through the same exhaustive research to find a supplier!
Before, when there were no other options, we would send people to Alibaba or Global Sources with a list of tips and tricks, and a wish for good luck.
But not anymore!
Now, you don't have to leave Jungle Scout and embark on your search alone.
Instead, we've built a database of vetted suppliers right into our software, which means you can source your supplier through your Jungle Scout account.
So, today I'm going to show you just how easy it is to find and verify high-quality manufacturers using the Supplier Database.
To find a product example, I combined two of my favorite things–hammocks and pools–and I'm going to research how to manufacture a hammock pool float.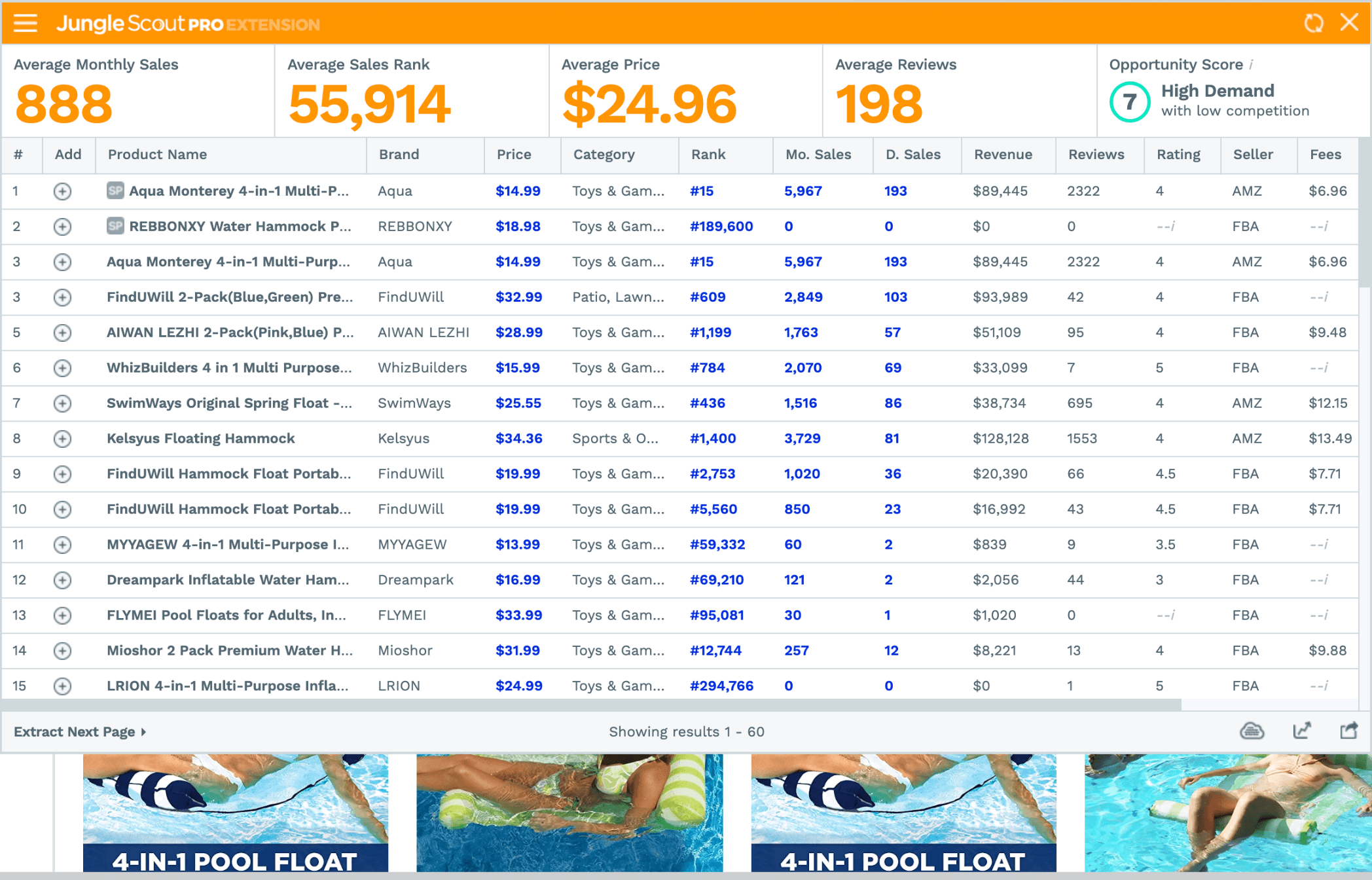 First, I started by searching for products on Amazon with Jungle Scout's Extension. When I viewed the data for 'pool hammocks' on August 5th, 2019, it had an Opportunity Score of 7.
That's plenty of demand, and not much competition!
Granted, it's super seasonal, but I went with it anyway since the average price point is right in our sweet spot. We should be able to generate a pretty decent profit margin with it.
Next, I left the extension open on the list of current pool hammock competitors, and headed over to Jungle Scout.
Finding the right supplier
Because product research is the cornerstone of our features, expanding on our research capabilities and adding Supplier Database to Jungle Scout was the next logical step.
And the most important aspect of finding a reliable product supplier?
Making sure their business is legitimate.
Now you can confirm a manufacturer's claims using Jungle Scout. Its Supplier Database makes verification easy by extracting and displaying real shipping data from U.S. customs.
Plus, only suppliers with verified shipments imported into the U.S. will appear in the database.
I didn't stop there though. Keep reading to learn how to figure out if a supplier is the right fit for your needs.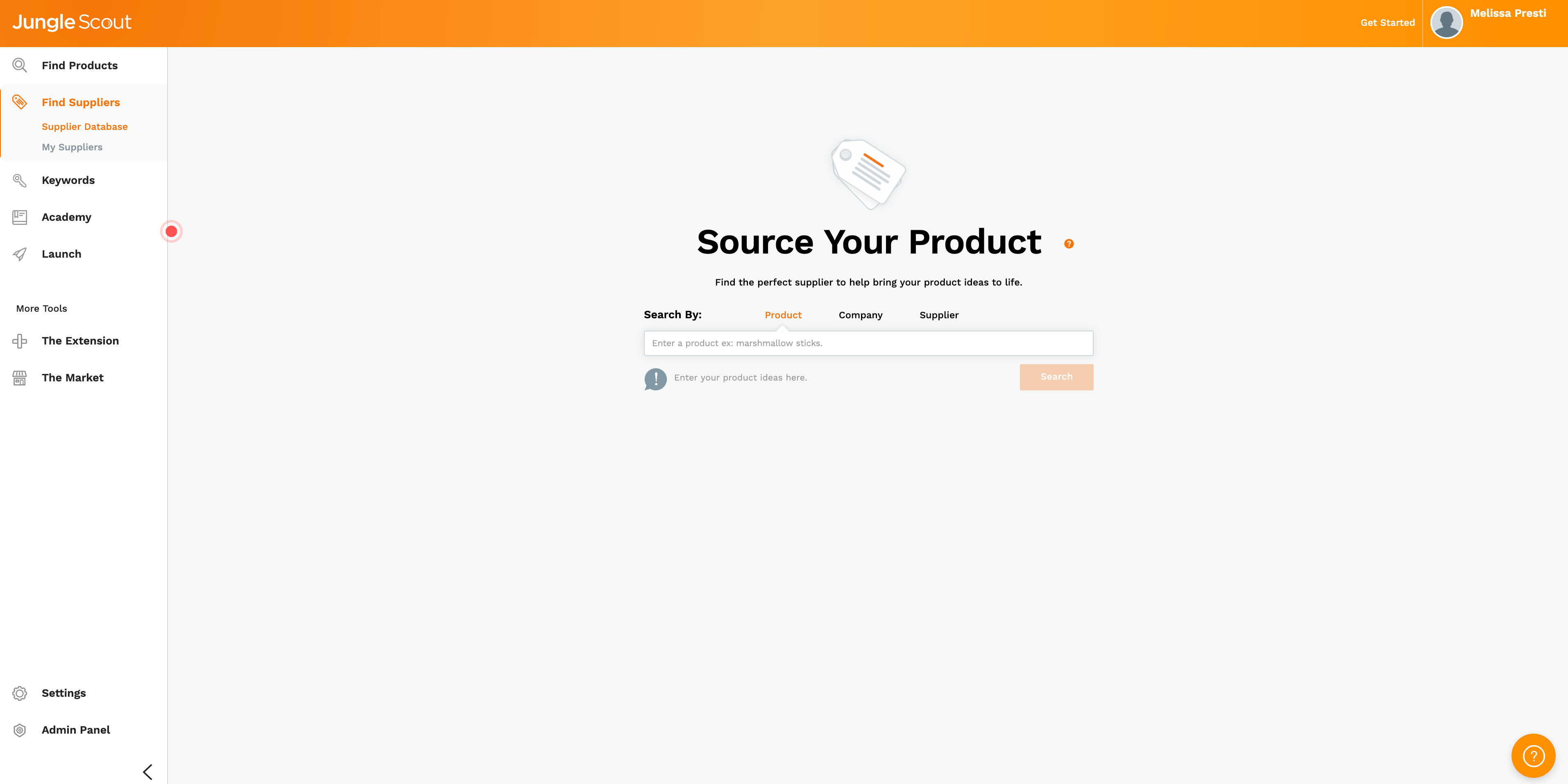 As you can see, Supplier Database offers three types of searches:
Search by product. I entered my product idea in this search field.
Search by company. To find the suppliers my competitor uses, I entered their full legal name in here.
Search by supplier. If I'd had a manufacturer in mind, I would have entered their full factory name here.
This allows anyone to search for suppliers, whether you have a ton of information about a manufacturer, or none at all.
How to find a supplier: Product search
Finding a supplier using the product search option was as simple as typing 'hammock pool float' into the search bar.
I could have tried a broader approach as well.
Searching for 'pool floats', or trying a variety of related keywords, could have helped me find the right kind of supplier for our product if I'd needed to dig further.
This is a good method to use if you're unsure of what you're looking for as it will bring up a list of suppliers that may only be vaguely related to your product idea.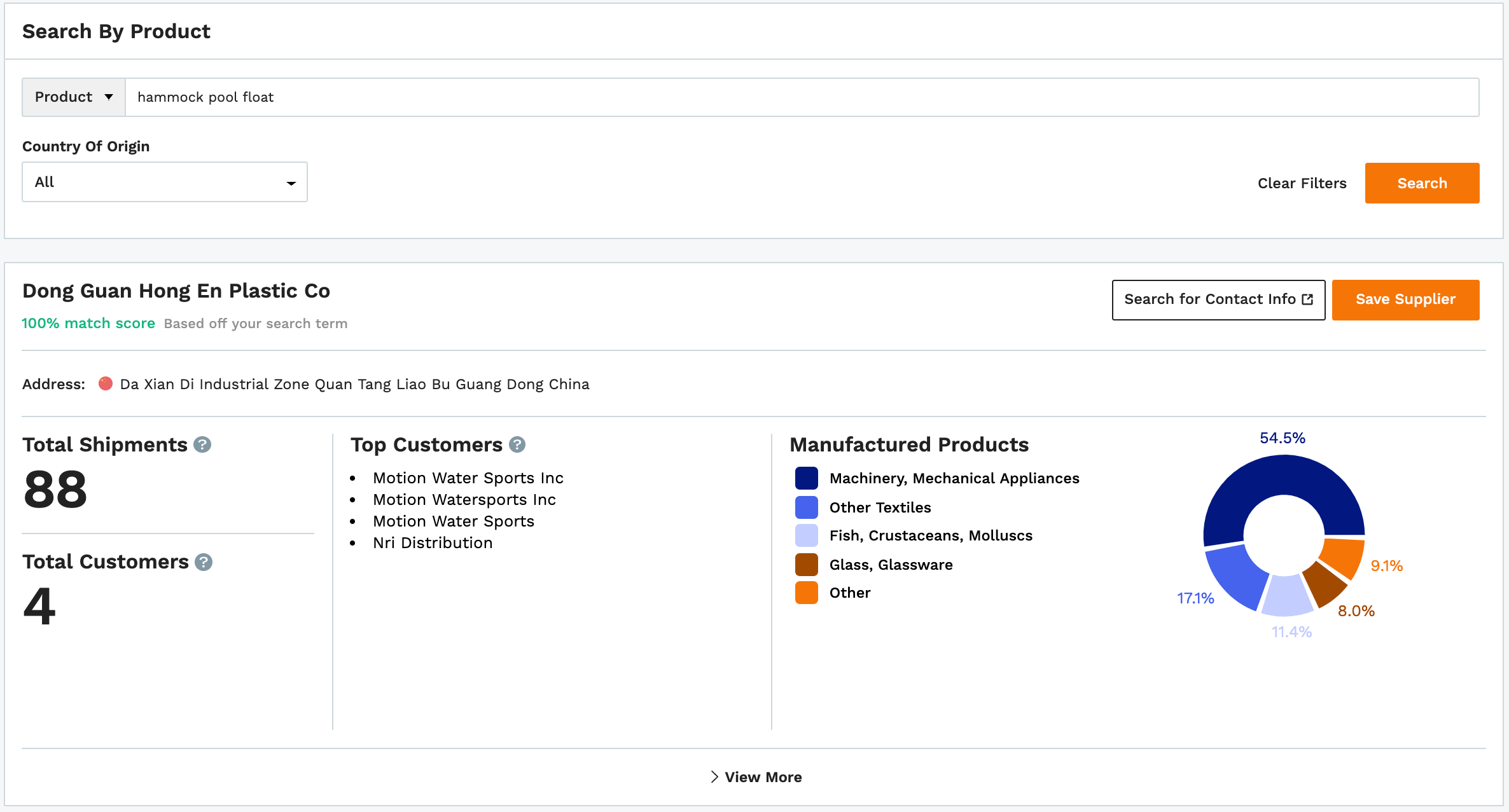 As for the results, they're listed in order of the %-match score, from highest to lowest (determining factors for the %-match are an in-house secret!).
With my results, I immediately noticed that one supplier listed was a 100% match. However, one of their product categories is 'Fish, Crustaceans, Molluscs', so I decided this wasn't the right manufacturer of our product.
It was time to search for other suppliers using related keywords!
The information available for each supplier:
Total number of shipments, since January 1, 2014, into the United States;
Total number of customers receiving those shipments;
The company names of the suppliers' top customers;
And a graph of the manufactured products by category.
If you click the 'View More' arrow at the bottom of the supplier information page (shown in the image above), the database opens up a second bar graph to show a timeline of the shipments.
It also includes each shipment's quantity, weight, and HS code (Harmonized Commodity Description and Coding System, aka the classification to determine tariffs).
All of this information will give you a general overview of a supplier's performance before you decide to move forward with them.
At this point, I had two options:
Save suppliers to a list under the 'My Suppliers' tab in my Jungle Scout account;
Search for the suppliers' contact information.
If you want to create a list of qualified suppliers to choose from, it makes sense to save them to 'My Suppliers'.
It allows users to create separate lists of manufacturers, which works really well if you're researching different suppliers for different kinds of products.
But, if you find your supplier right away, then you'll want to search for their contact info.
Thankfully, Supplier Database makes that simple too.
Just click on the 'Search for Contact Info' button at the top, right-hand corner of the screen and a new page will open with Google search results based on that supplier's information.
How to find a supplier: Company search
Searching for suppliers by company is a little trickier, and this is where Jungle Scout's Extension comes in handy.
To look up the suppliers your competitors are using, just use the 'Brand' results from your Amazon/Extension product searches.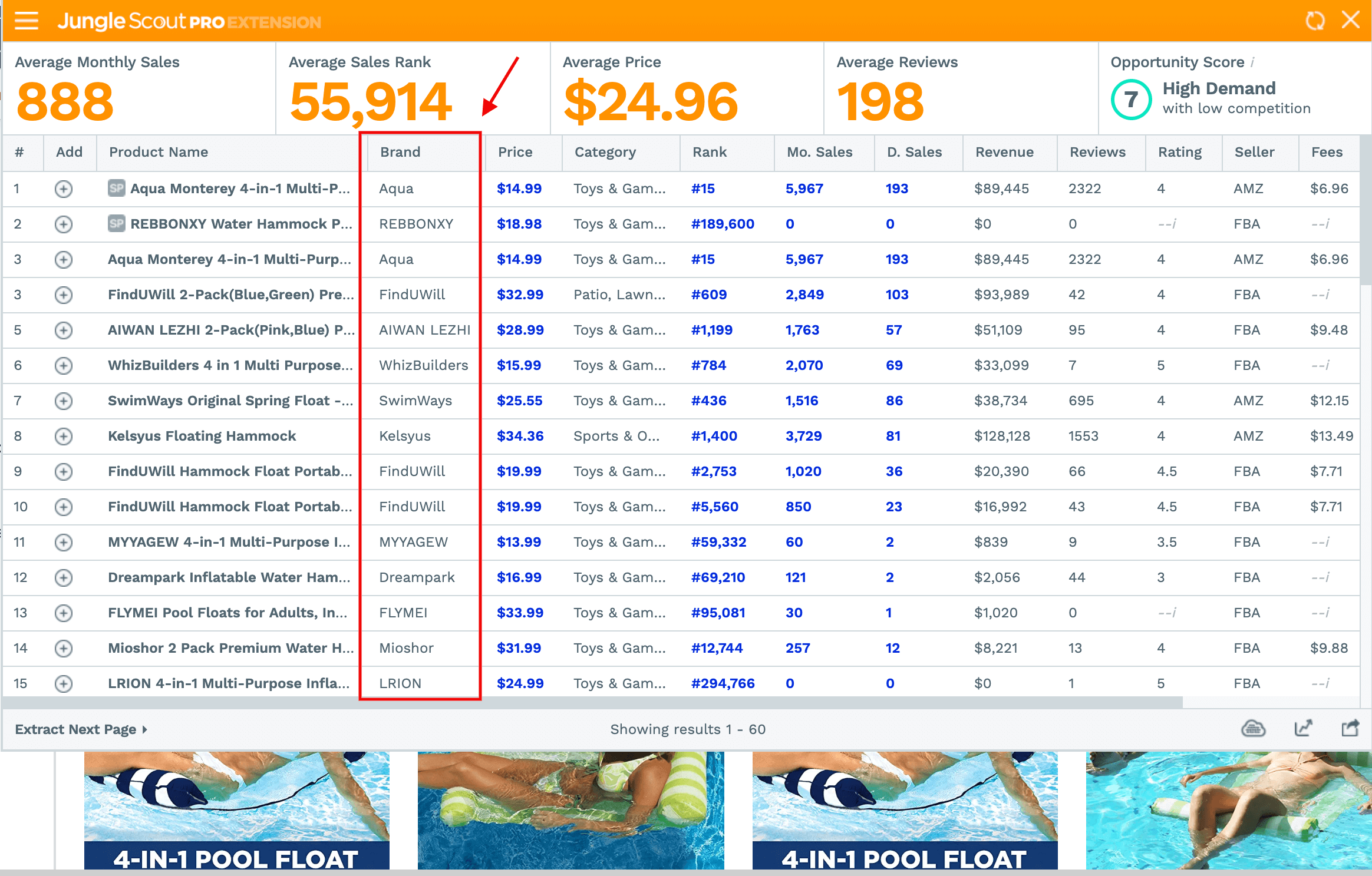 Now, going back to our original search, I used the names from the Brand column and plugged them into the database one by one to view the results.
Before I go any further, it's important to note that the majority of brands will fall under a separate company entity.
Luckily, our Supplier Database was designed to suggest the company name you're looking for, when possible.
Take this video below for example:
The search results look similar, except that the second search shows you the top suppliers listed for this customer.
For our search, already I could tell I was getting closer to finding the right type of supplier to manufacture our pool hammock. And by clicking on each one of the top suppliers, I pulled up the list of products they had shipped previously.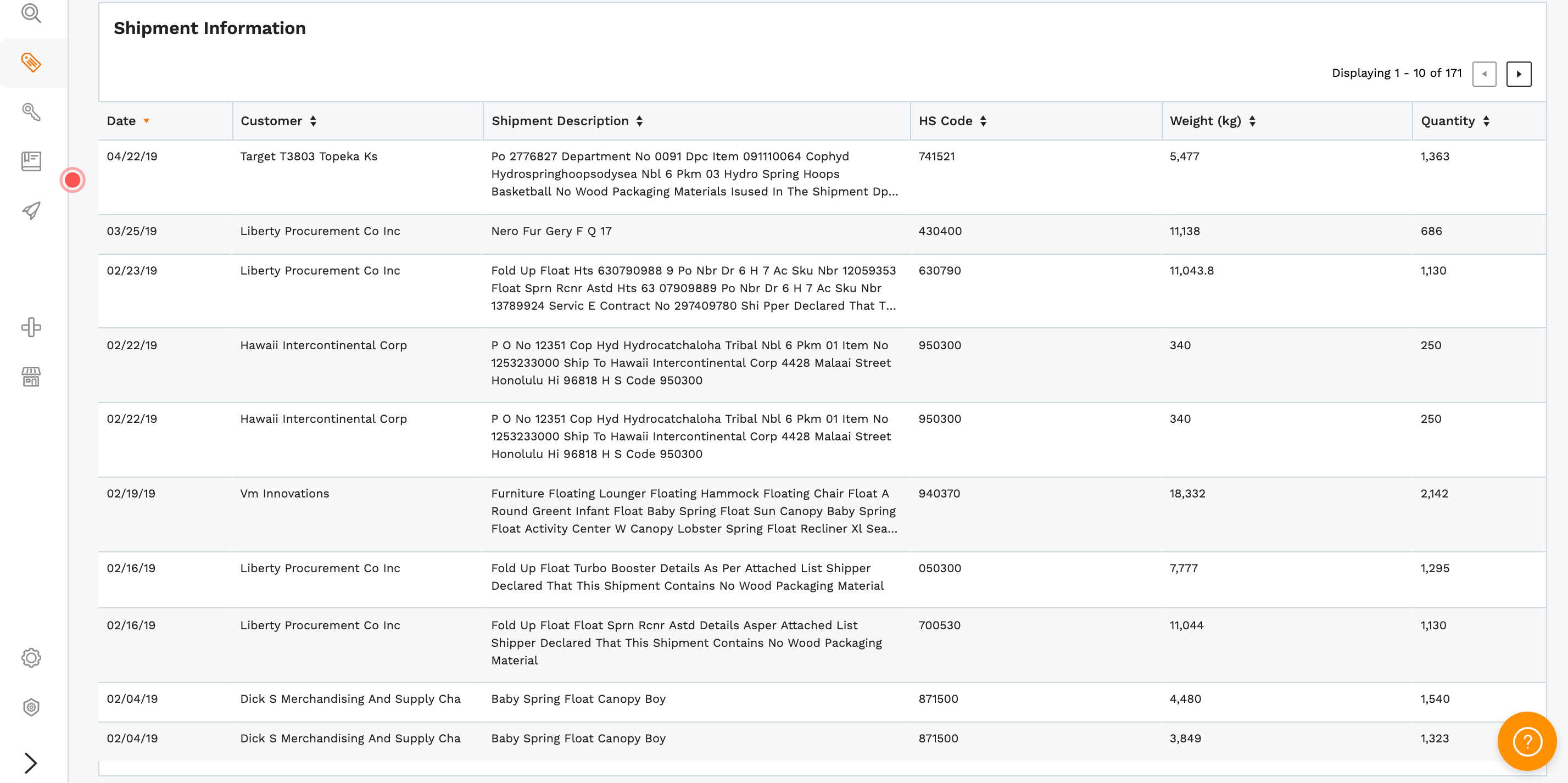 Now I was getting somewhere!
Floating lounger, fold-up floats, baby float canopy…these were great indicators that I was getting closer to finding our supplier.
The next step is to take a closer look at the operations for each of the suppliers on the list from Supplier Database.
You can do this on Alibaba, viewing the products they are producing and the materials they are using.
You can also utilize Supplier Database's in-app search I mentioned earlier. The contact info button will take you right to Google for the company's details.
How to find a supplier: Supplier search
This last search method is recommended if you've been researching suppliers on Alibaba.com (or anywhere else on the internet).
Alibaba may offer buyer protection policies and Trade Assurance as extra precautions, but it doesn't provide the kind of data Supplier Database does to confirm the legitimacy of a supplier's claims.
And when you're handing over your life savings to invest in a product, you need to know that your manufacturer has a proven history of successful shipments with satisfied sellers.
So let's say you found a supplier through other channels, started negotiations, and are ready to place your first order.
You feel like communication with the supplier is going well. They seem reliable and fair. Plus, their sample was great and they are agreeable to your business terms.
Before you make any decisions, though, verify the company with Supplier Database.
This is the time to search for that supplier specifically, to confirm the legitimacy of their business. Check out their shipment history and, if necessary, validate the details with the supplier.
This is your business, and building a completely transparent relationship with your supplier must be a priority.
Alternatively, let's say you've been working with a supplier and selling your product for some time. Everything is going well, so you haven't considered renegotiating the original terms of your contract.
In this case, comparing notes with your competitors could be beneficial financially.
Maybe your supplier quoted your minimum order quantity (MOQ) at 500, but Jungle Scout's Supplier Database shows they've shipped far less for other companies.
Or you might discover your biggest competitor is using the same supplier 😱
Either way, it may be the right time to broker a new contract and Supplier Database can help!
Next steps
So even if you just need to confirm your suppliers' shipment history, Supplier Database is an added layer of security for your business.
And now that you've organized and verified your list of potential suppliers (or maybe you've found one already!), it's time to learn how to conduct supplier outreach and communicate with potential business partners.
Get started with The Sourcing Bible's easy-to-use 'request quote' and 'sample' templates. They make communicating with your short-listed suppliers easy.
Also, we're always expanding our features and capabilities, and we'll be adding more functionality to Supplier Database soon!
But if you have a particular feature in mind, let us know what you need in the comments below.