This article contains expert-led insights from a previous season of the Million Dollar Case Study.
MDCS is a free, comprehensive video series by Jungle Scout in which veteran Amazon sellers show budding entrepreneurs how to succeed on Amazon—by actually doing it. The series takes viewers step by step through the process of launching a real product on Amazon in real time—from product research to finding a supplier to advertising.
Check out our most current season here for the latest information on selling on Amazon.
This is it… when the rubber meets the road, the pen to paper, final decisions on our supplier are made. This is a super exciting session of the Million Dollar Case Study, where we will cover our negotiations with suppliers, final evaluations, and contract.
Hopefully you have been sticking along with us as we continue progress forward week after week. Definitely stick with us through until the end (at least the end of the post) as we have an exciting announcement, and of course the helpful templates and resources to help launch your own Amazon business!
Have you found your winning Private Label product using the
Web App
with us in this Million Dollar Case Study?
Here is the full video replay:
And the accompanying slides:
Quick Recap On Our Progress Thus Far…
One of the most important lessons that I've learned launching a product with Greg is the value of execution. Week after week, we continue to make progress towards finding and launching a product. There have been unforeseen challenges and it does require a bit of work and discipline to maintain the momentum, but as verified by our current state of affairs (about to place our order), it has been well worth it!
Here's where we are now:
We have done a few weeks of product research and validation using Jungle Scout to track potential products.
Found suitable suppliers
Decided on product specifications that will help us stand out
Ordered and reviewed samples
Set up VAT & EORI
Made product branding decisions
Set up a Seller Central Account and Product Listing
And this week, we will review our final product specification and supplier agreement!
A Review Of Our Suppliers
So we narrowed down our choice of suppliers to three options, which we found on Alibaba. And as you might imagine, there was a range in the quality of product, interactions, and responsiveness with each.
I summarized the experience with each in the following notes: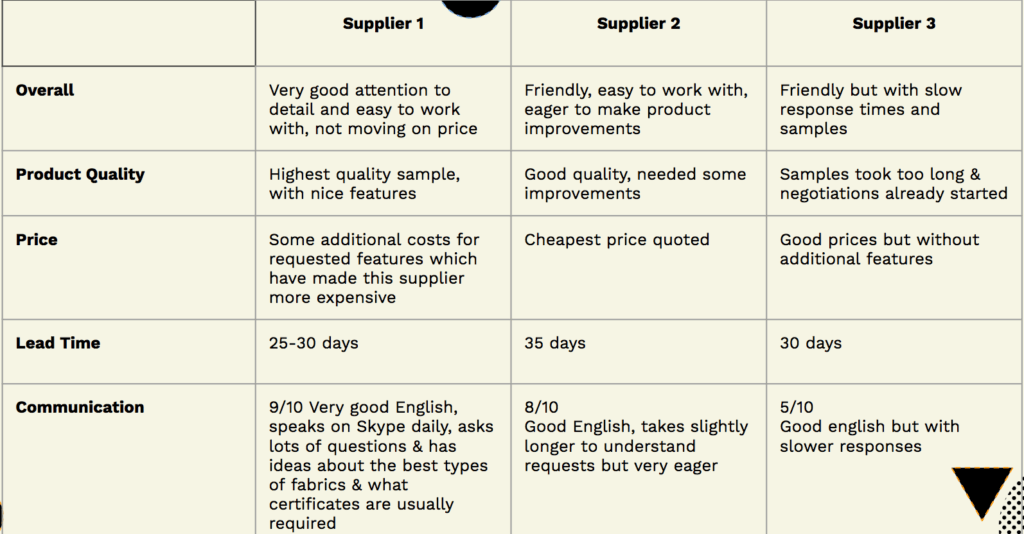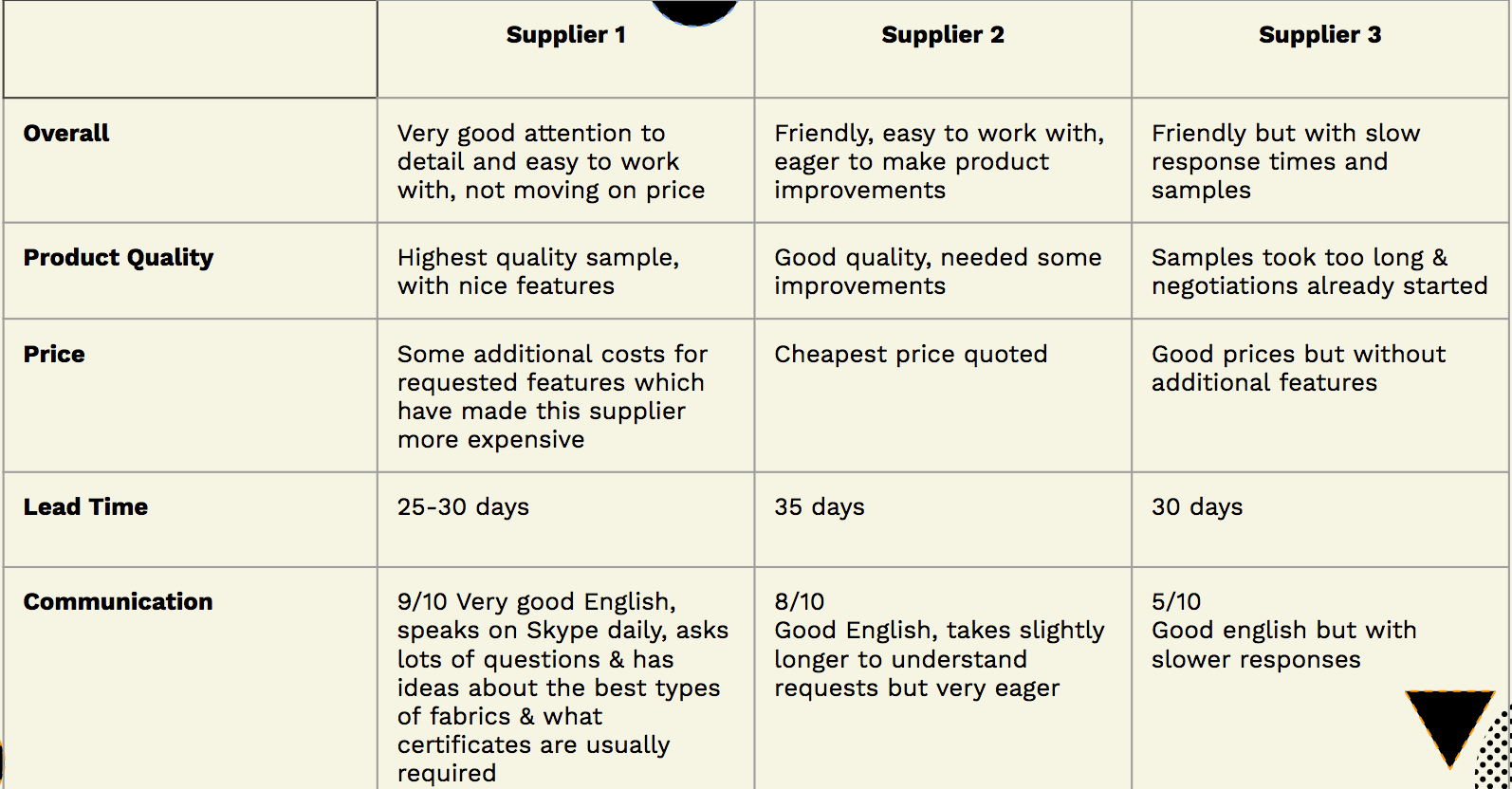 Here are my thoughts, in brief:
Supplier 1:
A solid product sample, in fact, the best that we received. The pricing was a bit higher than others, but they had the shortest manufacturing lead time and excellent responsiveness and communication skills.
Supplier 2:
A good quality product, with a few minor improvements that we identified. They quoted the cheapest price, had good communication skills, and were cooperative in working with us and making suggestions on product improvements.
Supplier 3:
Thanks, but no thanks. They had slow response times with communication, and executing on some of the early prerequisites—for example, we haven't even received our sample yet! To me, this is just an indication of future potential problems, and I think it's best just to omit them from the final shortlist.
A Review of the Samples
I love this part, literally pulling the product apart at the seams and imagining how we would feel if this were our product.
If you remember from Session 5, we put together all of our product specifications that we wanted. It looks like this: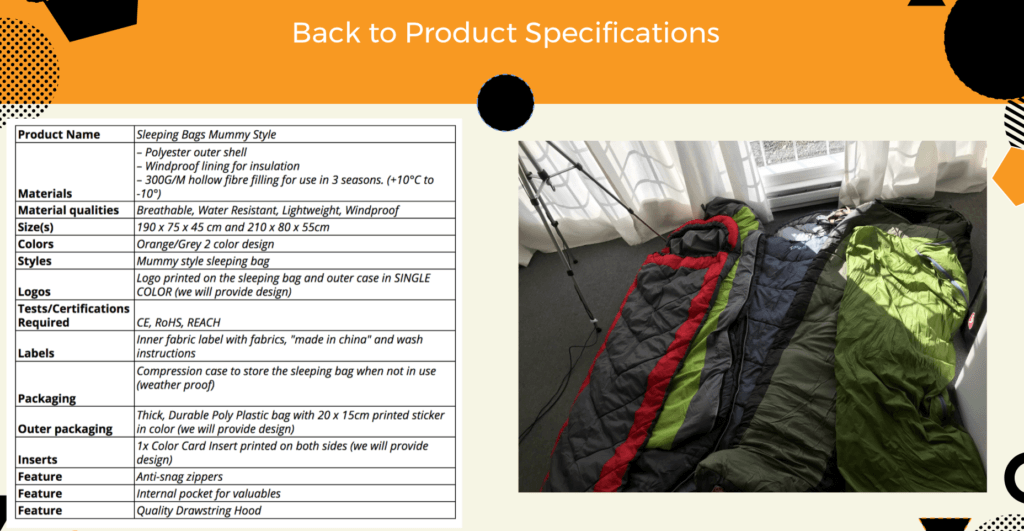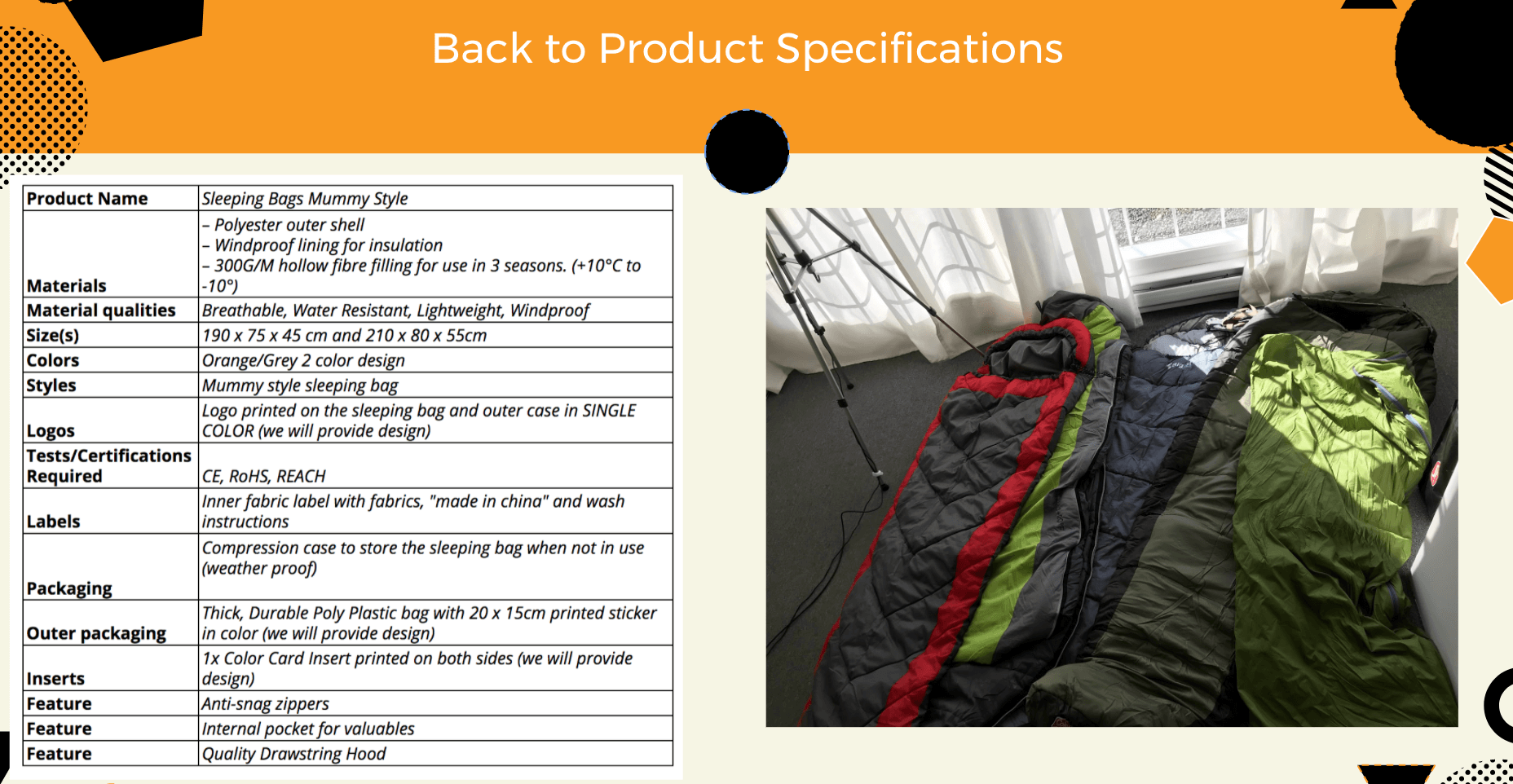 So we tinkered with it in a rather rough fashion, as we imagine an actual customer would if they were to take this product on an overnight hike.
We used the compression bag that holds the sleeping bag as a proxy for product quality.
So what happened when we did that?
One of the bags just broke. ;-( This is definitely not the user experience that we want to offer. However, as Greg noted, this is not necessarily a deal-breaker for working with the supplier, but instead is just a constructive lesson that we can use in communicating with them, that we expect a strong compression bag to hold the sleeping bag.
One of the suppliers sent a sample that had canvas straps that reinforced the bottom. This is the type of small detail that connotes craftsmanship and quality that we want to have in our final product, so regardless of the final supplier, we will want to take photos of this detail and include it in our final product specifications.
In the video, I showcased one of the nice samples that we had—it had nice colors, nice stitching, a pouch inside to store a phone in, and it was lightweight to pack down into a compact package without sacrificing warmth. A few details that we were able to identify that needed improvement in the actual production is a slightly different color, an anti-snag zipper (a snagged zipper is a terrible thing to have!), and a high-quality bag with product inserts, labeling in the sleeping bag, and a few other details.
If you want to see some of the other product packaging details that we discussed, please check out Session 7 on Product Packaging and Branding.
Negotiation Tips
I want to share a few takeaways that I had while negotiating with the various suppliers. The goal in my mind with these negotiations is that both parties, both us and the supplier, feel happy with the final deal. If we can establish a mutually beneficial long term business relationship with this first negotiation, then it's a win!
Greg suggests putting yourself in the supplier's position when negotiating. Focusing on the long term relationship and consistent future growth together can go a long way in establishing a fruitful and collaborative relationship from the start.
1. Ask for a quote at different MOQ's and/or different specifications.
Once you get an idea of what the different unit costs are depending on how many units are ordered, you have a little wiggling room and understanding on how the pricing can fluctuate with quantity. This is helpful, so that we can home in on a cost that works for us, while also ensuring that the suppliers are ultimately happy with the final negotiated price.
2. Play Up A Bright Future
As any entrepreneur knows, optimism is a critical component to keep pushing through, especially when things are challenging. And we certainly want to
3. Explore Different Packaging Options
The packaging options and various product specifications that we opt for can impact the product costs and obviously our profit margins. It has been helpful to hear the different suggestions and capabilities that the suppliers have offered for our packaging and compression bag.
4. Pitch Against Competitors
Now that we are narrowing down our final choice for a supplier, we can use the pricing and information that we have gathered to leverage our own negotiations. Meaning, that we can go to one supplier and note that we are getting certain product offerings or prices, and see if they can match or beat the offer.
In the end though, we just need to pull the trigger. If we have found a product cost for the exact specifications that we want, we will just have to move forward to get this product launched!
Deposits And Payment Terms
Now let's talk money. It's all about the Benjamins, at least in America, right?
The first rule as far as deposits is simple: don't pay 100% of the costs upfront. This will leave you with no leverage if you need to negotiate in the future, like if you are not happy with the product quality or delays.
What is more typical is either 50/50 or 30/70, as in pay 50% or 30% of the total cost as an initial down payment, then pay the balance upon successfully completing the production run and passing inspections. Obviously, the larger the order quantity and cost, the more negotiating power you have in having a lower upfront cost.
As far as payment methods, T/T, also known as a wire or bank transfer, is typical.
A new offering as of a few years ago is Alibaba Trade Assurance, an Alibaba escrow service that holds the money until successful completion of the manufacturing order, at which point Alibaba pays the suppliers. Not all suppliers are associated with using this service, but it is a nice assurance for those who feel uncomfortable about sending money via wire transfer for a first transaction.
The Purchase Order Agreement
We have shared the purchase order agreement that we've used previously, but don't worry, you can get our latest version in this week's homework. See, homework is a good thing!
In our purchase order agreement, you will see that we include the following:
Full product specifications
Product Costs
Production time, agreed upon by both parties
Inspections and processes for defects
Packaging and labeling required
Shipping agreement – who takes on responsibility at what point?
Confidentiality agreement – a clause that the supplier can't/won't discuss the product, brand, or business with others.
When putting this purchase order agreement together, I was very careful to put as much detail, in writing. We did a lot of work upfront to figure out exactly what the product specifications are, and we are going to market these features to stand out from the competition, so we certainly need to make sure that the supplier is aware of these to meet our standard!
A few things that we have also included to create a level of accountability:
A monetary penalty: if the product doesn't ship within a certain amount of time. For example, assuming that we agree to 30 days to manufacture, then we will allow a 7 day grace period, and thereafter the factory will pay a small percentage penalty for any subsequent delay in getting the product shipped.
Inspection Failure: we include a note that if the supplier fails the first quality inspection, that they will pay for the second inspection.
Must send photos at every stage of production: the chance to speak with the supplier and get updates at a frequent ongoing basis. A nice security and reassurance that the product is being manufactured and to the specs that you asked for.
Shipping – How Will We Get Our Product Where It Needs To Go?
For the purposes of this case study and keeping things moving at an accelerated pace, we are sending our first batch of product via Air Express. The remainder of the first order will be sent via ocean cargo. As you'd imagine, while we are getting the product to Amazon in a shorter time, we are paying more for the shipping, so will see lower profit margins in the beginning. But this is only for a small portion of the inventory order to get the wheels in motion!
We will need to send some details to our supplier to get the shipping taken care of properly.
Shipping Marks: These are the specific labeling details that go on the Master crate. For example, this information includes the case quantity, country of origin, the box weight and dimensions, different sizes, and colors (if applicable). This is helpful if the carton gets lost, so it is easier to track down.
Creating A Shipment Plan
After the goods are made, then what do you do? This is an important step for every Amazon seller, and it can be slightly confusing, for those going through the process for the first time.
If you have any questions about this part, it is very helpful to see how Greg creates a shipment plan over his shoulder in the replay of this session.
Once you go through this process, Amazon will tell you exactly where you need to ship your product, and what labels you need to use in order to get it there.
You will want to give the labels to your factory so that they can add it to the carton. From there, your freight forwarder will ship the product from China to the UK (or your chosen destination).
If you are sending by Air, like we are for our first few units, then you can essentially skip this step as DHL will ship your products directly from the factory straight to the Amazon distribution center.
Here is a step by step look at how the process works:
In Seller Central, go to "Manage Inventory", then go to your specific product listing, and "Send/Replenish Inventory":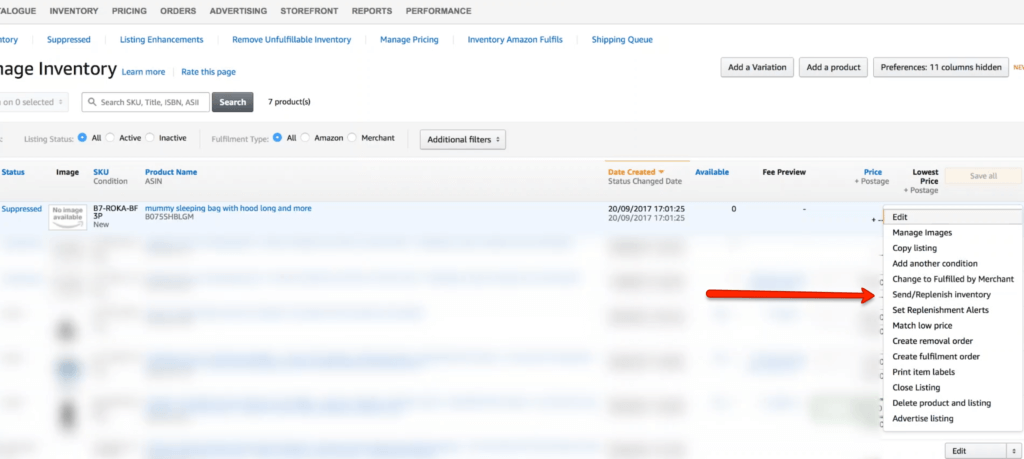 Then "Create A New Shipping Plan":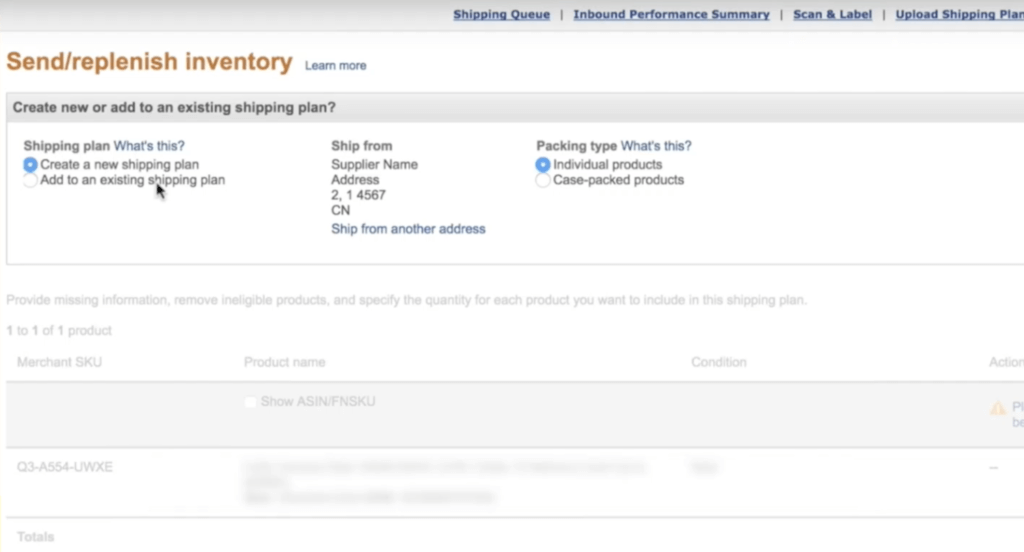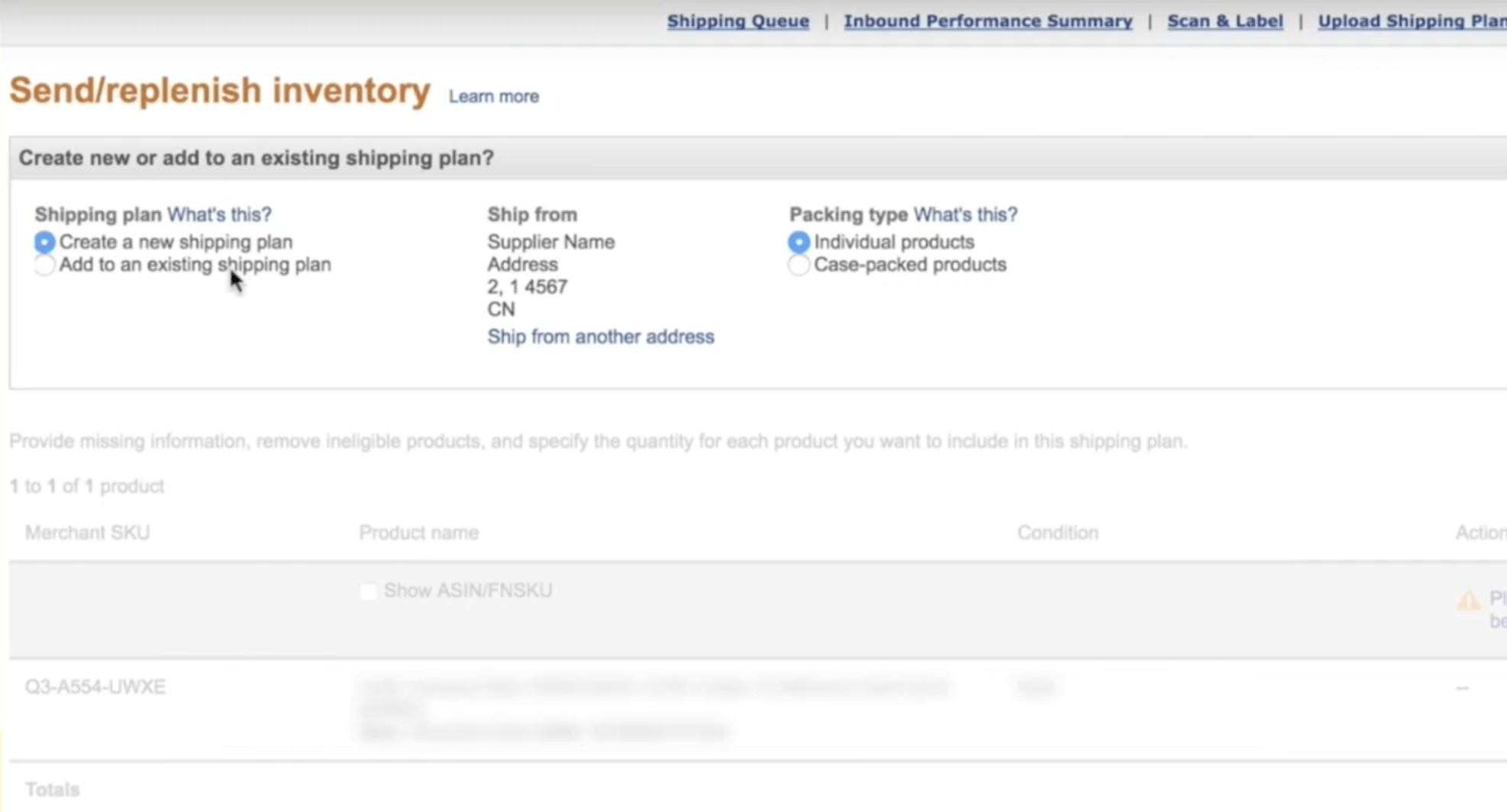 Then choose your Marketplace destination, for us is the United Kingdom. The "Ships From" address needs to be the address of your freight forwarder because that is where the trucks go to pick up the pallets (this section does not apply to you are shipping from China, by Air like DHL or UPS in which case you can just put any address):

For the "Item Pkg Type", we chose "Case-packed items" because each case will have a bunch of the same item (ie our sleeping bags). We will need to enter the "Units per case" and the "Number of Cases". At this point, it will be 10 sleeping bags per case, and 10 cases total. So 100 sleeping bags. Also, just for this first shipping order, Amazon requires that you enter the package dimensions, which are 25cm x 33cm x 25 cm:

For this shipment plan, everything is going to Staffordshire, about an hour away from the place I called home growing up! At this point, I can "Approve Shipment" to access the shipping labels that I will need to send to our supplier:

About Preparation
We don't want Amazon to do any of the prep, instead, we will do this. So "Seller" prepares it. This refers to applying the labels, or if the product needs to be wrapped in bubble wrap. …the freight forwarder or the factory is going to do this, not Amazon. If you remember from our Product Branding session, we are printing the FNSKU directly onto the packaging. Alternatively, but not recommended, you can have your supplier add the stickered FNSKU to the product packaging, or Amazon can also do that for a nominal fee.
It is at this point that we can "Print Labels" for this shipment:

Here is the screen you see when you are "Working on the Shipment".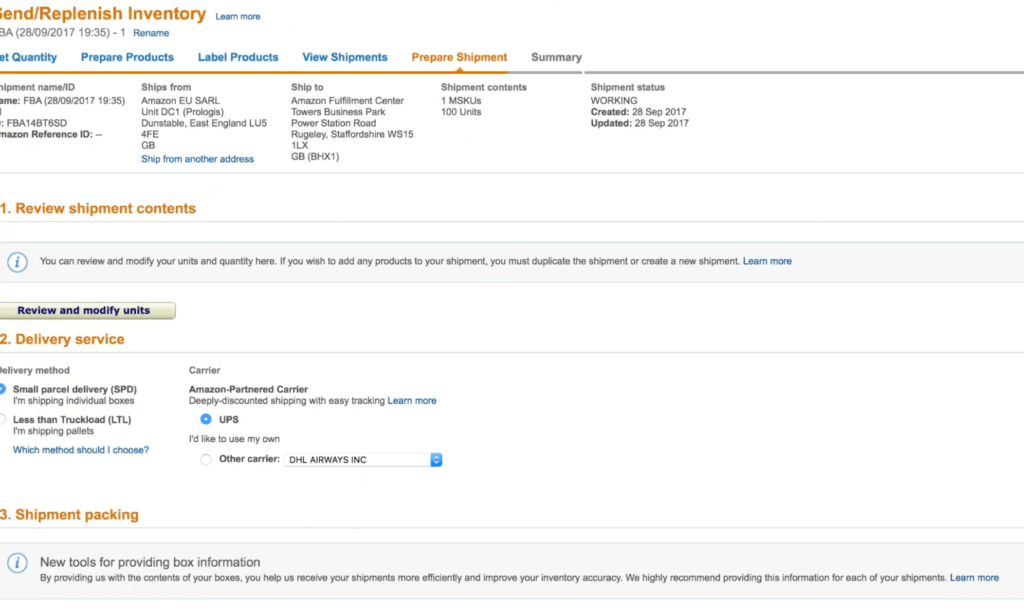 Options for Delivery service
Small Parcel Delivery – If you are shipping individual boxes, which is more common for air freight. Basically, each "individual box" would contain 10 of our sleeping bags, and we would ship these boxes into Amazon via air freight.
Less than Truckload – If you are shipping pallets. This is more common if you ship ocean freight. In this scenario, or product arrives by ocean freight to our freight forwarder, they put our products into pallets, and then send those pallets into Amazon's distribution centers.
You will want to figure out what your delivery method will be, so that you can send the correct labels to your factory!
For our first two cartons that we are sending by Air, I will choose Small Parcel Delivery and "Use My Own Carrier", which will be DHL. Often the supplier will have cheaper rates than what you can get on your own, but you still need to get these shipping labels and send them to your supplier, as Amazon uses these labels when receiving packages to know the product, sender, ASIN, etc.
For the second batch of sleeping bags that we are sending by ocean freight, we will choose the Less Than Truckload (LTL) option. In this case, the shipment arrives at our freight forwarder's warehouse, where it is put on a pallet and sent to Amazon's distribution centers.
Simply put, Less Than Truckload takes longer (pallets are not delivered with the same frequency as small parcel packages).
You can create these shipments at any point in time, they do not expire. In fact, it is best to create them in advance, so that you can get the necessary labels to your supplier and freight forwarder with ample time so you don't waste any time once the manufacturing is complete.
One more thing to think about…when you place your order with your supplier, you will need logo designs, packaging labels, insert designs, fabric labels, label contents, and wording, etc to pass along. I am working to finalize these in the meantime, and I recommend you do the same, as it may be a bottleneck in your production.
Your homework
What would a Million Dollar Case Study session be if we didn't have homework to keep you moving along with us?!
So here it is:
Place your deposit and get the inventory ordered
Ensure that you have negotiated the best prices and the most mutually beneficial contracts and agreements
Continue to keep constant contact with your chosen supplier throughout the manufacturing process, ask for photos and updates frequently!
If you want to access the latest template, with a complete Purchase Order Agreement template, you can find it here:
www.junglescout.com/session10-HW
Oh and hey, we placed our deposit last Thursday! I plan to communicate frequently with the supplier, get frequent photo updates and as many fun tidbits as possible that I will be sure to pass along.
In the next session, we hosted a live Question & Answer session with Greg where we took questions from YOU before and during the session. Check it out here!
That's all for this week, thanks for joining us. If you are following along with me as I launch a product, let me know your progress and thoughts in the comments below.
Subscribe to the Jungle Scout YouTube channel for the best insights every week: