The numbers from this year's back-to-school shopping rush on Amazon paint a confusing picture. In the past month, search volume for the keywords "kids face masks," "back to school supplies," and "backpacks for school" are up 204%, 1,006%, and 2,512%, respectively. However, several categories of back-to-school essentials are tracking negative year-over-year revenue growth, including notebooks, classroom decor, and hand sanitizer.
As states define their policies for remote and in-person learning this fall, questions are swirling in the U.S. around ensuring the safety of students, staff, and parents in the midst of the surging COVID-19 Delta variant. For online retailers, the biggest question is: how is the pandemic affecting the June-July back-to-school sales rush?
Let's take a closer look at Amazon sales and search data to find out.
2021 back-to-school shopping on Amazon shows signs of negative growth
As online shopping grows in popularity, it's generally expected that sales volume and revenue will increase for most products, year over year. This is especially true for popular annual buying seasons, when online retailers run deals on hot-ticket items. The savings, combined with convenient delivery options, make shopping online versus in-store hard to resist for consumers.
So the fact that the usual back-to-school shopping period is showing spots of negative growth this year is a big deal. Though searches and sales of children's masks, clothing, and lunchboxes have been soaring in the past month or so, back-to-school staples like classroom decor, backpacks, and notebooks are lagging behind 2020 figures.
Customers are still searching for back-to-school products on Amazon
As expected, keyword searches for school supplies and kids clothing skyrocketed in July as families and educators prepared to resume in-person schooling in most U.S. districts.
Here's a sampling of the kinds of products consumers are looking for on Amazon:
Back to school: up 739% since June 2021

School supplies: up 217%

Back to school supplies: up 1006%

First day of school board: up 298%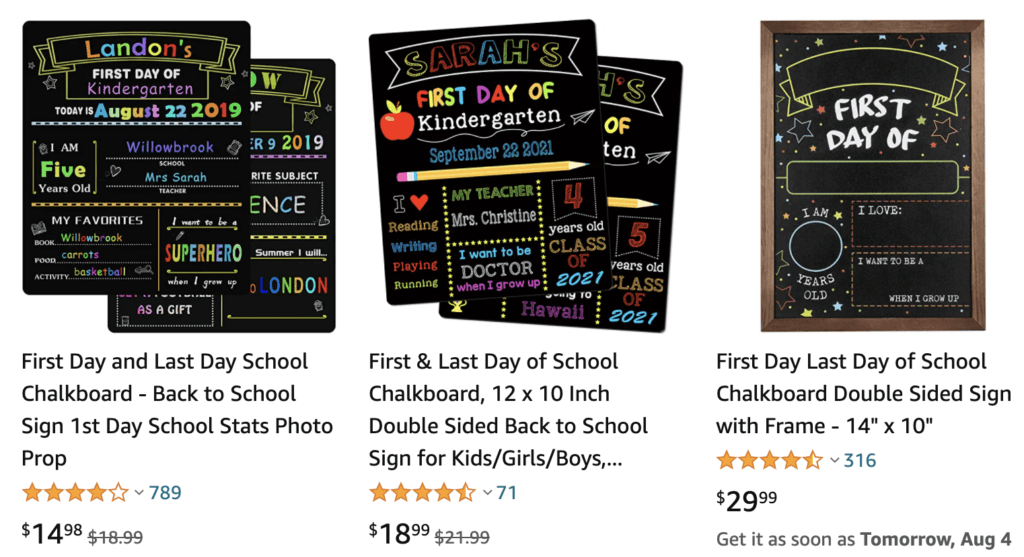 Back to school clothes: up 496%

Backpacks for school: up 2512%

Back to school shirt: up 380%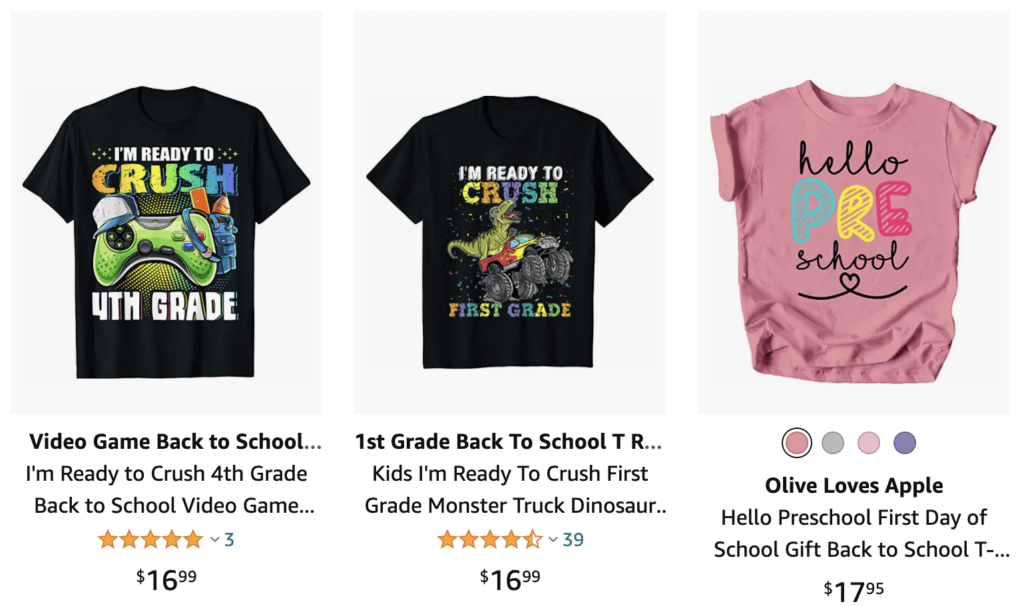 Girls clothes: up 42%

Boys clothes: up 42%

Kids face masks: up 204%
Based on search volume alone, it would appear that it's business as usual for purveyors of back-to-school staples. However, unit sales and revenue on Amazon tell a different story.
Some school supply categories are down in revenue and unit sales
Compared to sales data from last year, revenue in certain school supply categories on Amazon is lower as U.S. consumers gear up for their second pandemic first day of school.
Here is a breakdown of how back-to-school revenue is shaping up on Amazon, comparing the period of June 1 to August 1, 2021 to the same period in 2020.
Categories showing positive growth
As would be expected in a "normal" year unaffected by a pandemic, many school day essentials are generating more revenue this year versus last.
Early learning classroom supplies
This category includes products common in preschools and daycare centers, like supplies for learning numbers and the alphabet, as well as other tactile children's games and puzzles. Compared to 2020, revenue for this category is up 13%, with unit sales up 11%.
The top-performing product in this category is a kid's art easel. In the past month, it sold 2,592 units, nearly 4,000 fewer than in July 2020.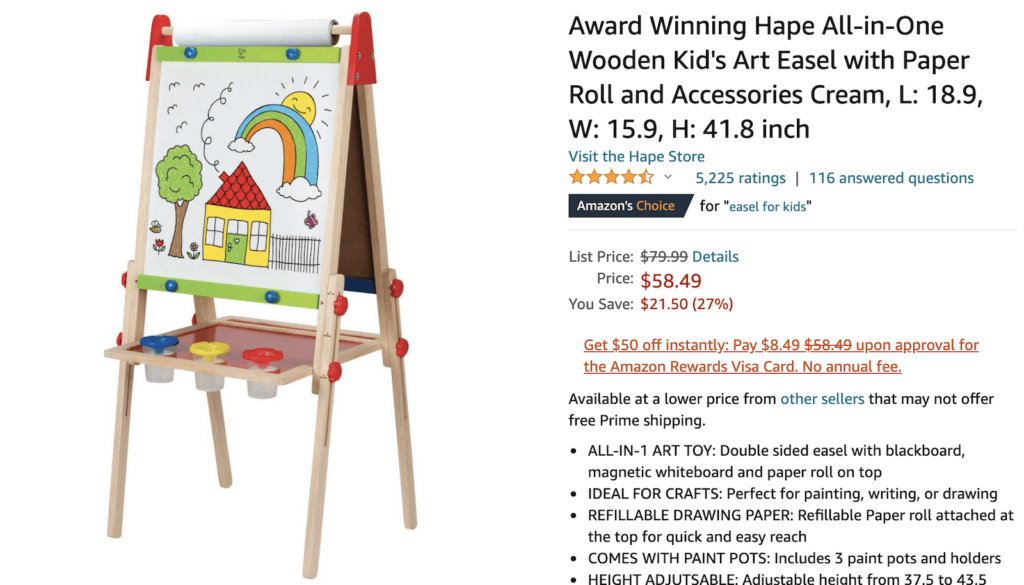 Lunch boxes
This year, category revenue for kids' lunch bags is up 72%, and unit sales are up 93% in June-July 2021 versus the same period in 2020. This niche is dominated by third-party sellers on Amazon who list items like this best-selling basketball-themed lunch box.
Categories showing negative growth
Jungle Scout data indicates negative year-over-year growth in revenue and unit sales in some surprising niches. An important caveat to this analysis is that, while entire categories of school supplies appear to be in decline this year, the leading brands and products in each generally show positive year-over-year revenue.
Classroom decorations
The products teachers typically use to make their classrooms more festive aren't selling as well this year compared to 2020 — revenue is down by 33%.
Educational charts and posters
Though the best-selling product in this category is seeing 62% growth in revenue since last year, educational charts and posters are, on the whole, down 7% in revenue this summer compared to last. This could be due to a 1% decrease in median unit price in this category, as unit sales actually increased 1% this year.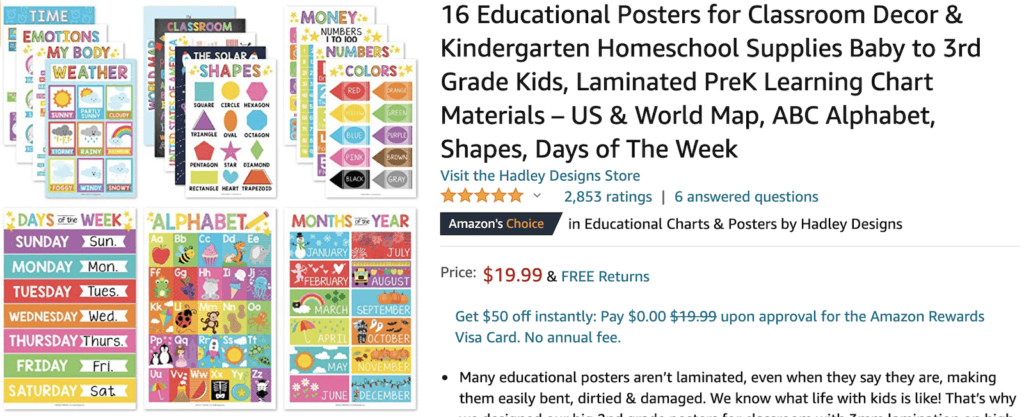 Backpacks
Fewer parents and guardians are buying new backpacks for their school-age children this year — revenue and unit sales are both down 43%. However, the category's top-selling product, a laptop-compatible backpack, is up 16% in revenue.
Pencils
Does anyone actually use these anymore? These best-selling #2 pencils are bringing in 116% more revenue this year, though category revenue is down 36%.
Notebooks
Consumers are still purchasing classic composition books like this best-selling, wide-ruled multipack. Generally speaking, unit sales of notebooks are down 39% year over year, with 2021 revenue trailing that of 2020 by 34%.
Laptops
A staple of remote learning, laptops are selling 73% less this year. However, revenue for this category still tops $300 million on Amazon, with a category-leading gaming laptop earning 37% more revenue this year.
Hand sanitizer
With schools reopening for in-person classes, you might expect sales of hand sanitizer to soar. Revenue for this category is down 91%, with the top product now moving 77% less inventory compared to 2020.
What's happening with back-to-school shopping in 2021?
This year's fluctuating consumer spending on school supplies mirrors the state of education and childcare in the U.S. more than a year into the pandemic. The issue of resuming in-person classes in lieu of remote learning is a hotly contested topic across the country. School districts have only a few weeks left to set official policies for ensuring health and safety during in-person instruction — a task further complicated by the coronavirus's more contagious Delta variant.
There could be any number of reasons why school supplies are performing differently this year on Amazon. We looked at school policies and recent consumer trends to try to shake out some answers.
Parents are shopping for mostly younger students
For one thing, the categories showing year-over-year revenue and keyword search growth are most relevant to younger children in daycare, preschool, and primary school. Throughout the pandemic, small children have occupied a COVID gray area, in that they account for a smaller proportion of overall infections versus other age groups, cannot yet be vaccinated, and have a greater need for supervision than older kids if parents are to return to work. Studies have shown that remote learning in the past year coincides with months' worth of learning loss in literacy and mathematics.
Given those factors, there has been a strong push to send children back to school as soon as possible. And as of early August 2021, most children will return to in-person school — in fact, four states have already mandated it.
With the general expectation being that students will return to physical classrooms this fall, elevated keyword search volume for kid-sized masks makes sense. Whether or not children will actually wear their masks is a separate issue, but roughly half of the U.S.'s largest school districts plan to enforce mask use in schools, per CDC recommendations.
Tech-forward learning is the new normal
Another reason sales in certain categories are down could be the accelerated adoption of technology-assisted learning in the past year. Take laptops, for example: as schools closed their doors in favor of Zoom classes in the early days of COVID, families who could afford new computers rushed to purchase them. Laptops are expensive and expected to last at least a couple years, so the slowed pace of laptop sales on Amazon this summer isn't surprising. And with so many students using digital devices for school, it follows that pencils and paper notebooks have declined in popularity.
Consumers want to save money
Additionally, parents and older students may be looking for ways to save on school supplies, given the financial uncertainty brought on by the pandemic. Around 10% of parents reported having lower income in Q2 2021 than in Q1, and over half had reduced their spending, both overall and on Amazon. It's possible that families are choosing not to replace backpacks this year. The same goes for teachers looking to reuse last year's classroom decor: teachers often pay out of pocket for their classroom supplies, a practice that may be less feasible this year.
Schools may provide hand sanitizer
Back in 2020, state education departments stocked up on hundreds of thousands of gallons of hand sanitizer to support safe operations in reopened schools. Though many districts advise students to furnish their own personal protective equipment (PPE), the pandemic-induced ubiquity of communal hand sanitizer stations in public places means more consumers may rely on shared supplies in schools.
Consumer spending on school supplies on Amazon is generally lower this year — with a few bright spots
Whatever the cause, it's clear that consumer spending on school supplies during the late summer back-to-school rush isn't as impressive this year as in 2020. But given the concerns over health, safety, and finances during the pandemic, it's not necessarily surprising that certain school supply categories aren't experiencing record-breaking revenue growth.
As schools continue to grapple with the Delta variant, there could be upticks in remote learning supplies. On the other hand, as more U.S. residents get vaccinated, parents may be more willing to spend money to send their children back to in-person classes. One thing is certain: kids get all the good face mask designs.
Methodology
Data in this report is representative of the U.S. Amazon market. Insights on Amazon keyword search volume, revenue, and unit sales were sourced from Jungle Scout Cobalt, Keyword Scout, and Jungle Scout Extension. Year-over-year percent increases in category revenue compared the period of June 1 – August 25, 2021, to June 1 – August 25, 2021. Percent increases for keyword search volume reflect July 2021 versus June 2021.
Consumer data was sourced from Jungle Scout's Q2 2021 Consumer Trends Report.
For more information about this report and/or Jungle Scout's data, please contact [email protected].
Contact [email protected] today to see how Jungle Scout Cobalt can help you explore sales data and provide strategic insights into consumer behavior on Amazon.