Customers have so many options to choose from when shopping on Amazon, so how can you make your product or brand memorable? How do you create an impactful experience for your customers?
Winning on Amazon means having a great product and offering exceptional customer service. No matter what you're selling, you want to be sure that your customers are delighted with their purchase — enough to want to purchase from your brand again and again.
Let's go over some ways to delight or over-deliver for your customers, so you earn lifetime fans of your brand.
6 Ways to create a positive brand experience
To succeed in ecommerce, it's important to build a recognizable brand, instead of selling a random assortment of products and hoping they succeed individually.
Some Amazon business models — like arbitrage and wholesale — require little brand-building effort on the seller's part; you're usually sourcing products from brands that are already well-known, so you don't need to convince consumers of their quality.
If you're selling your own private label products, you don't benefit from an established brand image — your brand is new, so you have to build it yourself!
A key aspect of building your brand is "delighting" your customers, or "over-delivering" for them. That means providing customers with an experience that exceeds their expectations, thus creating a positive impression of your brand. Customers generally expect to walk away from a purchase feeling satisfied; delighting a customer involves going above and beyond that basic satisfaction, often in surprising ways.
Since the purchasing experiences occur online, ecommerce brands can't delight their customers in quite the same way that a traditional brick-and-mortar retailer can. But there are plenty of other ways to over-deliver to your online customers and create a positive brand image. Here are some top strategies.
1. Create great packaging
Your product packaging is the first thing your customers will see once they open up that Amazon box, so make sure it's memorable and unique to your brand.
Your packaging is also part of what makes your brand recognizable. Use visually appealing packaging to go above and beyond a plain brown box or an uninspiring polybag: create something that tells your brand story and conveys a specific image or feeling. You can even use it to point customers to company contact information, social media accounts, and instructions on how to use your product.
Take Apple for example. Its easily recognizable packaging — simple white, rectangular boxes overlaid with high-resolution, life-size images of the product and minimal exterior text, plus neat interior compartments for accessories and charging cables — is consistent across their product line. While Apple may have a bigger budget for packaging, you can still take steps to give yours a recognizable, consistent look.
Coffee Gator is a brand that sells coffee makers and accessories on Amazon.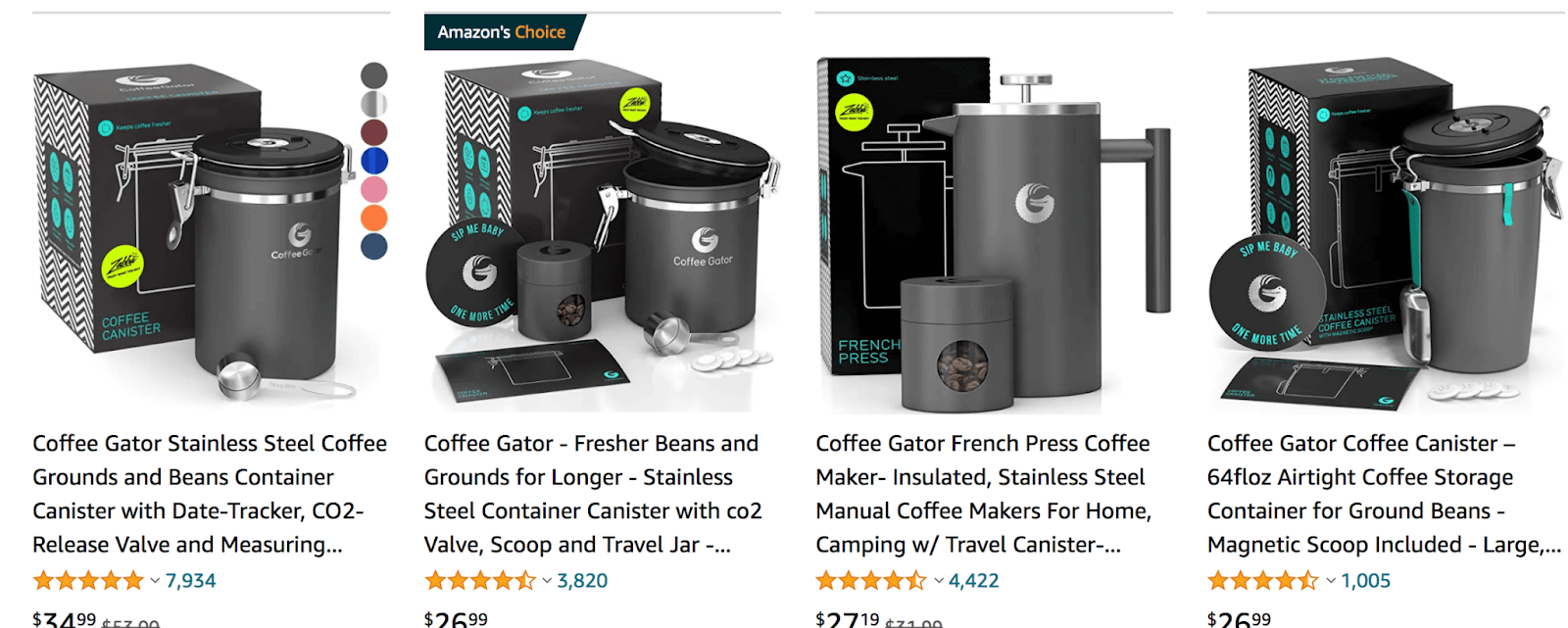 Its stunning packaging features a unique color palette, instructions for use, and a charming message from its founder inside. Customers love it.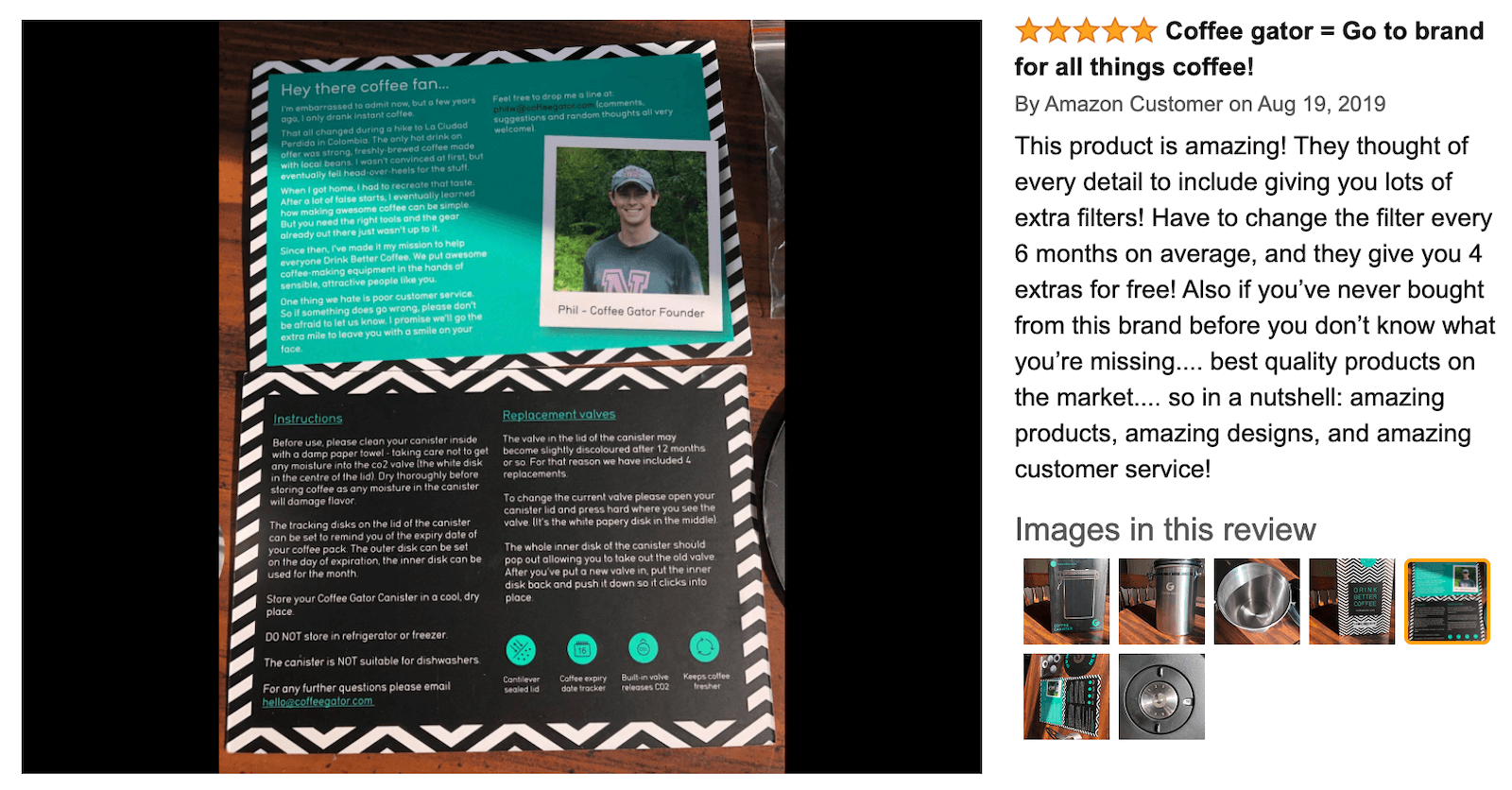 In another example, TONYMOLY puts a cute spin on the "superfood bowl" culinary trend with its "fresh and natural" skincare packaging. In the review section, customers describe the packaging as "pretty," "beautiful," and "to die for."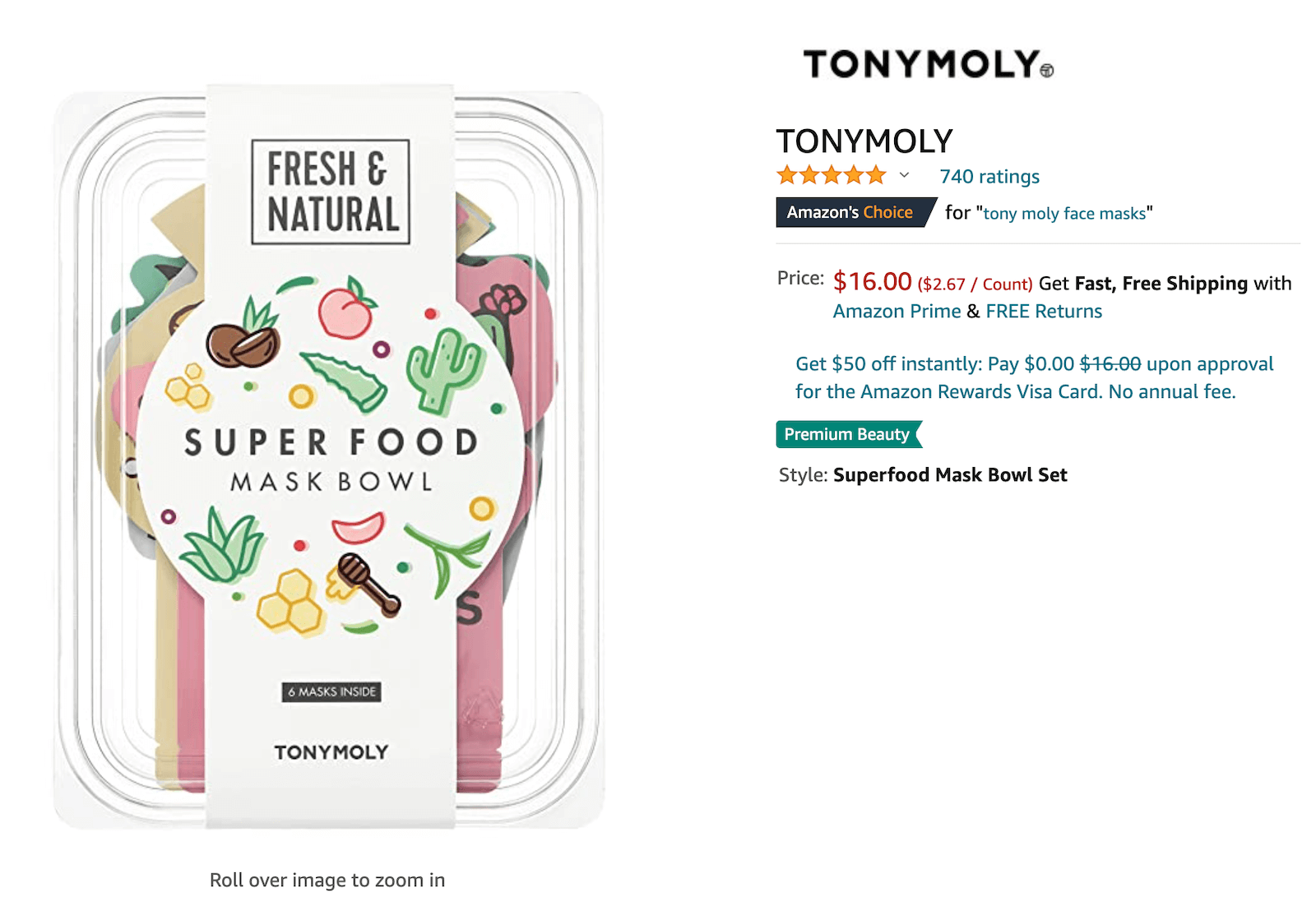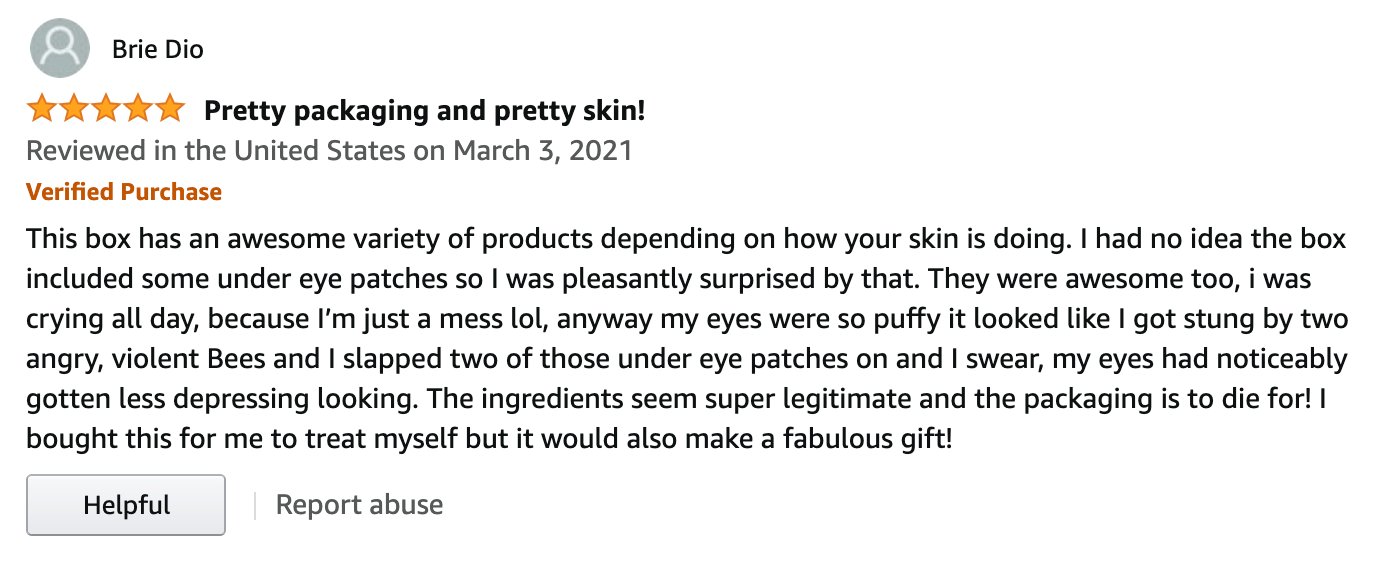 Another cool idea is to create a "collectible," or limited edition version of your packaging. By loading one out of every 100 products into limited edition packaging, you create the idea of scarcity, and the packaging itself becomes a collectible. This could potentially lead to greater demand for your product, as customers will try their luck to purchase the "rare" version of your product packaging.
Food and beverage brands do a great job of leveraging "limited edition" packaging. Coca Cola regularly produces special edition bottles commemorating TV shows, holidays, and even customers' names. They're so popular that you can still find them on eBay, years after production.
2. Provide an unexpected "gift" with your product
Remember the mystery toys you used to find in your cereal box? You never knew which version you were going to get until you opened the box and fished it out — the surprise factor made breakfast into an exciting event. You can elicit a similar joy by packaging your Amazon products with unexpected extra items.
On Amazon, you can't market your product using language like "free gift with purchase" in your listing — that's a policy violation that Amazon will eventually catch and penalize you for. But you can genuinely surprise your customers with a free gift.
This could be anything — get creative! Examples include stickers, drink koozies, or keychains. Bonus points if the item adds functionality to your product. For instance, if you sell a stainless steel tumbler, you could include a stainless steel straw with the purchase. If you sell a kitchen utensil or appliance, include a small pamphlet or insert with recipes.
These are small gestures, but your customer will appreciate the little extra "something." It makes them feel special, like your brand really cares about the value they derive from your product — which they're likely to remember for future purchases.
3. Don't over-promise in your listing copy
We all believe that our products are the absolute best, and we want customers to think so, too. But that isn't always the case. The last thing you want to do is oversell in your listing, so that when your customer actually receives the product, they're disappointed that it's nothing like you promised. This can happen if you advertise your product as using high-quality materials when in reality, you went with the cheapest options.
There are too many listings out there that "oversell" their products by saying how great they are or how much better they are than the competition. While it is important to convey your competitive edge, do it in a way that doesn't overpromise.
An unsatisfied customer's frustration and anger often leads to a negative review — in fact, it's the number two reason why any customer leaves a review. So while it is important to have compelling copy on your Amazon listing, you need to be 100% truthful about what you are selling. The idea is to underpromise in your listing and overdeliver with your product.
4. Offer a discount on their next purchase
Everyone loves a good discount, and consumers are increasingly using deal-finding technology to find great prices online. Offering deals is a great way to entice new customers and increase your customer retention, as low prices will incentivize consumers to purchase from you a second time.
Try adding a product insert to each product package that offers customers a discount the next time they buy from you on Amazon. You can say something like, "Thanks for your purchase! Enjoy 15% off your next purchase on Amazon using this code…"
This is a great strategy to use with everyday products that customers will need to replenish, like soap or paper products. If the customer knows they'll get a good deal from you the next time they run out of dish detergent, they're less likely to look elsewhere when making their purchase.
Now, be careful with insert cards. While you can offer a discount for their next purchase, here's what you can't do:
Encourage the customer to visit your own website instead of your Amazon listing

Incentivize customers to leave you a review
Amazon does not want sellers to divert traffic to other ecommerce sites, and forbids sellers from soliciting positive reviews from Amazon customers.
5. Understand the importance of customer service
If you use FBA to fulfill your Amazon orders, then you know Amazon handles most of the legwork of customer service on your behalf. But sometimes, a customer may reach out to you directly with a complaint.
Whether you use FBA or FBM, you need to understand the importance of customer service. Customer service can make or break your business, especially on Amazon, where the sheer volume of competition makes every customer interaction count.
Even if you think the customer is in the wrong, you as the seller must remain calm and try to understand their perspective. If you are combative and insist that the problem lies with the customer and not your brand, not only will you lose money on the sale, but you'll most likely receive a negative review.
Your interactions with customers speak volumes about your brand as a whole. If you provide a negative experience, customers will remember your brand as one they don't want to do business with anymore.
It's not worth trying to fight with someone over their purchasing experience. Instead, kill them with kindness! Respond to each issue quickly, in a calm, helpful manner, and your angry customers are more likely to change their tone. Instead of using canned responses, make sure your communication is personalized. That way, the customer knows you're paying attention to their specific issue.
For instance, say you sell a product that comes in multiple sizes. A common issue may be that a customer received the wrong size on accident. The right thing to do in this situation is to apologize and offer to send the correct size to them, free of charge.
This one is pretty obvious. If you use FBA to fulfill your Amazon orders, then you don't have to worry about this, as Amazon will deliver your products to customers' doors with a couple of days.
If you sell through FBM or Seller-fulfilled Prime, you still need to ensure that your shipping and handling time is up to the standards of the typical Amazon customer. If possible, ship out your orders the same day or the next day. Prompt delivery makes for happy customers — especially if you can surprise them by getting their packages to their doorstep earlier than expected.
Make a lasting impression on your customers
Creating a positive brand experience for your Amazon customers is crucial to earning great reviews, building brand awareness, and developing a loyal customer base. Growing an Amazon business is hard, but happy, loyal customers make life as an ecommerce entrepreneur that much easier.
What are other ways you delight your customers? Let us know in the comments!