Want to sell on Amazon with that coveted Prime symbol on your product listings? Amazon has a program called Seller-Fulfilled Prime, which allows third-party sellers to offer and and two-day Prime shipping without using Amazon's warehouses for fulfillment.
While Seller-Fulfilled Prime (SFP) can help small-medium sized businesses increase their sales on Amazon, sellers must meet Amazon's strict performance standards in order to be eligible for SFP as well as to maintain SFP status.
We'll cover everything you need to know about Amazon Seller-Fulfilled Prime, including:
2023 Updates:
As of October 1, 2023, enrollment for

Seller Fulfilled Prime

is reopened.

Amazon originally stated that they would charge a 2% fee for all Seller Fulfilled Prime orders but have decided to

remove the fee

based on seller feedback.
Continue reading to learn more about Seller-Fulfilled Prime and how your business can enroll in 2023.
What is Seller-Fulfilled Prime?
Seller-Fulfilled Prime is a program that allows Amazon sellers to offer one-day and two-day Prime shipping to Amazon customers while fulfilling orders from their own warehouse or by using a third-party fulfillment center.
This is different from Amazon's Fulfillment by Amazon (FBA) program, in which Amazon handles the packing, shipping, and other fulfillment operations for a seller's Amazon products from their warehouses. (Since they control the shipping, all FBA products automatically sell as Prime.)
If you want to fulfill your own products (ie. Fulfillment by Merchant or FBM) — whether to maintain full control over the fulfillment and storage of your Amazon inventory or avoid paying Amazon FBA and storage fees — SFP allows you, as an Amazon seller, to experience the sales benefits of having the Prime badge on your listing.
By offering this Prime shipping on your listing, you are committing to fulfill all your orders with fast, two-day shipping at no extra charge to the customer.
Not only is this appealing for Amazon shoppers and can help drive sales for your products, it's also great for Amazon, which can increase its Prime offerings without taking up more warehouse space.
Amazon will reopen Seller-Fulfilled Prime enrollment for 2023
As mentioned above, Amazon will be reopening enrollment for SFP in 2023. Here is the announcement Amazon made in Seller Central:
"We are excited to announce that we will reopen new seller enrollment for the Seller Fulfilled Prime (SFP) program later this year.

We first launched SFP in 2015. Our goal was to allow sellers to independently handle the fulfillment of their products while also making them available to Prime customers with the same fast, free delivery they have come to expect.

As the program grew, we unfortunately realized that SFP was not providing the same high-quality experience that customers expect from Prime. As a result, we paused new seller enrollment while we worked to make sure we had more support for sellers and clear standards in place for the SFP program to ensure it provides customers a great Prime experience. We appreciate the sellers that have helped us work through this, and we are excited to be at the point where we will soon reopen enrollment.

We will update you in the coming months with enrollment details and updated requirements to ensure that it meets Prime customers' high expectations. We look forward to the improved customer experience that these changes will bring. For those of you that have been interested in joining SFP and waiting, we thank you for your patience. To learn more about the program, go to Seller Fulfilled Prime."
In September 2020, Amazon paused enrollment for the SFP program due to it not providing the same high-quality experience that customers expect from Prime.
Below, we'll show you how you can join the waitlist for Seller-Fulfilled Prime in 2023.
How does Seller-Fulfilled Prime work?
To be eligible for SFP, Amazon sellers must go through a trial period of anywhere from five to 90 days, and fulfill at least 100 Prime packages with all of Amazon's strict shipping requirements.
During the trial period, you must offer Premium One-Day to Two-Day delivery options to prove to Amazon that you can meet the fulfillment promises. The Prime badge will not be displayed on your listings during the trial period, and you must process the orders with a zero-day handling time.
Currently, Amazon does not provide more details on the trial period.
What are the requirements for Seller-Fulfilled Prime?
You must meet the following criteria to be considered for SFP:
Offer Premium Shipping Options

Ship over 99% of your orders on time

Have an order cancellation rate of less than 0.5%

Use Amazon Buy Shipping Services for at least 99% of orders

On-time delivery requirement is 93.5% or higher (goes into effect October 1, 2023)
Valid tracking rate requirement is 99% or higher (goes into effect October 1, 2023)

Have nationwide delivery coverage for all standard-size products

Use ship methods that support weekend delivery and pick up (Saturday or Sunday)

Meet targets for 1-day and 2-day delivery promises

Deliver orders with our supported Seller Fulfilled Prime carriers

Seller must agree to the Amazon Returns Policy

Allow for all customer service inquiries to be dealt with by Amazon
In order to meet the high bar for a proper "Prime customer experience", Amazon provides access to the best transportation solutions.
Once you complete the trial period, Amazon will automatically enroll you into SFP and your product listing will then display the Prime badge!
To maintain eligibility for SFP, you are required to meet the same Prime trial performance requirements consistently. Even if your feedback rating or your cancellation rate were to drop below Amazon's criteria for one day, Amazon will remove the Prime badge from those listings, and you may no longer be eligible for SFP.
Who can use Amazon's Seller-Fulfilled Prime program?
SFP is great for experienced Amazon sellers who sell high volumes through FBM.
Currently, SFP requires sellers to enable one-day and two-day Prime shipping nationwide.
If your business is not able to meet those requirements, then SFP may not be the best solution.
Pros and Cons of Amazon Seller-Fulfilled Prime
Pros
You have access to Amazon's 150 million Prime members. Prime members are Amazon loyalists. 67% of Amazon Prime members

said if they had to shop at only one store, it would be Amazon. By enabling the Prime badge on your listings, your products will have increased discoverability as Prime customers can filter their search by Prime products only.
You don't have to pay FBA fees or storage fees. Amazon's FBA fees and storage fees can be a huge deciding factor for whether sellers choose to use FBA or SFP. Because of how Amazon's fee structure

is based on weight and dimensions, you may be more profitable using SFP than FBA. Additionally, storage fees vary during different times of the year and Amazon can

limit your storage space if your IPI score is low.
It helps you compete for the Buy Box. Winning the Buy Box

means that when customers click on "Add to Cart," their default option is to buy the product from you. Products listed with the Prime badge have increased chances to win the Buy Box over an FBM offer. Even if you were selling your product via FBM, your price would have to be considerably lower than an FBA or SFP offer to get the Buy Box.
You have more control over your inventory. By utilizing SFP, you will have more control and insight over your Amazon inventory by keeping your operation in one location. You'll avoid lag time between sending inventory into an Amazon FBA warehouse and worrying about running out of stock. You also have the option of using a third-party fulfillment center to store and ship SFP orders.
Cons
You have to meet Amazon's strict standards to maintain SFP status. If you are not able to meet Amazon's requirements for SFP, then Amazon will remove your Prime eligibility.
You cover the cost of storing and shipping items. Yes, you'll save money on FBA fees and Amazon storage fees, but that does not mean you will not have any costs of your own. You need to take into account the cost of a warehouse, employees, shipping supplies such as boxes and labels, as well as expedited shipping costs. And premium shipping costs can really eat into your margins

.

You have to handle returns. When using FBA, any customer's returns will be handled by Amazon and sent back to Amazon. When using SFP, not only do you need to abide by the same return policies as FBA sellers, but customer returns will be sent back to you. This can be a challenge if you do not have the space or a standard operating procedure for handling returns.
Amazon will now charge an extra fee for SFP orders. Starting October 1, 2023, Amazon will charge an extra 2% fee on every SFP order you receive. The fee applies to all size tiers; standard-size, oversize, and extra large.
Alternative fulfillment options for SFP sellers
If you are no longer able to meet Amazon's new strict SFP requirements, what are your options?
Well, obviously you can use FBA or switch back to FBM where you can no longer offer Prime shipping, but those options may not be best for your business.

You can utilize a third-party fulfillment center to store and fulfill all of your SFP orders. You will then need to pay storage fees to the warehouse you use.

There are plenty of fulfillment centers that work with Amazon sellers and Seller-Fulfilled Prime specifically. To learn more about finding third-party fulfillment centers that can handle your SFP orders, check out our article on

Alternatives to Amazon Fulfillment

.
How to enroll in SFP
Enrollment to Seller-Fulfilled Prime will be reopening in 2023. To be alerted when Amazon will be accepting new applications, join the waitlist.
To join the waitlist for SFP, visit the Seller-Fulfilled Prime landing page and click "Join the waitlist."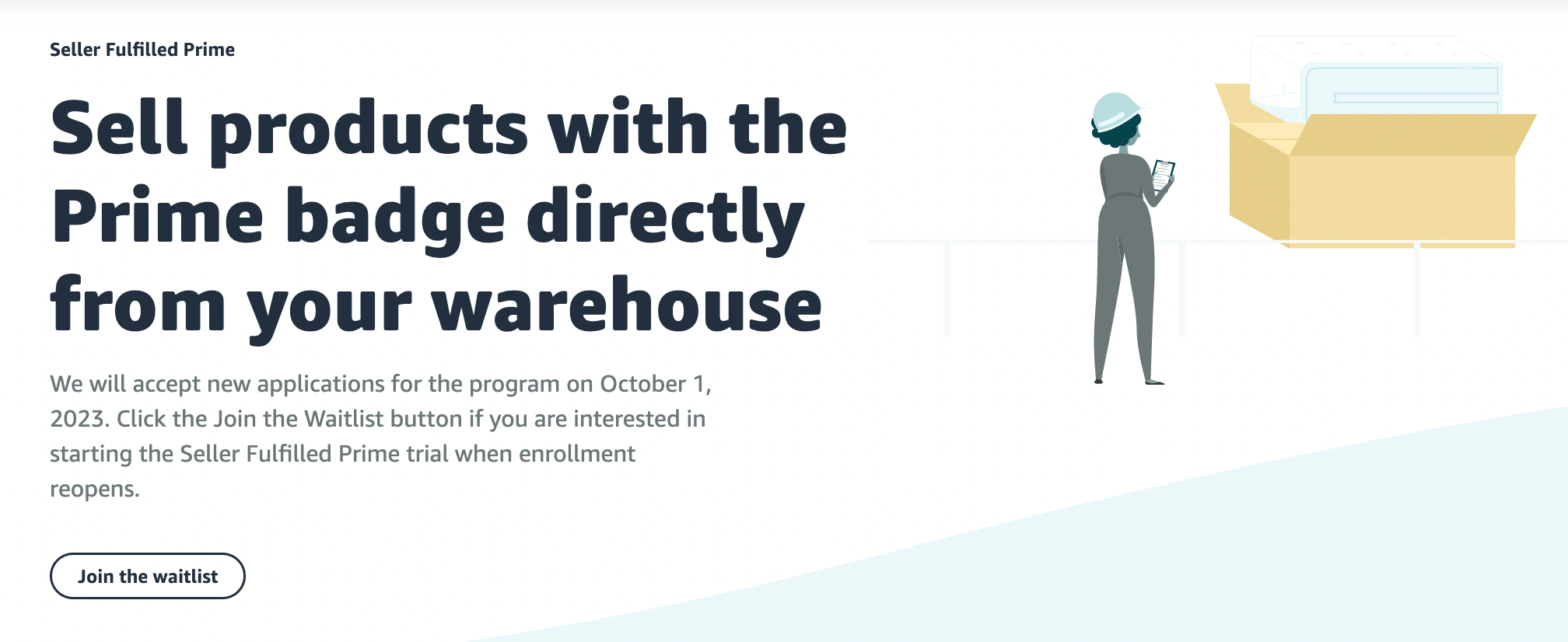 Once you click, you will be taken to your Seller Central account and should see this message:

To ensure your business will be ready for SFP, set up some FBM offers and see if you can handle the fulfillment process and maintain Amazon's requirements. If you find you're successful, you may be the perfect candidate for SFP!
Do you sell on Amazon using Seller-Fulfilled Prime or have any more questions? Let us know in the comments!