In a market flooded with choices, your brand identity can be the key distinguisher that makes customers prefer you over the competition.
While marketplaces like Amazon are lucrative sales channels, it's important to create a storefront that's entirely yours to own and manage. This allows you to forge a strong brand identity, reduce your reliance on marketplaces, and shape the user experience from start to finish.
So, how do you get started? There are several great options for creating a website or branded storefront; in this guide, we'll cover how to use Wix's eCommerce website builder to launch, run, and grow your online store.
Why do you need a website?
Though it can be hard to take your eyes off your cash cow, it's never too early to start building up a customer base and brand of your own. Among the many benefits of creating a standalone site, you stand to gain:
Greater control over your branding

– When you sell on any online marketplace, you're bound by its rules; you can't slap your logo wherever you want, let alone fully control what's displayed on a product listing. By contrast, when you own an online store, you have full creative freedom over the look and feel of your site.



Greater control over pricing (and your margins)

–

On marketplaces, your competition often dictates your pricing strategy. However, when running your own website, you can enjoy a competitor-free space. You can test various pricing strategies, as well as discounts and special offers without facing the pressures and restrictions imposed by a third party.



Ownership over data and analytics – While marketplaces provide some level of sales data and audience insights, your visibility is limited. Marketplaces also retain full visibility over your metrics, which has been a source of discomfort for many sellers. Using a platform like Wix eCommerce, you can take advantage of built-in analytics, custom reports, and integrations allowing for retargeting or additional tracking.
Engage your customers directly

– You have little say over the customer's journey on marketplace, and most don't allow you to engage with customers outside of their platform. On the other hand, an online store paves the way for regular, ongoing conversations with your customers. You can create a shopping experience that's tailored specifically to your buyers and freely re-engage them via email, SMS, and other avenues once you receive their consent.

A more future-proof space

– All in all, building your own website helps you to lay the right foundation for a self-sustaining business. Instead of a third party holding the keys to the kingdom, you maintain total control. You don't have to fear a sudden account suspension. You don't have to fight for real estate. You set the rules and run the show.
Who should use Wix eCommerce?
Wix eCommerce is specifically a great option for SMBs and fast-growing brands looking to amplify their online presence, both domestically and internationally. It offers intuitive design controls and extensive back-office features for a wide range of industries.
How to create your online store with Wix
Now, let's dive into the basics of how to start an online store with Wix. Once you've signed up for a free or premium Wix account, follow these seven simple steps.
Step 1: Pick a template and customize your online store's design
First, choose from one of Wix's eCommerce website templates. These templates are designed to fit the needs of various types of stores, including clothing, accessories, home decor, beauty, electronics, and more.
Consider the size of your product catalog and consumer preferences when picking your design. For inspiration, check out these 14 website design examples, all of which were built with Wix.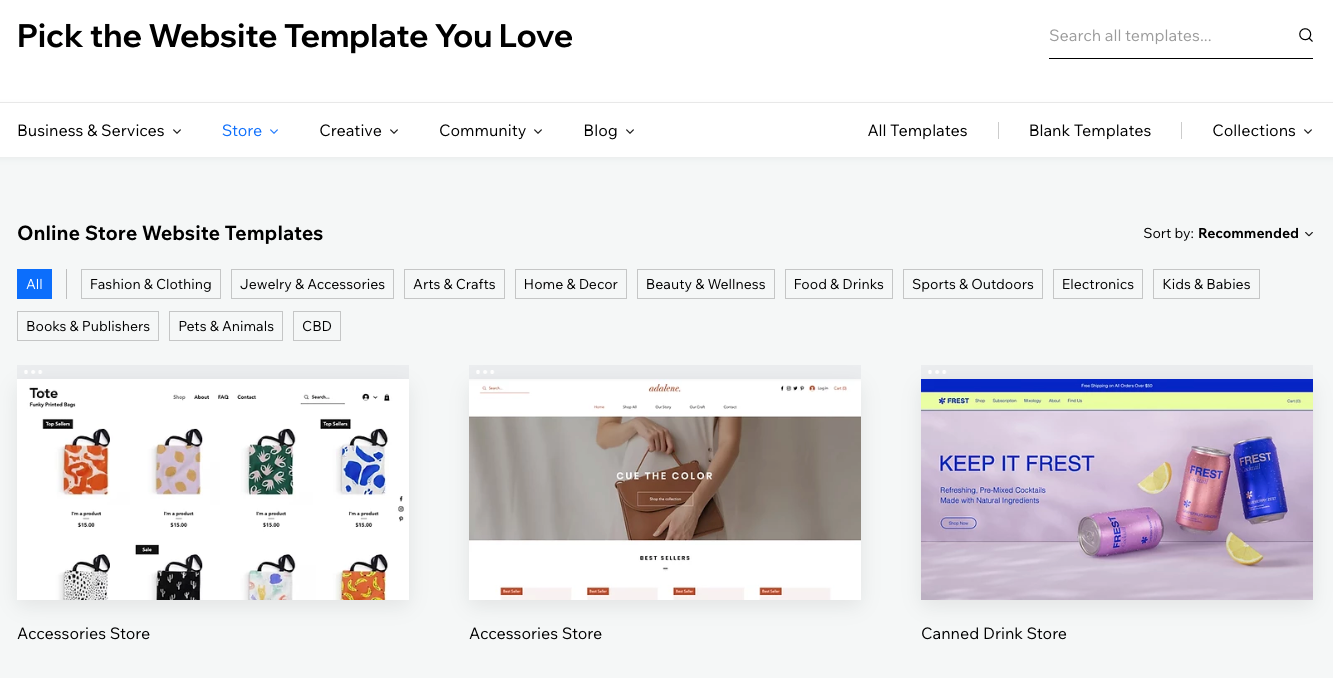 Once you've picked a template, you can start customizing your storefront using Wix's drag-and-drop editor to create a shopping environment that appeals to your buyers. Utilize a thoughtful mix of fonts, images, text, and colors to ensure that the online store is truly representative of your brand.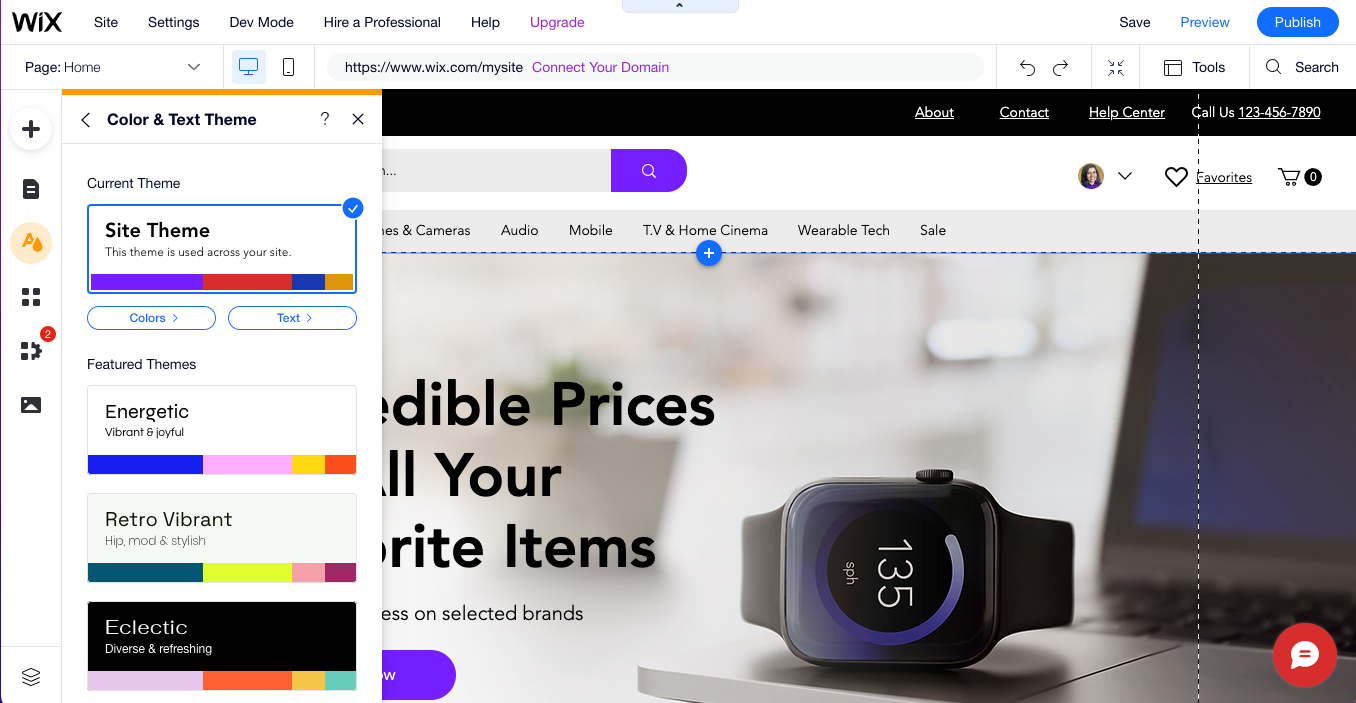 Step 2: Enhance the mobile experience
A staggering 52% of consumers browse products on their smartphones before making a purchase.
It's therefore necessary to ensure that your online store is optimized for mobile devices.
Wix sites are mobile responsive by default. However, you should use the mobile editor to ensure that all of your buttons, text, media, and animations appear as you'd like them to. Be mindful of mobile website best practices, such as keeping your main CTA above the fold and limiting distractions.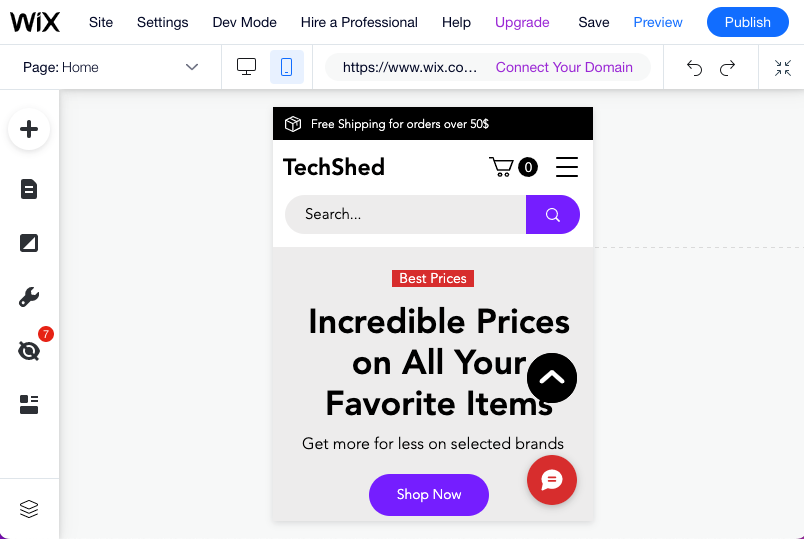 Step 3: Add products to your store
Now that the framework of your store is ready, you can start adding your products.
Simply go to "Products" under the "Store Products" tab of your Wix dashboard and click on the "+ New Product" button.
This click will take you to a page where you can upload your products individually or in bulk. You can import your product catalog via a CSV file or skip to Step 7 and connect your Amazon account, which allows you to automatically sync your Amazon catalog with your site.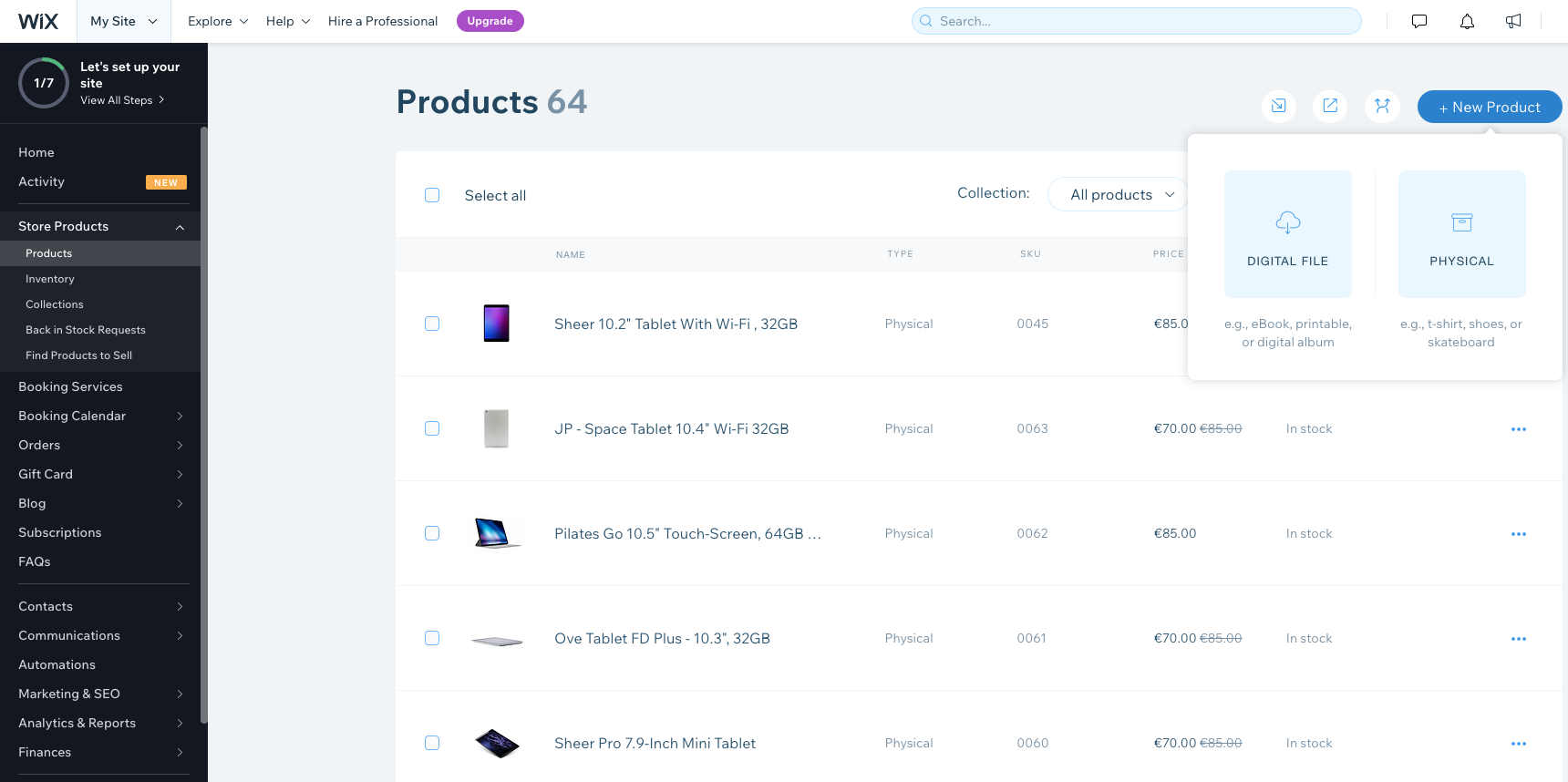 Note: You have the option of listing and selling products from dropship suppliers. Wix allows you to add products from your supplier's catalog (including print-on-demand products) to your store and customize their details and prices.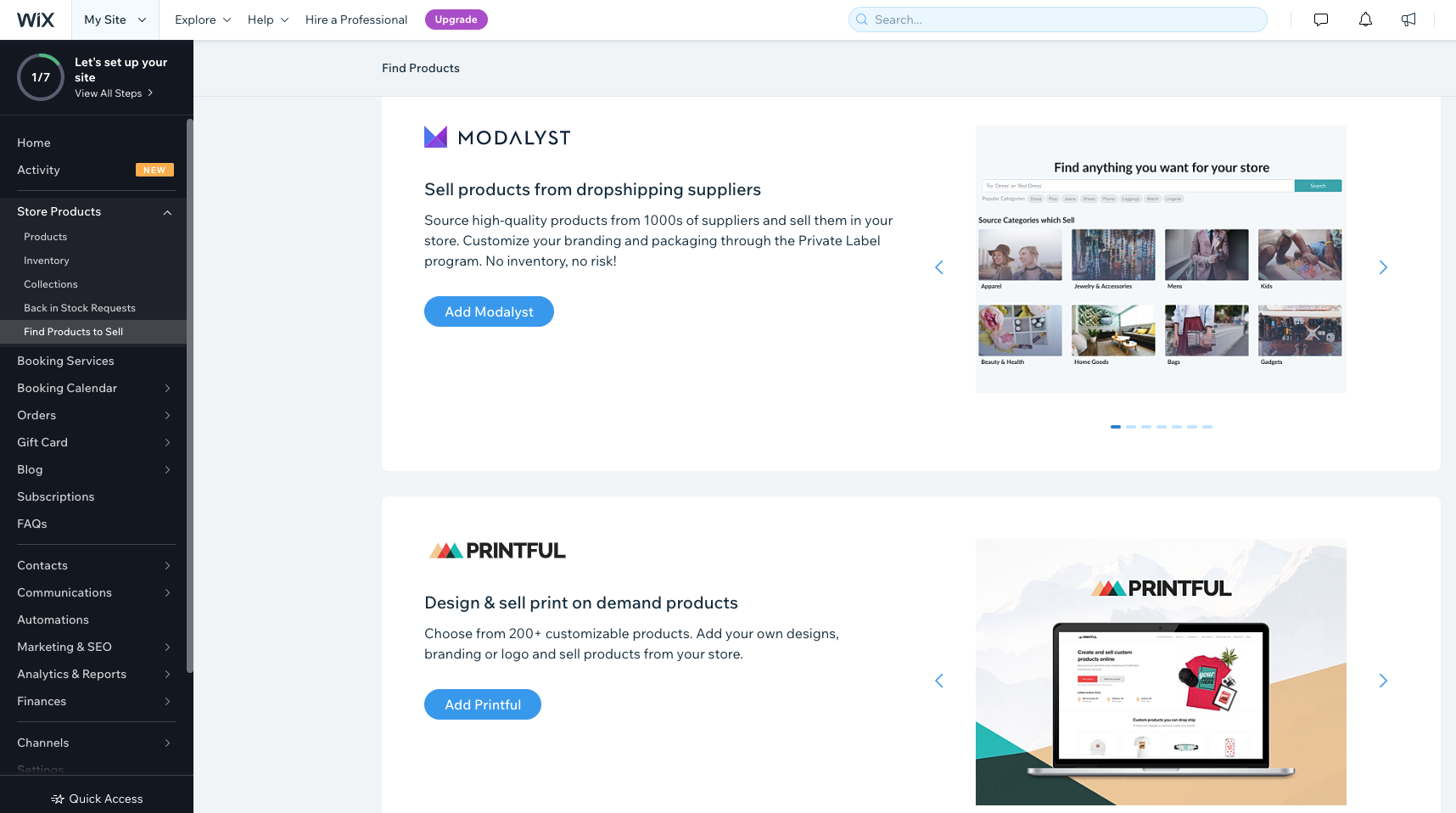 Step 4: Connect a payment provider
Being able to accept secure online payments — as well as a variety of payment types — is critical to the checkout experience.
To connect a payment provider to your store, go to "Accept Payments" under the "Settings" tab of your dashboard. Confirm your business location for Wix. Wix will then identify payment providers available in your region.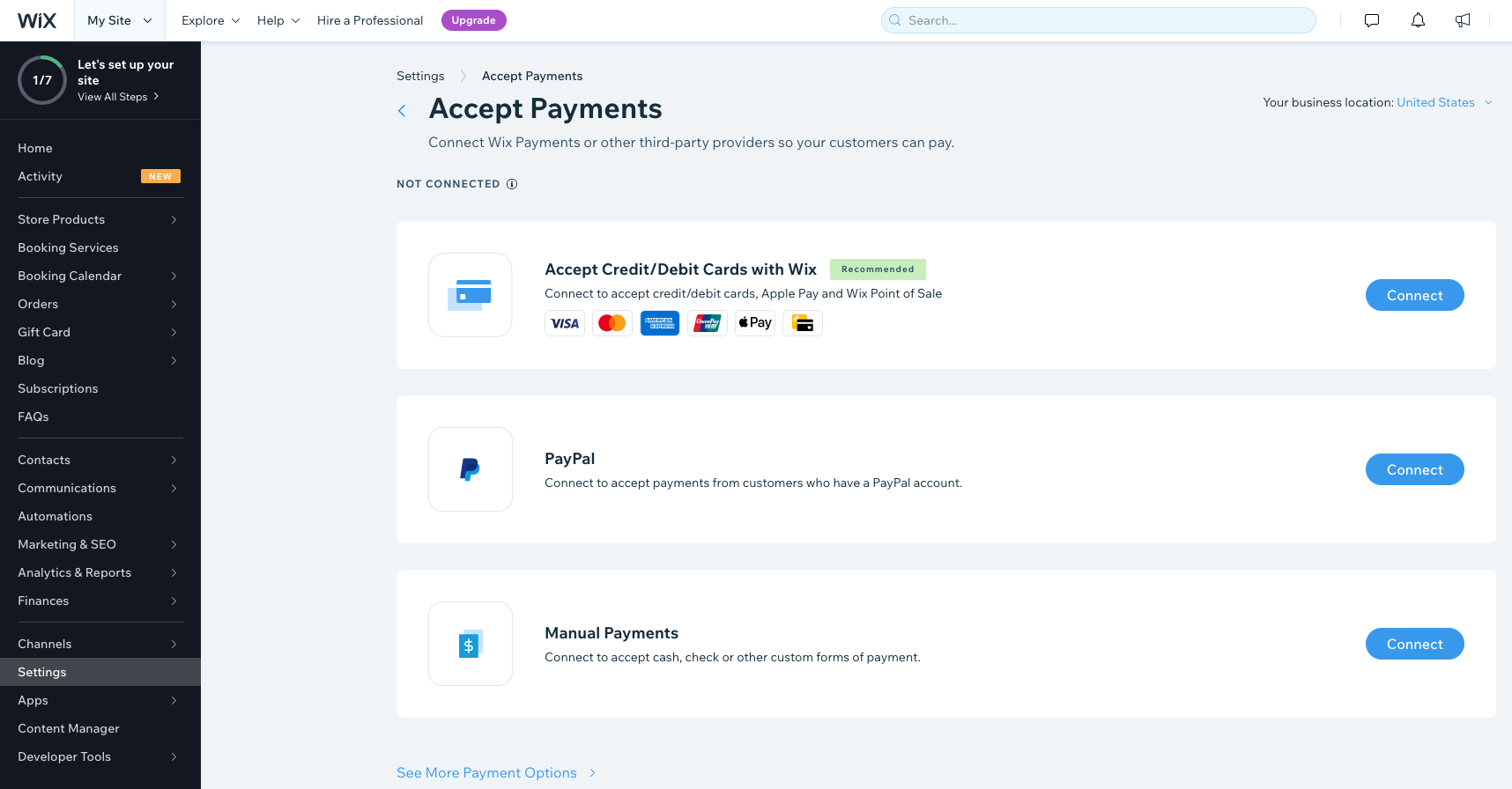 You can connect your store to any of 50+ trusted payment providers, including Wix Payments, PayPal, Stripe, and Square. To be more customer-centric, you may additionally want to consider offering Buy Now, Pay Later (BNPL) on your store by enabling solutions like Affirm, Afterpay, Sezzle, and more.
On average, Wix stores with three or more payment methods see 39% higher sales revenue.
Step 5: Set up shipping and fulfillment
Set your shipping policies by going to "Shipping and fulfillment" under the "Settings" tab of your dashboard. Here you can select the shipping regions (domestic or international), rules, and rates for your online store.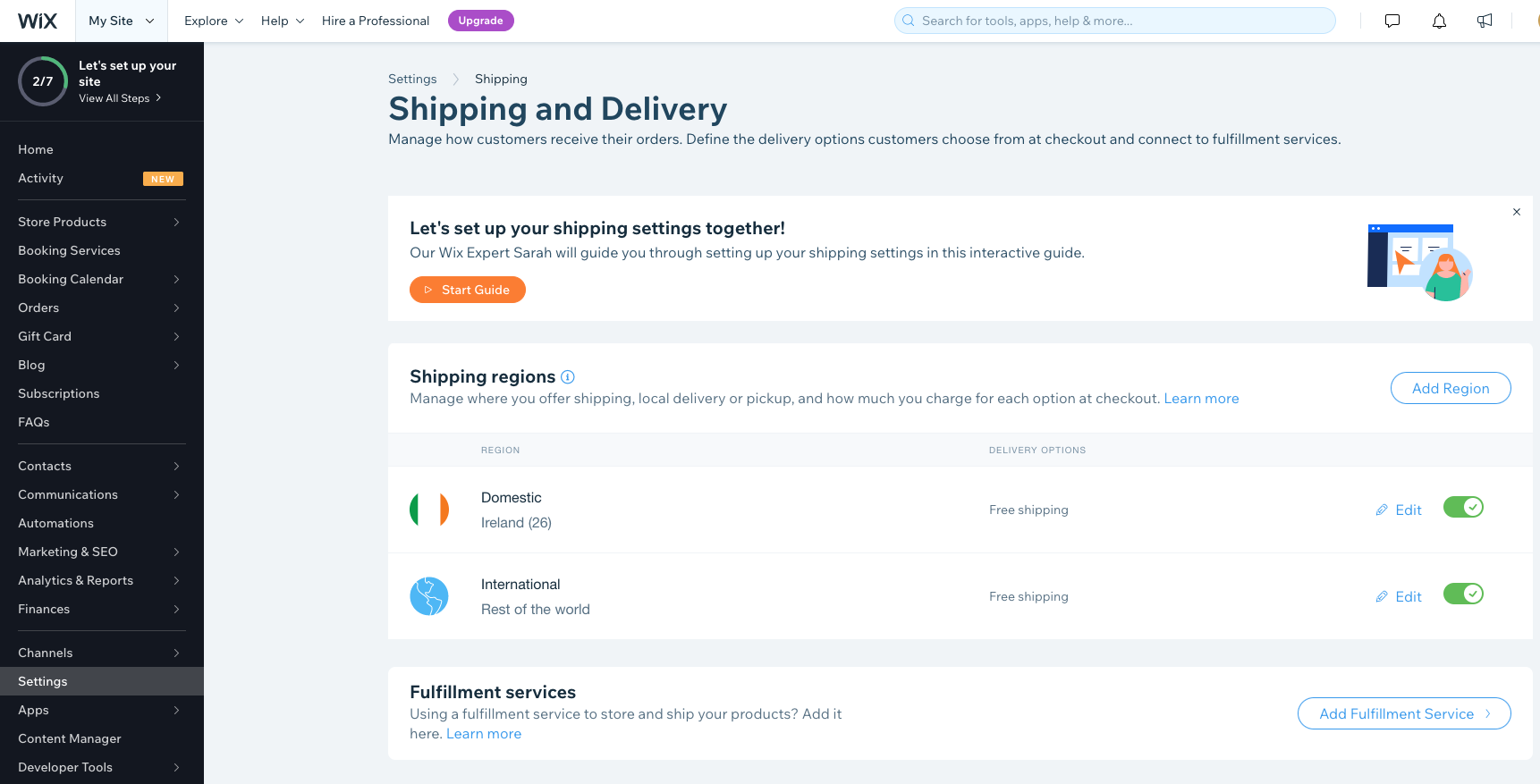 Wix offers integration with some of the most trusted fulfillment apps, including Shippo, ShipStation, Envia Shipping Solution, and Amazon MCF. You can install one of these apps to automate workflows, get competitive rates on shipping labels, and simplify other tasks. Moving forward, you'll be able to manage all orders and shipping labels from your Wix dashboard.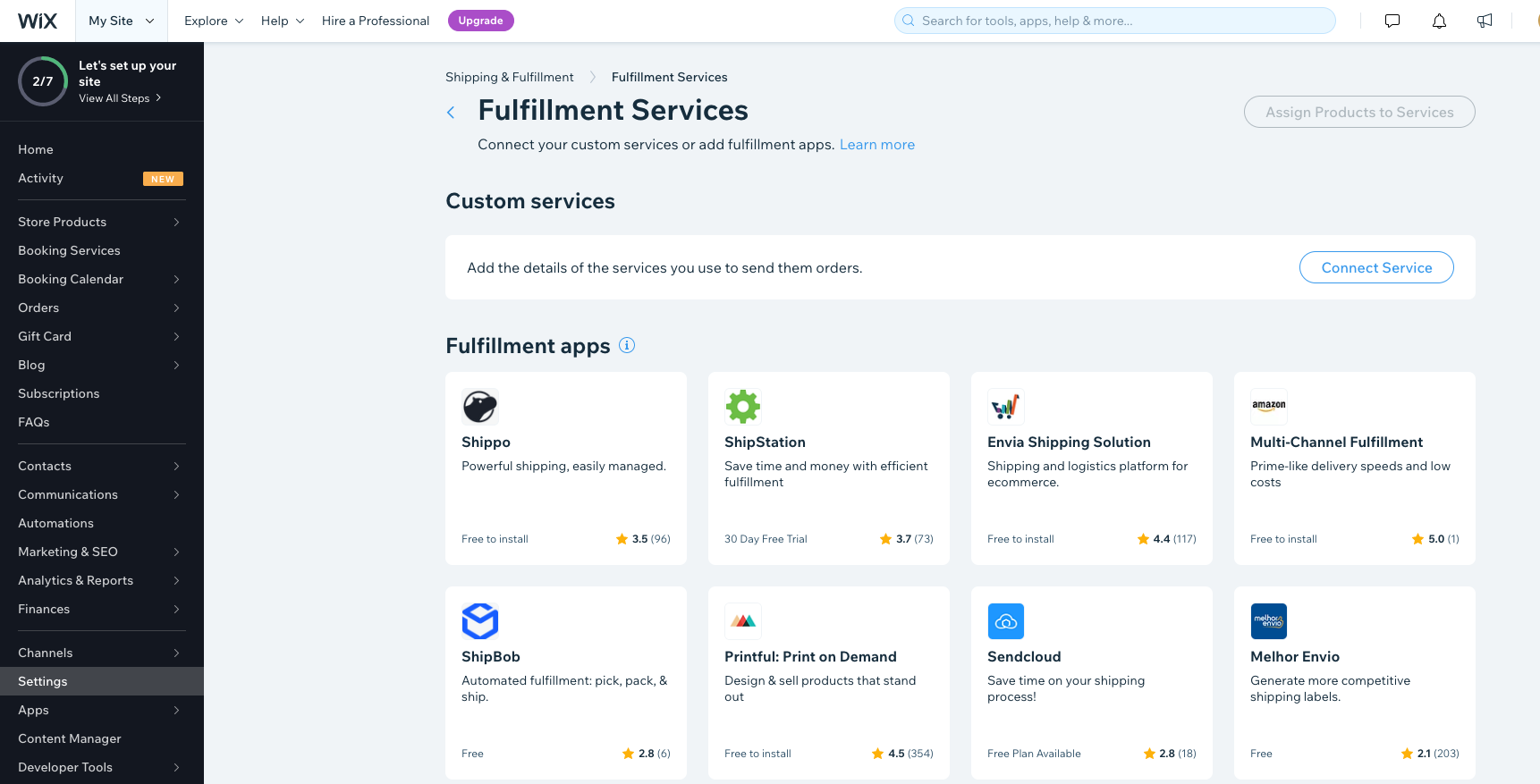 Step 6: Choose a custom domain and start selling
To get your site up and running, you'll need a domain. You can either purchase a domain inside your Wix account or transfer a domain purchased from another host.
Simply go to "Connect Domain" under the "Settings" tab. Although all Wix sites come with a free "wixsite.com" address, a custom domain will give your store a professional look and help strengthen your brand identity.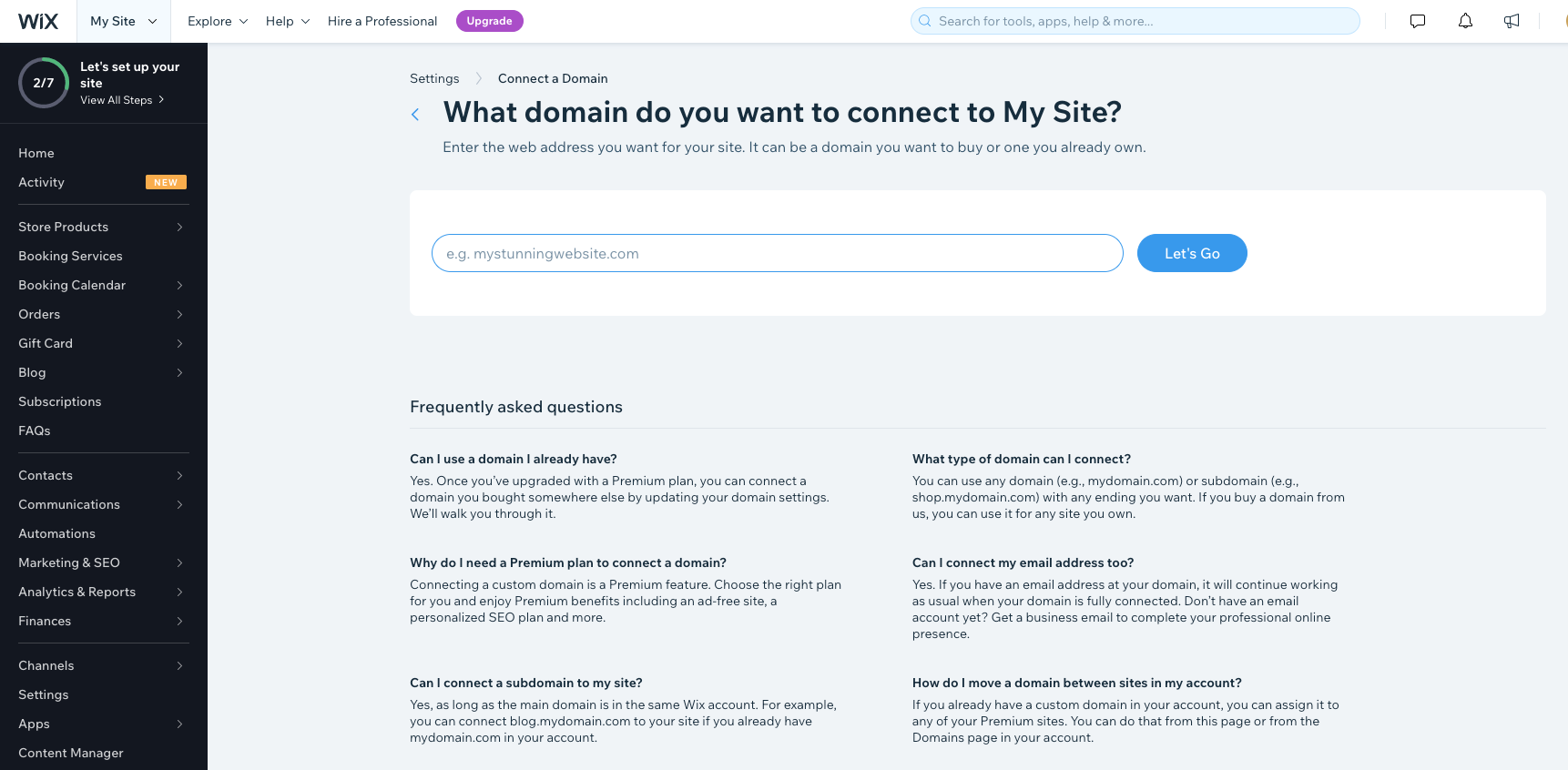 Once you've connected your domain and reviewed your site, hit "Publish" on the top right corner. Voilà! Your site is up and open for business.
Step 7: Connect your store to Amazon and other channels (optional)
Once you have created your online store, you can easily connect it with your Amazon or other marketplace account.
Go to "Amazon" under the "Channels" tab of your dashboard. On average, Wix merchants who add a sales channel see their revenue grow by up to 12%.
Once integrated, you can automatically track inventory and sales across all of your sales channels. This protects you from overselling on any one channel. You will also be able to see your Amazon order details within Wix's unified dashboard.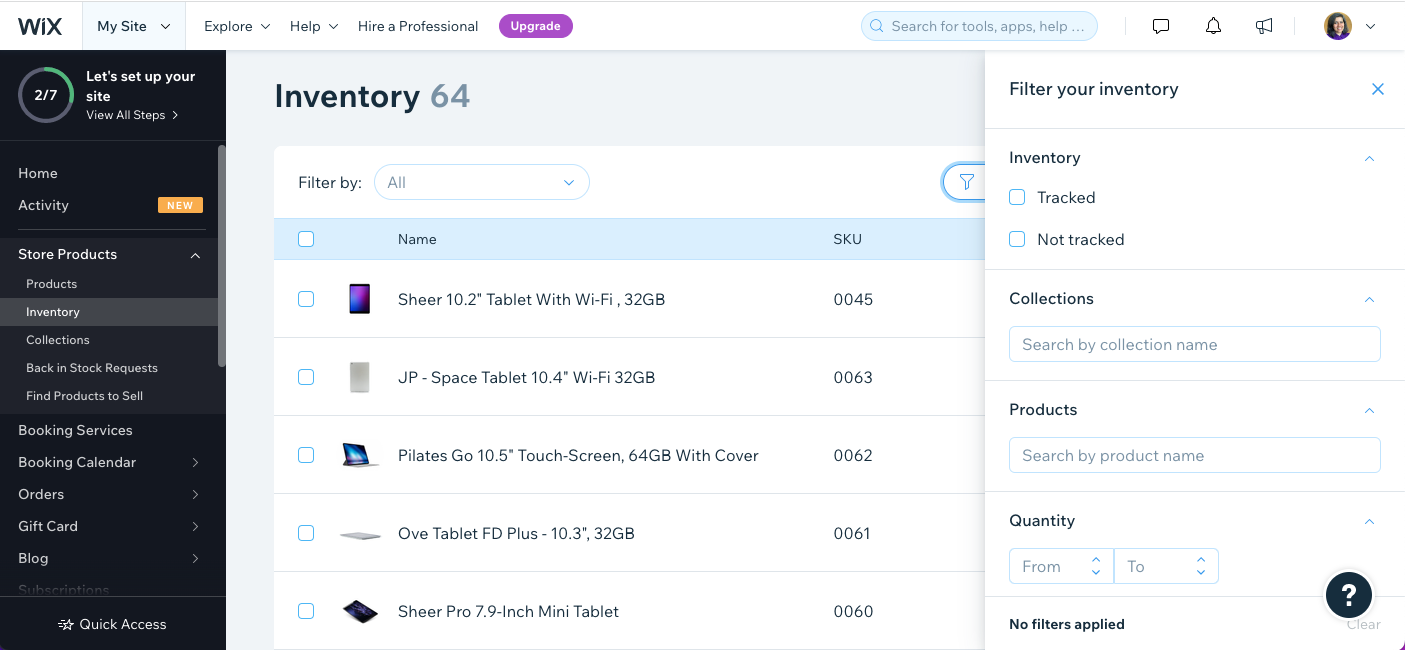 Get started with Wix eCommerce today
Wix eCommerce supports entrepreneurs and fast-growing brands all across the world. Whether you're looking to launch your eCommerce business from the ground up, or to amplify the reach of your existing business — take Wix for a spin.