Never before have you been able to manage your FBA business in one spot, from finding a product all the way to monitoring profits.
But now, with the introduction of Sales Analytics , Jungle Scout does just that.
With its product research, supplier database, launch and listing optimization solutions (and more), Jungle Scout gives sellers the powerful tools they need to scale their business all in one place.
What is Sales Analytics?
Sales Analytics is a financial command center that organizes and tracks all of your Amazon sales data, including revenue, costs, and of course, profits.
Using this feature, you can view, track, and analyze important business metrics in real time so you can zero in on profit-building and cost-saving strategies to help you earn more money with Amazon FBA.
Check out the following video, as I walk through the Sales Analytics feature to show you how it can help power up your sales.
This is a game changer. Never before have you been able to manage your FBA business in one spot, from finding a product all the way to monitoring profits.
How can Sales Analytics help you?
Sales Analytics arms you with a variety of features that help you collect and make sense of your key Amazon financial metrics such as sales, revenue, costs, expenses, Amazon advertising costs (also called PPC), and profits, so you can take charge of your FBA finances.
Know your real-time sales. As shoppers purchase your products on Amazon, you get instant visibility into what they're buying and how they're buying it.
Know your margins. Want to know your exact net profit? The margin widget shows you how much you're earning, plus the percentage your net profit is of the total price.
Know your ROI. Calculate your return on investment based on your profits, inventory costs, and other direct expenses.
View product-specific sales data. See how a specific product is selling using product name, ASIN (Amazon Standard Identification Number), or SKU (stock keeping unit). Explore unique sales and revenue details, supplier and shipping costs, and PPC (pay-per-click) campaign performance, among other details.
Break down your costs. Keep an eye on both direct and indirect expenses, including order fees, unit costs, advertising, salaries, shipping and inventory costs, legal fees and taxes, and more. You can also enter custom expenses and transactions unique to your business.
Break down your PPC spend. Amazon PPC is an important part of getting your product in front of more shoppers on Amazon. Sales Analytics helps you track and manage your PPC spend in order to keep your profit margins healthy. This lets you see your actual day-to-day profits and expenses.
Compare sales and profits over time. Want to know how a certain product is selling this week versus last week or this month versus last month? View detailed charts to compare metrics over time and see how promotions, refunds, and other variables impact your bottom line.
Track your shipments. Want to know when your inventory is going to arrive at the target Amazon fulfillment center? Sales Analytics also lets you conveniently track your inbound FBA shipments.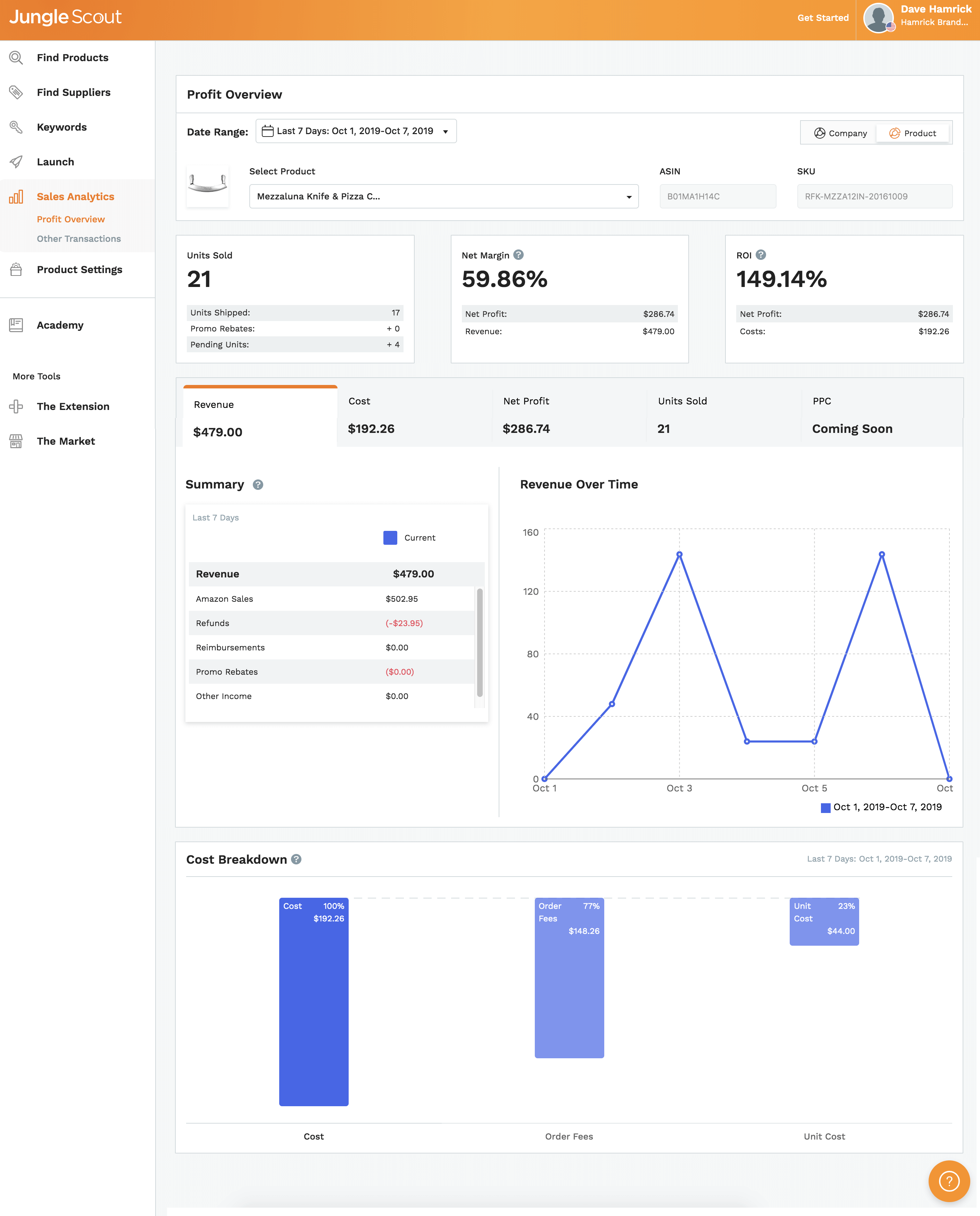 Getting started with Sales Analytics
Sales Analytics is the tool every Amazon seller needs to track their sales, costs, and profits. Armed with this data, you can deliver quick fixes to any rising costs to ensure maximum profitability.
It's like having your own private bookkeeper!
And the best part? It's all part of Jungle Scout. Because this feature is included with a Jungle Scout subscription at no additional charge, you have immediate access if you're already a Jungle Scout user! 
With a click of a button, you can load Sales Analytics and check your daily profits without having to leave Jungle Scout.
But if you aren't subscribed and want to learn more about Jungle Scout's new financial feature, be sure to check out our subscription options.
In addition to the learning you'll be doing, all of the top Amazon selling tools on the market will be at your disposal.