Understanding the full financial health of your Amazon business is vital to your success as a seller. Between product costs, Amazon fees, and marketing expenses, it's difficult to figure out if you're actually making a profit — and easy to unknowingly run your business at a loss.
While you can track your sales and expenses manually through spreadsheets, using a tool that automatically records and organizes your financial data removes the guesswork and frustration.
Good Amazon sales analysis software acts as a real-time business command center, so you can focus on improving the profitability of your business. Jungle Scout's solution is the Sales Analytics feature.
Why is Amazon sales analysis important?
Selling on Amazon comes with various expenses that can eat up your profit margin pretty quickly. I'm talking about things like referral fees, FBA fees, shipping costs, storage fees, advertising budget, product costs — the list goes on.
Staying on top of your business's financial health includes tracking and analyzing your monthly sales and expenses to get a picture of your performance, both overall and on specific aspects of your business. This can be done manually, by entering Seller Central report data into a spreadsheet, or by letting some kind of sales analysis software do the work.
Many sellers swear by the old-school data entry method. Here's the thing: manually downloading reports and entering the data into a spreadsheet is extremely tedious and can get confusing. And if you miscalculate data or mistakenly leave something out, it's downright counterproductive.
This is why it is important to use digital tools to record, organize, and track every dollar that comes in and out of your Amazon business.
What is Jungle Scout's Sales Analytics?
With Sales Analytics, Jungle Scout users can easily track sales, Amazon fees, and other expenses in real time, all in one place. Think of it as your financial command center, where you can zero in on profit-building, cost-saving strategies to help you earn more money with Amazon FBA.
In the following video, we walk through the Sales Analytics feature to show you how it can help power up your 2021 sales. Keep reading for more details on what Sales Analytics can do for you.
How can Sales Analytics help you?
Sales Analytics arms you with a variety of capabilities that help you collect and make sense of your key Amazon financial metrics. Here's an overview of what you can expect to gain by using this tool.
Know your real-time sales. As shoppers purchase your products on Amazon, you get instant visibility into what they're buying and how they're buying it.
Determine your margins. Want to know your exact net profit? The margin widget shows you how much you're earning, plus the percentage of your product's price that goes back to you as profit.
Uncover your ROI. Calculate your return on investment based on your profits, inventory costs, and other direct expenses.
View product-specific sales data. Filter by product name, ASIN (Amazon Standard Identification Number), or SKU (stock keeping unit) to see how a specific product is selling. Explore unique sales and revenue details, supplier and shipping costs, and PPC (pay-per-click) campaign performance, among other details.
Compare sales and profits over time. Want to know how a certain product is selling week to week or month to month? View detailed charts to compare performance metrics over time and see how promotions, refunds, and other variables impact your bottom line.
Break down your costs. Keep an eye on both direct and indirect expenses, including order fees, unit costs, PPC advertising, salaries, shipping and inventory costs, legal fees and taxes, and more. You can also enter custom expenses and transactions unique to your business.
Understand your PPC spend. Amazon PPC is an important part of getting your product in front of more shoppers on Amazon. Sales Analytics helps you track and manage your PPC spend in order to keep your profit margins healthy. This lets you see your actual day-to-day profits and expenses.
Track your shipments. Want to know when your inventory is going to arrive at the target Amazon fulfillment center? Sales Analytics also lets you conveniently track your inbound FBA shipments.
Getting started with Sales Analytics
Does this all sound a bit familiar? If you've used the sales analysis tool Fetcher, you'll love Jungle Scout's Sales Analytics. It's equipped with the same technology as Fetcher, with some key improvements to boost functionality — and your Amazon revenue. It's like having your own private bookkeeper!
And the best part? It's all part of Jungle Scout. This feature is included in each of our membership plans (Basic, Suite, and Professional), so you have immediate access if you're already a Jungle Scout user.
With the click of a button, you can load Sales Analytics and check your daily profits without having to leave the Jungle Scout platform.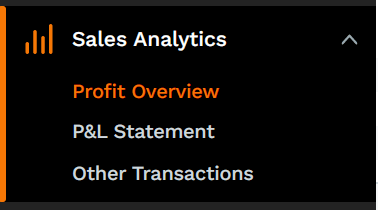 If you haven't yet joined Jungle Scout, learn more about our subscription options to see which plan can best support your ecommerce business.
Do you have a question about Sales Analytics? Ask us in the comments below!