This article contains expert-led insights from a previous season of the Million Dollar Case Study.
MDCS is a free, comprehensive video series by Jungle Scout in which veteran Amazon sellers show budding entrepreneurs how to succeed on Amazon—by actually doing it. The series takes viewers step by step through the process of launching a real product on Amazon in real time—from product research to finding a supplier to advertising.
Check out our most current season here for the latest information on selling on Amazon.
This session is about a very important topic for anyone selling private label products on Amazon: how to import your inventory from China to the UK (or elsewhere).
On the face of it, this feels like a complicated topic, because there are a lot of intricate details and steps which need to happen in order to get your shipment from the manufacturer's warehouse, to the port, to the country of sale, through customs, and to the Amazon FBA warehouse.
But realistically, it's not that complicated, because you can (and should) use a reliable freight forwarder to arrange all of the necessary steps for you. That's why we invited Travis and Sam from Flexport to come and explain how shipping and importing works, and how a freight forwarder can help.
They also did a really good job of explaining each step of the process and what requirements you have as an Amazon seller. So although your freight forwarder will handle a lot of this for you, you can still enter an agreement with a solid knowledge of how it works. So let's get to it!
New to Selling on Amazon?
If this is your first time learning about Amazon Selling and would like to learn more about the process, be sure to check out our FREE course on Amazon selling: How to Sell on Amazon FBA for Beginners.
Also, make sure you check out the Jungle Scout Web App, the #1 tool to help starting sellers create their Amazon businesses.
Welcome to our Guest Speakers
A big thanks to our guest speakers Sam Scudellario and Travis Falasco.
Sam is an account executive for emerging markets at Flexport, and has ran operations for some of their largest Amazon accounts. Travis ran large scale FBA operations previously with a background in miltary logistics. So as you can tell, they each had a lot of useful insights to share with us.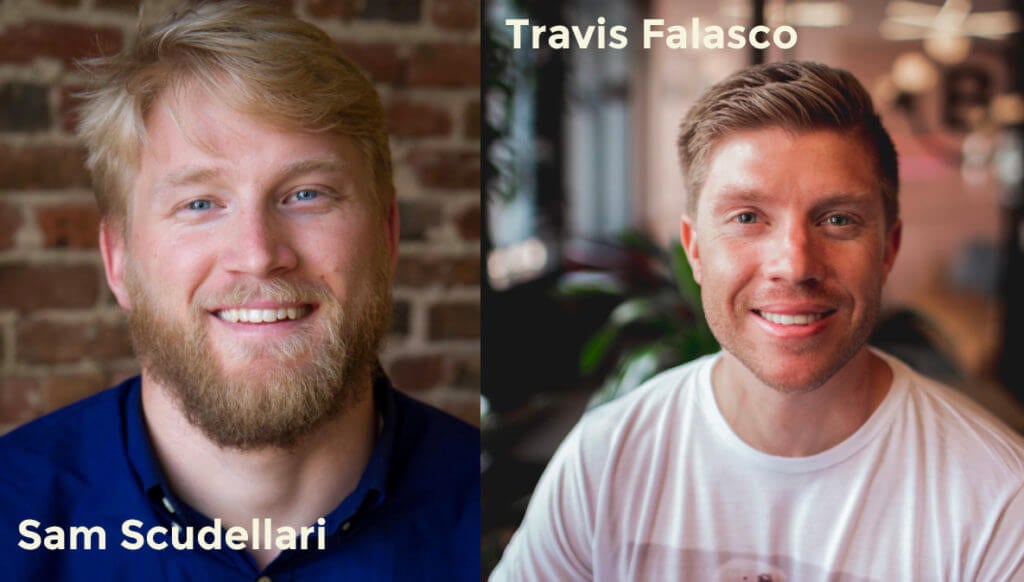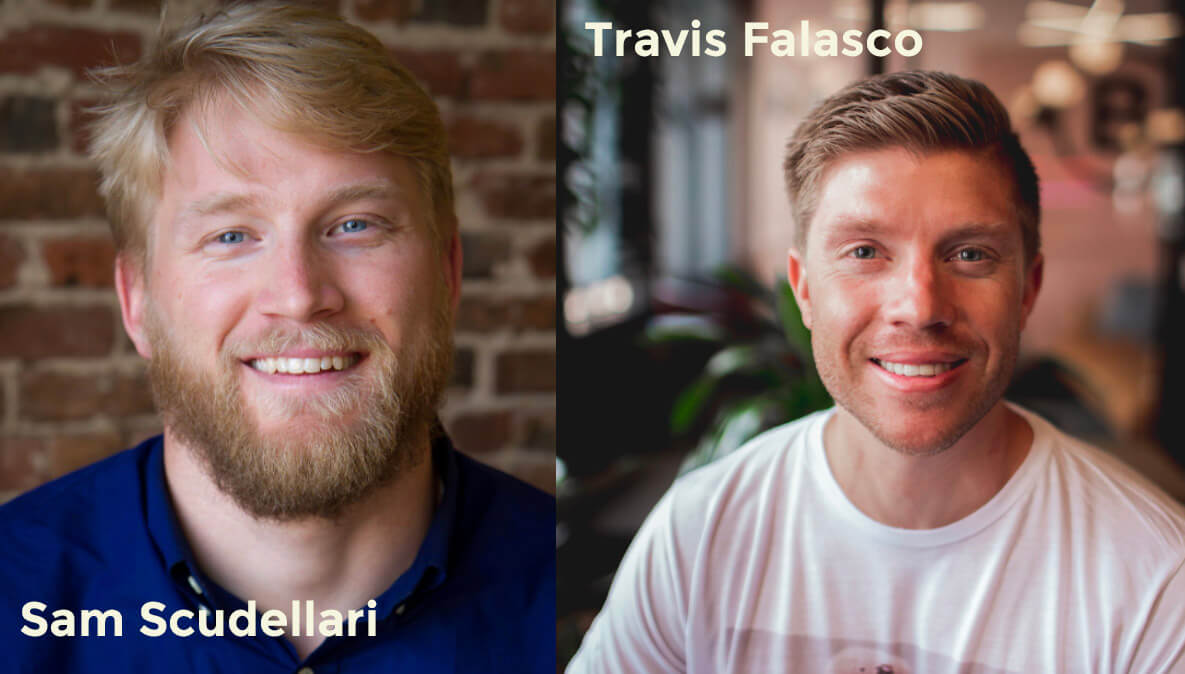 Replay & slides:
Giveaway winners
Here are this week's winners and some of the inspiring stories and messages they sent us: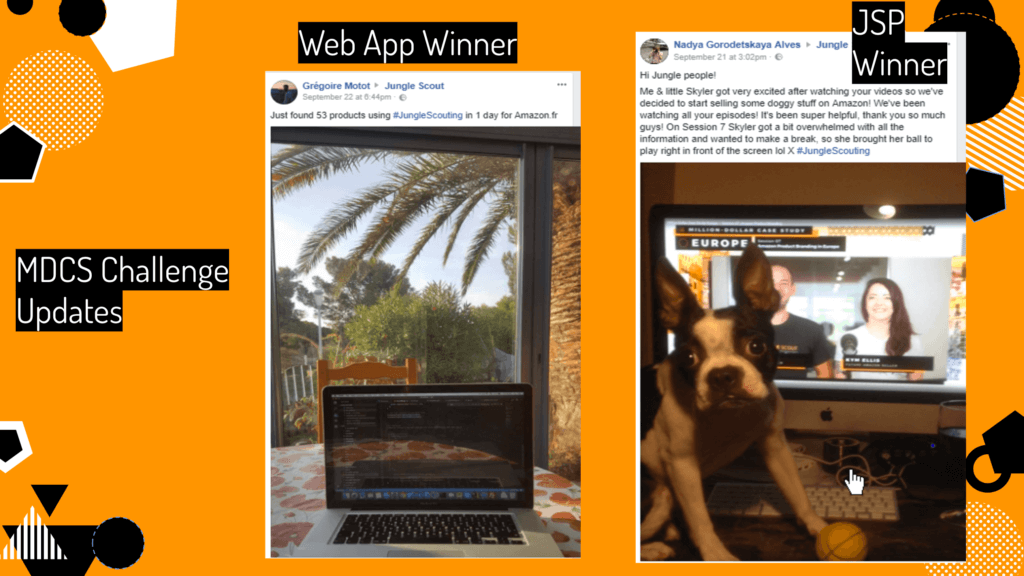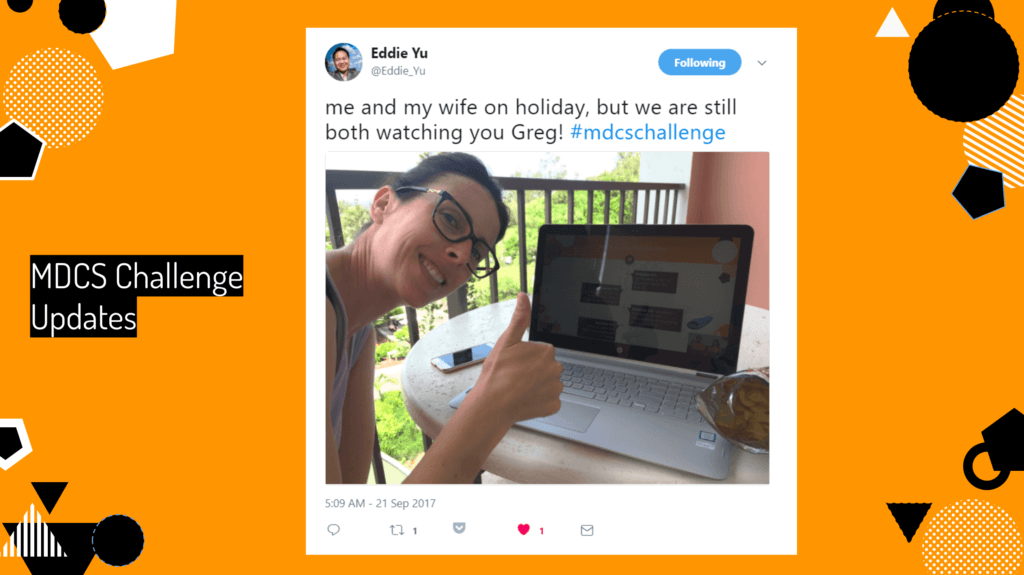 The Shipping Agenda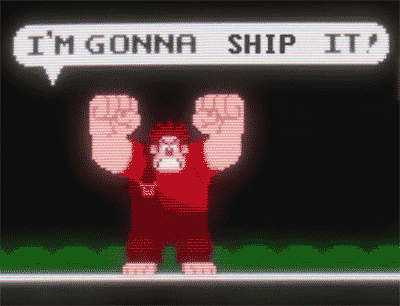 Here's what we will cover in this session:
Creating an Amazon Shipping Plan

Selecting Final Delivery Method

Amazon labeling

When to palletize

Inspections

Incoterms

Shipping timelines

Calculating final delivery costs to Amazon

Market Updates – Peak Season
Using A Freight Forwarder
Basically if you are shipping goods over 250kg then you definitely need a freight forwarder. If your total weight is less, then you can leverage DHL Air Express instead. However, for ocean shipments, a freight forwarder is always a good idea because the process is a lot more complicated.
You shouldn't rely on your supplier for this part of the journey. Here's why:
Poor service. Shipping, US customs, etc. is not their specialty

A lot of pricing you get from a supplier will change later (not transparent)

If you need information it can take a long time to get updates

If your business is successful and starts scaling your shipping risk also scales exponentially if you stay with your supplier
FCL or LCL?
Here come the acronyms!
FCL = Full Container Load

LCL = Less Than Container Load
LCL is often what Amazon sellers use, as you can keep inventory low and ship in smaller volumes to keep that inventory lean and avoid any storage fees in the future.
FCL however can be cheaper, as you do not need to share a container with goods from other businesses. You can also sometimes ship FCL directly to an Amazon warehouse without unloading the container (but this is only in the US and has never been done in the UK so far according to Sam).
So if you do have large quantities of stock that can fill a whole container then FCL may be for you. But we will assume that for most of you, LCL will be the way forward. It does require a little more admin and organizing, but your freight forwarder should arrange this for you.
Container Sizes
If you were wondering how much you would need for FCL, here's a list of the container sizes available:

Shipping Via Air
Another consideration is to ship via air, which is usually much faster and a simpler process. But it can be expensive. The chargeable weight is the weight which airlines will use when determining the cost of a shipment, and the carrier will charge your for whatever is greatest: gross weight or volumetric weight.

Inspections
Another step to consider is getting the goods inspected in China by an independent third party. This applies even on your third or fourth shipment with the same supplier. We have used Asia Inspection for this previously, others include VTrust, Topwin Inspection, China Quality Check.
You could work this into your contract or agreement too, for example, if a shipment fails inspection, you could require that the supplier pays for the second inspection.
Your Shipment Plan
When you are shipping goods to Amazon, you must create a shipping plan within Seller Central in order to get the correct addresses and information, and ensure Amazon know about your inventory and there are no set backs in getting the inventory into the Amazon warehouse.
We will show you how to create a shipment plan over our shoulder in a future session, but here are some important tips from Sam which you need to be aware of:
The ship from address should never be the supplier's address – instead it should be a warehouse in the country you import to. Speak with your forwarder about this.
All US imports should be a Los Angeles area address
When importing to Europe, your Freight Forwarder should be able to give you an address in the country you are shipping to, always use this
You should put all SKUs in one shipment plan – there's no limit, so throw them all in
Final Delivery To The Amazon Warehouse
Your final delivery once the goods arrive into the country can take three routes. You can use your freight forwarder who may be able to provide trucking services for you, which is very fast but usually more expensive.
The other two options are below: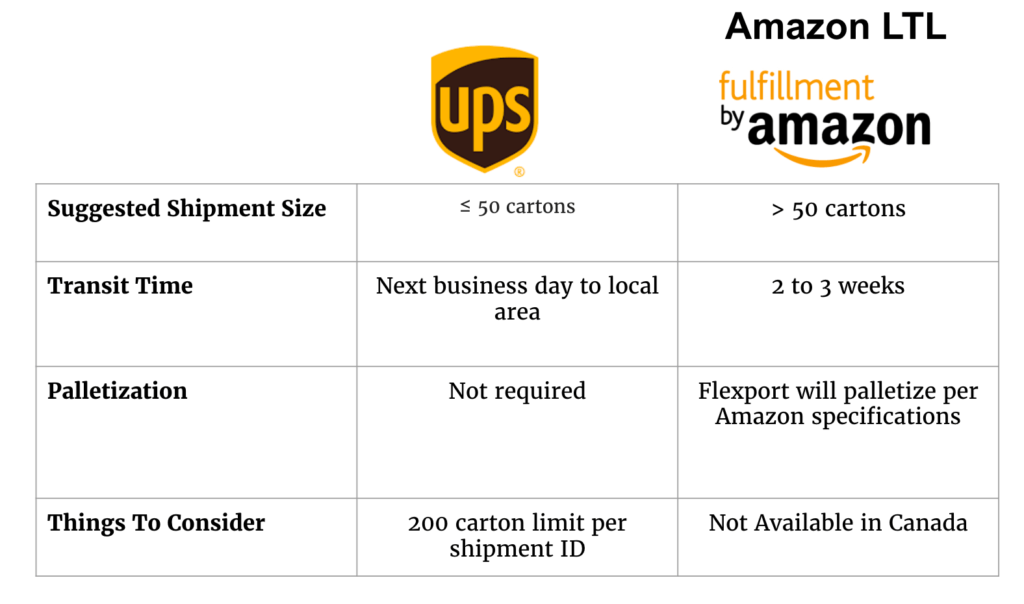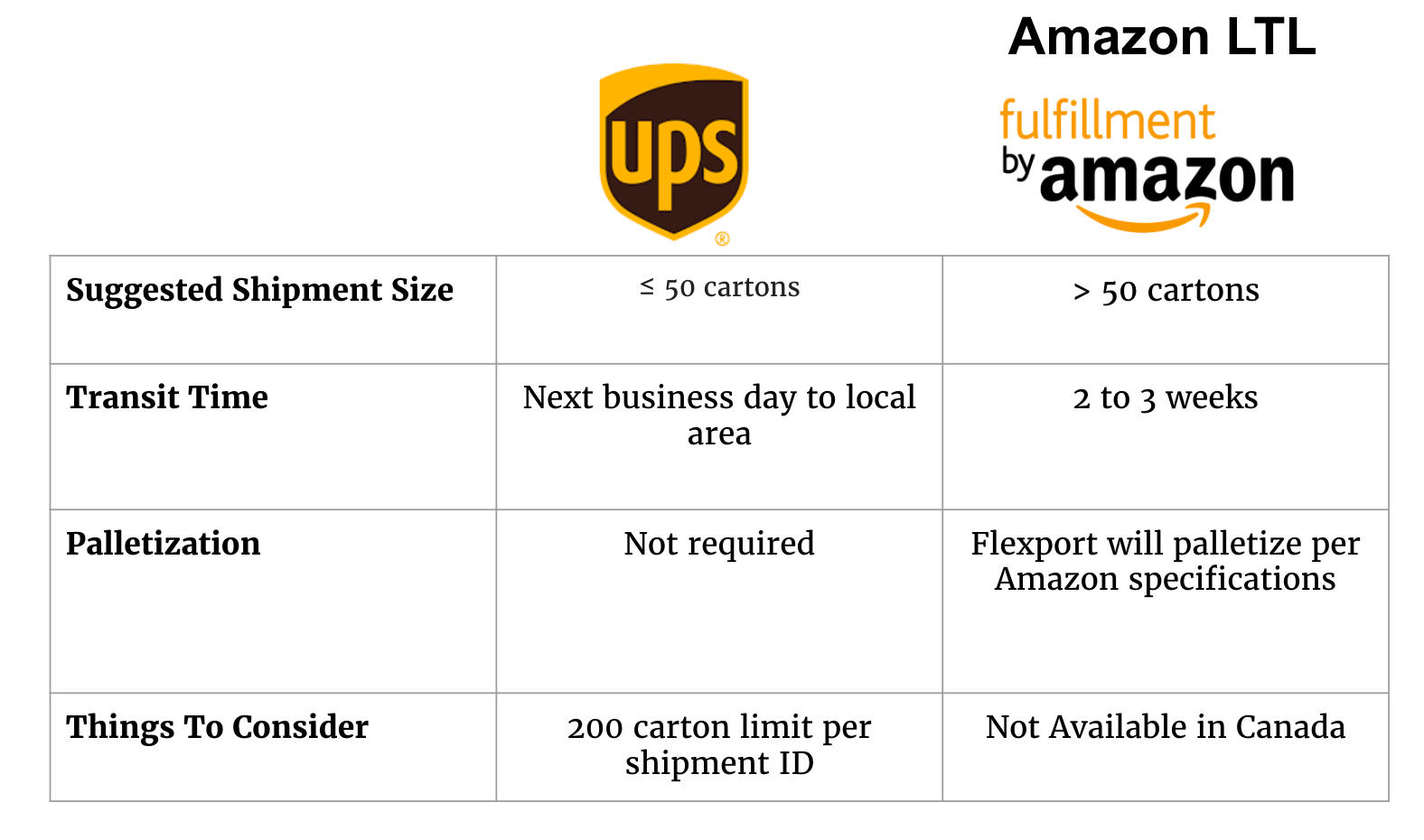 For cost savings you can use UPS for smaller shipments and LTL (less than container load) for larger shipments. Again, UPS is faster and LTL slower, however you don't need to palletize when you use UPS and you do with LTL.
Final Delivery in the UK / Europe
According to Travis and Sam, right now there is no Amazon LTL in the UK (there may be in the future). So for UK deliveries (like my sleeping bags) you can just use Amazon UPS and download UPS labels, or use a local trucker for delivery in the UK.
When I looked in the shipping plan section in Seller Central Europe, I noticed you can select UPS, "other" (other options include DPD, Parcelforce, Yodel etc.) or you can actually select LTL. Doing this means that you will need to get your freight forwarder to arrange palletizing your inventory, and then sending those pallets with a local trucking service.
Shipping FCL to Amazon
If in the US, you can send a full container (FCL) straight to Amazon's warehouse doors. However, this is only really applicable in the UK, and the warehouse managers at the Amazon DC's can reject a full container for any number of reasons (even when containers are packed correctly according to Amazon's guidelines).
Shipping Costs
You can calculate your final delivery cost within Seller Central which can help you to understand your full shipping costs. With UPS you can select "Small Parcel Delivery (SPD) and "UPS", and enter some information such as units per box, the number of boxes and the box weight:

This would then give you a cost for your delivery and you can decide whether this is feasible or if you need to consider other shipment options. Not that once you accept the charges for a UPS delivery in Seller Central, you will be billed. So if you created it incorrectly you would need to then file for a refund.
For LTL you would need to enter similar information, as well as your freight class, before hitting calculate to find out your final shipping costs.
Preparing Your Goods
There is no point palletizing your goods on the manufacturers side unless they are very fragile. This is because it's easier to palletize at your destination. Shipping from China on pallets will make your freight larger and more expensive, so it's more cost effective to have your freight forwarder palletize when it arrives.
Travis mentioned that most of their clients ship loose cartons, which are then palletized for Amazon's specification.
For FCL shipments, just make sure your cartons are neatly stacked, labeled and not taller than 72″.
Labeling
Ensure to get your items and cartons labeled correctly by your supplier, this is the fastest and most cost effective route. Even any UPS labels can be applied at origin, rather then once it lands in the destination country. Make sure you sort out your shipping plan in seller central to get all of the carton and pallet labels and give these to your supplier and freight forwarder respectively.
If you do not do this you will be hit with processing fees to apply labels and it will slow everything down, too.
Greg chimed in here and said that he has never had a supplier charge for these labels, so it's definitely easier and cost-effective to do it this way.
Tracking Shipping
If you are shipping with UPS you can see your tracking right within Seller Central. With LTL, you have to wait for the carrier to pick up the goods, sign the Bill of Lading, and get the Estes PRO tracking number from there.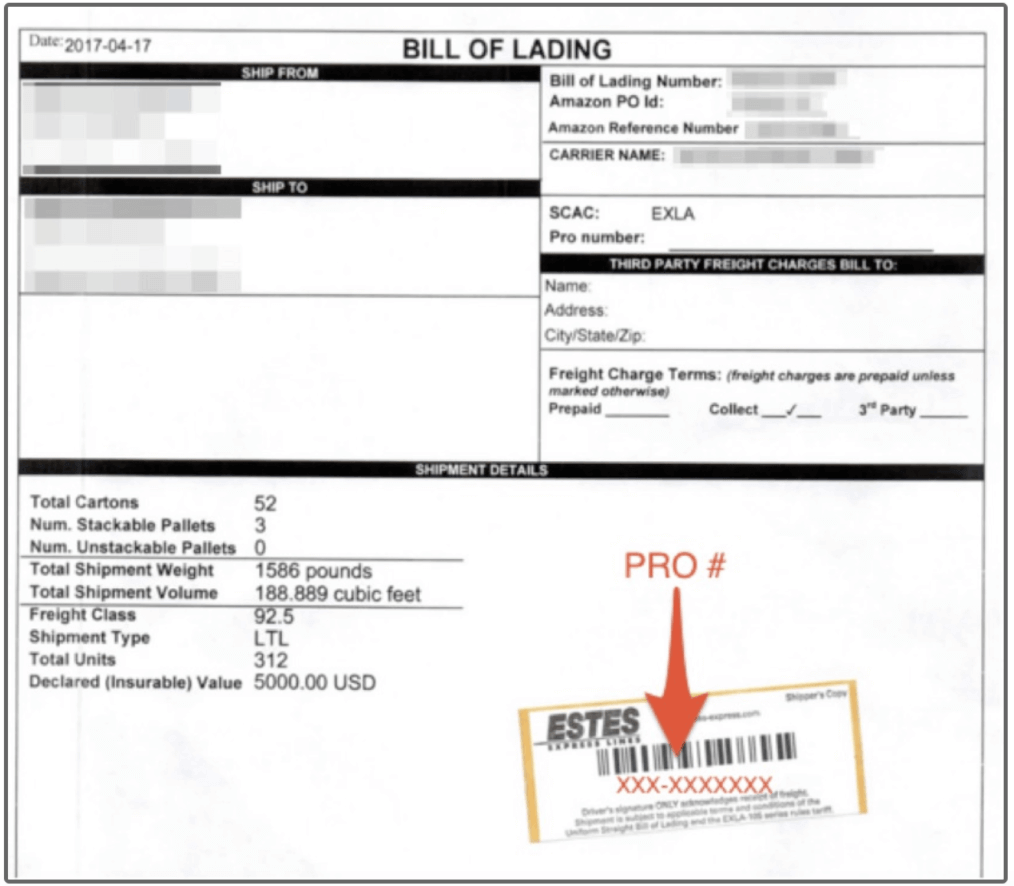 If you do use a freight forwarder and Amazon LTL, be aware that once Amazon's LTL carrier picks up the shipment, it is then in their hands and your freight forwarder no longer has control over the shipment.
Transit Time Considerations
Here are some guidelines for the timelines for the different types of shipping from China to the port in the country you will sell the products:
Manufacturer to Port
(Booking, pick-up from manufacturer site, delivery to port/on-vessel)
Air: 1-2 days

LCL: 7-9 days

FCL: 2-3 days
Port to Port
(Manufacturer moves the goods to port and your freight forwarder takes over from there)
Air: 1-2 days for direct or 3-5 days for deferred

Ocean: 14-16 days
Then from the Port to Final Destination (not the movie!), you have the following timescales:
Port to Final Destination
(Customs clearance – unloading the containers before ready for pickup and prep)
Ocean: 5-6 days

Air: 1-2 days
Prep
(labeling, palletization, etc. before sending to Amazon's warehouse)
FCL/LCL consol box (direct to Flexport warehouse): 1-2 days for UPS, 4-5 days for Amazon LTL (2 business days to book Amazon LTL partner)

LCL non-consol: 1-2 days at CFS, 1-2 days transfer to Flexport warehouse, then add above

Air: 1-2 days UPS
Incoterms
These are some things you need to negotiate with your supplier. There are 11 incoterms in total but the most common are FOB, EXW and FCA. These are terms of sale that define who arranges the payment and handling of goods during shipping, from the moment the goods leave the seller's door and up until they arrive at the Amazon warehouse.
FOB (Free On Board) – the supplier is responsible for getting the goods from the factory to the port
EXW (Ex Works) – the freight forwarder is responsible for collecting goods from the factory and getting them to the port
FCA – a middle ground between the above, the supplier will bring the goods to the port but then you will be responsible for the rest (trucking etc.)
Travis recommends going with FOB if possible. It will make your unit price slightly higher, but the FOB costs to get the goods to the port will be cheaper than EXW as freight forwarder costs for this part of the journey will be higher.
Cargo Insurance
Sam gave some words of advice when it comes to insurance. It's important to get insurance in the event of anything going wrong with your shipment. It's fairly rare but it does happen. Here's some reasons why insurance is needed:
50% of freight claims are denied by carriers

Your cargo will pass through many hands and places before it gets to you, increasing the chances of damage

If damage or loss occurs, carriers will do their best to limit their liability or avoid it altogether, even if they are at fault
Any good freight forwarder can offer you insurance so make sure to ask for it.
Shipping Documents
You basically need a ticket outlining the journey of your cargo from origin to destination. There are three types of "tickets":
Bill of lading – a paper version of your ticket

Telex release – an electronic release of the B/L (preferred option, much faster, does not rely on paper mail)

Express bill of lading – agreement between buyer and seller, the best means but only useful once you have a good relationship with your supplier
Travis chimed in that if your supplier asks if you want an "original" B/L or a Telex. Always ask for Telex release, so that you can get it via email.
Getting Through Customs
Customs sounds like a scary prospect, but again your freight forwarder will be able to help you navigate this.
Tip: make sure you have the relevant certificates by checking with your inspection company what certificates are required for your product in your country of sale
Your freight forwarder will also be able to advise on any commercial invoices or packing lists required for the specific country you are shipping to. These documents usually hold information like the country of origin, name and address of supplier and importer, description of the merchandise in English, quantity and more. In the UK and Europe you would also need your VAT number and EORI number.
Your freight forwarder will ask for your commercial invoice and relevant information, and help you navigate customs and duties. A good freight forwarder will be as prepared as possible to avoid getting caught by customs and having to pay for expensive X-Ray exams for your goods.
Tip: Never put free items on your commercial invoice. If there are free samples then enter a low value for these, otherwise customs will flag it
Watch Out For Peak Season
During the busiest time of the year, the ports get busy and Amazon's warehouses also get busy. There is a much higher chance of seeing higher rates, delays and congestion. Here's some of Travis & Sam's tips for this time of year:
Peak season occurs in Q3 and Q4 in preparation for the winter holidays

Expect high, volatile rates, rolled cargo (cargo is moved to a later shipment due to a lack of space on the scheduled carrier), trucking delays, and other interruptions

Plan ahead – book carriers early and expect to need more time to load/unload at origin and destination because of congested ports and warehouses

Prepare for extra fees as a result of congestion

Be flexible
Shipping: The Big Picture
Here's an easy to follow step-by-step run down of how this process should go for you, the seller:
Find a freight forwarder and get set up with them ready for your first shipment
Create a shipping plan in Seller Central on Amazon (we will show you how to do this next week!)
Notify your freight forwarder of the approximate date the goods will be ready and get a quote
The freight forwarder then communicates with a representative at your factory to get the goods on the vessel
It takes a few weeks for the shipment to arrive via ocean freight
Then your freight forwarder will unload the container and palletize your products for Amazon
A truck will pick up your pallets and take them to the Amazon distribution centre
So realistically, you will pay your freight forwarder to handle all of the difficult parts for you. The key is to ensure you have a good relationship with them, communicate frequently, and be flexible in case they need any information from your or your supplier.
Your Homework ✍
Well with huge thanks to Sam and Travis, I feel like I understand this whole process a lot better now. This is something that as a new soon-t0-be seller, I didn't know too much about. But I feel much more relieved now that I have the basics down and know that a freight forwarder would be the one to organize the full process and communicate with me.
So our homework for this session is to speak with your Freight Forwarder of choice and plan out your shipment of inventory. You will want to get quotes, ask what information they need from you and get your account all set up ready for when we order inventory in the next couple of weeks.
Get all of the resources and links from this session here
In the next session we will be taking a look at final negotiations, ordering your inventory, Amazon supplier agreements and setting up a shipping plan. Don't miss out, join us here:
Subscribe to our YouTube for the latest educational resources: