We're excited to announce some major updates to Jungle Scout's exclusive training for Amazon sellers: Academy.
Not only does Academy come with a new, streamlined look, but we're adding even more content. In fact, there are 31 new videos, amounting to five hours of fresh, expert-sourced content!
Check out the following video, as I walk through the new Academy courses to show you how they can help power up your 2019 sales.
What is the Jungle Scout Academy?
The Jungle Scout Academy features a collection of video tutorials created by Amazon experts and successful sellers to help you learn everything you need to know to become an Amazon FBA seller — and how to use Jungle Scout to maximize your efforts.
This much content with this level of Real. Seller. Expertise! would normally cost you endless hours of searching the web or hundreds or thousands of dollars through other sources.
The best part: we're offering it as part of all Jungle Scout subscriptions (including Extension) at no extra charge. Cha-ching!
What can I learn with Jungle Scout Academy?
Jungle Scout's Academy offers a wide range of courses to teach you everything you need to know about selling on Amazon. Each course is divided into videos that are at most 10 minutes — short, bite-sized content that you can follow along with at your own pace.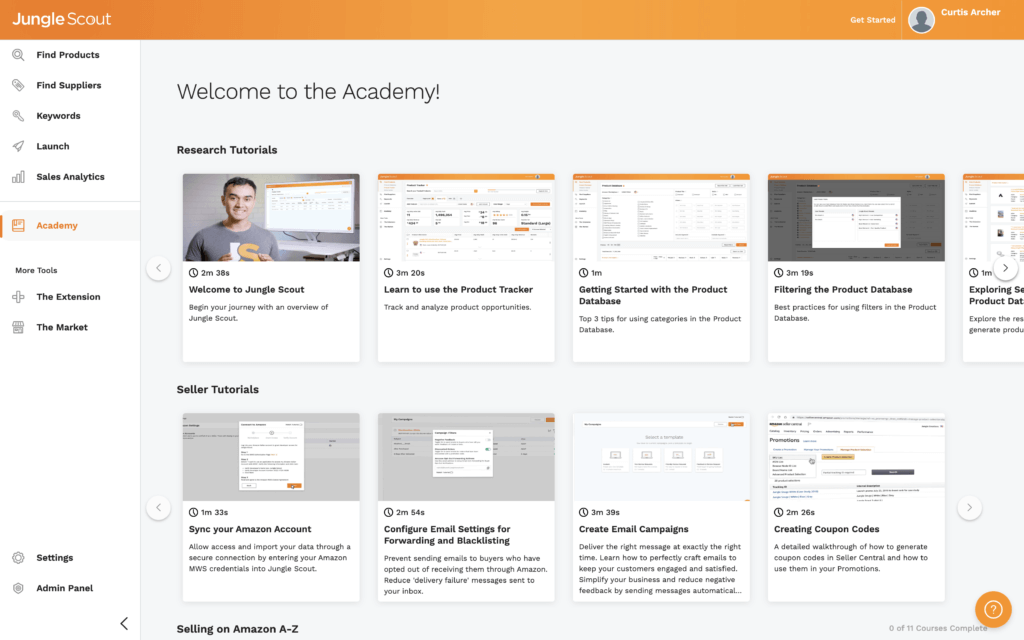 Here is our course line-up:
Getting Started Selling on Amazon (4 Episodes) — You've heard about the Amazon gold rush, and now you want to get in on the excitement. This introductory series will help pave the way to your success with Amazon FBA.
Product Research (12 Episodes) — One of the most important parts of selling on Amazon is research. As such, we've dedicated 12 episodes to this crucial category.
Optimizing Your Listing (6 Episodes) — Once you've picked the perfect product to sell, it's time to create an Amazon listing. These episodes give you the tips and tricks you need to craft a killer listing for your product.
Launching Your Product (5 Episodes) — The big day has arrived and your product is available on Amazon. Now it's time to let the world know about it. This series shows you how to launch your Amazon product and drive early sales.
How to Use Jungle Scout (12 Episodes) — Jungle Scout comes packed with groundbreaking tools and applications which have helped 400,000 people sell on Amazon. We've created this series to show you the ropes of how to use all the Jungle Scout goodies you get with your subscription.

Getting Started with Jungle Scout – Chinese Version (2 Episodes)
Getting Started with the Extension – Chinese Version (1 Episode)

Launch Features (4 Episodes) — Jungle Scout's Launch feature comes with three amazing tools of its own. This course will show you how to effectively use these tools when launching a product on Amazon.
Additionally, you can expect more expert content every month to help you on your Amazon seller journey.
---
Got something you'd like to learn?
Let us know by filling out the following (anonymous) form:
---
Starting with Jungle Scout Academy
With Academy, you'll learn everything you need to know about the Amazon selling process. Beyond that, you'll also discover how to effectively use Jungle Scout's complete suite of seller tools.
It's like having your own personal coach!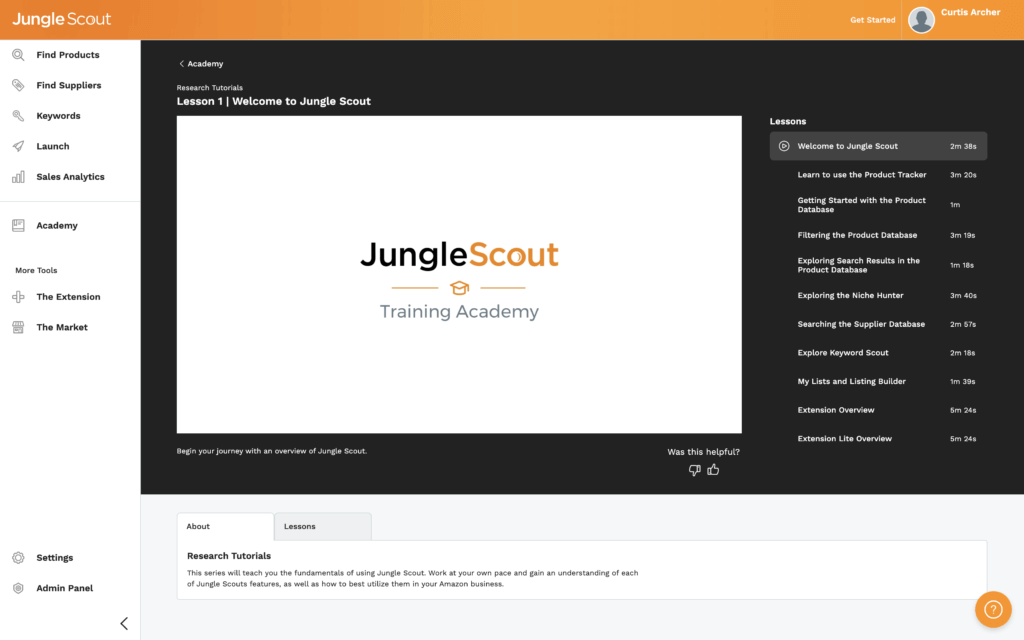 And the best part? You don't have to switch over to YouTube or another article to learn how to use our tools. All you have to do is log in to your Jungle Scout account and click on Academy in your menu.
Plus, because Jungle Scout Academy is included with a Jungle Scout and/or Extension subscription at no additional charge, you have immediate access if you're already a Jungle Scout user!
But if you aren't subscribed and want to learn more about Jungle Scout and Academy, be sure to check out our subscription options. In addition to the learning you'll be doing, all of the top Amazon selling tools on the market will be at your disposal.
See you in class!