Constant self-improvement is something we should all strive for, right? Well, the same philosophy applies to companies like Jungle Scout.
If you've ever reached out to our Customer Success team or tuned into a webinar, you know that our team really listens. Every issue you have and every suggestion you make goes into a bank of ideas we use to continue improving Jungle Scout and shape our product around your needs.
Enter Extension 2.0.
Our current version of the Jungle Scout Lite and Jungle Scout Pro Extension have existed since Jungle Scout began. Jungle Scout started with an idea and enough technical knowledge to put a Chrome Extension together. 
That was in 2014. Since then, Jungle Scout has grown into a Web App and a full blown resource hub for Amazon sellers at all stages of their selling journey.
It was time to give the Extension the update it deserves.
We've made some improvements here and there, but this is our first real facelift. I'm beyond excited to have users get in and explore the latest version.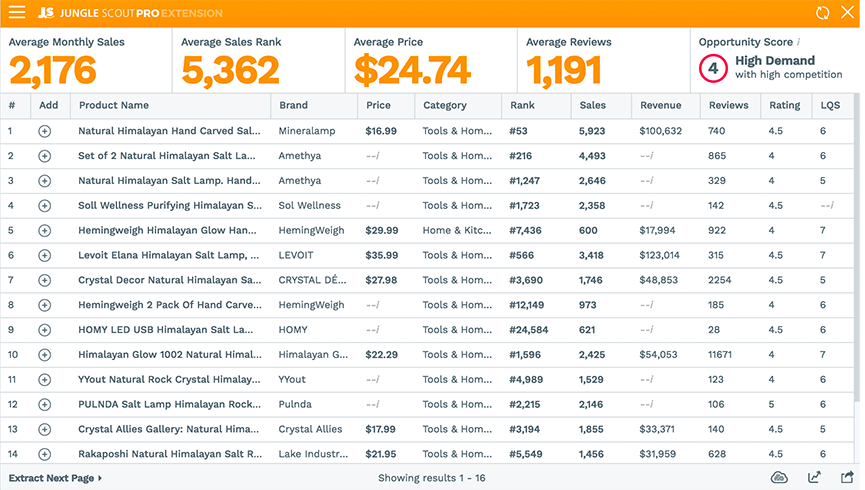 Even though the Extension has a cleaner, more improved interface – looks aren't everything.
We've introduced new features to give users a more comprehensive product research tool with better data and a more enjoyable user experience.
Crunching numbers into usable, actionable data is the core of everything we do. If our business was a beehive, data would be queen. Everything we do goes into making it stronger. The latest versions of Jungle Scout Pro and Jungle Scout Lite come with completely revamped price and rank history, giving you more reliable data and a stronger base to build your product launch strategy from.
Here are some of the features we've introduced: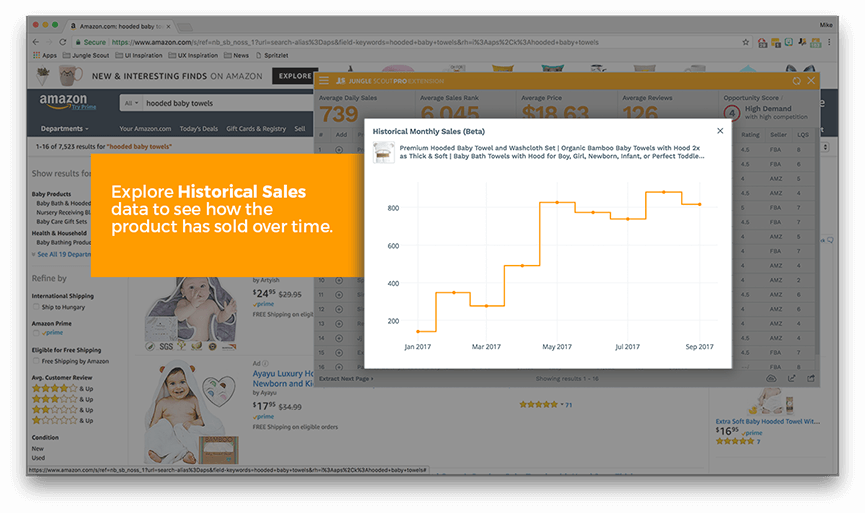 Historical sales data
Now, you have the opportunity to expand product details to see how that product has sold over time. This information will give you a bigger, better picture of how the product you're looking to sell has performed over time. To access the Historical Sales data, just click on the number in the Sales column. Only for JSP users.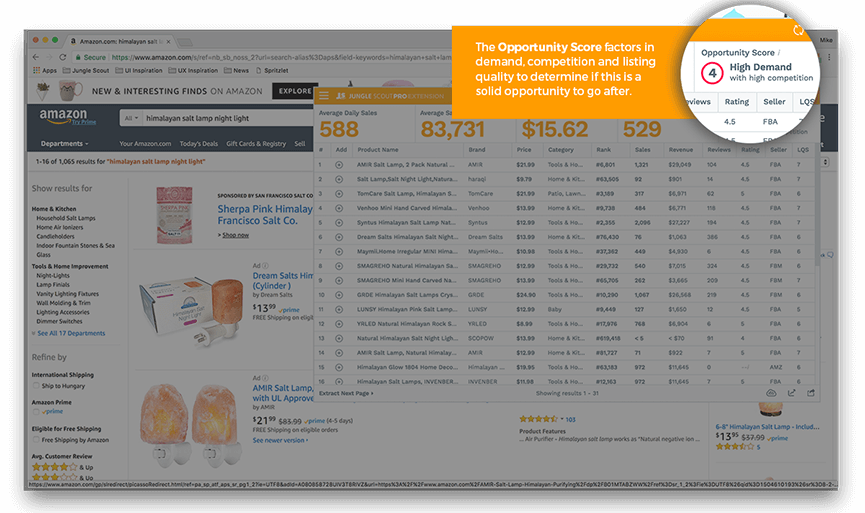 Opportunity score
Yes, the data looks good but, overall, is this a product that will sell? The Opportunity Score is an in-house algorithm, factoring in the demand for a product according to units sold, competition (the number of reviews for the Top 10 products under a given keyword) and listing quality (determined by a number of factors like title, keywords, number of photos, quality of bullet points and description. This will help you decide if this opportunity is a worthwhile one for you. NOTE: You need to be on a Product Results page (not a Product page) to see it. Only for JSP users.
Sponsored product visibility
The products you see at the top of an Amazon product results page are rarely the top ranked products. They are given the top spot to Amazon sellers making use of pay-per-click (PPC) advertising. While they aren't the top ranked products on the page, it's valuable to see which sellers are making use of PPC and use this information to keep an eye on your competitors. Only for JSP users.
No more entering API keys to access FBA fees, net revenue, dimensions and tier
Sometimes, redesigning a product is about straight-up user friendliness. We want to eliminate extra steps for users and, essentially, give you less work to do. Now, you won't need to enter your MWS API keys from Amazon into Jungle Scout to get valuable data like FBA fees, net revenue, dimensions and product tier. This information is already built into Jungle Scout. Only for JSP users.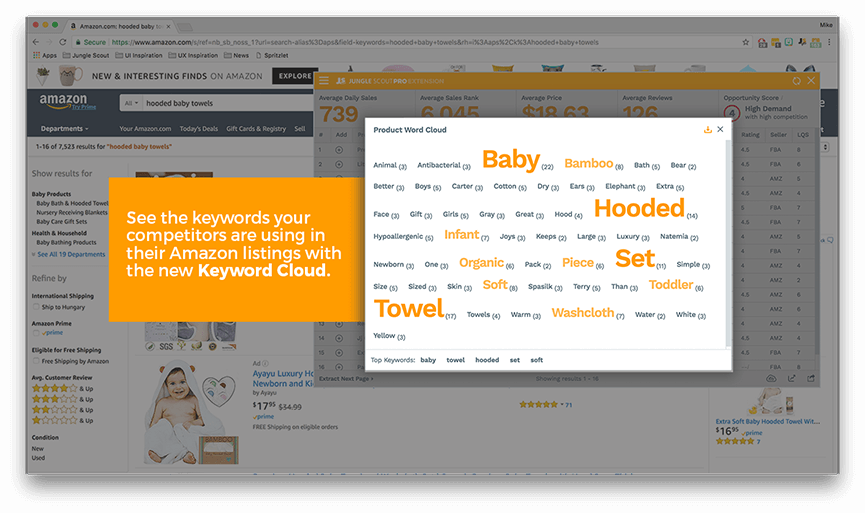 Keyword optimization word cloud
The stronger your listing, the better chance you have of ranking higher in Amazon product results. The right keywords can be a big contributor to your success. This new word cloud feature, available to both JSP and JSL users gives you insight into the kind of keywords other sellers are using to boost their products, helping you define your strategy.
More data for Jungle Scout Lite users
We wanted to boost Jungle Scout Lite features for the users who make it a part of their selling strategy. That means better data for making better informed decisions. Now, JSL users can access Google Trends data for products, as well as features like Rank History and Pricing History.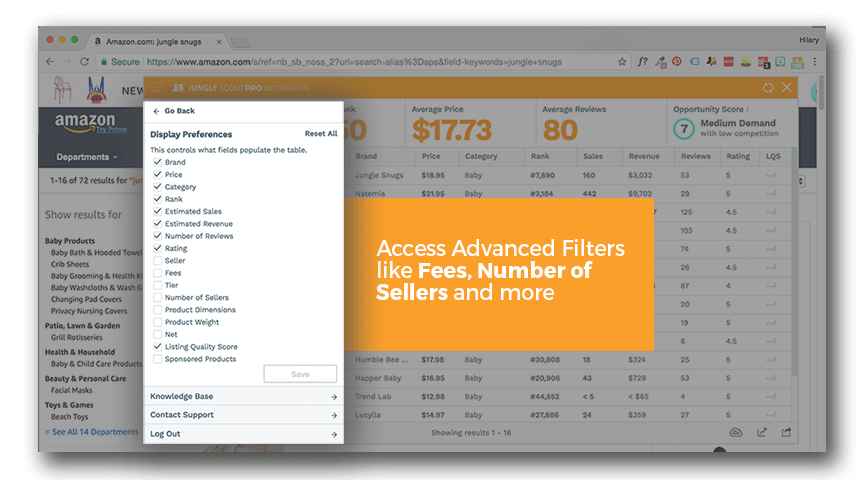 Improved filtering for data like FBA fees, number of sellers and more
Jungle Scout Pro users can access the Advanced Filters by clicking the three stacked lines in the top lefthand corner of the Extension, beside the logo. From there, click the gear icon and you can add criteria like Fees, Product Dimensions, Seller and more! Only for JSP users.
Enhanced data viewing
Looking at row after row of data isn't always easy on the eyes. The latest version of the Jungle Scout Extension is designed for easier viewing and better understanding. Now, you'll be able to zoom in to view product pricing and sales data on a day-to-day scale, giving you a better view of how products perform. 
Right now, we're rolling out the latest version of the Extension to all of our users. If you don't have it yet, you should have it within the next five days.
When you get it, I recommend diving in and playing around with some of the new tools we've introduced. That's my favourite way to get to know new software features.
Go to Amazon. Search for a product. Click the Jungle Scout icon and check it out!