It is moving towards polling season in America, as the Presidential election is now within a year, and we want to get in on the fun! And you've joined us the whole way as we launch our private label marshmallow sticks, aka Jungle Stix. Now we need your help to decide where we donate the proceeds of Jungle Stix. If you want to catch up on the process of how we came up with the product and found suppliers, and register for upcoming webinars on the next steps of the launch, register for free at this page.
So here is the poll with the most popular suggestions that you have sent in. Please vote once, but feel free to share the poll with your friends to support your favorite non-profit and charity in the poll. I want to note that these were selected as non-denominational, non-partisan organizations that are reputable for their mission and efficacy in helping people in need. We'll be keeping the poll open for the next few weeks, until we actually launch the product on Amazon. Thanks so much for participating and sharing your thoughts!
UPDATE! THIS POLL HAS BEEN CLOSED, HERE ARE THE RESULTS: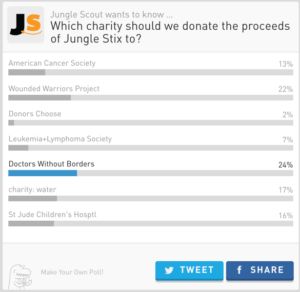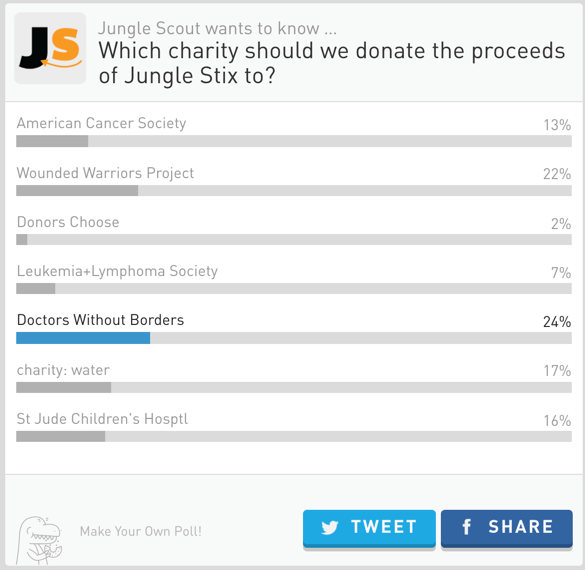 Doctors Without Borders has been chosen as the recipient of our case study profits.
American Cancer Society: is dedicated to helping persons who face cancer. Support research, patient services, early detection, treatment and education.
Wounded Warrior Project: is a military and veterans charity service organization empowering injured veterans and their families through a variety of programs, services, and events for wounded veterans.
Leukemia & Lymphoma Society: (LLS) is the largest voluntary health organization dedicated to funding research, finding cures and ensuring access to treatments for blood cancer patients.
Doctors without Borders: helps people worldwide where the need is greatest, delivering emergency medical aid to people affected by conflict, epidemics, disasters or exclusion from health care.
charity: water: is a non-profit organization bringing clean, safe drinking water to people in developing countries.
St. Jude Children's Hospital: St. Jude is a leading children's hospital pioneering research and treatments for kids with cancer and other life-threatening diseases. Your donation matters.