This article contains expert-led insights from a previous season of the Million Dollar Case Study.
MDCS is a free, comprehensive video series by Jungle Scout in which veteran Amazon sellers show budding entrepreneurs how to succeed on Amazon—by actually doing it. The series takes viewers step by step through the process of launching a real product on Amazon in real time—from product research to finding a supplier to advertising.
Check out our most current season here for the latest information on selling on Amazon.
In this episode, we cover what Amazon FBA customers want.
How to dissect customer reviews on Amazon?
How to determine easy improvements you can capitalize on as an Amazon FBA seller?

Watch the video and keep reading to learn how to find an Amazon product, customers want to buy!

Missed an episode? See them all here

.
How to find a profitable Amazon product to sell? What to tell a supplier to get your product made?
Plus, we unveil the product I'll be pursuing this Case Study!
We're covering all of this today in our third episode of the Million Dollar Case Study. Watch the video, keep reading and don't forget to download your FREE MDCS Workbook at the end of this blog post!
Subscribe to the Million Dollar Case Study list here, so you never miss an episode!
Before you get started, if you're not already using Jungle Scout, you will need to get a Jungle Scout subscription to follow along with us and complete your product research.
Welcome Back to the Million Dollar Case Study!
Today, we'll be revealing the product opportunity we'll be chasing down! If you remember back to Episode 1, I chose over 100 products (maxing out my Product Tracker) that are potential product ideas for this season. In Episode 2, I narrowed that down to five products. Today, I'm going to show you how to choose your most lucrative product from that bunch, how to use Customer-Driven Innovation™ to decide what improvements need to be made, and then how to communicate those improvements to the manufacturer.
CUSTOMER-DRIVEN INNOVATION™

This product research strategy is halfway between an invention and private labelling. It leverages Jungle Scout to find products that sell well, but are lacking key elements or features to make them truly appealing to users. It involves looking at sales, ratings and reviews.
Last week, I talked about the 4-Step Method on how to narrow down your product ideas to choose your most promising opportunities.
Today I'm pulling back the curtain and showing you the steps you must complete in order to find the ONE true product you will launch using Amazon FBA. Here they are in a nutshell:
Step 1 – read all the negative reviews (starting with the 1 star rated products)
Step 2 – document what needs to be improved on these products
Step 3 – decide whether or not we can communicate those negative customer reviews and those product improvements ourselves, or if we're going to need to hire a professional
Step 4 – make sure there aren't any patents
Step 5 – get pricing quotes from the factory
After we get final pricing from several factories, that's when we'll know if our margins are good enough. Then and only then, we can decide that this product is the ONE. 😍
In this episode, I'm going to be covering Steps 1, 2, and 3. Next week, we'll cover the final steps about patenting, avoiding legal troubles and working with industrial designers!
MY TOP 5 ❤️
These are my top 5 product research ideas that remain after running them through the 4 Steps Method outlined in last week's episode: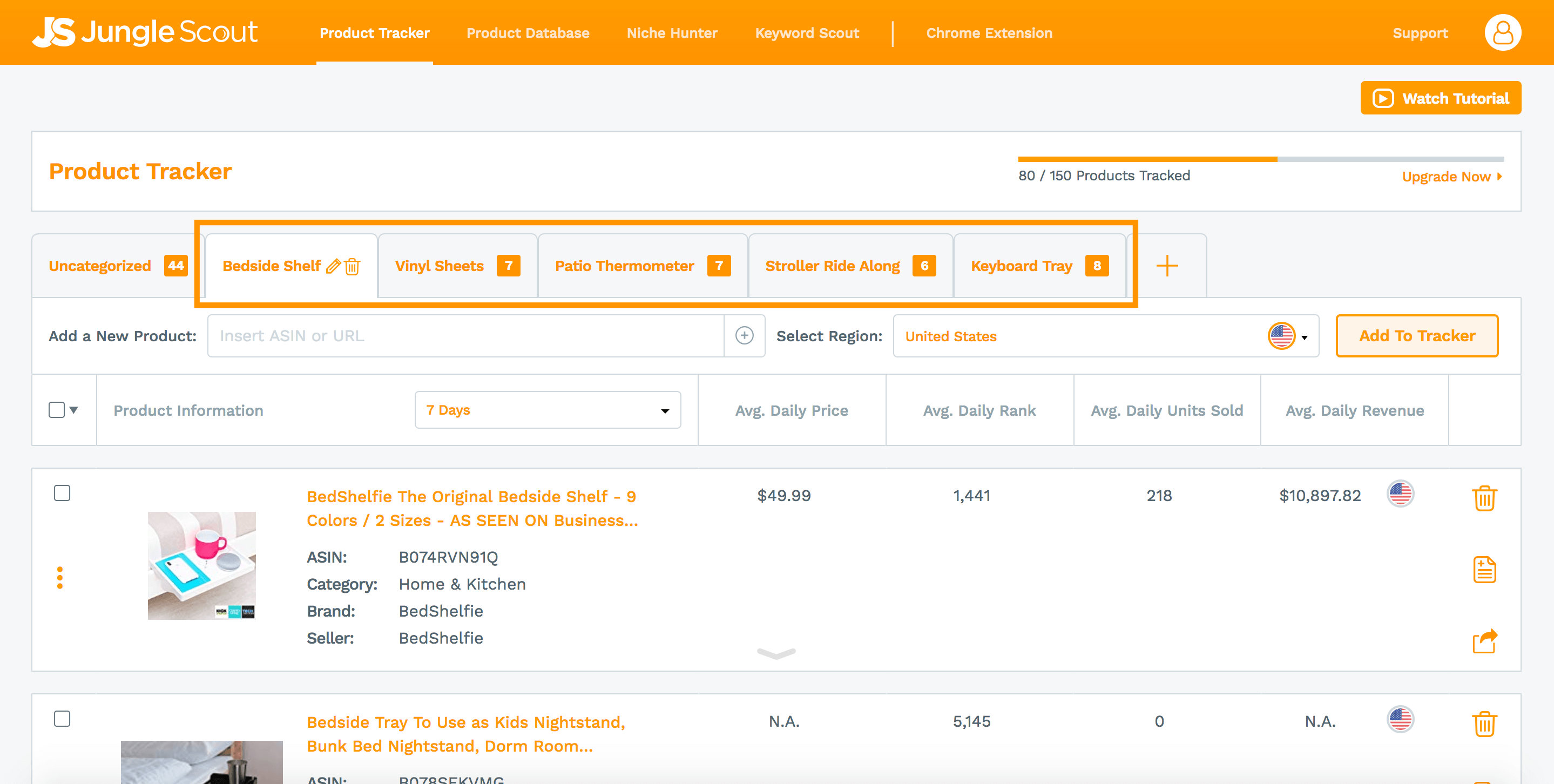 Product 1 – Bedside Shelf
What I found with the Bedside Shelf is that there's just too many high-quality products to compete with. It's going to be very hard to innovate on this product and improve on something that's already there.
Product 2 – Patio Thermometer
The main complaints I'm finding with the patio thermometer is the accuracy. Considering that we're probably competing against some companies that have been in this space for some time, I'm not sure if we can improve on the accuracy of the thermometers that we create.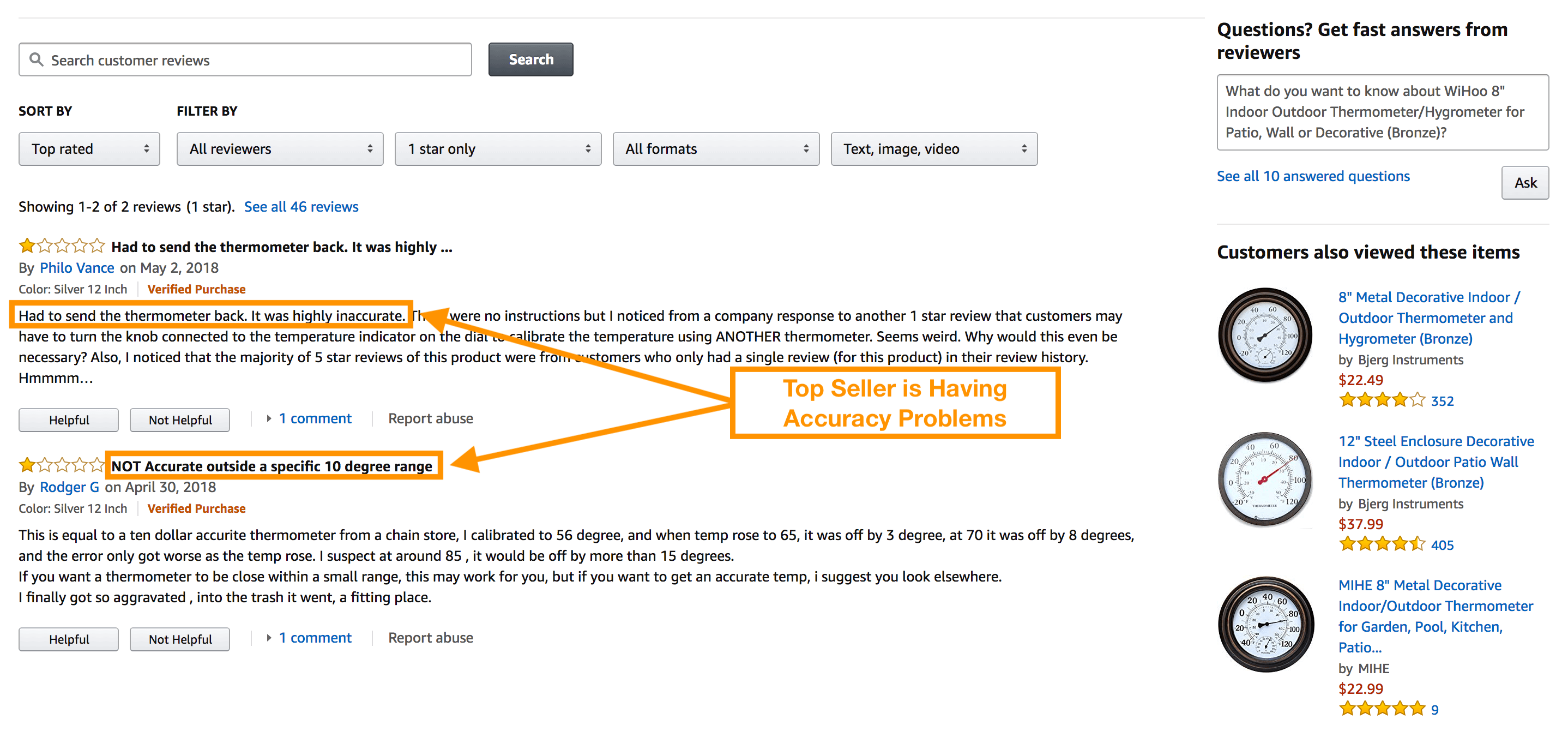 Product 3 – Vinyl Sheets
The problem with the vinyl sheets is that most of them are being manufactured and produced in the United States – which will erode our margins. So, I'll pass on it!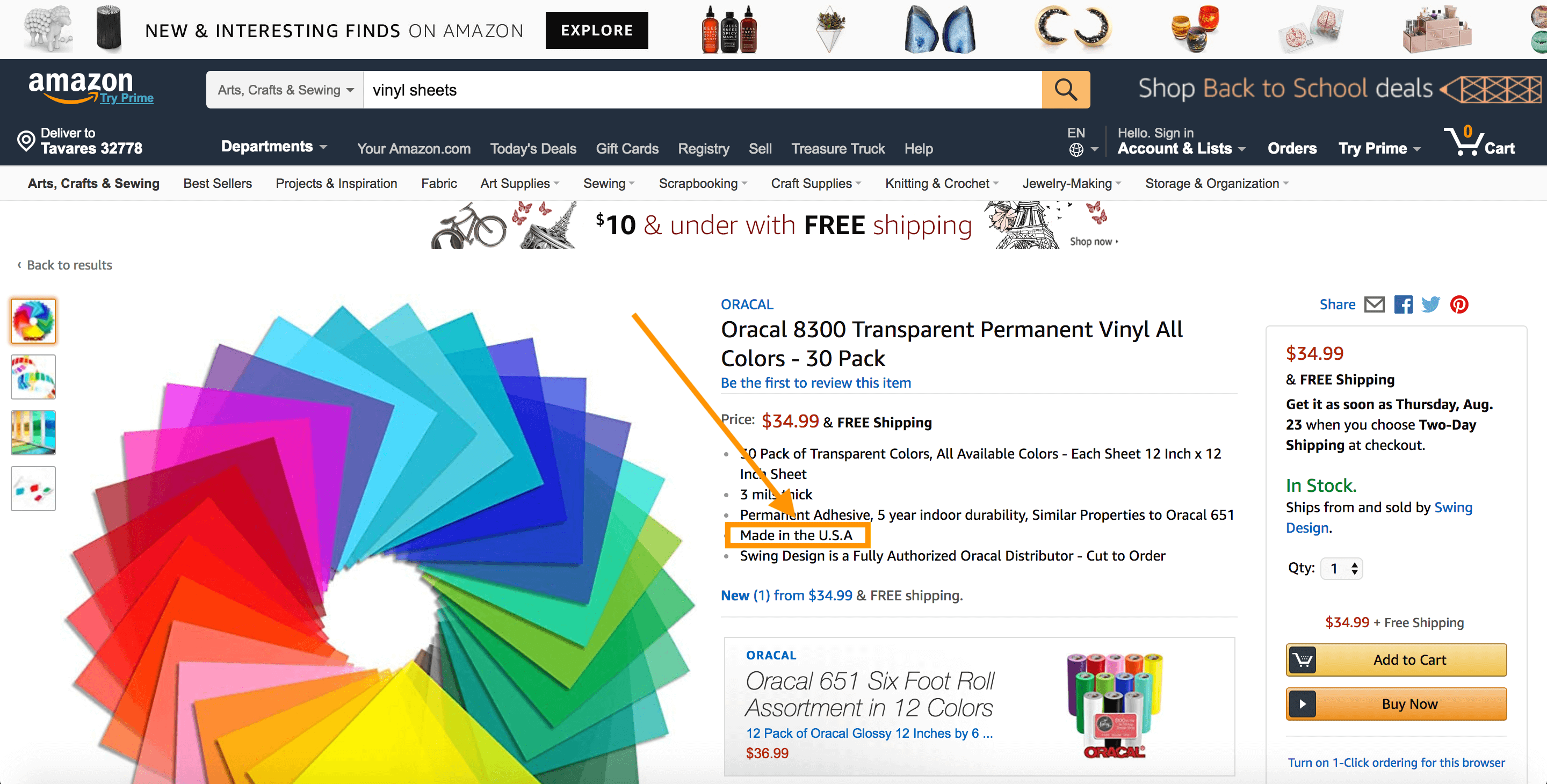 Product 4 – Stroller Ride Along
With the stroller ride along, it would probably be very hard and difficult to communicate my improvements with the manufacturer in a cost-effective, timely way.
Product 5 – Clamp-On Keyboard Tray
For some reason, the Clamp-On Keyboard Tray stands out to me. I think that it's the product that we can improve on the most. With all the other products, there's not a whole lot of improvement. I think that the Clamp-On Keyboard Tray would be the best case study for Customer-Driven Innovation™.
STEP 1 – READ ALL NEGATIVE REVIEWS
Let's dive into the Product Tracker a little bit deeper. I've been taking note of bad reviews in my Notes section – a very handy way to manage everything from Jungle Scout. Again, we spoke about this in Episode 2, but this is the best way to figure out what types of improvements you should be making on these products. Let's look at them.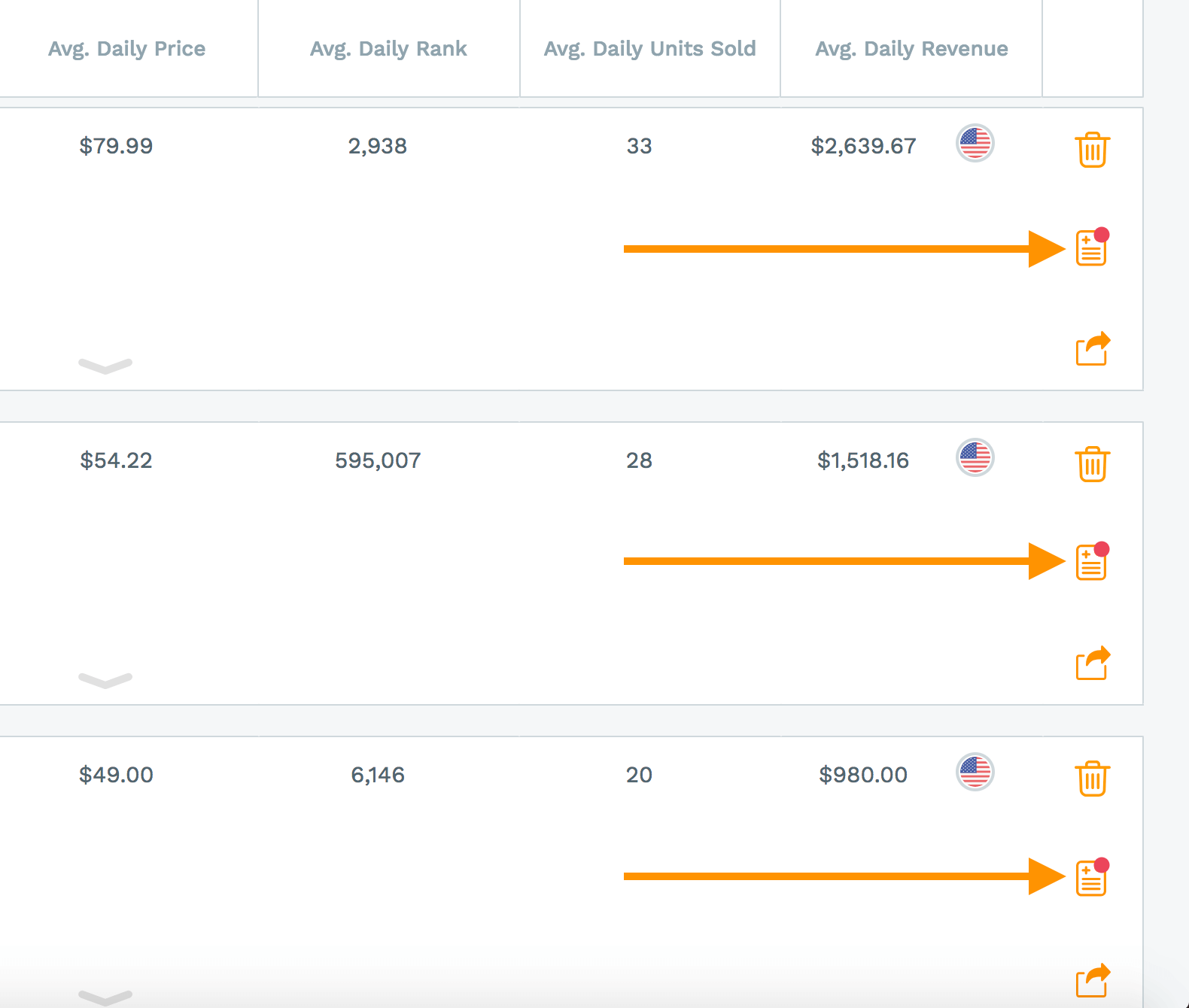 Product #1
One of the main complaints was that it had a poor sliding mechanism. It would just jam up. I think that's something that we can communicate with our manufacturers very easily. Customers are also saying that they think this product is overpriced. Considering the material that it's made from and as I looked at it, yes, it absolutely is. They also say the tray should be metal or some other material, rather than plastic. Once again, things that we can easily get corrected and improve upon with a Chinese manufacturer.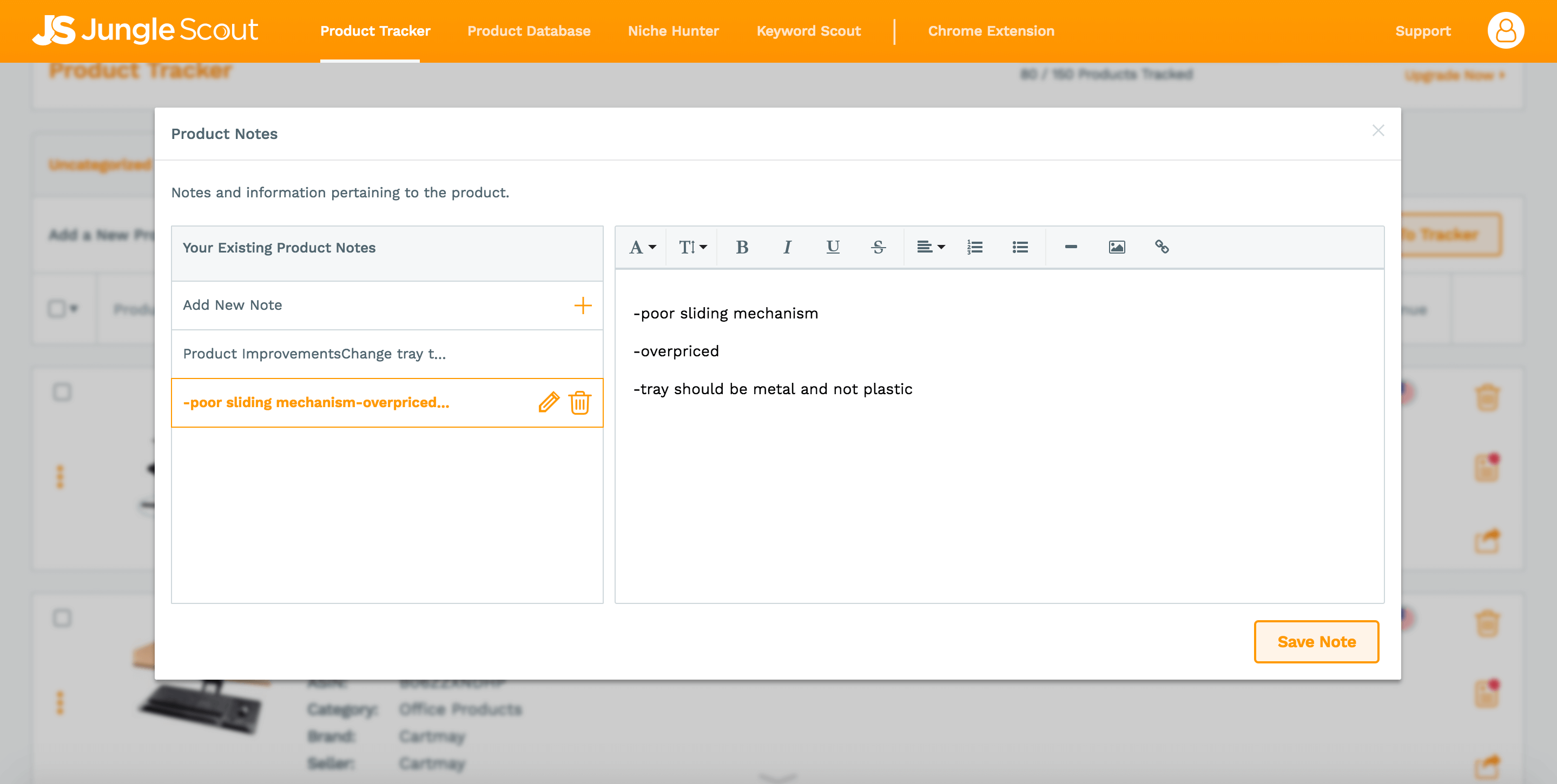 Product #2
With this product, the customer reviews revealed a lot of new improvements we can make. The first complaint was that the wrist pad would split. The second piece of feedback that I was able to see was that there were no instructions, so that's something that we could easily resolve. The third negative piece of feedback I found was that they were expecting "ball bearing sliders." I could dig into that and see maybe if the slider can be improved upon. The last and final piece of feedback that I found on this product was that the knob broke easily, so I know we can definitely improve on that.
Product #3
Let's look at the third product. Customers said it was made of cheap plastic and the tray was wobbly. Now we begin to see a common thread among these product reviews: quality can be improved. Some people are complaining about the size of the keyboard tray. It also seems like the clamp needs a facelift.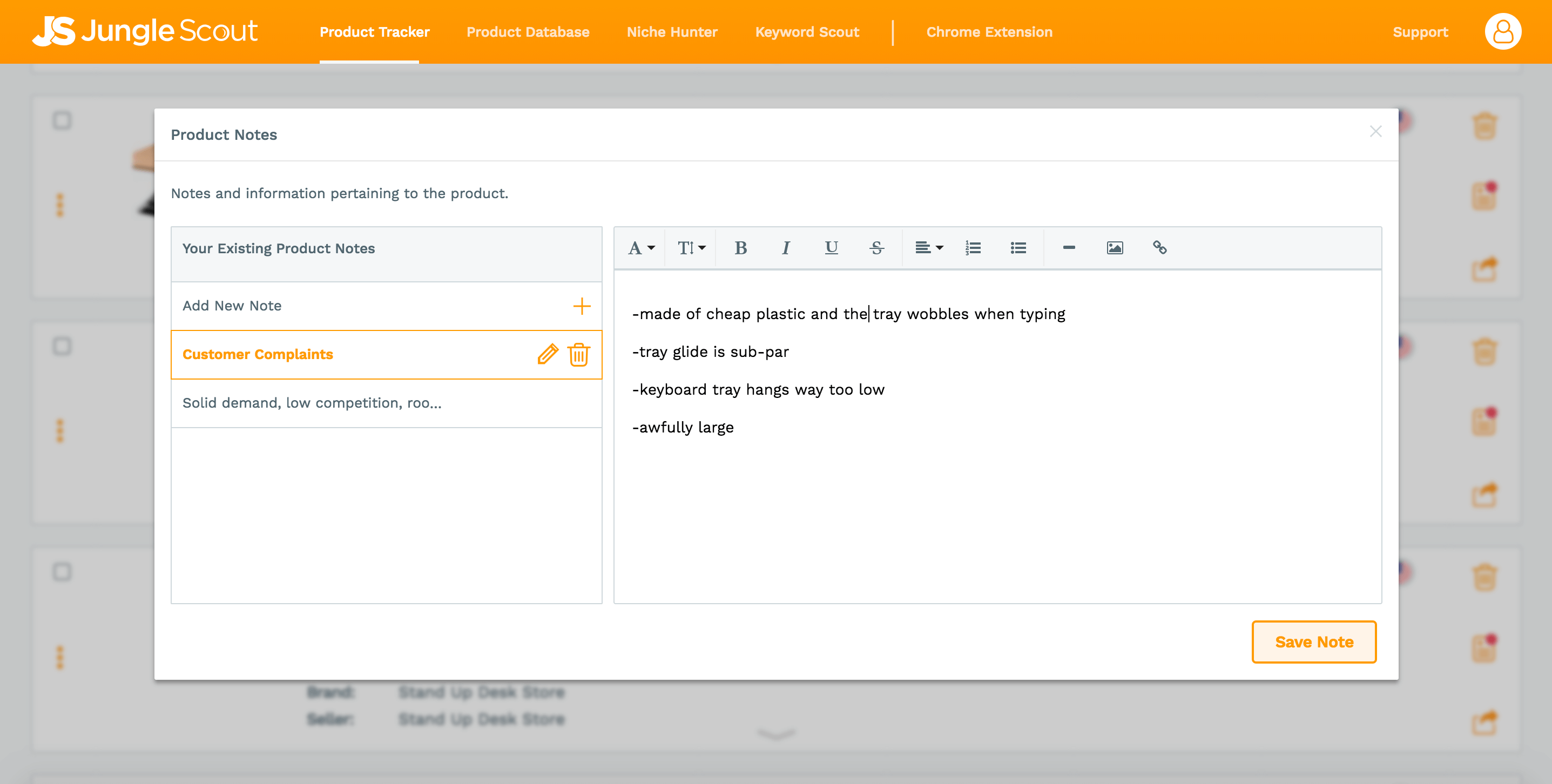 GOLDEN NUGGETS
Let's look at an Amazon listing one more time and show you how I go about reading these poor customer reviews and how to pick out the golden nuggets from there on what we want to improve upon for our product.
I'm going to pull up the top sellers within my keyword from Amazon. I'm then going to click on the customer reviews. I start with the one-star reviews, then work my way up to the two and three-star reviews.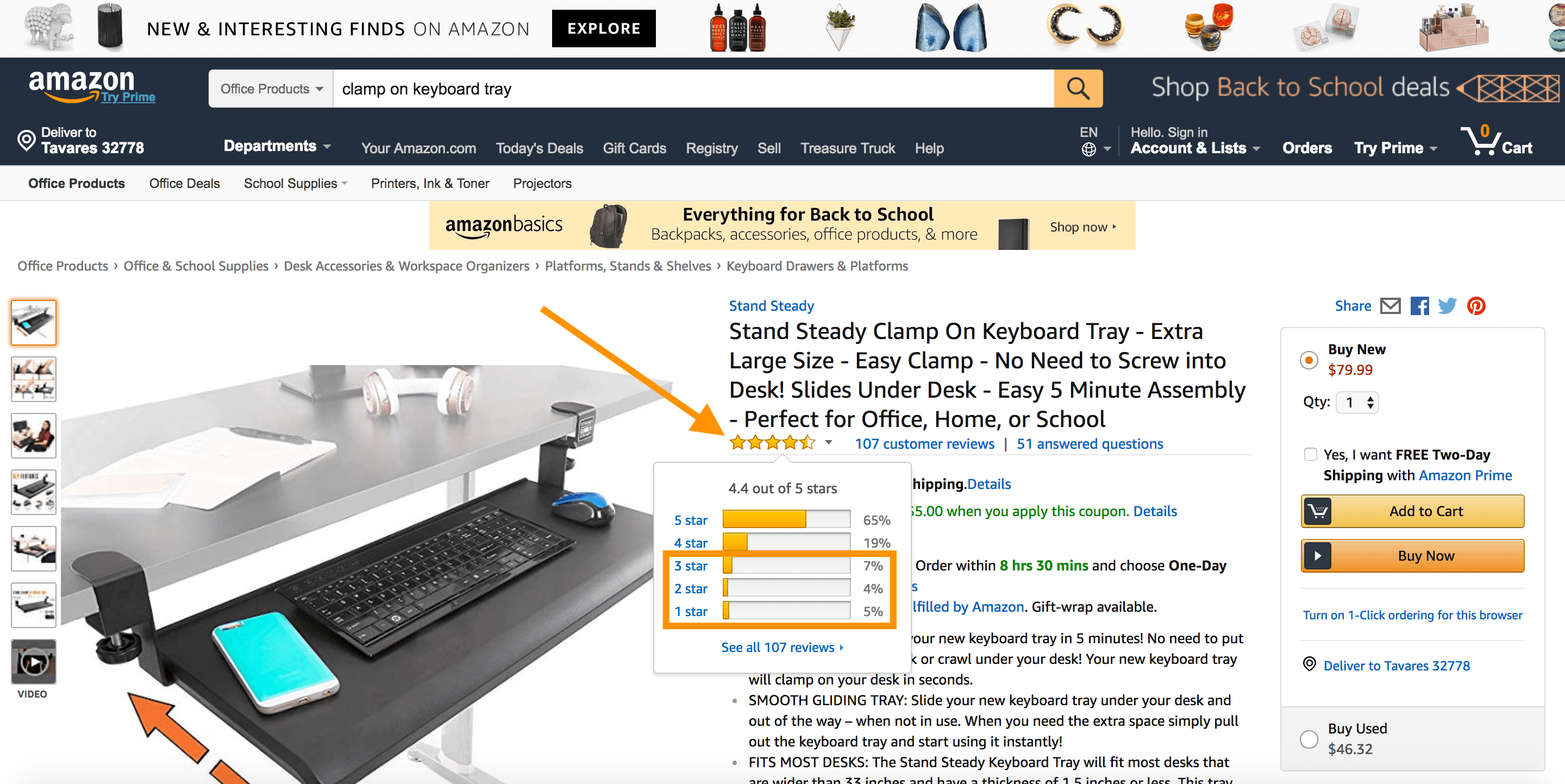 You click these and then you start reading what people are complaining about. Take notes as you go!
For the first one, it says, "It just doesn't work, constant adjustments, falls off desk." To me, that means that the clamps need to be improved.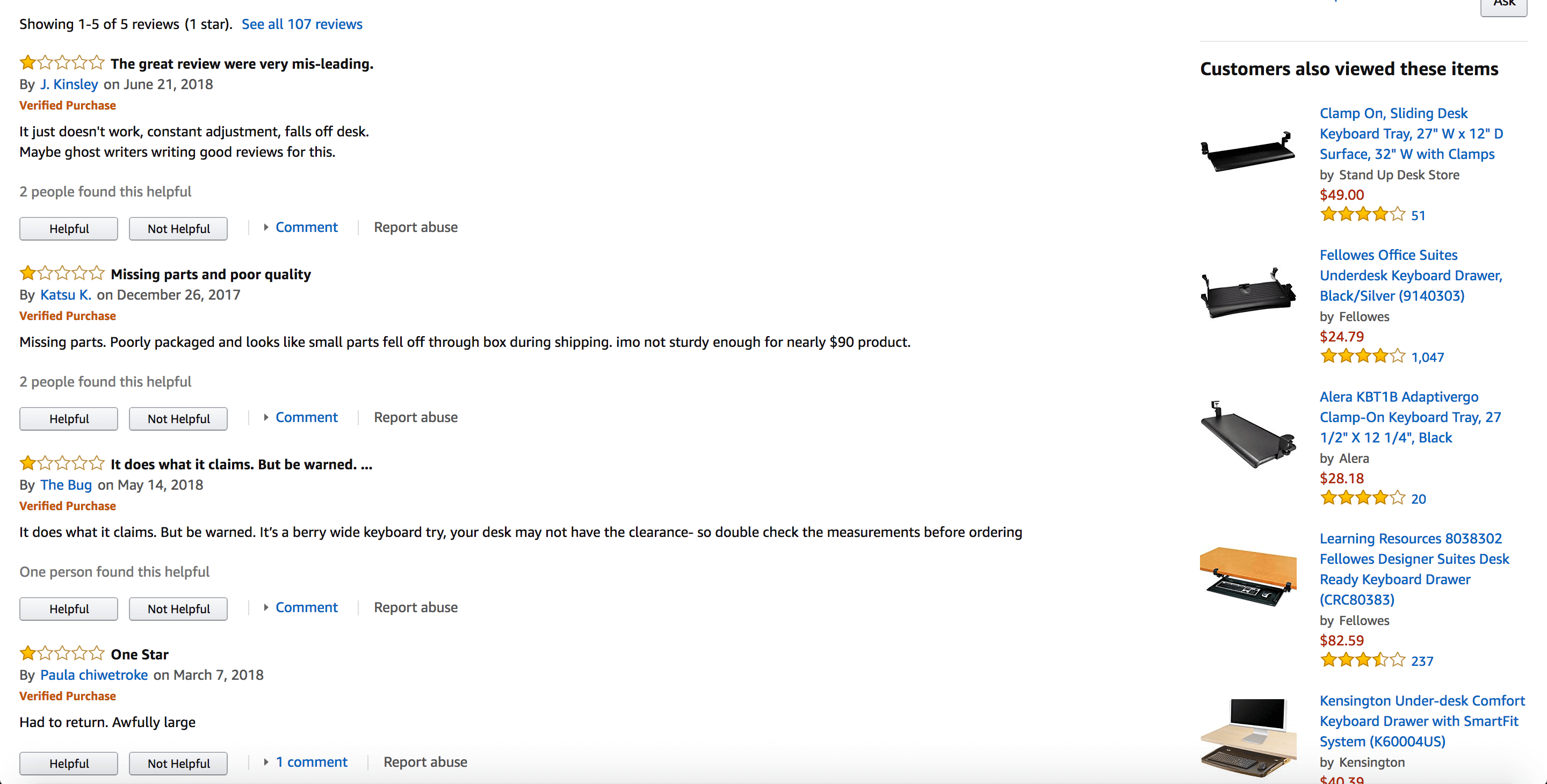 This second review says, "Missing parts." and "Poorly packaged…". To me, that signifies that of course the packaging is damaged but also there's poor quality control for this product in China. Finding a good factory and getting a good inspection could fix that problem for us.
The third review says, "Had to return. Awfully large." We can think about that when we're adjusting the size of this.
Some of the two-star reviews, "Poor build quality." "The clamps were not as wide as I expected." "My desk is a very tight fit, made of cheap plastic." Those are all the types of things we can easily resolve.
"This tray is way overpriced for the quality." They're looking for a higher quality item offered at a more competitive price.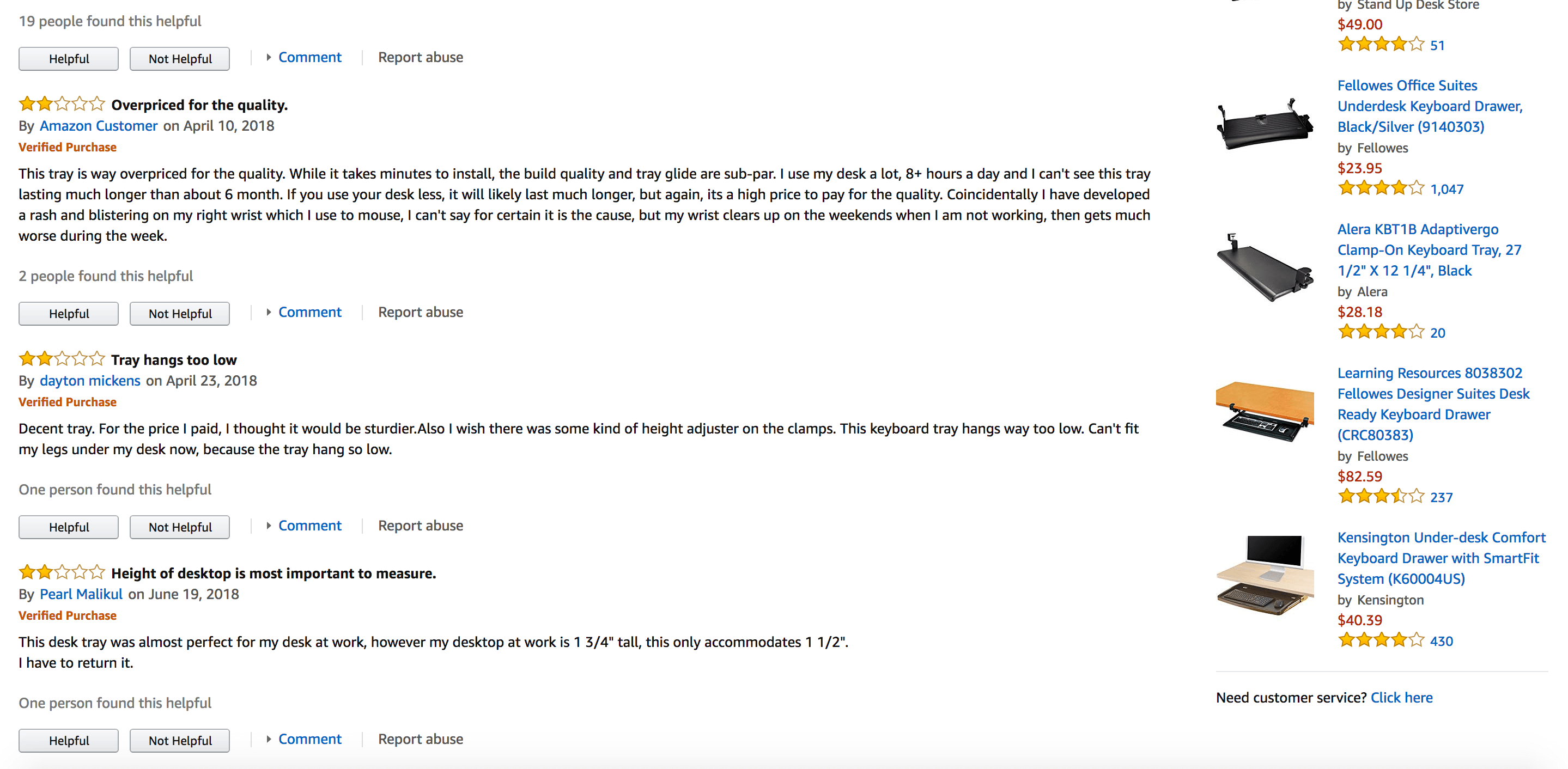 "Decent tray. For the price I've paid, I thought it'd be sturdier." Again same thing. Now we begin to see that common thread which is gold for product research.
The last review pictured above is a very interesting review because the customer mentions that the desk was one and three-quarters inch thick and it only accommodates up to one and a half inch thick. This is a complaint that can be avoided with a more detailed listing!
TIME TO GET REAL!
Now that we've read a lot of these negative customer reviews, now we're ready to move on to the next phase.
The next thing to do to is to actually order some of your competitors' products for yourself.
I've been able to test this product for myself. I attached it to my desk. It works just as it says, but I would agree with all the customer reviews. It is very flimsy. It appears to be a poor quality for the price so definitely I would say that we're going to have a lot of fun with innovating this, doing some really cool stuff! 😎
Step 2 – Document What Needs to be Improved 📄
I'm going to go ahead and jot down these notes inside of the Jungle Scout Product Tracker just because it's a very neat way to keep all of our thoughts organized. I'm going to create a new product note. I'm just going to title this one "Product Improvements."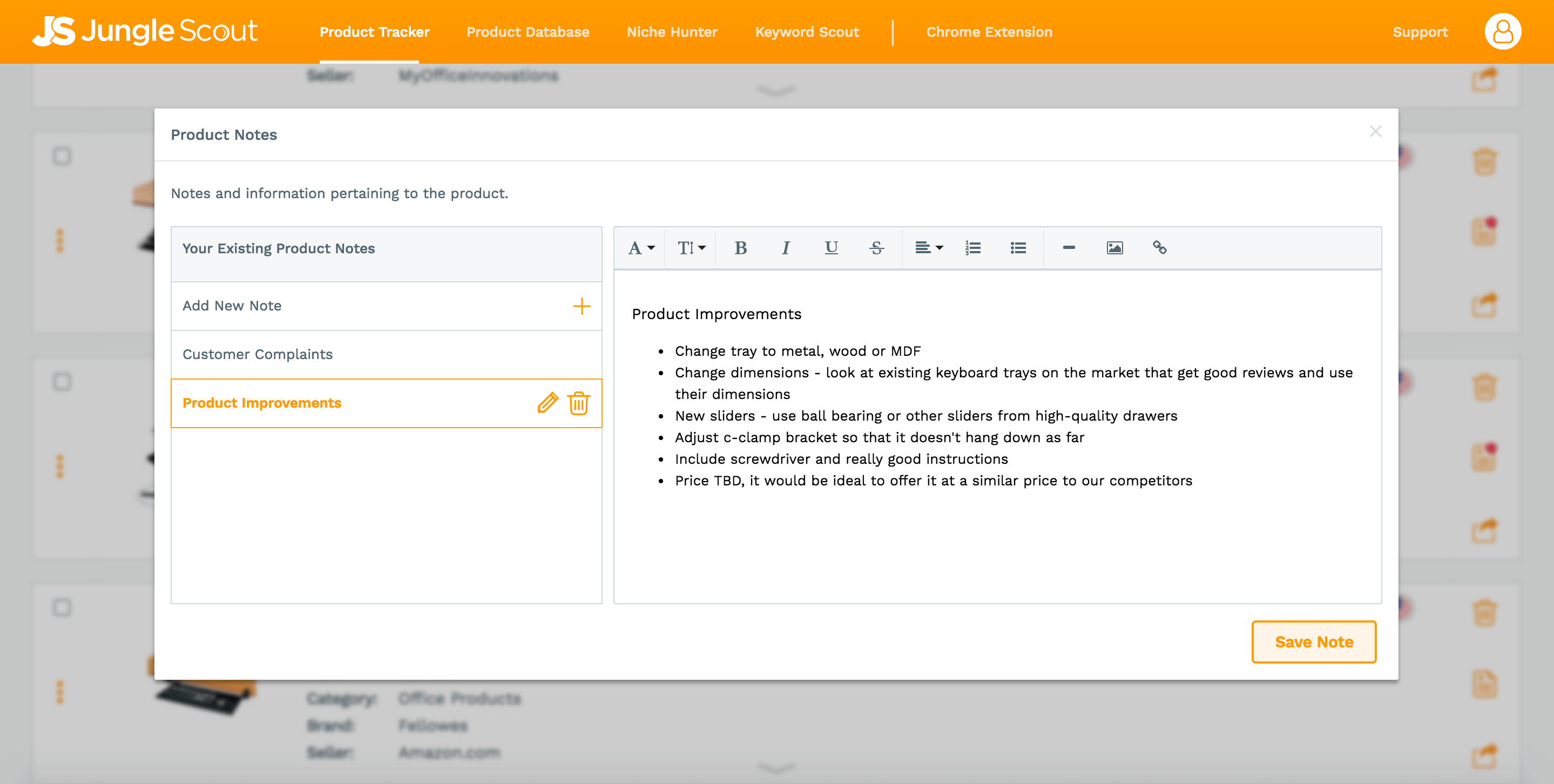 Now that we know everything customers are complaining about we can begin to create our "wish list" of product improvements. Here's mine:
Change tray to metal, wood or MDF
Change dimensions – look at existing keyboard trays on the market that get good reviews and use their dimensions
New sliders – use ball bearing or other sliders from high-quality drawers
Adjust c-clamp bracket so that it doesn't hang down as far
Include screwdriver and really good instructions
Price TBD, it would be ideal to offer it at a similar price to our competitors
Step 3 – DIY or Do I Hire a Professional?
Something I've learned the hard way though is, due to the language barrier of working with factories in China, it's best to show photos or drawings as opposed to just describing things through email. Let me show you real quick the poor man's way of creating drawings to give to factories.
I'm going to use Google Slides for this.
First what you're going to need to get is a photo or a screen capture of the product that you're trying to make modifications to. Copyrights aren't a big deal here because we're just sharing this privately with our factory.
I'm going to take this image right here of our competitor's product listing and open it up in Google Slides, adding some lines and instructions. Like this: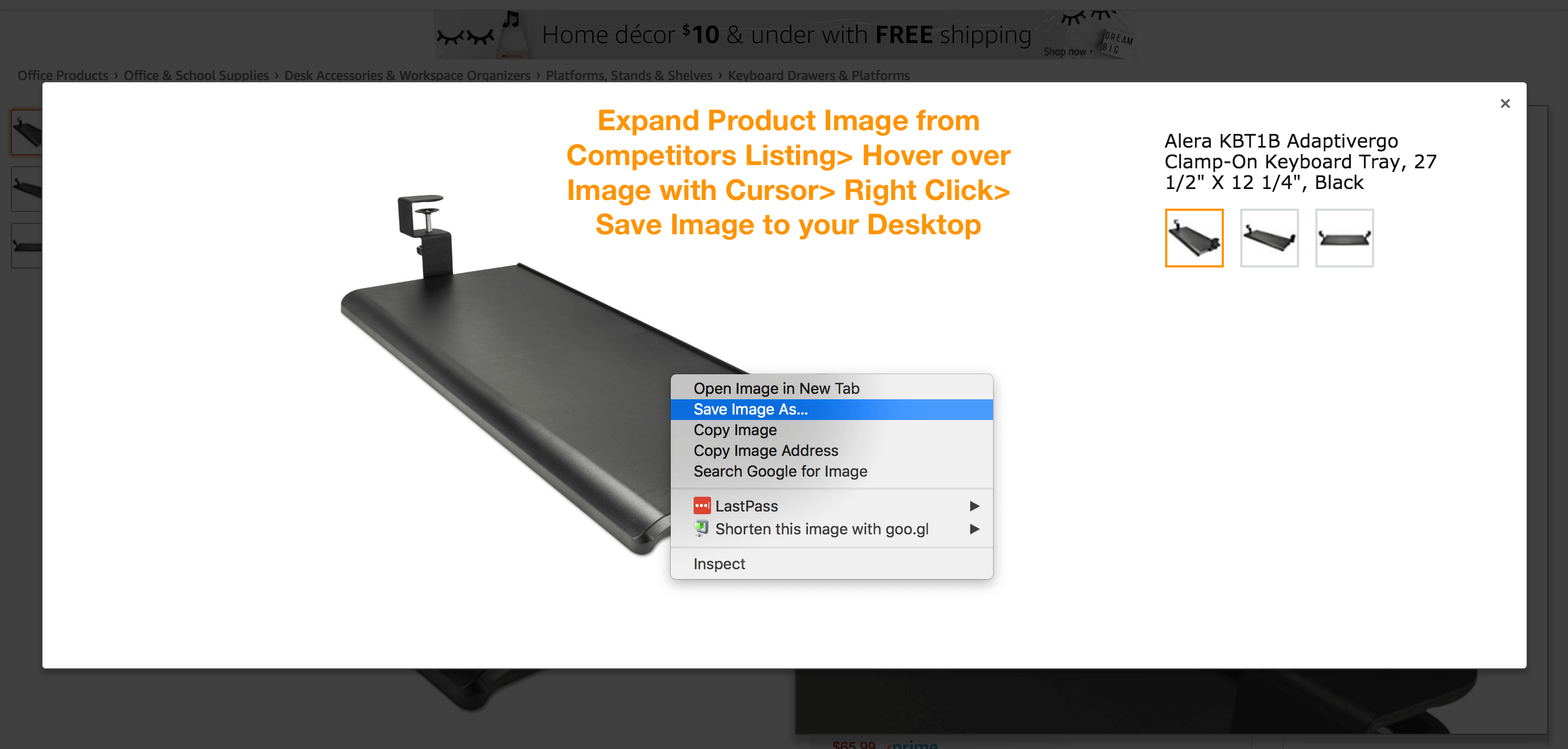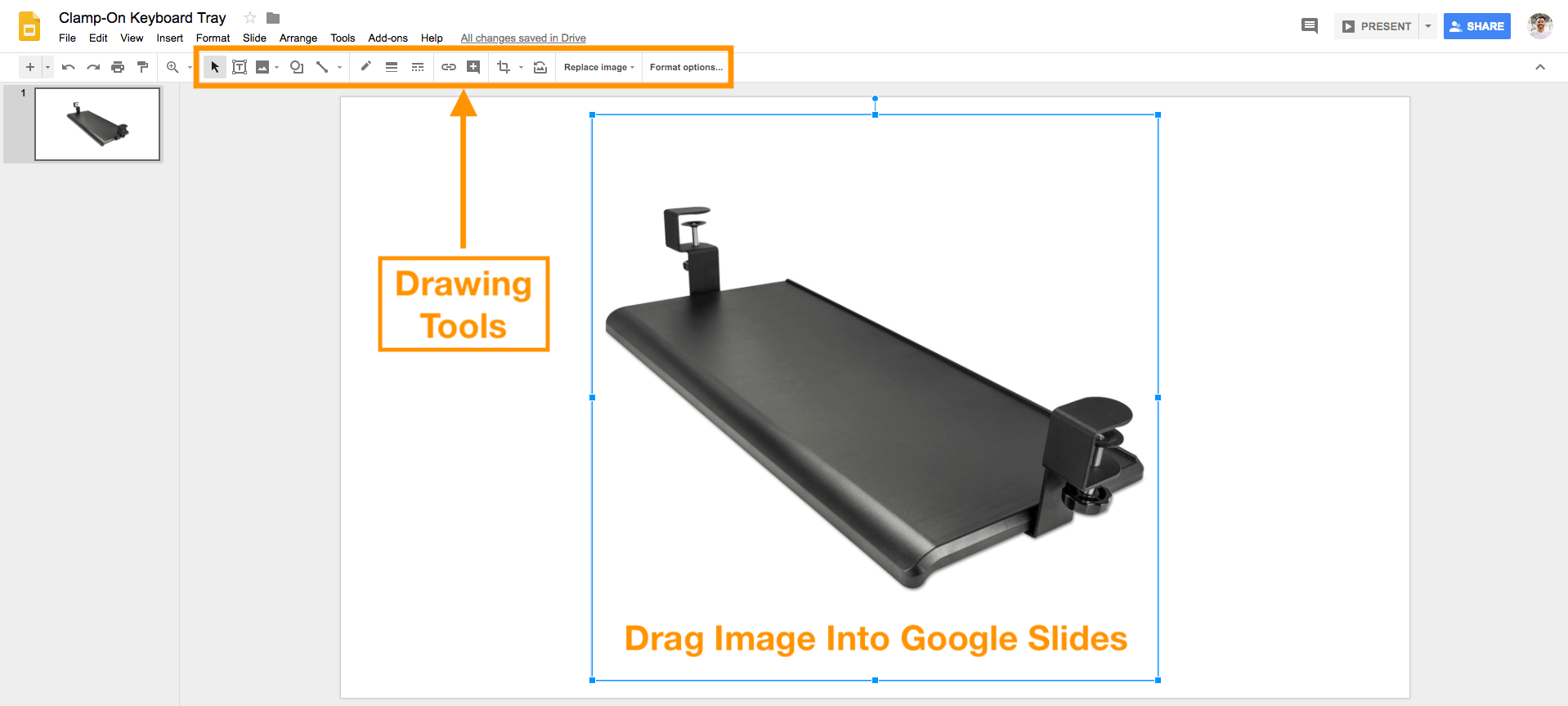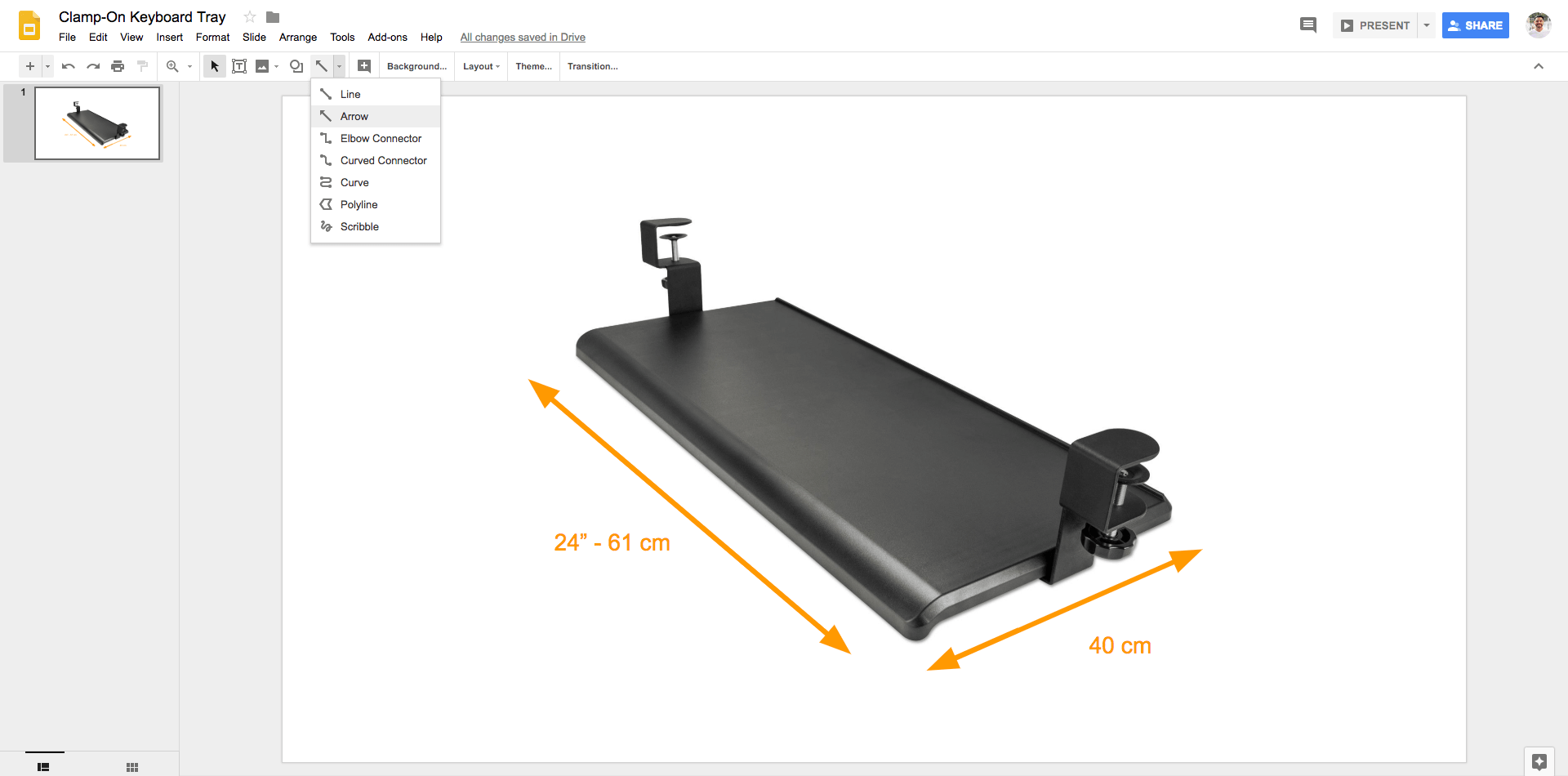 I can easily add text, add shapes, draw lines, etc. I added some text and arrows to communicate my new dimensions to the manufacturer.
💡PRO TIP: When providing measurements to manufacturers always use the metric format since that's what they're most familiar with. Of course they would know how to translate imperial dimensions into metric, but it's best to just go ahead and give it to them in the format that they'll be looking for.
Let's just pretend that the length of the keyboard tray is 24 inches. So it looks like, according to Google, 24 inches would be about 61 centimeters, so I'm just going to put it in there as 61 centimeters.
This method is quick and inexpensive to do, and by doing this it's much easier to remove any types of miscommunication with the factory.
Now, it's YOUR TURN!
Start selling on Amazon today
Your Amazon success starts with Jungle Scout.
Start doing some research of your own! With every blog post, we'll be challenging you with "Action Items" to make the most of your MDCS journey.
After you've completed your Action Items, post your progress to the Million Dollar Case Study Facebook Group! You don't have to reveal all of your best ideas – just let us know you're working on them! You can also post them to Instagram with the hashtags #mdcschallenge or #freedombuilders.
They build schools in developing countries to help children get access to the education they need for a strong foundation.
We love doing the Million Dollar Case Study. It's a team-wide effort and we value every opportunity it gives us to connect with sellers like you.