As an Amazon seller, you know that there are a lot of factors that go into building a successful business. One of the most important factors is protecting your brand – and Amazon sellers can help protect their brand with a trademark.
With a trademark, Amazon sellers can enroll in the Amazon Brand Registry, which offers advanced brand protection programs and many other benefits.
In this article, we will discuss the importance of trademarks for Amazon sellers, if you need one to sell on Amazon, how to register a trademark, and the benefits of joining the Amazon Brand Registry.
Want to learn more about selling on Amazon? Check out our complete guide.

What is a trademark?
A trademark is a word, phrase, symbol, or design that identifies and distinguishes your products or services from those of others. It is a valuable asset that can help you to protect your brand and prevent counterfeiting.
Registering a trademark protects your brand from being copied by others. It also prevents others from using a similar mark for related goods or services, which can help you avoid customer confusion.
Why trademarks are important for Amazon sellers
There are many reasons why trademarks are important for Amazon sellers.
Protection against counterfeiters
First, a trademark can help you to protect your brand from counterfeiters. Counterfeiters often use unauthorized copies of trademarks to sell products that are inferior in quality or do not meet your standards.
By registering your trademark, you can make it more difficult for counterfeiters to operate, and you can take legal action against them if they do.
For example, another seller may "hijack" your listing and begin selling counterfeit items under your brand. If that happens, it could have a negative impact on your listings, such as bad reviews and customer complaints.
Brand awareness
A trademark can also help you to build brand awareness. When customers see your trademark on your products, they will start to associate your brand with certain qualities, such as quality, reliability, or value. This can help you to attract new customers and to increase sales.
Amazon Brand Registry
Lastly, it allows you to register your brand with Amazon using the Brand Registry program.
Brand Registry provides extra protections for brands as well as some advanced selling and advertising tools not available to non-registered brands, like A+ Content, Sponsored Brands ads, and the Amazon Transparency Program, which helps protect you even more from counterfeiters.
READ MORE | How to Register Your Brand on Amazon Brand Registry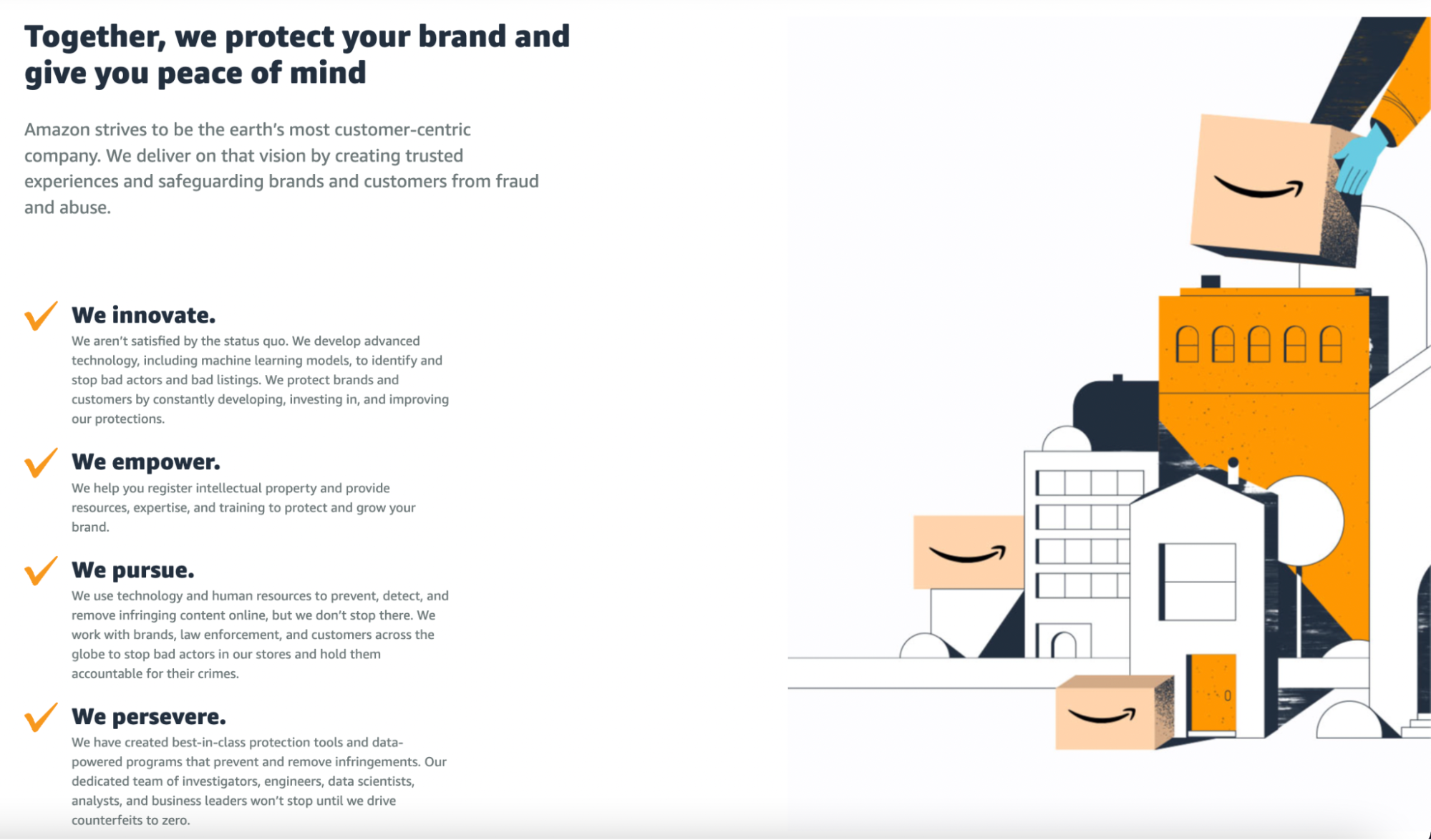 Do you need a trademark to sell on Amazon?
A question many new sellers ask is, do you need a trademark to sell on Amazon? The answer is no, you do not need a trademark to sell on Amazon.
As mentioned above, if you want to enroll your brand in Amazon Brand Registry, then you would need a trademark.
If you are a brand owner and have launched your own private label products on Amazon, you should want to eventually get a trademark if you are serious about growing the brand in the future.
But when you're just starting out, you do not need a trademark.
Can you sell trademarked products on Amazon?
Another popular question amongst new Amazon sellers is, can you sell other brands products on Amazon? And the answer is yes!
That is called retail arbitrage and/or wholesale, where you purchase products of another brand with the intention of reselling that product for a profit.
As long as you are selling a legitimate product, and not a counterfeit product, you are legally allowed to resell other brands' products online.
While you are able to sell other trademarked products, the brands may not want you to sell their products on Amazon and file a complaint against you to Amazon.
If you want to become a reseller, we suggest looking into the wholesale model as you work directly with the brands you want to sell, which makes it easier to source products, buy them at lower prices, and prevents any issues with Amazon since the brand is allowing you to sell.
READ MORE | How to Sell Wholesale on Amazon in 2023
How to register a trademark
In the United States, trademarks are registered with the United States Patent and Trademark Office (USPTO), and can be registered with the USPTO right on their website.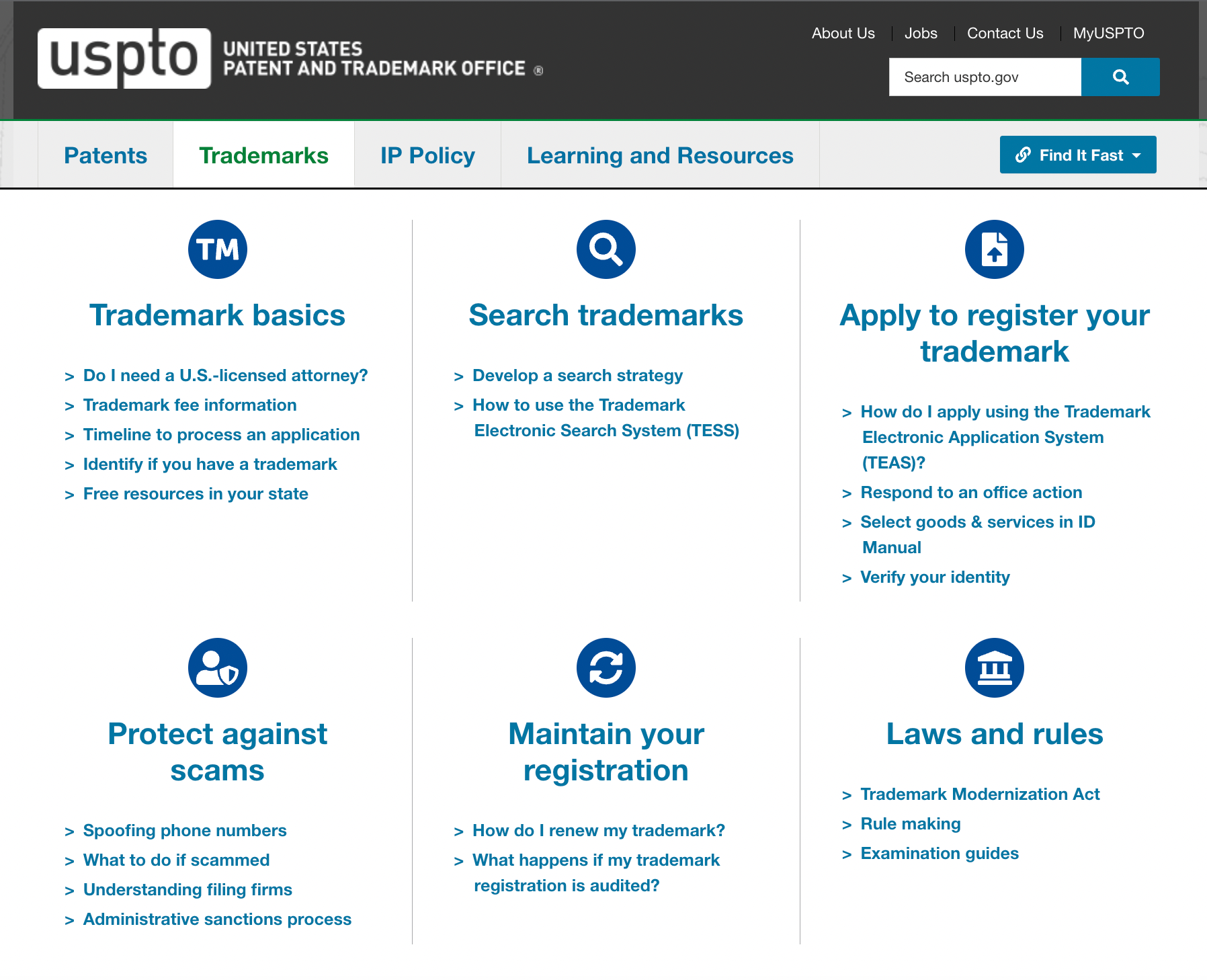 The process for registering a trademark can be complex, so it is important to work with an experienced trademark attorney or trademark service, such as Trademarkengine.com, if you're not comfortable doing it yourself.
The first step in registering a trademark is to conduct a trademark search to see if the trademark you want to use is already in use. You can do a trademark search on the USPTO website.
If the trademark is not in use, you can file an application with the USPTO. The application must include the following information:
The name of the trademark

The goods or services that the trademark will be used for

A description of the trademark

The date on which you first used the trademark in commerce

The USPTO will review your application and determine whether to register the trademark. If the trademark is registered, you will be issued a trademark registration certificate.
If you work with a trademark attorney or trademark service provider, you won't need to worry about the process laid out above – just let a professional handle all of the complicated details for you.
How long does it take to get your trademark?
It will likely take a few months even up to a year to be approved by the USPTO, so be patient!
Though if you want fast access into Amazon Brand Registry, we have a solution for you that we'll get into further down in the article.
What does it cost to register a trademark?
Hiring someone to register the trademark for you will be much easier than doing it yourself, though keep in mind that it will be fairly expensive.
If you decide to do it yourself through the USPTO website, it will cost you a minimum of $250. It may be more depending on how many classes of goods or services you include in your application.
If you use an attorney or trademark service, it may cost anywhere from $500 to $1,000, if not more.
How to get a trademark fast for Amazon Brand Registry
The Amazon IP Accelerator is a program that helps Amazon sellers register their trademarks and access Brand Registry faster. By working with an IP Accelerator law firm, you can get access to expedited trademark filing, as well as other benefits such as:
Early access to Brand Registry.

Once you file a trademark application through an IP Accelerator law firm, you will be invited to join the Amazon Brand Registry even before your trademark is registered. This gives you access to the Brand Registry's benefits, such as the ability to prevent unauthorized sellers from using your trademarks on their products.



Expert advice.

IP Accelerator law firms have extensive experience in trademark law and can help you navigate the trademark registration process. They can also provide you with advice on how to protect your brand and prevent counterfeiting.



Cost savings.

IP Accelerator law firms often offer discounts on trademark filing fees. This can save you money on the cost of registering your trademark.
If you have more questions about the IP Accelerator program or would like to work with one of Amazon's partnered law firms, go to the IP Accelerator home page.
How to report trademark infringement in Brand Registry
If you suspect another seller is using your intellectual property, you can report them using the a Report a Violation or Report Infringement form in Brand Registry.
If you are the rights owner or registered agent on the seller account, you can complete one of those forms.
In your Brand Registry account, go to Protect > Report a violation. Fill out the required information and Amazon will address the issue as soon as they can.
Do you have a trademark for your Amazon business?
Trademarks are an important asset for Amazon sellers. They can help you to protect your brand, build brand awareness, and provide you with advanced selling features on Amazon.
If you are serious about selling on Amazon, you should consider registering your trademarks and enrolling in Amazon Brand Registry.
Do you have any more questions about trademarks on Amazon? Let us know in the comments.